The weather forecast was for 24 hours of showers but, while there was some quite heavy rain last night, it was bright and sunny this morning. A quick tour around the campsite and then I was off to Split. The site I am parked in  does appear to have it all (including it's own beach, a bar, restaurant, supermarket and even a dive centre, although the latter is closed until summer).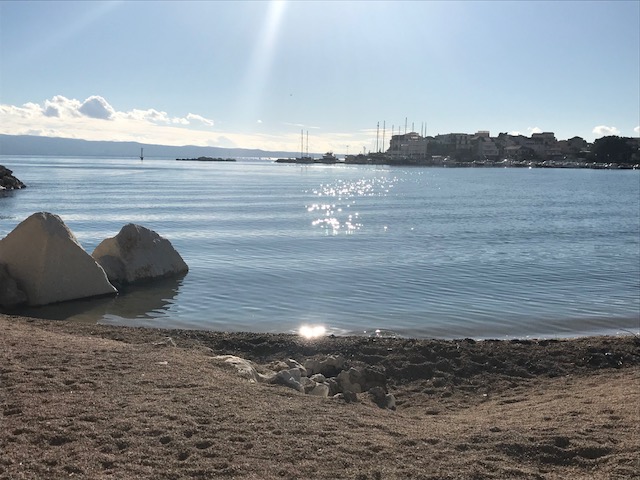 The first photo is of Stobrec from the campsite beach and the second is of the campsite from Stobrec. In between there is a small promenade with the usual bars and cafes. 
Again I chose to walk  but there's a bus service that goes direct from Stobrec to Split or you can take a taxi for about 100 kuna (12 euros). I walked because there's a path that goes right to the heart of the city and follows the coast pretty much the whole way. I was told it is about 8 km long but it felt longer despite the great views you always seem to get when hugging the coast.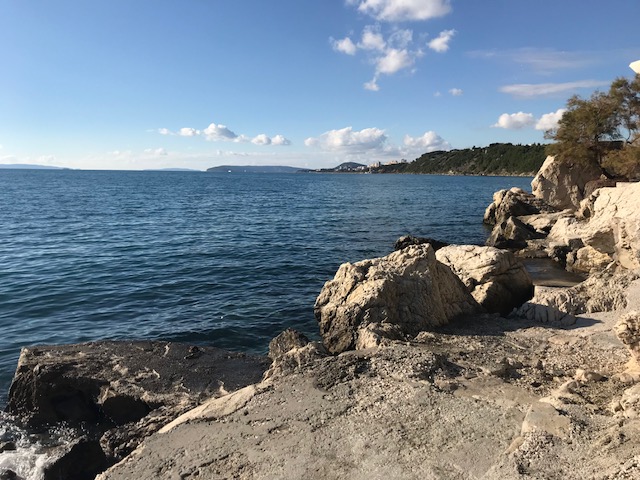 The quality of the path varies but it is easy to follow; keep the water to the left and ensure you are at one with the tide
I had the path to myself until I was about a mile from the city. I say "city" but Split isn't like a city in the normal sense of the word. It is simply too relaxed. There was a surprisingly large number of people out and about but the great majority were sitting at beachfront cafes or bars drinking coffee and chatting. Yes there will have been people working (waiters & waitresses certainly) and; there was a handful of locals playing boules (or what I assumed was boules) and; others sitting in the shade playing chess and; there was even a trio playing Picigin in the sea at Bacvice Beach but, for the most part, everyone I saw was chilling. Unreal.
In case you don't know. Picigin is a sport that is unique to Split. It dates back, I am told, to 1908 when students returning home from Prague University brought with them the game of water polo but had to adapt the rules somewhat because Bacvice beach is only ankle deep. I imagine it would be difficult playing water polo in just 6 inches of water. The end result looks nothing like water polo but, I kid you not, that's what I was told. The participants (there can be up to five) play with what looks like a tennis ball, hitting it with the palm of the hand and working together to keep the ball in play (i.e. not letting it touch the water) and they seem to get most points (and spectator approval) when they throw themselves about acrobatically, especially into the water, to keep the ball in play. Sounds fun?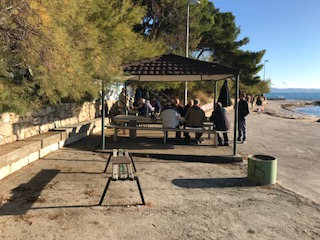 Chess and Picigin
Split is amazing. It is difficult to describe in a few words because it has so many different facets. The different styles of architecture in particular stand out with there being so many examples of each. I began today's blog listing some of the different architectural styles and adding photos that I took today as examples of each but there were so many that the blog started to look like a catalogue for some kind of building auction. It will suffice to say the city was born out of the Roman Emperor Diocletian's Palace and what is left of the Palace remains the heart of the city with all subsequent architectural styles blending in nicely (even some of the more modern stuff such as Ivan Mestrovic's imposing statue of the 10th century bishop, Grgur Ninski). You are going to get a photo of that.
I'll take some more photo's (especially of the Palace) when I go back into Split tomorrow but in the meantime, here is an artists impression of the Palace as it once stood and a few other views that caught my fancy.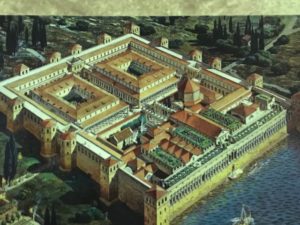 Artist's impression of Diocletian's Palace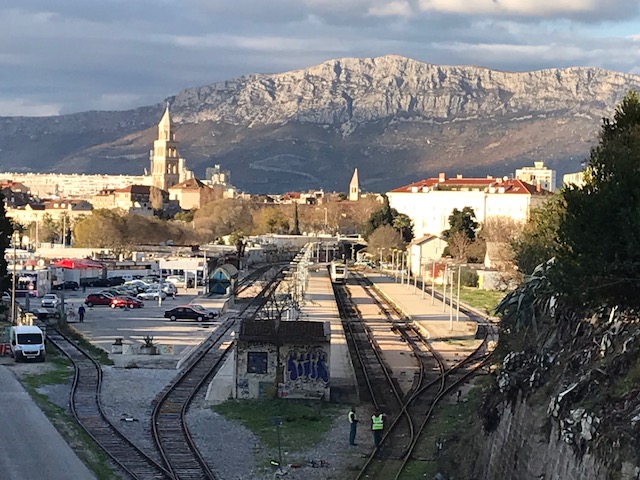 The first view of the city proper as you climb up from the beaches and a view of the city waterfront, the Riva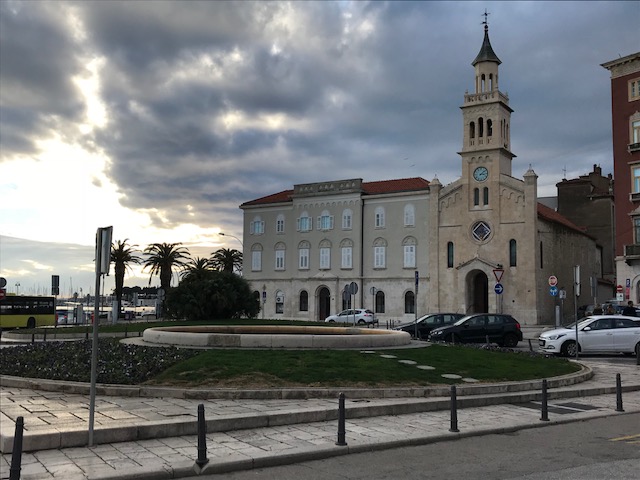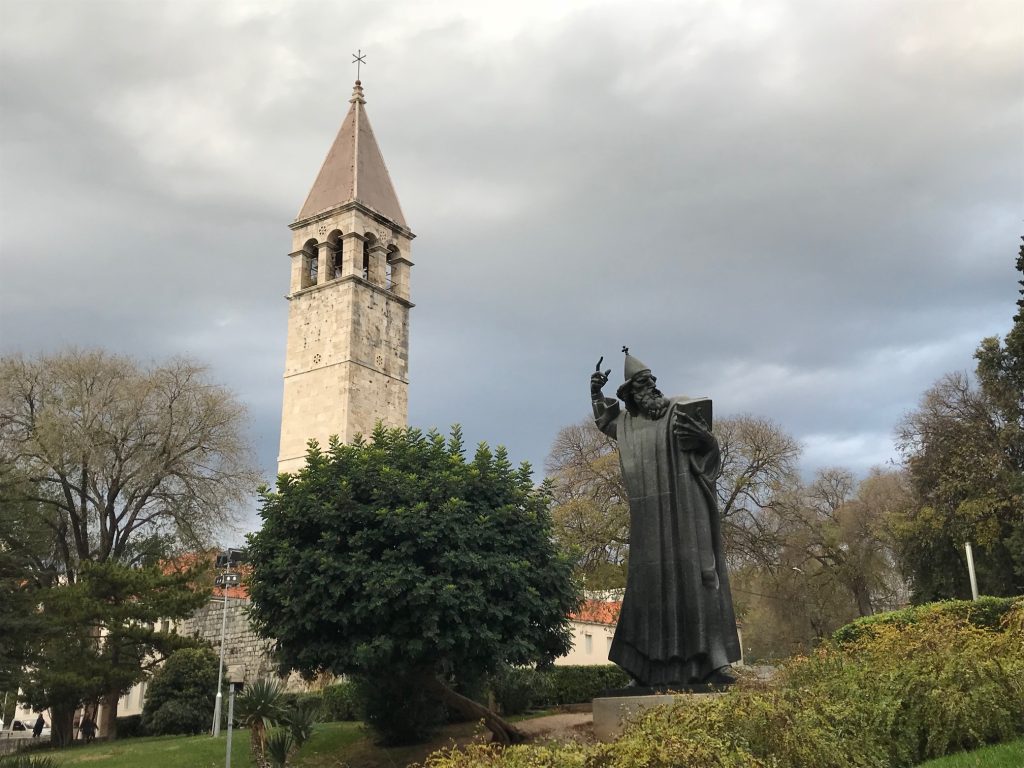 Yes, that's Gurgr Ninski on the right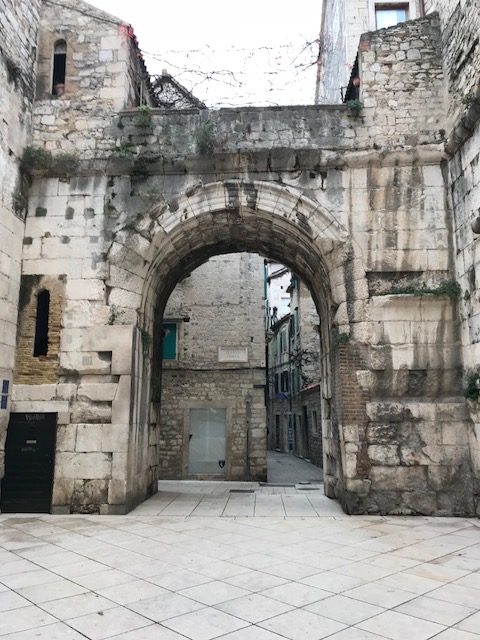 No surprise that the city has it's fair share of narrow lanes and dilapidated buildings but these were totally different. Walking them, I really felt as if I had gone back in time. Bizarre