Today we visited the Repubblica di San Marino or, to give it its correct name, The Most Serene Republic of San Marino. It is the third smallest microstate in Europe after the Vatican and Monaco and the second smallest Republic in the world after Nauru). Surrounded on all sides by Italy it is built on and around the 739 metres Monte Titano and it was almost in the way as we drove from the Emilia Romagna Region of Italy to the Marche Region and, since it had been recommended by some friends and neighbours in Prestbury (Don and Carol) who are better acquainted with this area than anyone else I know, we simply had to stop and take a look. So pleased that we did. It is a designated UNESCO World Heritage Site and an enthralling place.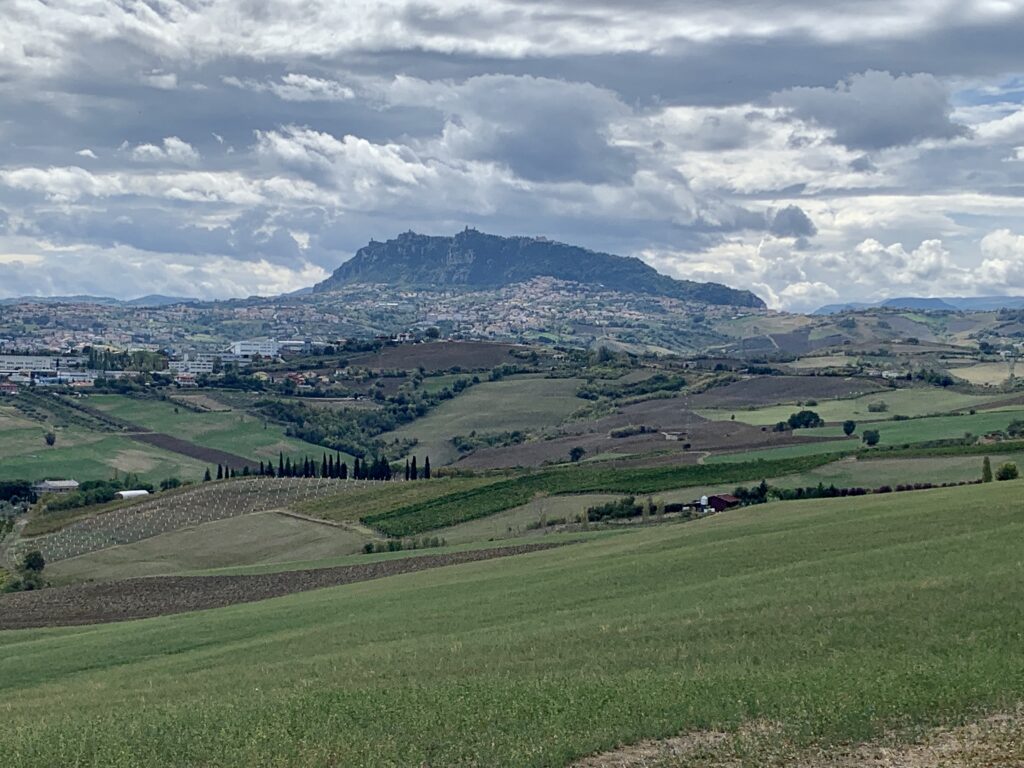 This particular country is the 98th I have visited in my life although on this occasion I confess I did not stay the night – I did almost everything else though.
The Republic was founded in 301 by Marinus, a Christian stonemason who with his followers sought refuge from religious persecution on Mt Titano. Ironically, in the 19th century San Marino took in and protected many people who were being persecuted for supporting the unification of Italy and as a consequence in 1862 a friendship treaty was signed guaranteeing the Republic's independence from the developing Italian State.
There's a cable car, costing 4.50 euros return which will take you from Borgo Maggiore (where we parked the Van) up Mount Titano to San Marino. We chose to walk it and it took no more than 20 minutes.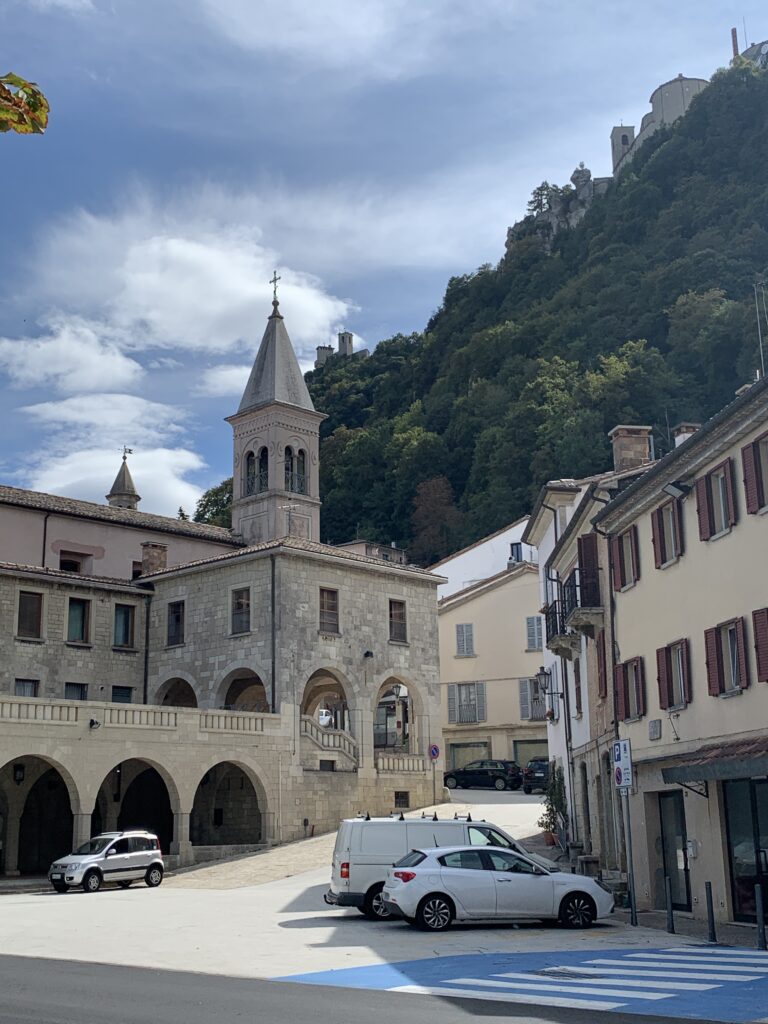 Almost all of San Marino is pedestrianised. It is a maze of hilly medieval streets dotted with cafes, restaurants and countless small shops selling a wide range of goods some 20% cheaper than in Italy. There is no VAT in San Marino. There's plenty to do if you don't like shopping. I prefer just sitting and people watching but there are a number of quite eclectic museums in which you could pass some time – a Museum of Curiosities, a Museum of Medieval Criminology and Torture and even a Museum of Vampires – but quite why anyone would want to spend time in a museum when there is so much going on outside, I do not know.
One particularly interesting walk is the Passo del Streghe which is a path that runs the length of the ridge at the very top of San Marino and which connects the three medieval towers of Guaita, Cesta and Montale. These are the three towers represented in the flag of San Marino. All of the towers offer incredible views. The Guaita is the oldest of the three towers (11th century but much of its present structure dates from the 15th century). The Cesta (13th century but largely rebuilt in the 1930's) is the highest . The Montale (14th century) sits on the smallest of Monte Titano's tops. All of the towers offer incredible views.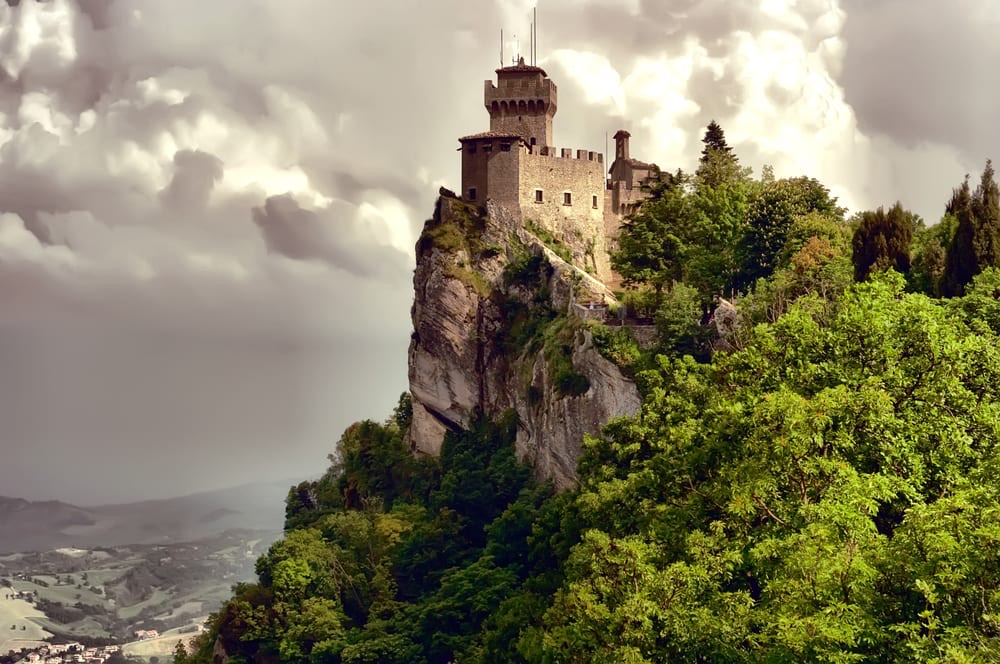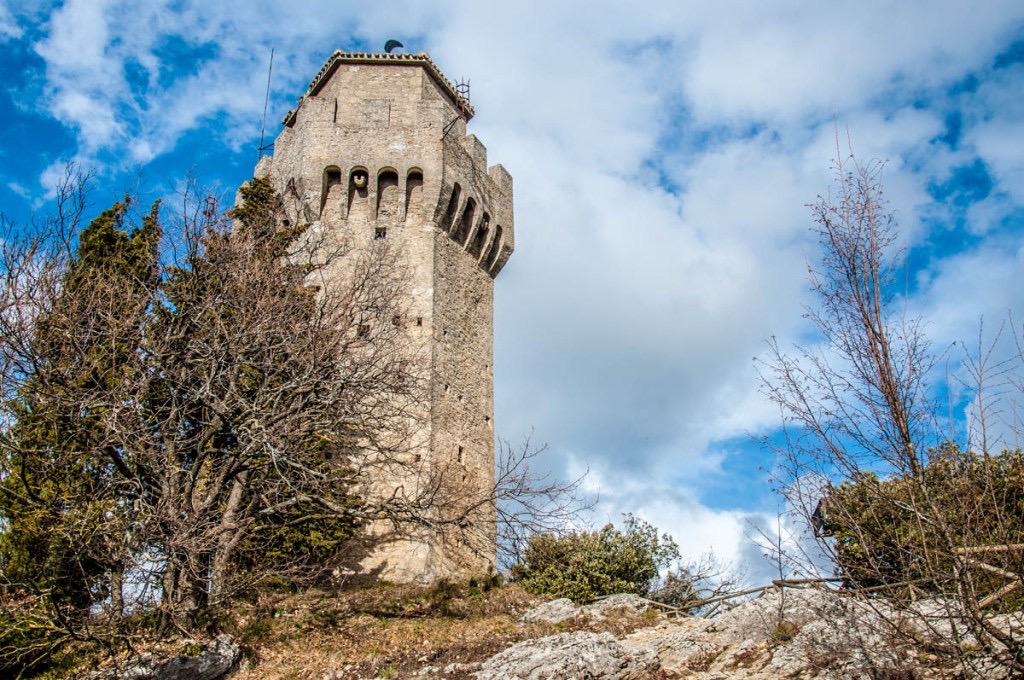 We didn't bother going to the top of any of the towers. With her fear of heights it was all Vanya could do to walk up to San Marino. She was never going to go up the towers and, besides, there were sweeping views across the Adriatic and to the Apennines from plenty of other places.
One of the nicest areas to offer good views over the rooftops and to enjoy in its own right is the Piazza della Liberta. The Palazzo Pubblico (now the town hall but once Palace of the governor) is to be found on this square and during June and mid September (we arrived a few days too late) it is possible to watch the changing of the palace guard.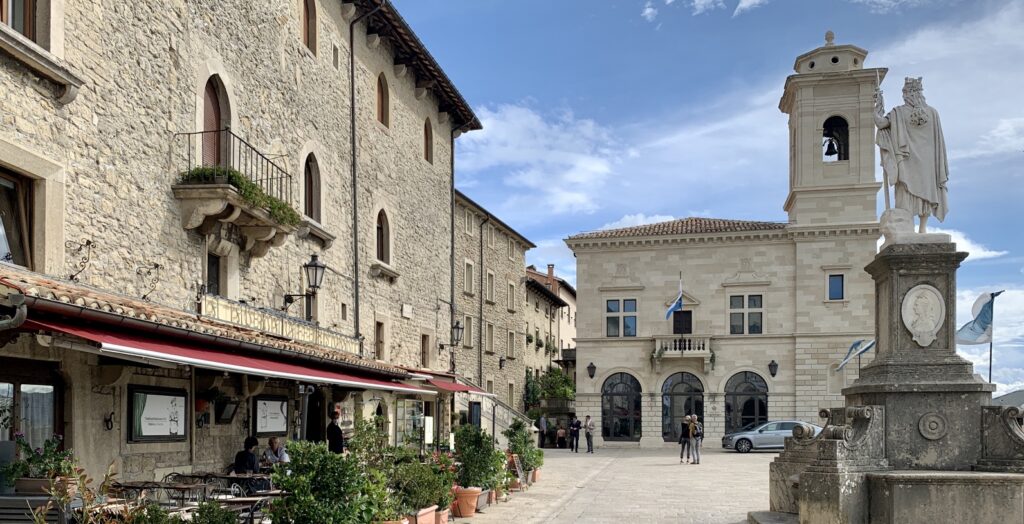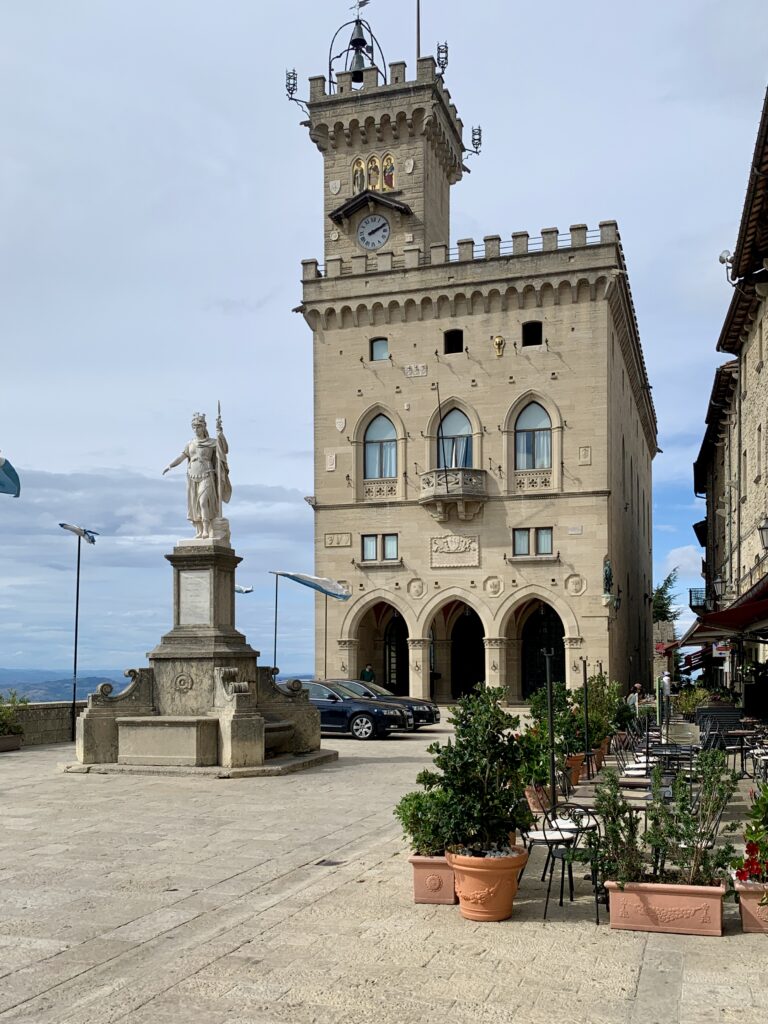 Of course it was only a matter of time before Vanya was tempted by the shops and before we each succumbed to a chocolate crepe dripping with the nicest Italian ice cream…
San Marino can appear somewhat contrived. It's an out and out tourist resort – what else could it be given it's location and lack of natural resources – but it is also very unusual (unique in many respects) and well worth a day of anyone's time. I could even manage an evening when, I suspect, it is a great deal quieter.