Dober dan. That's Slovenian for good day and wasn't it just!
Today was about taking it easy and after an easy walk down by the cliffs to Izola and checking out the local sights (first impressions were correct – Izola is very much an old fishing town with shades of Venice) I made my way to the Manzioli Wine Bar on Manzioli Square (if a courtyard no more than 25 metres square can be termed a town square but, Izola is not very large). Manzioli was recommended to me yesterday by a local as the place to go to try out the local wines.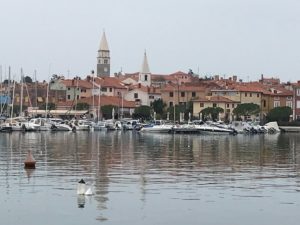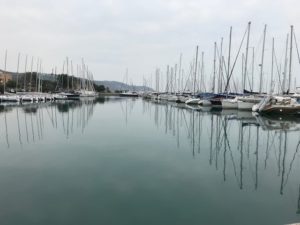 Azola is very much about fishing but its marina is also home to countless yachts; owned I dare say by relatively rich Italians who cross the border in droves to take advantage of the Slovenian casinos (which are everywhere, even at motorway service stations)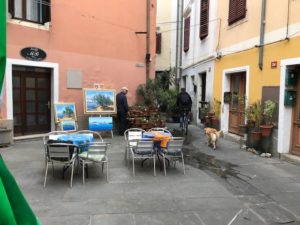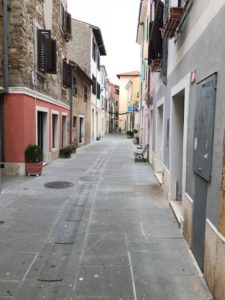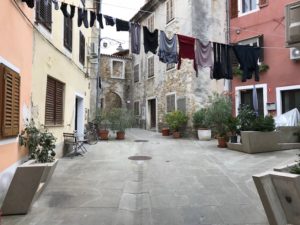 The town is made up of narrow lanes; not the picture post card lanes of Pinar but more lived in lanes of shops, wine bars, the odd local art gallery and, most especially, drying washing
The Manzioli Wine Bar is special. Except for a couple of locals sitting drinking morning coffee outside the entrance, the bar was very quiet when I arrived and the chap running it, Peter, was able to spend some considerable time explaining the local wines to me. I take back all that I said yesterday about the wines of this region. Certainly, many of the local white wines are different but that is because they are "orange wines". Orange wines can take some getting used to but with the right frame of mind and the right food they are seriously good. I am sure there is more to it than this but Peter explained that orange wines are created by making white wines as you would normally make a red wine and, vice versa, red wines are made as you would ordinarily make a white wine. He went into more detail (about how the skins are left to macerate with the pips, grape skin, etc) but that was many glasses, sorry hours, ago and I cannot remember it all.  It will suffice to say that Manzioli make their wines using the Malvasia grape (although I also tried some that were made with the Pinot Grigio) and jolly nice they were too. I couldn't trust myself to carry any back up the hill to the Van but I'll return tomorrow to buy some.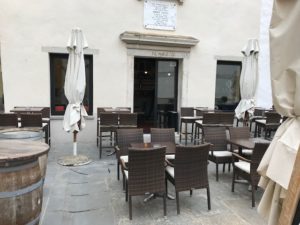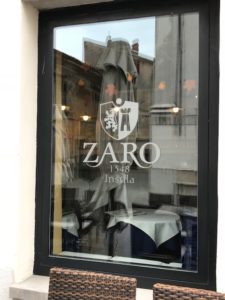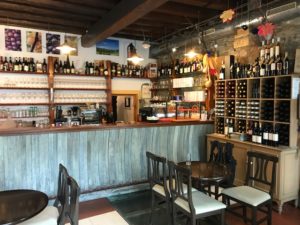 The Manzioli Wine Bar, operated by the Zaro family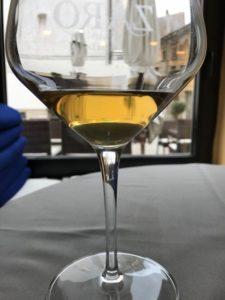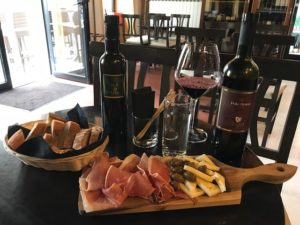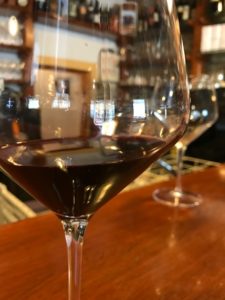 The wine and my lunch: Local Prosciutto Ham and Olives (with the family's home made olive oil) and Montasio Cheese from just outside Trieste all served with more of the family's wine, this time their Refosk Red.
Peter made me smile with his comment that the Zaro Olive Oil served with lunch is not necessarily the best in the area (not surprising given that this region is noted for it's olive oil) but it is home made with olives from their own trees and the alternative would have been to cut the trees down.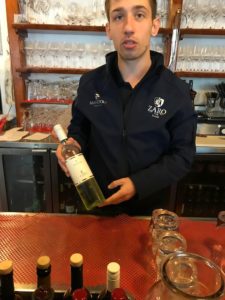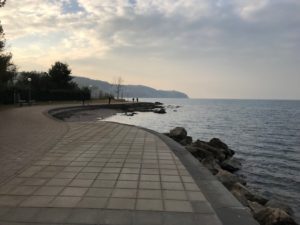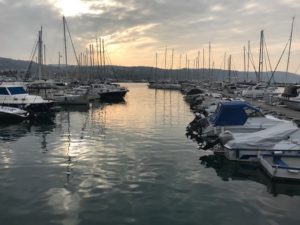 Peter in selling mode and the route back to the Van (I'm sure the path was straighter than that on the way in)… almost dusk already.
Not sure how much longer I will be staying in this area but so glad I found it (especially Izola) and, believe me, you have not heard the last of orange wine. I'm quoting Peter now but if nothing else it is a more natural wine than most in that additives, including yeast, are rarely used in the production process. Last word with regards to orange wine, if you try it and don't like it, don't give up on it. In Piran I was unsure. Here in Izola I am hooked.