Yes, I had to move last night. The donkeys didn't let up with their braying but, I think the next beach along was nicer anyway. It was certainly quieter.
I spent the evening in the Van with a bottle of red wine considering my next move. There was Zabljak (outstanding scenery even by local standards up in the north east of Montenegro) with a current air temperature -6 or; Podgorica (the Capital of Montenegro with it's attendant culture), current air temperature +1 or; Ulcinj (40 km further south) at +13. No brainer.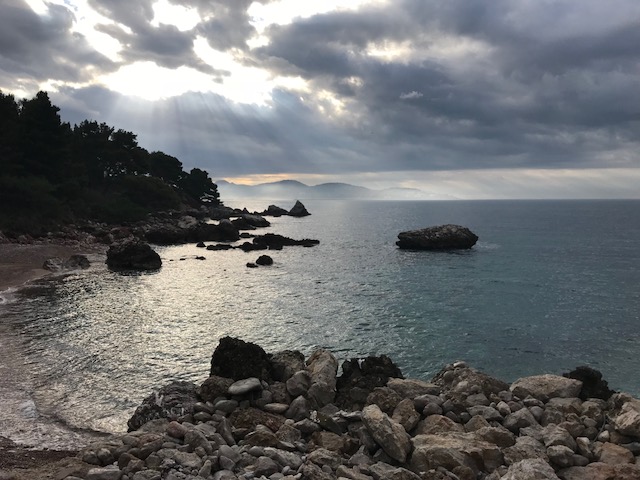 The alternative beach – good decision
After an early breakfast I set off for Ulcinj but halted en route at a small city on the coast called Bar. Bar has an Old Town (Stari Bar) but otherwise it is a mostly modern city, unattractive and not at all appealing, except that it has a most amazing looking Eastern Orthodox Cathedral – the Cathedral of St John Vladimir – which you cannot help but notice as you drive through the city. I parked up for a better look.
This is a new cathedral constructed between 2009 and 2012 and with the building being consecrated as recently as 2016 but there is a story to this place. The communist authorities had not allowed the building of an orthodox church in Bar because they consider religion of any kind an ideological enemy but, in 1979 a rather intrepid local priest, Bogic Femic, was not to be deterred and he started campaigning for the construction of such a church to be built in a prime location in the city.  For 2 years he campaigned (organising mass protests and even going on a hunger strike) and in 1981 after numerous protests and, most important, persuading more than half the city's population (including several Roman Catholics and Muslims) to sign a petition in favour of the church, he won the day and was given more than 2 hectares in the city centre upon which to build. Because of the prevailing bureaucracy and a lack of funds it would still be some time before his dream was realised but the finished cathedral is amazing and quite unlike any other I have seen:-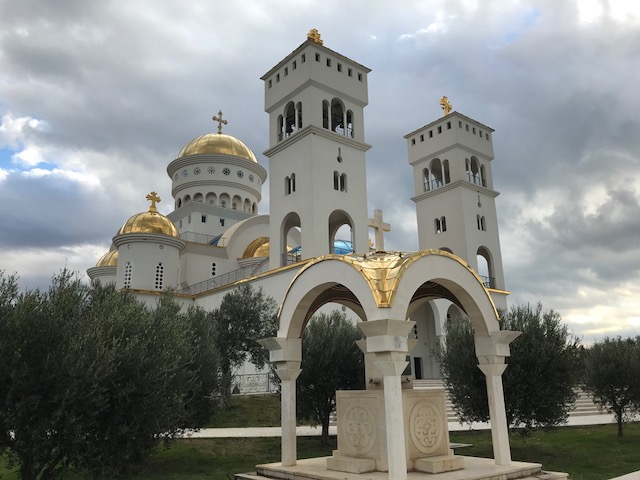 0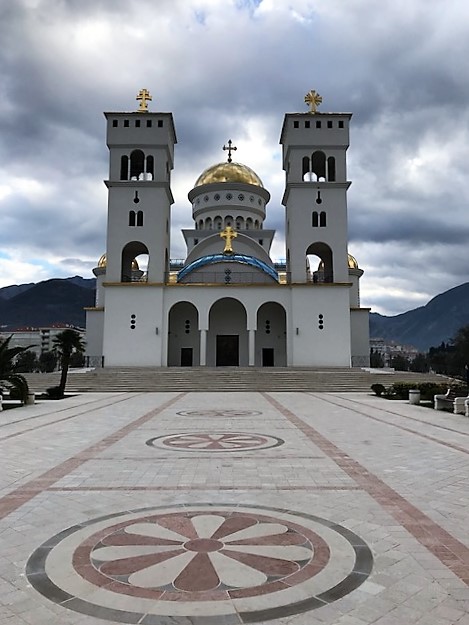 The main door to the cathedral is beautifully detailed but once you pass through the doors…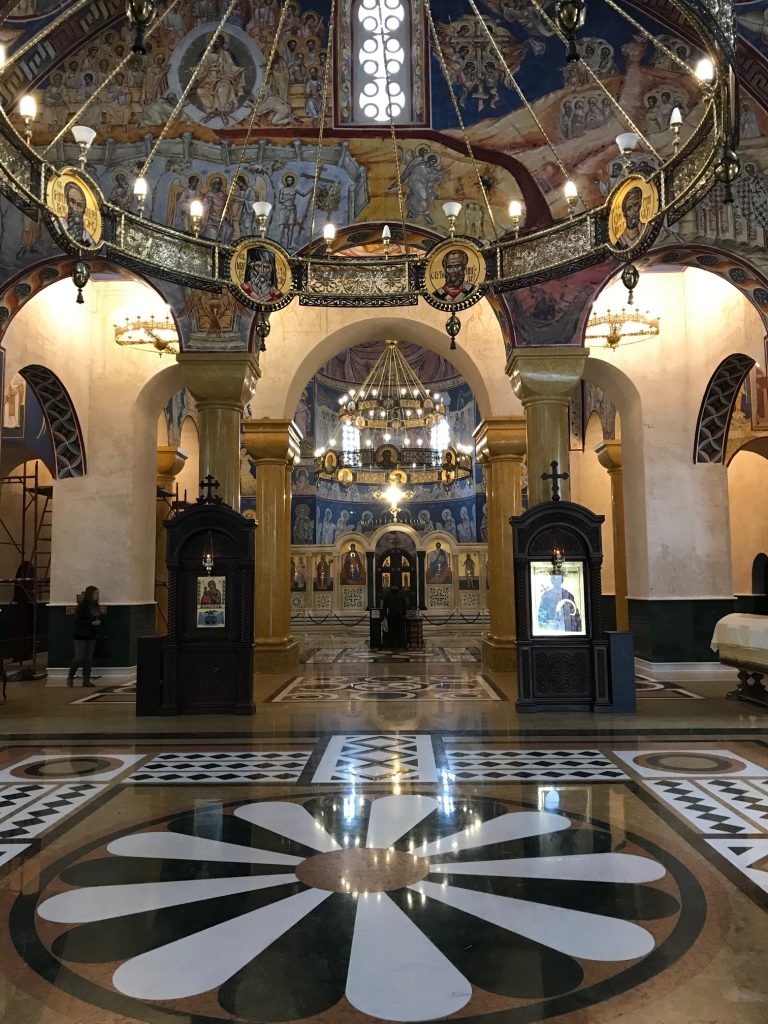 7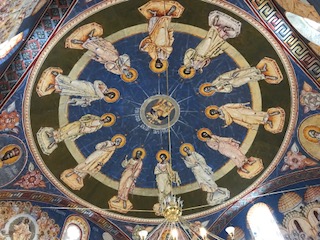 … it is exquisite. It is one that will give the Roman Catholics a run for their money.
Ulcinj was a disappointment. The journey took me down a rather narrow street that turned into a cul-de-sac because the local drivers couldn't find any parking and simply dumped their cars to go shopping. This happened twice and, believe me, it is not easy turning the Van around in such confined places. I gave up.
For all it's natural beauty (and it does have some magnificent scenery) I will not be sorry to leave Montenegro. The standard of driving is without a doubt the worst I have encountered anywhere in the world – and that includes many countries in the Middle East, the Indian sub-continent and Newcastle upon Tyne. It was a particular nightmare just south of Ulcinj, on the road to Albania. There had been a landslide of sorts and much of an already narrow road was lost. Road-workers were doing their best to make good the road and that required setting up a traffic light system to regulate the traffic over a 2-3 kilometre stretch of road that was very unstable and had very few places where vehicles could pass. The locals simply ignore such traffic lights preferring to risk life and limb and trusting more to luck than judgement when passing oncoming traffic. I was glad to get off that road in one piece.
Surely the driving in Albania will not be as bad?!?