Two girls we were talking to at a restaurant in Yport recommended Veules Les Roses as a place to visit. Tucked away on the Alabaster Coast just south of Dieppe, it is another of 'Les Plus Beaux Villages de France'. Dating back to the 4th century, it is also one of the oldest villages on the Normandy coast and quite charming.
Veules Les Roses can also boast of straddling the smallest river in France with the River Veules running less than 0.75 of a mile through the village from it's source to the English Channel. The river is also one of the cleanest as may be demonstrated by the number of water cress farms surrounding the source of the river (water cress has been farmed here since the 14th century) and, most particularly, with Brown Trout returning from the sea every year to spawn.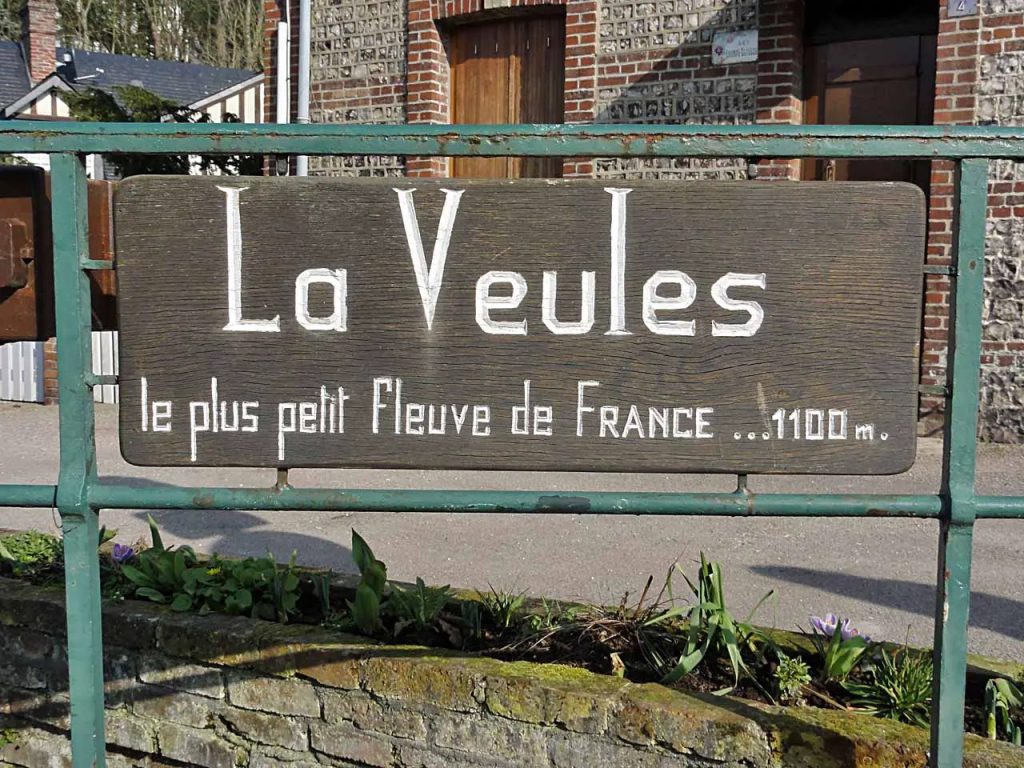 It wouldn't surprise me to learn that there is a shorter river in France but it will not be running into the sea.
Until recently this was a flourishing fishing and agricultural area but, for the most part, these industries have given way to tourism and; the many mills which once dominated this district have closed one after the other as the number of tea rooms has increased. There are now 2 dozen tea rooms in the village.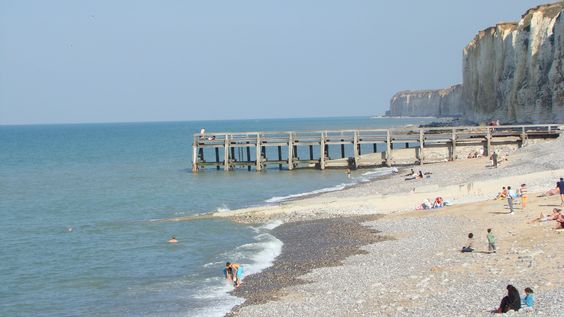 I wasn't particularly impressed with the beach area but…
For all that, one water mill continues to grind grain, the water cress farms are thriving and the local oysters which are farmed offshore (the veulaise oyster) remain popular. More than that, the real beauty in the village is not so much to be found on the beach in the tea rooms and restaurants where the tourists congregate but in following the track of the little river (which track is known as the Champs Elysee) as it winds it's way around a wonderful mix of houses – the tall stone houses of flint and brick so typical of Normandy; medieval pastel coloured half timbered houses and delightful thatched cottages.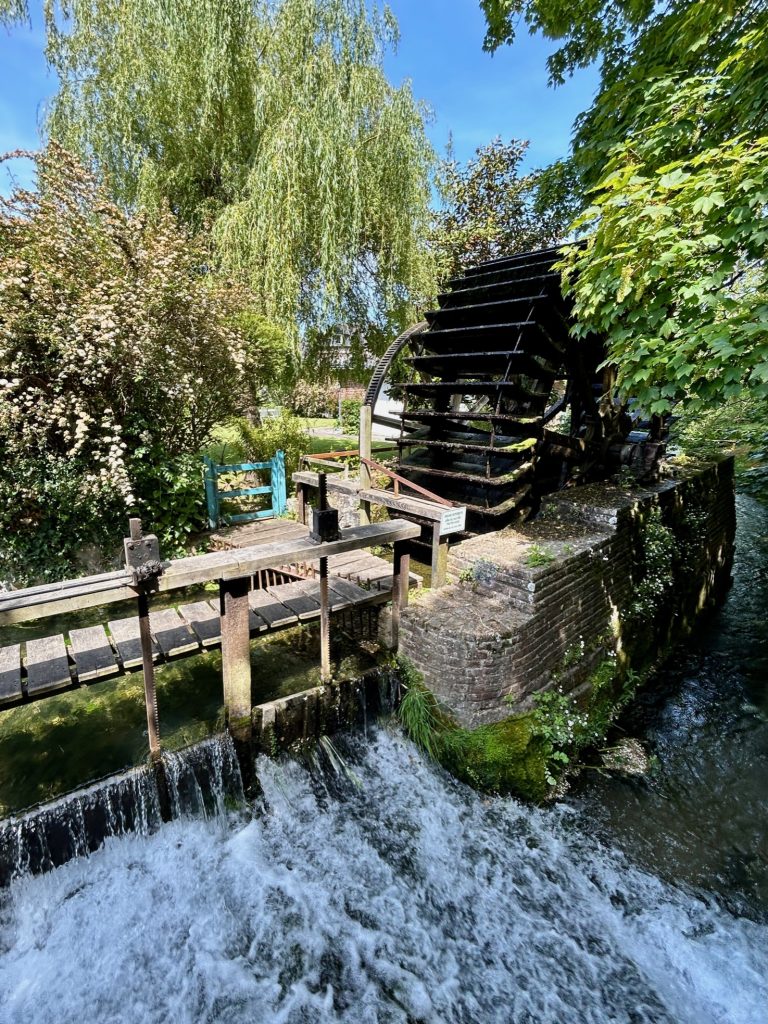 … following the river…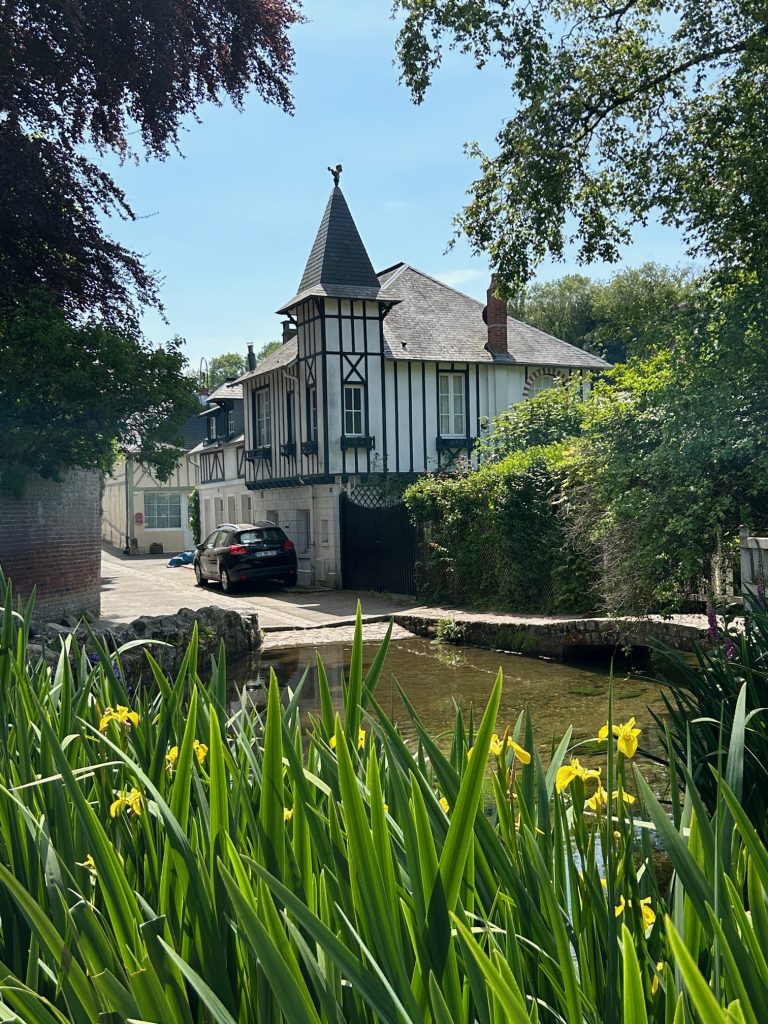 … and seeing so many delightful houses made the visit well worthwhile.
Veules Les Roses was to be the last explore of this, our brief seventh, tour. Yes we returned to the vet (Veto Coeur de Caux) in Fecamp so that the dogs could get the tapeworm tablets necessary for them to return to the UK and we spent our last night at the municipal campsite in Montreuil sur Mer (to facilitate a short journey to the Eurotunnel on our last day) but we didn't stay long in either place. I'm certain we will return to both at some time in the future (for the same purposes) but on this occasion there was no need for an explore. Until next time… au revoir.