Result! I spoke to a young Slovenian couple yesterday after they asked me to take a photo of them together and they suggested that I should visit Piran if ever I returned to Slovenia. Well that settled it. When I awoke this morning I set off for Piran. Good decision!
I should have reached Piran within an hour of leaving Trieste (despite having to stop and buy another vignette to continue using the Slovenian motorways) but, as has happened so often on this tour, I was sidetracked. Just outside of a place called Izola, about 8 km from Piran, I stopped to check out the Belvedere Hotel which had a sign outside advertising their new camping facility. As camping sites go it is 5 star, which is perhaps not surprising given that the Belvedere is itself a newly opened 4 star hotel. When they offered me a prime site (take a look at the photo below) at just 6 euros a night and with the promise I could use some of the hotel facilities I simply had to accept and I subsequently took my lunch at a small bar down on the marina in Izola.
I liked what I saw of Izola and will return tomorrow to explore further but first impressions were favourable. It seemed to me to be a small working fishing port that looked a little like Venice (that will be down to some of the architecture).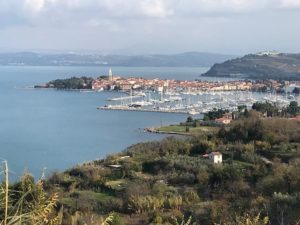 That's the view (of Izola) from where the Van is parked
In the afternoon I pulled the push bike out of the Van with a view to cycling the 8 km to Piran. One bloody big hill later I took the bike back to the Van and started walking to Piran. Bicycles are hard work in such a hilly country.
It would have taken me less than 2 hours to walk to Piran but I wasn't comfortable walking along the main road this close to Italy (the Italian drivers in Trieste did that to me) and I found a much safer, albeit considerably longer, coastal route.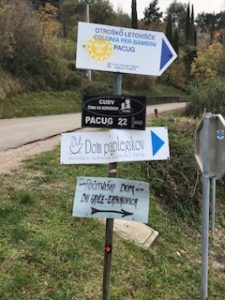 Thank heaven for google maps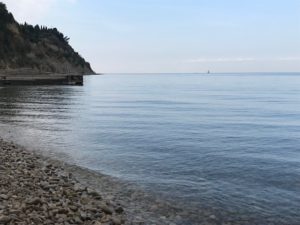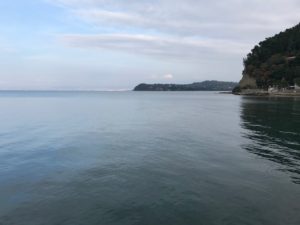 The views forwards and backwards were pleasant. With good eyes and a little imagination you can just make out Trieste in the (very) far distance of the second photo.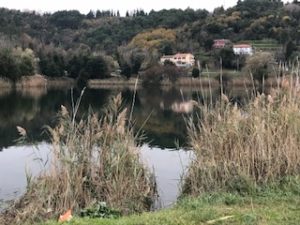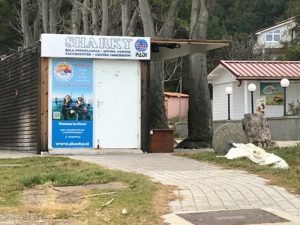 View's inland weren't bad either. I even found a PADI Dive Centre (closed for winter) and/but seeing that prompted me to test the water temperature – too cold for me.
Piran is sensational. It is less than 50 km from Trieste by car but a million miles away in terms of content and atmosphere. As with Izola, some of the architecture reminds me of Venice but there's not the hustle and bustle of Venice. It is a place to eat and drink and do little else but watch the world go round. The local wine takes some getting used to. They mix (I will not use the word blend) about 5 different grape varieties and create the driest wine I have ever tasted and it doesn't really appeal. On the other hand, the local food is seriously good. Piran is famous throughout Slovenia for fish and especially its Sea Bass caked in local salt. That's all I'm going to say about the food until I complete my trip advisor report (Will?).
Here's a few photos of Piran:-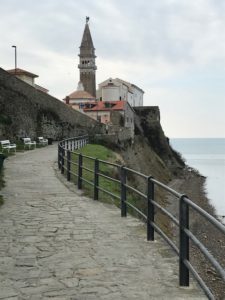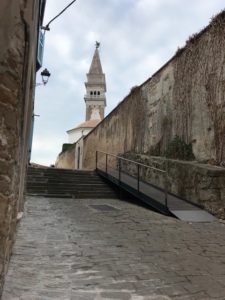 You follow the headland round and suddenly you are confronted with your first sight of the town, the Bell Tower of St George's Parish Church. You are then presented with a choice of narrow alleys to follow but keep going up and you find St George's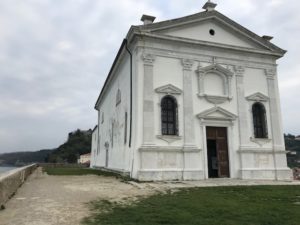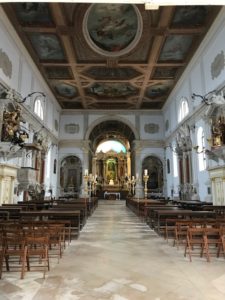 The church doesn't look that imposing from the outside but inside…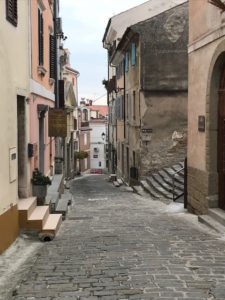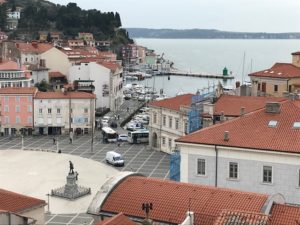 Follow the narrow lanes down and you will reach the main square with it's statue of that famous violinist Giorgio Tartini(?)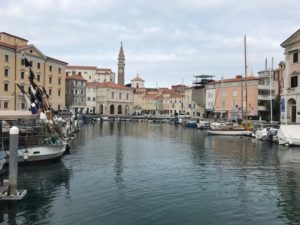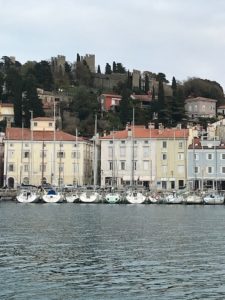 Views from the harbour walls are impressive. I nearly forgot the castle and town walls at the top of the hill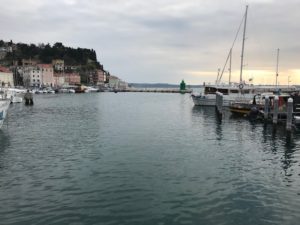 I'm told there's another coastal walk somewhere in that direction going to Portoroz, another more modern but equally interesting town. Maybe the day after tomorrow…
Okay, just one more comment about food that I think best reflects Piran attitudes. The McDonald's Restaurant that was opened here had to close in less than a year because no one was interested. Now that's what I call music!