Having been together for 33 years this month you would think there isn't much that Dave and I don't know about each other. Living in a camper van though has revealed that Dave has a deep, dark secret that he has been withholding from me. There have been hints over the years but it is proving impossible for him to hide it any longer – he is a pontist. I had no idea there was such a thing until in desperation I googled it. It is similar to being a train or plane spotter but in Dave's case it is bridges. This may not sound a serious problem but there are literally thousands of rivers and accompanying bridges in France and when taken together with my morbid fear of heights… Well! Let's just say that bridges and acrophobia are not good bedfellows. I patiently wait while he walks over the bridge, on both sides of the bridge and sometimes even under the bridge waxing lyrical about it's attributes and taking copious photos. This is particularly galling when visiting a beautiful town like Cahors which has two road bridges and a railway bridge!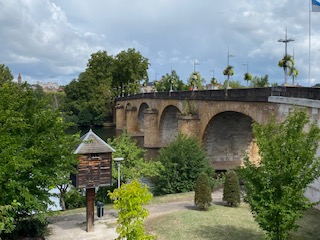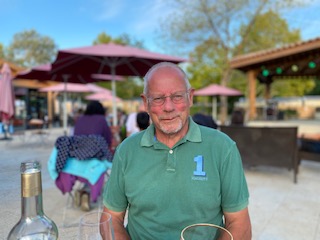 Anyway, enough about Dave's issues for this week and back to our continuing trip around France, this time in the Dordogne area. One of the most unusual and beautiful villages we recently discovered was La Roque-Gageac where on the banks of the River there are houses built into the cliffs, a stunning bamboo garden and best of all no bridges in sight. The place was absolutely packed with tourists (obviously, we don't count as tourists) and I would love to visit outside of the holiday season but even so it was well worth a look.
On our way to Bergerac, which was our next port of call, we completed our first 1,000 miles since leaving Brighton. Our fairly basic campsite was situated alongside the bridge into town (there's a surprise!). We left the dogs in the van, for the first time since beginning our tour, to dine in a local creperie. The food was divine, so much so we both had a savoury and a sweet crepe for our two course meal. The old town is very pretty; full of cobbled stones and old buildings. I have fallen in love with the Dordogne area.
On the recommendation of a friend (Thanks Craig) we then headed into some serious wine country at St Emilion. The campsite was the only place around not stacked with grapevines. They are everywhere and for as far as the eye can see. It is a very well appointed site with a lovely lake which the dogs decided was their very own private swimming pool, disobeying our very strict orders to keep out. Of course, while they are normally incredibly obedient and hang on my every word, it was rather warm…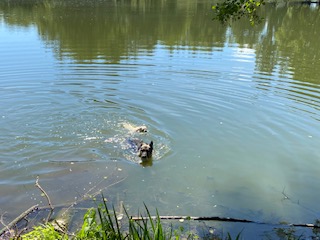 We headed to the Chateau Champion vineyard for some red wine tasting; not normally my tipple of choice (give me white any day; okay, every day) but it was palatable and I very much enjoyed the chilled Rose. Well, 80 Euros later, we may have to pump up the back tyres on the Boomobile.
The Campsite provided a free shuttle service into the village of Saint Emilion which proved to be yet another lovely cobbled stone medieval village with countless wine shops and marvellous views. I was happy to while away a couple of hours there and enjoyed lunch.
Headed west next towards Cahors as the weather was turning and in any event it is on Dave's wish list to visit. I refer you back to my first paragraph.