Urbino was picked out by Vanya as somewhere she thought I would like and; I do, except we didn't stay as long as we perhaps could or should have done to do the place justice. I had picked out another small town, Sassocorvaro, which place also looked worth a visit (and is just down the road a bit) and; because Urbino couldn't offer decent overnight parking, we elected to do both Urbino and Sassocorvaro and trust that the latter town would offer more in terms of a place to overnight at. Well, that was the plan and; it worked well to start with. We enjoyed a brief stop in both Urbino and Sassocorvaro but then it went all to pot. Sorry, I am running ahead of myself. Let me talk a little about the two places and then I will explain how most everything else went awry.
Urbino is a small brick and sandstone walled hilltop city of just over 15,000 people in the Marche Region. It was both a Roman and Medieval town but it really came to the fore during the 15th century when the Duke Federico da Montefeltro, a real patron of the arts, totally remodelled the place into one of the most important Renaissance sites in Italy. He called some of the world's most renowned scholars and artists to his court and created a centre of learning that would ultimately lead to the city being recognised in 1998 as a UNESCO World Heritage Site.
It is still a centre of learning with the University of Urbino being ranked as one of the oldest (founded in 1506) and most prestigious in Italy and in so many respects it is a proper university town – witness the numerous university book shops, coffee bars and accommodation letting agencies. We arrived near lunchtime and the town's steep narrow streets were thronged with students, released for the day and crowding the coffee shops and bars. There are more students than native residents and, if what we witnessed is anything to go by, they invoke a lively, buoyant atmosphere. Ordinarily I would have said there was a real buzz about the place but, sadly, Vanya and I have been exposed to too much "lockdown" and "social distancing" as a result of the current COVID pandemic and I think we both felt somewhat uncomfortable by the tumult and general mood of the place (although we were not deterred from joining them in coffee and cakes at one of the local coffee shops).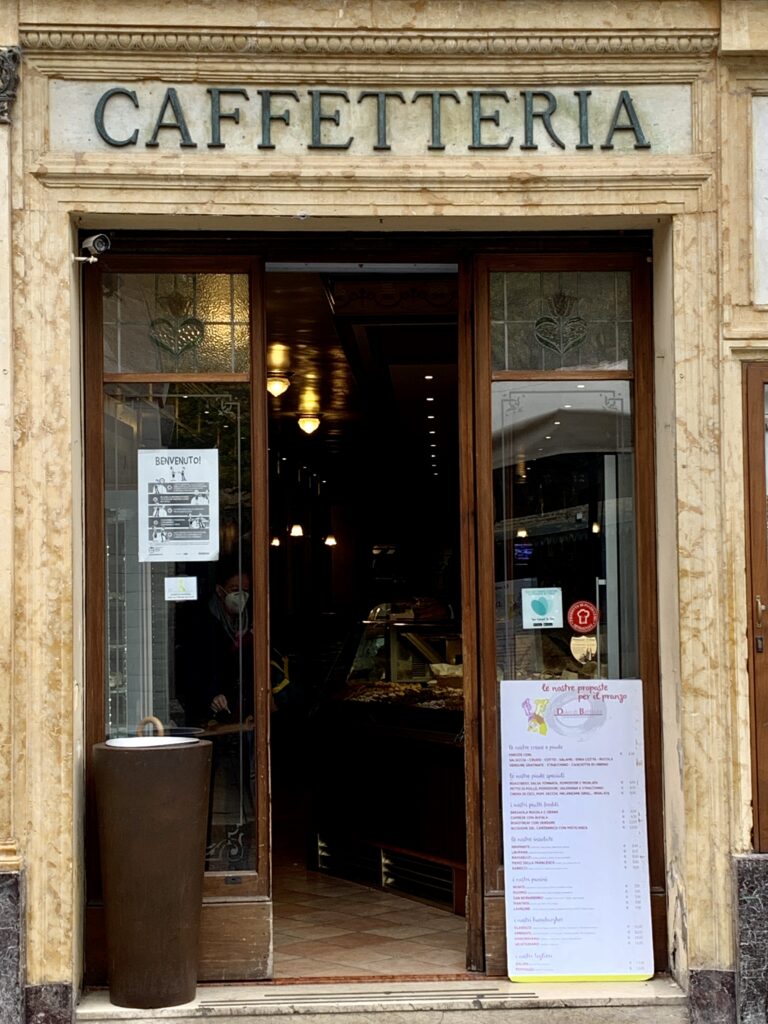 There was insufficient time for us to visit even one of the city's many local art galleries or museums but just by walking the city we viewed countless examples of architectural magnificence and the views from the city across the remarkably green, rolling countryside match any I have seen in Tuscany.
The most outstanding building and the centrepiece of the town is the very well preserved Ducal Palace and, alongside that, the Cathedral. The Ducal Palace houses the Galleria Nazionale delle Marche; one of the best renaissance paintings collections in Europe with Raphael, Titian and Pierro della Francesca predominating. Incidentally, Raphael (or Raffaello Sanzio to give him his proper name) was born in Urbino and the house he was born in is now a museum.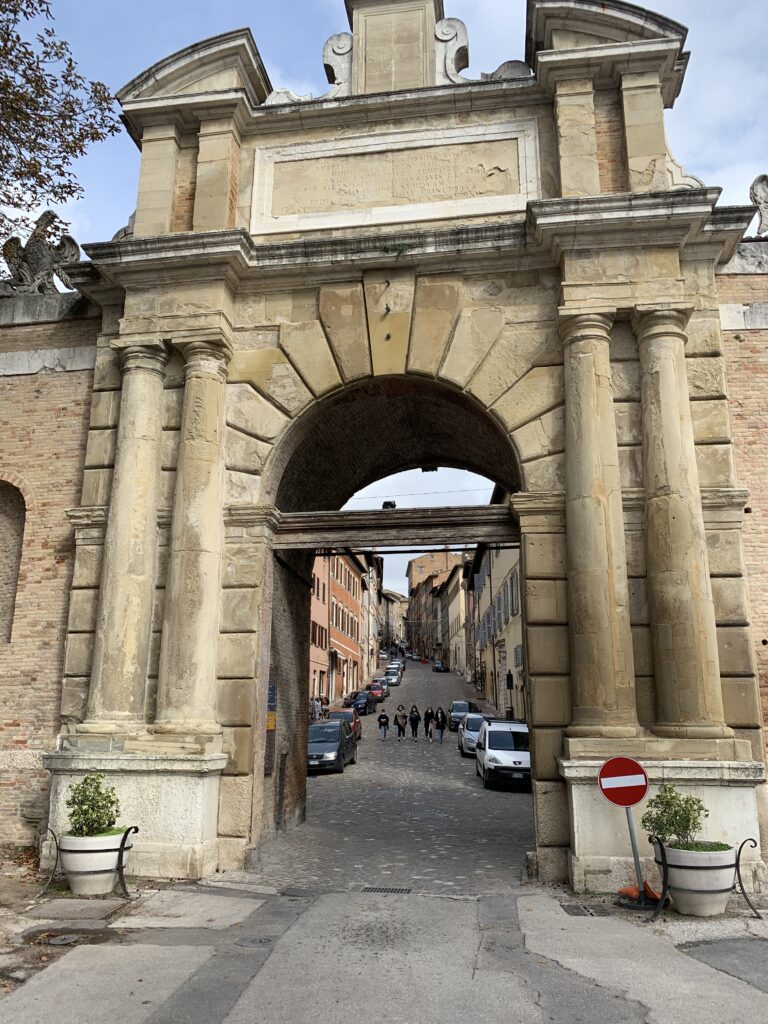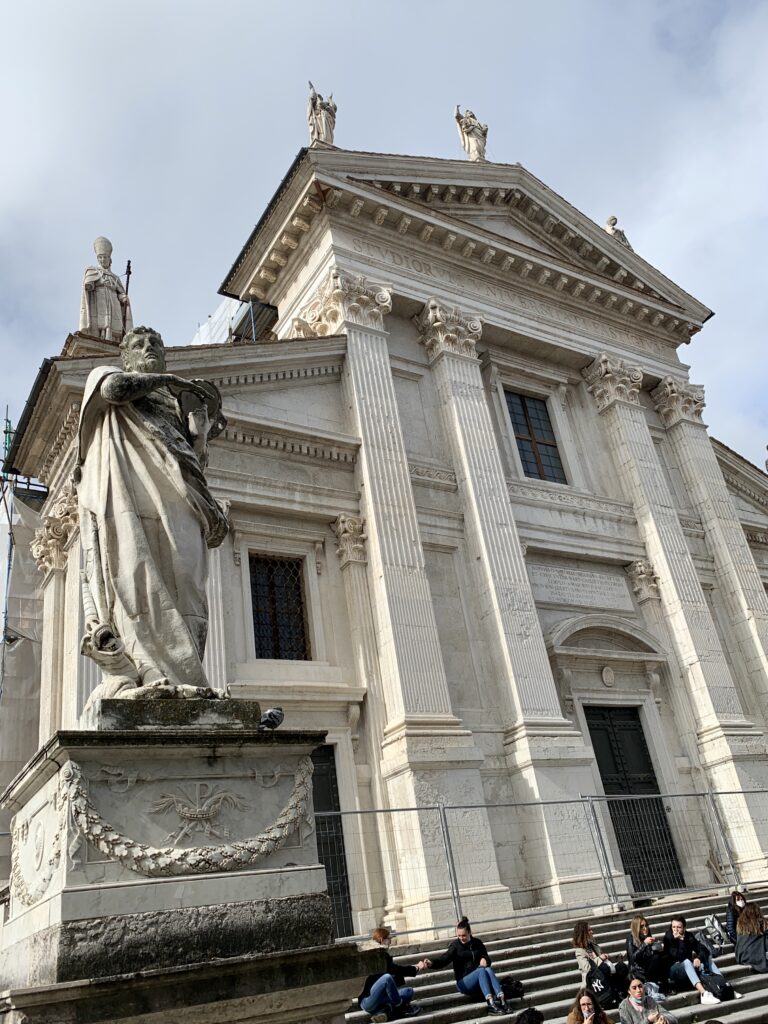 And so it was that by mid afternoon we were heading off to Sassocorvaro…