Arrived in Italy and made our way to Bolso del Grappa through Vidor and Valdobbiadene. We were booked into Camping Santa Felicita together with friends Craig and Julie who were visiting Italy in their own van. We fancied a return to the Prosecco Hills and, in particular, the pretty little town of Asolo which is a relaxing little place in the foothills of the Dolomites and fully deserving of it's "I Borghi più belli d'Italia" status. We used the Santa Felicia campsite as a base when last in the area and there's nothing wrong with the place.
It was pleasant meeting up with Craig and Julie and for the most part we really enjoyed that first evening at the campsite notwithstanding the incredible storm which struck as we were eating in the restaurant adjacent to the camp site. It wasn't so much the thunder and lightning which made the storm so memorable but the torrential rain. It was deluge which for a short while at least matched any of the monsoons I have witnessed in Africa and the Far East.
It was later, after the storm had subsided and we returned to the Vans, that we learned the full cost of that evening. The awning on Craig's vehicle had been half torn from the side of his van. It was totally ruined. If that wasn't bad enough, the next day both Julie and I, despite eating different dishes at the nearby restaurant, were both very sick. I'll not say any more about that but I very much doubt we'll be eating in that restaurant again.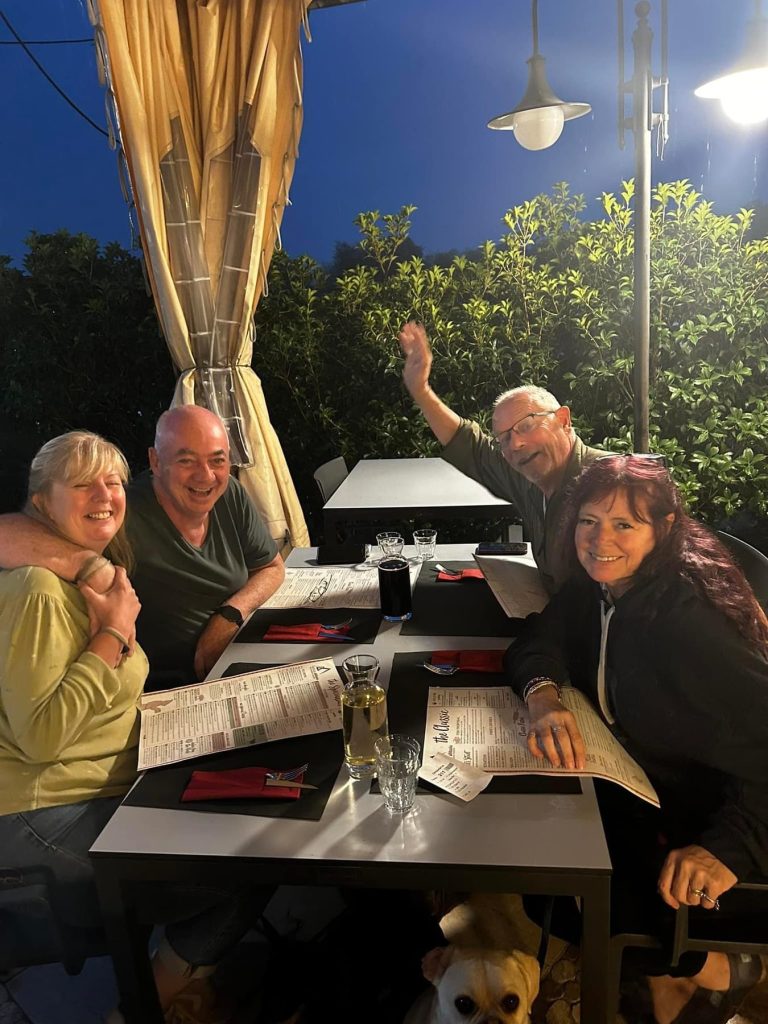 Next morning we all made our way in the Van to Asolo. We parked in the large municipal car park, the Parcheggio Coperto 'Cipressina' (free parking except at weekends and bank holidays) and strolled up towards the town centre using Via Forestuzzo and Via Robert Browning.
When last in Asolo I intended walking to the 12th century castle ruins (La Rocca) which tower over the town but Vanya and I so much enjoyed sitting in the sun drinking chilled Prosecco that we left it too late. Together with Craig, I was determined to put that right this time. We enjoyed a glass of Prosecco with Vanya and Julie at one of the bars on the picturesque Piazza Garibaldi (once known as the Piazza Maggiore) and then, leaving the ladies to enjoy a second glass, we set off on the short steep walk up to the castle.
We made it (after a bit of to-ing and fro-ing) but 'Sod's law', La Rocca was closed! There was a sign at it's entrance advising it is open to the public only at weekends and bank holidays. We could have done with that sign at the bottom of the hill. No matter, the exercise will have done us good and we could still enjoy the views over the surrounding countryside.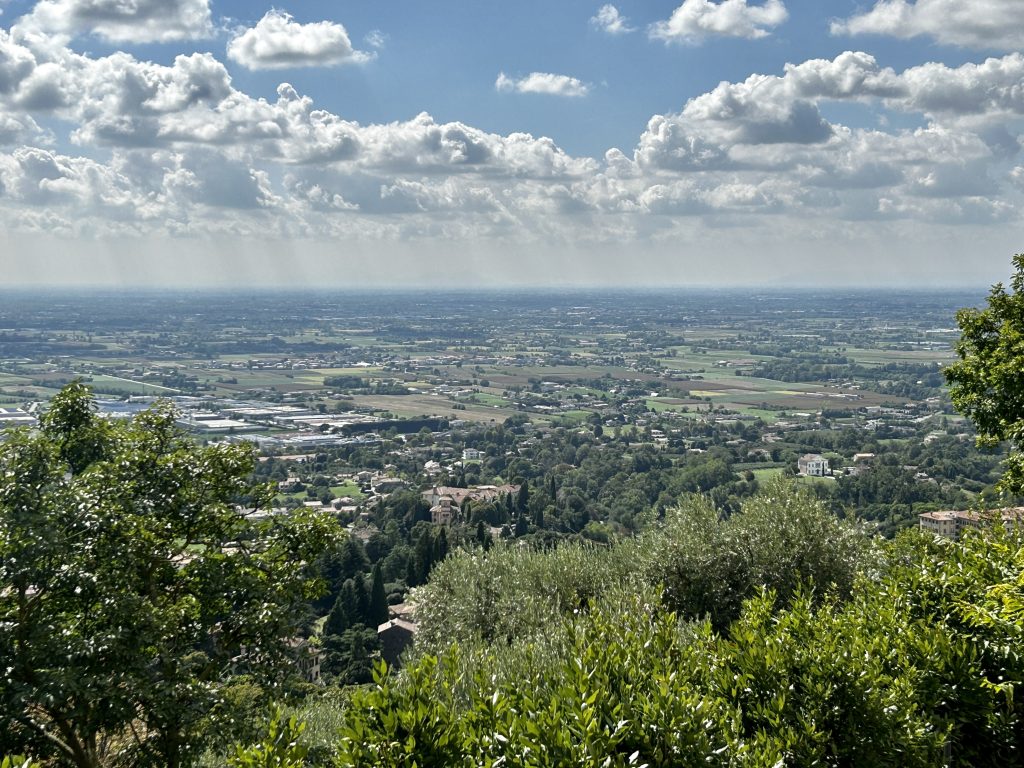 Upon our return from the castle, there was plenty of time for a wander around the town…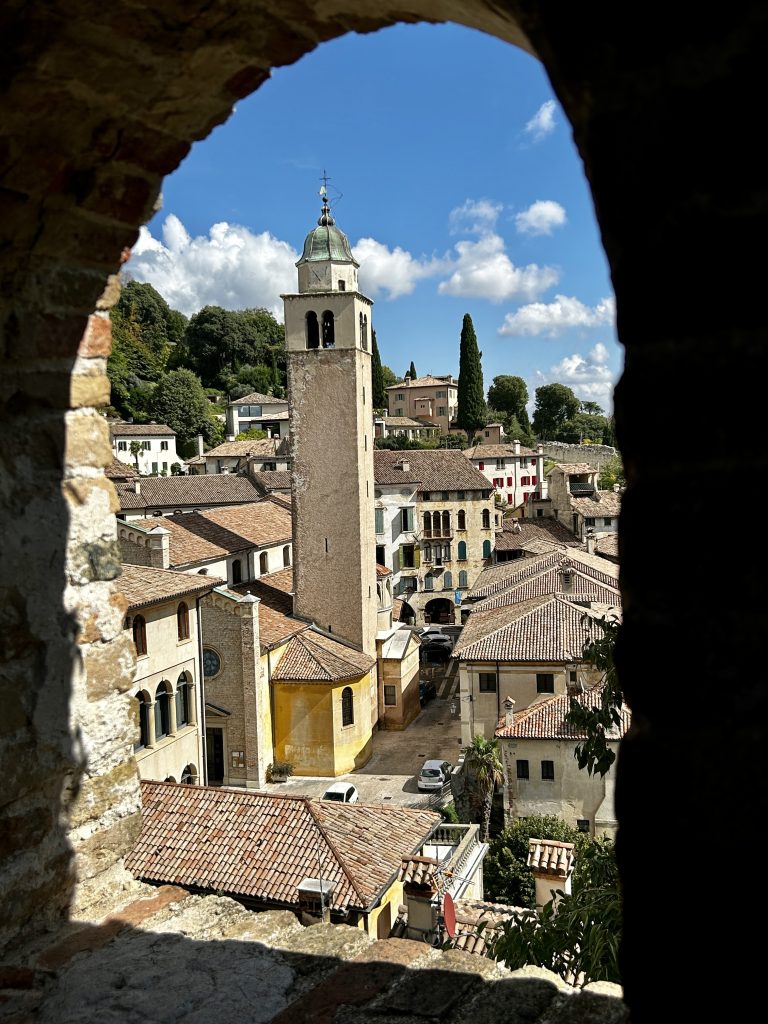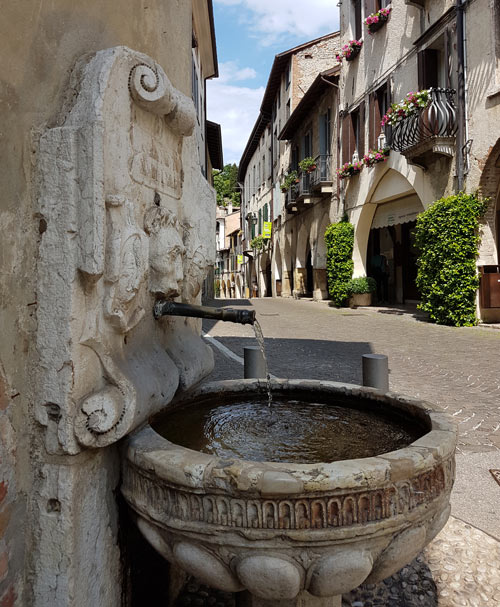 … and this time, unlike before, I was able to access the church, the Duomo di Santa Maria Assunta.
The Santa Maria Assunta does not rank amongst the most beautiful of Catholic churches and neither, I think, does it have a great deal of history (it's all relative) but it does have a very good copy of Titian's 'Assumption of the Virgin' the original of which we saw in a church in Venice many years ago. This copy is by Lorenzo Lotto but, to be honest, I know almost nothing about him.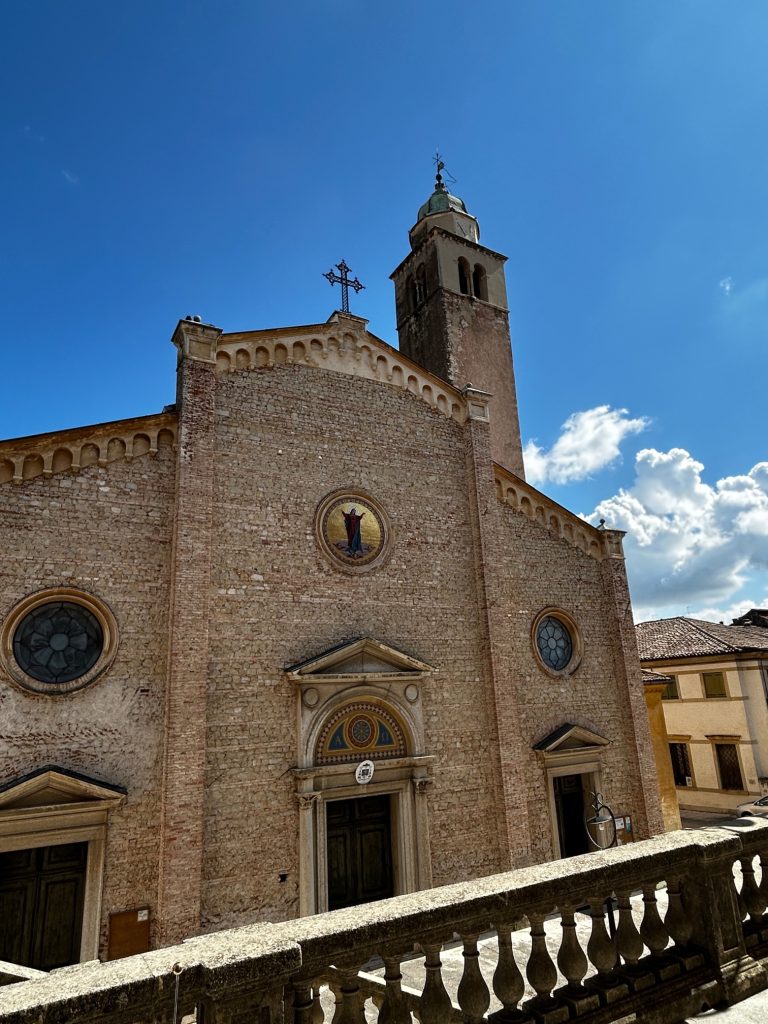 The following day was spent driving around the Prosecco Hills, pausing briefly at Vadobbiadene and Vidor for a drink but that meal of a couple of days ago was still hurting and I was in no mood for either eating or drinking. Shame because this is a beautiful part of Italy with some great and very unique local produce. I'm talking drinks and food.
The Veneto Region is most famous for it's Prosecco. I went into some detail about this fine sparkling white wine in a previous blog so; I'll not risk repeating myself now except to say that Prosecco is made predominantly with the local Glera grape and Asolo Prosecco was granted DOCG status back in 2009. I don't think I have ever mentioned that Asolo Prosecco was the first Prosecco to include an 'Extra Brut' category? I find that category too dry but Vanya adores it.
Other drinks which simply have to be mentioned when talking about the Veneto Region are Grappa (originated in Bassano de Grappa in the Vicenza Province of Veneto), Amarone (my favourite Italian red wine produced in Verona Province) and Aperol (this bright orange liqueur was created in Padua in 1919 and is used to make the Aperol Spritz – one part soda, two parts Aperol and 3 parts Prosecco).
So far as food is concerned, the Veneto Region favours polenta and rice over pasta (and I can relate with that). This is true across all of the Veneto Region and most especially across the province of Treviso (of which Asolo is a part). One very famous Italian dessert which originated in Treviso is Tiramisu, first created by chef Roberto Linguanotto in the 1960's.
Anyway, enough about food and drink – I'm off for a beer.