Duino was recommended to us as a nice place to visit by our friend Clare and it is. It is a tiny Italian fishing village on the Adriatic Coast with a focus towards cozze (mussels) but it's two castles which sit on the cliffs overlooking the Gulf of Trieste have long been the star attractions of the area. For a while, during the time of the Austro-Hungarian Empire, Duino became a fashionable seaside resort of the Austrian Riviera with the then owners of the newer of the two castles hosting Austrian Royalty (Franz Joseph I and Archduke Maximilian I) and such notable guests as Johann Strauss, Franz Liszt, Mark Twain and Victor Hugo. Those days ended at the conclusion of WW1 with the dissolution of the Austro-Hungarian Empire and Duino being ceded to the Kingdom of Italy.
The hamlet has a small fishing harbour which on hot sunny days doubles as a sunbathing and swimming area. It was 34 degrees centigrade and getting hotter as we arrived and there were plenty of locals stretched out on the harbour walls or swimming in the water. It was almost noon and so we decided to stop for lunch at the prettiest of the two restaurants by the water. We had the best prawn salad.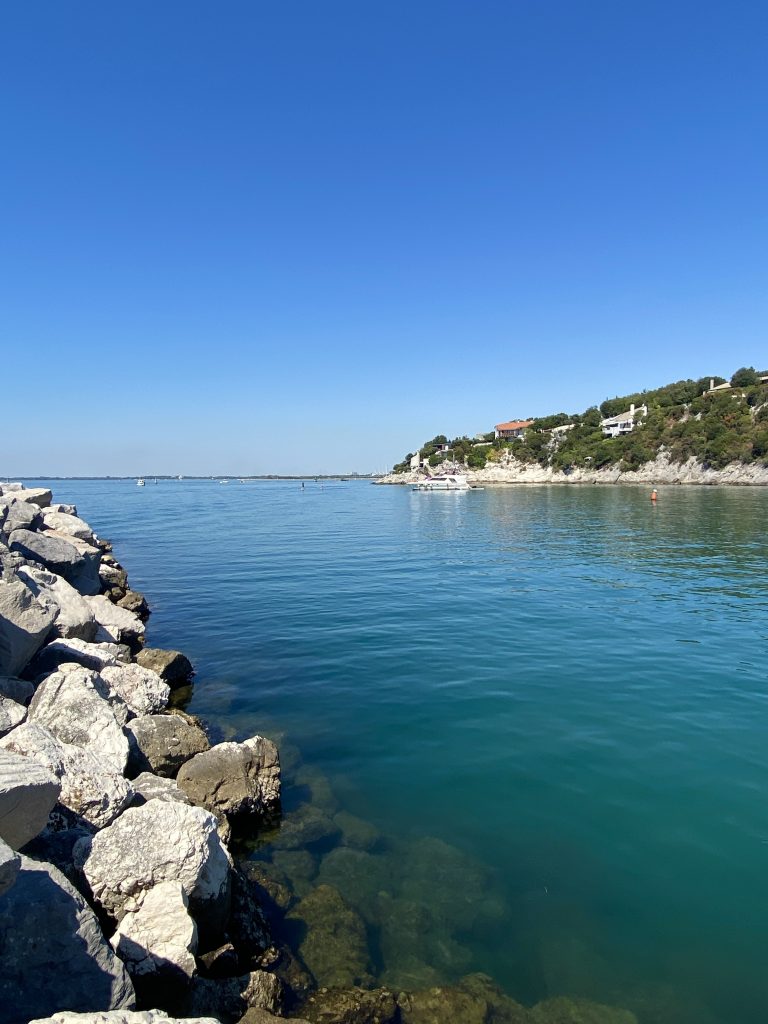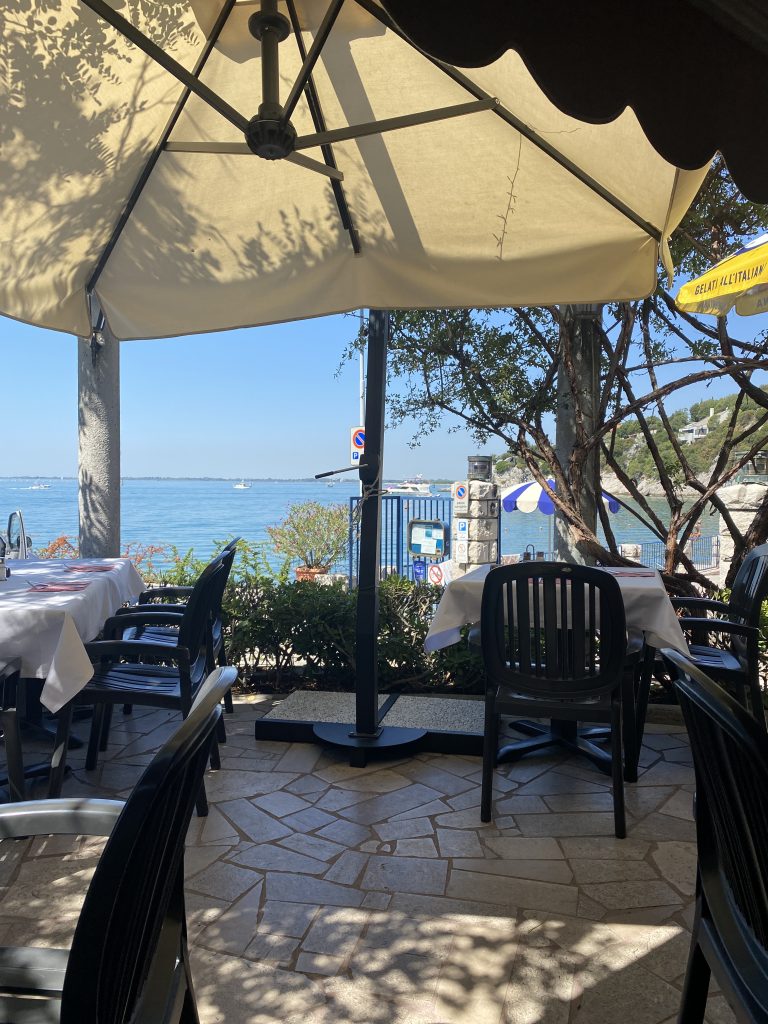 As the afternoon went by it became increasingly hot; too much so for the dogs and Vanya took them back to the Van for some respite from the heat while I continued on to view the towns two castles.
Of the two castles, the older 11th century castle (the Rocca di Duino) was left deserted in the 15th century and is now little more than a spectacular ruin on a large rock beneath the newer 14th century castle. The new castle is still inhabited and was opened as a museum in 2003. It's exterior and it's gardens do not match Miramar Castle further down the coast towards Trieste but it's inside and it's views are every bit as majestic.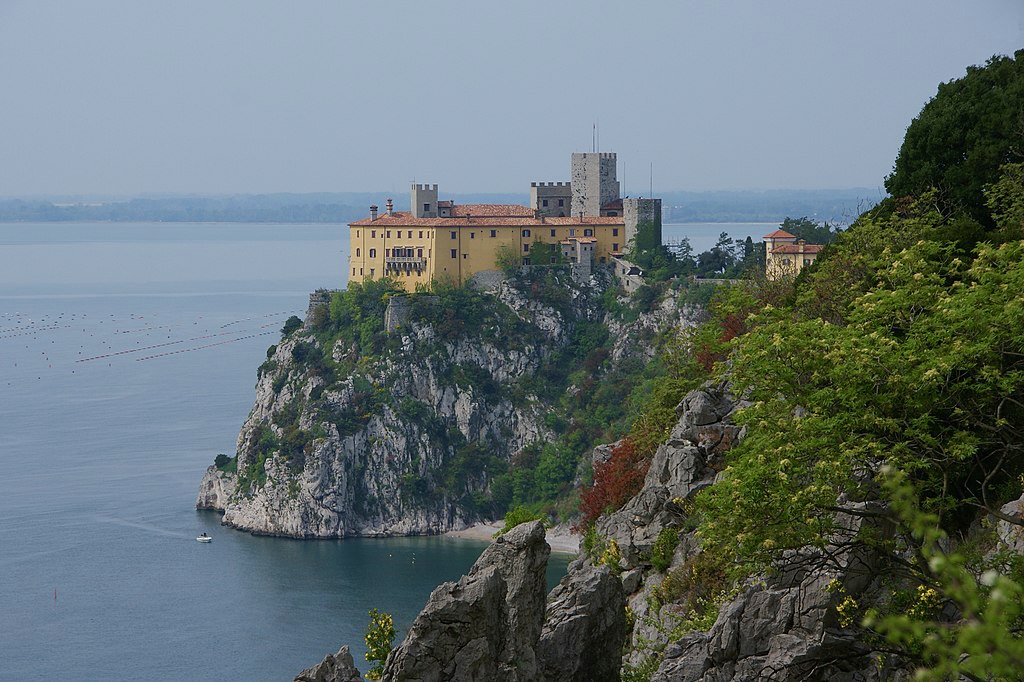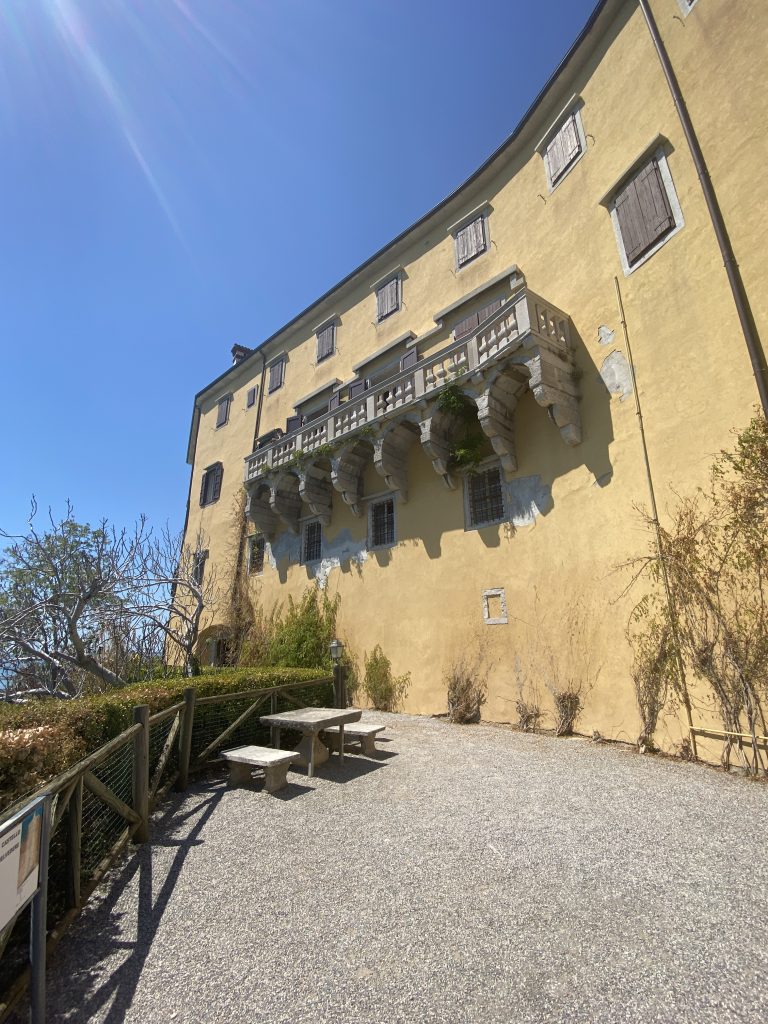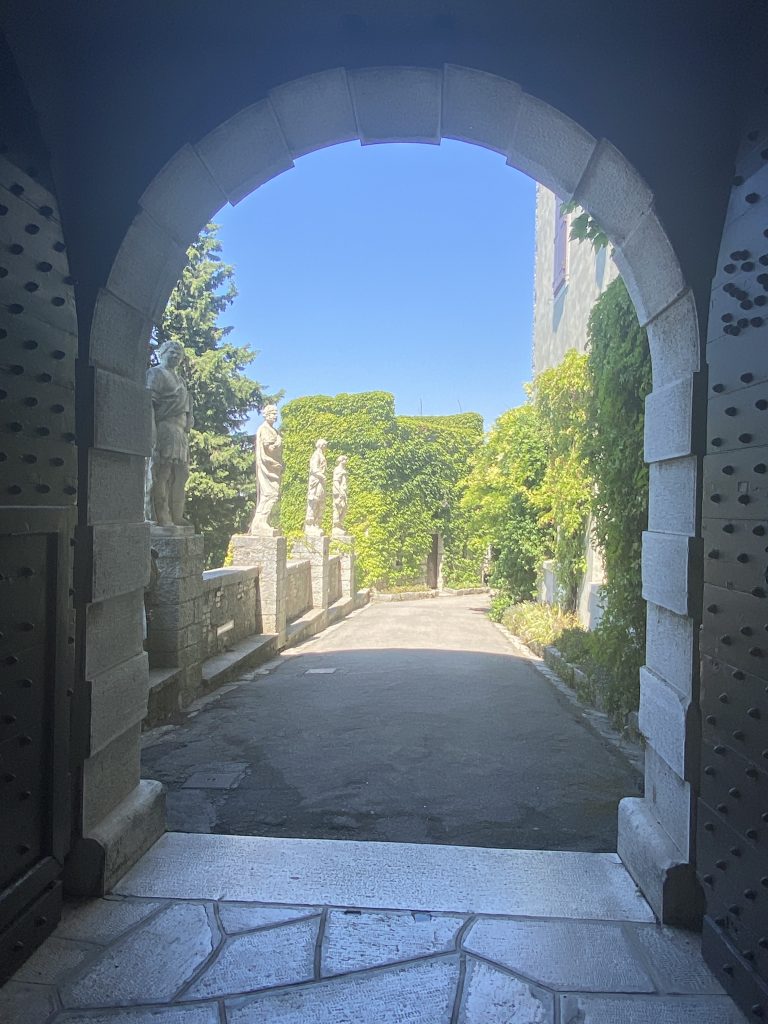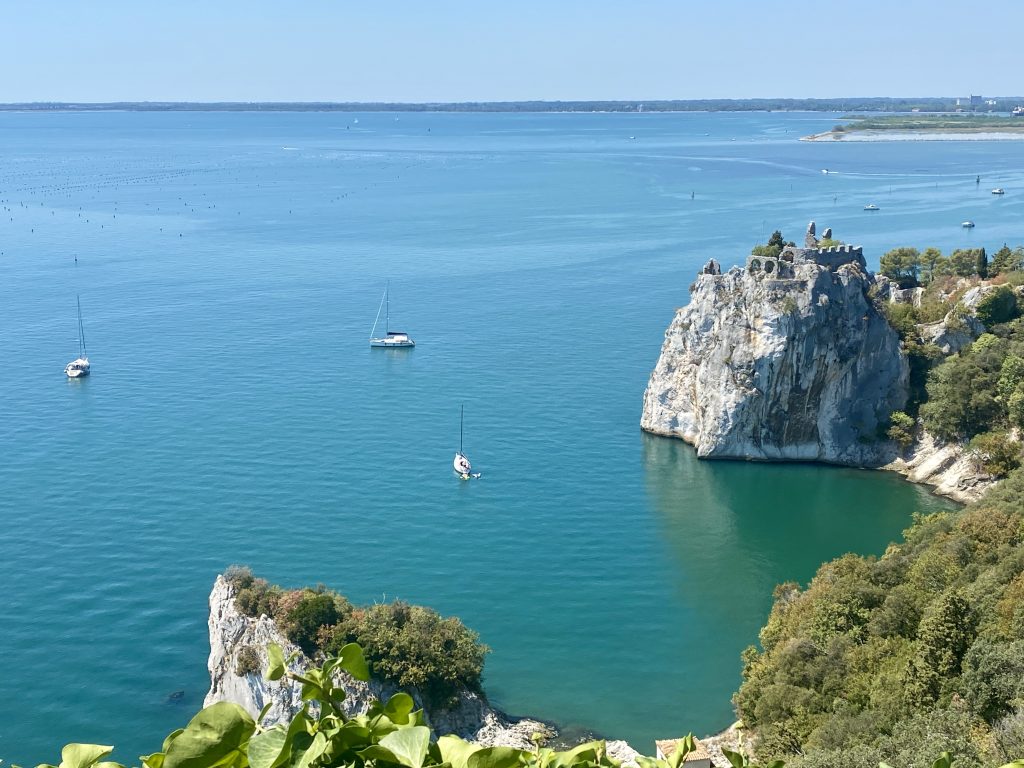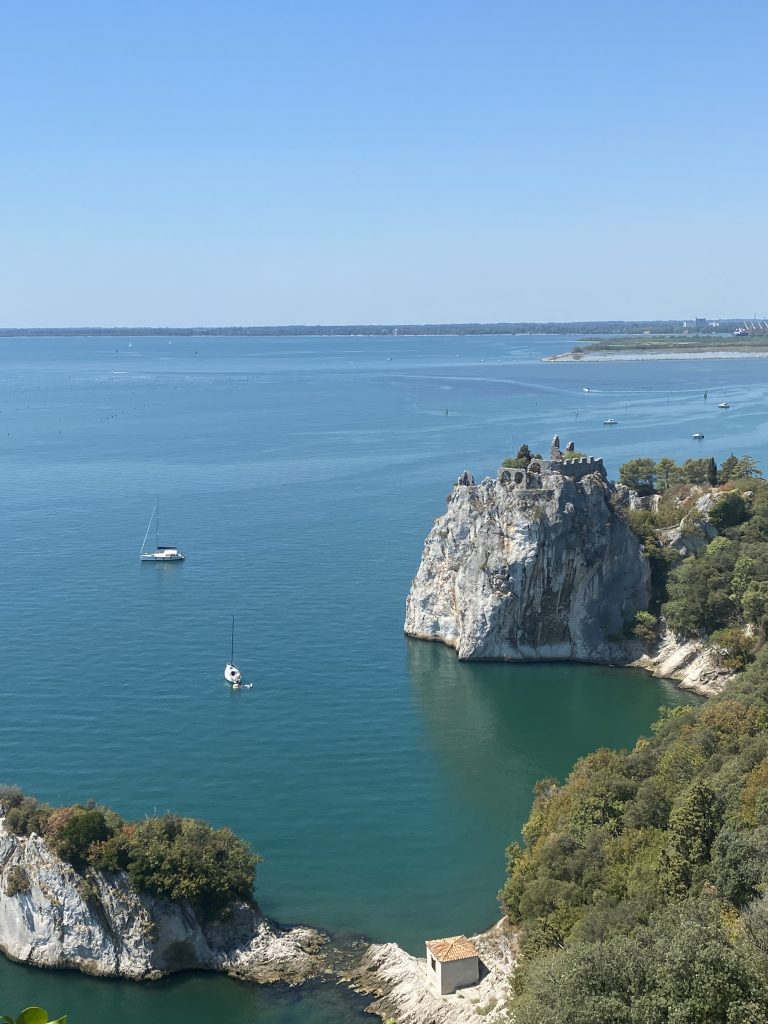 One unusual feature of the new castle is it's bunker, added by the German occupiers during WWII. The entrance to the bunker is in the garden at the rear of the castle. The cool air in the bunker was well worth the hike up and down the stairs. However, I can't help but think they could do more with the bunker. There was one glassed off room containing a few pieces of old WWII military equipment but the glass was covered in too much condensation to properly make all the items out.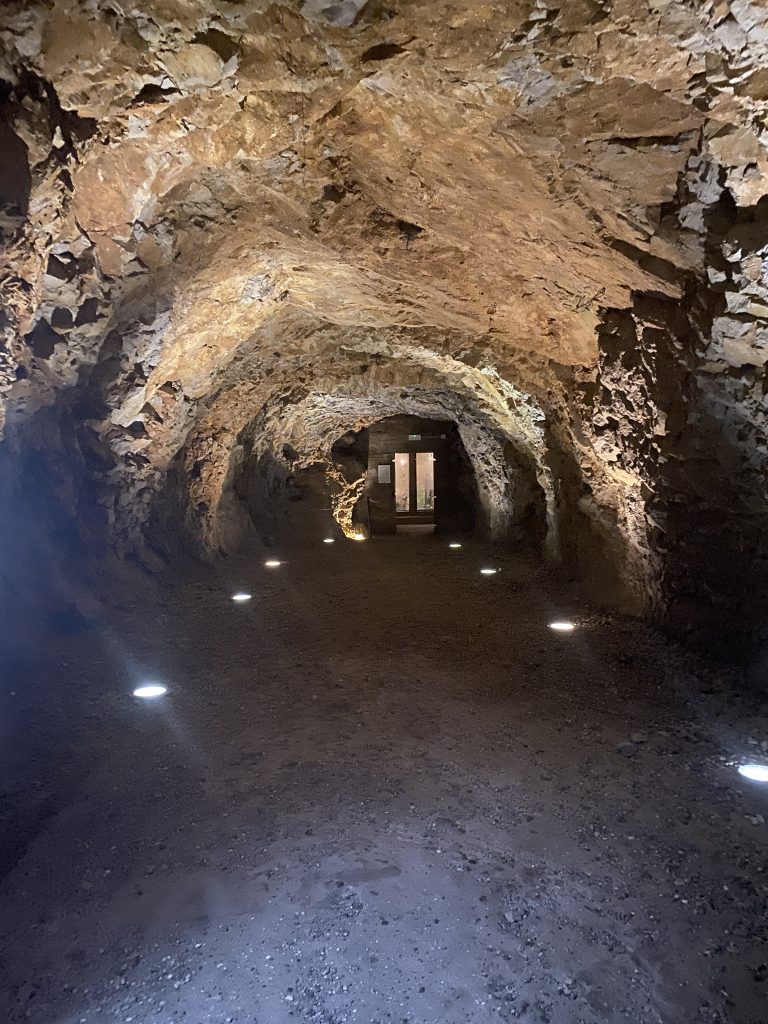 I didn't get to it but cut into the rocks just above Duino is a small 1st century BC temple to Mithras. This religion was a Persian religion which was championed by Roman soldiers.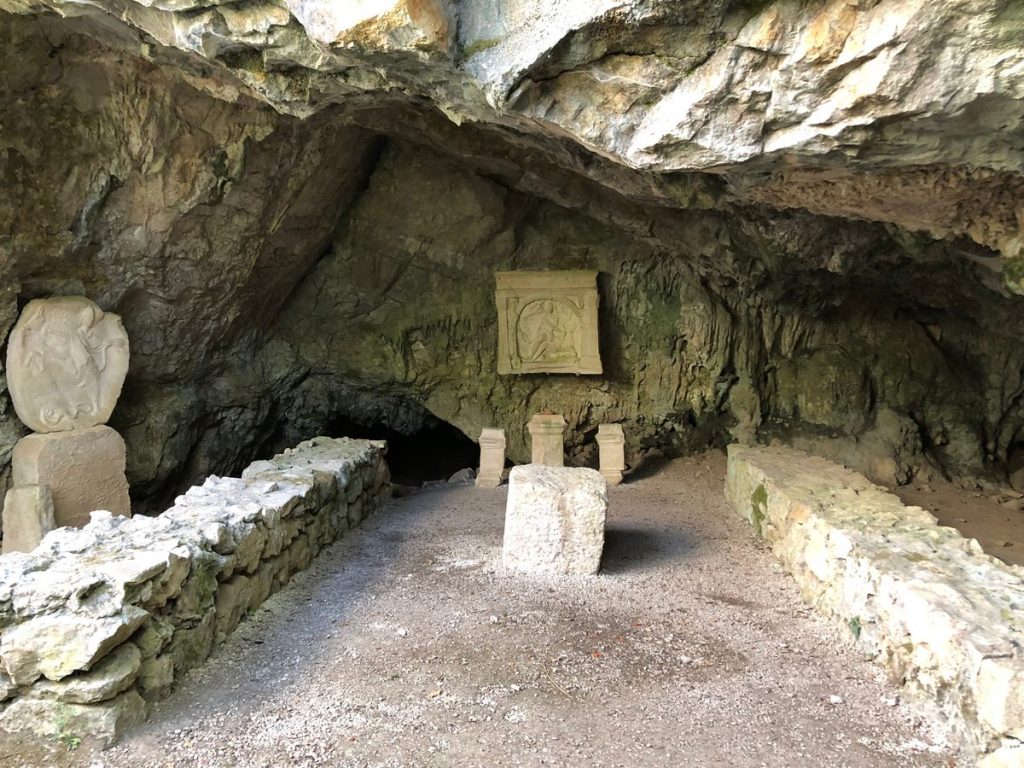 That's a rather abrupt ending to this post but I'm running behind time. Vanya is ready for wine….