So we finally made it to Saint Remy de Provence. This beautiful little town in the Alpilles hills towards the western edge of Provence sits among a mix of rolling golden wheatfields, lush green vineyards and gnarled old silvery green olive groves and has been on my "Must Visit" list for years. It proved a far prettier and more interesting place than I could ever have imagined.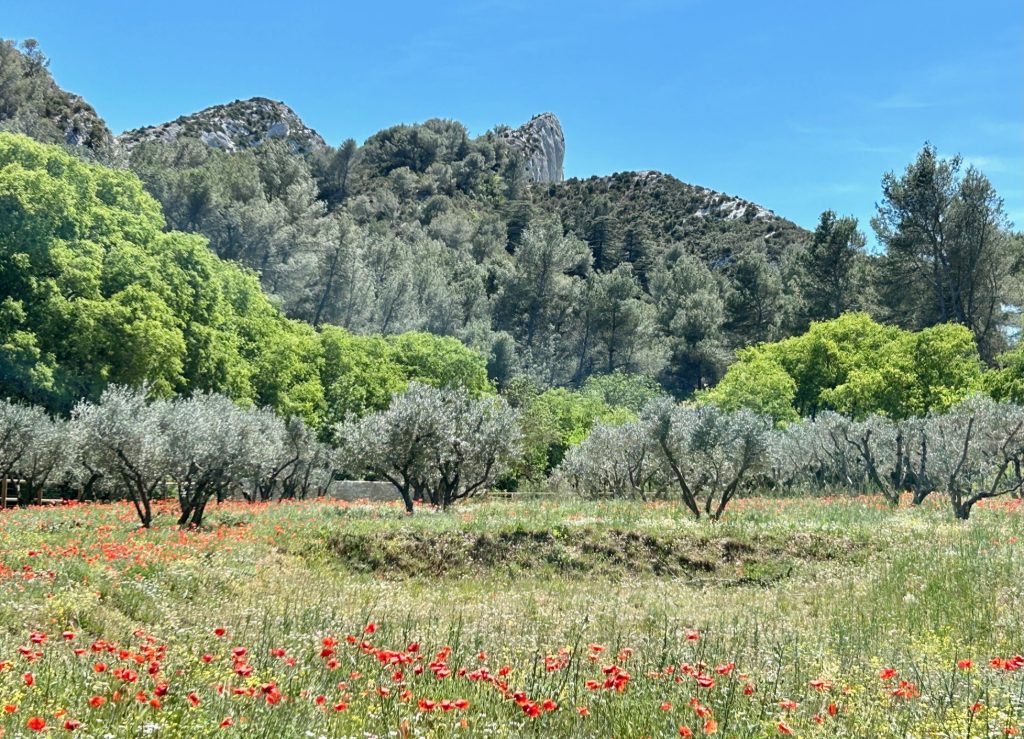 Okay, this view of the Alpilles doesn't feature wheatfields nor vineyards but they are around; believe me.
We were heading for Collioure in the south west of France and then across the border into Spain but with Saint Remy just 20 kms south of Avignon, we simply had to visit the place, not least because we wanted to stock up on some of the Alpilles wine we had previously enjoyed in Avignon. We parked up on the edge of the town alongside a small independent wine cave and, as luck would have it, there it was – the Alpilles Chardonnay produced by Domaine Valdition that we enjoyed so much in Avignon. There was no holding Vanya back.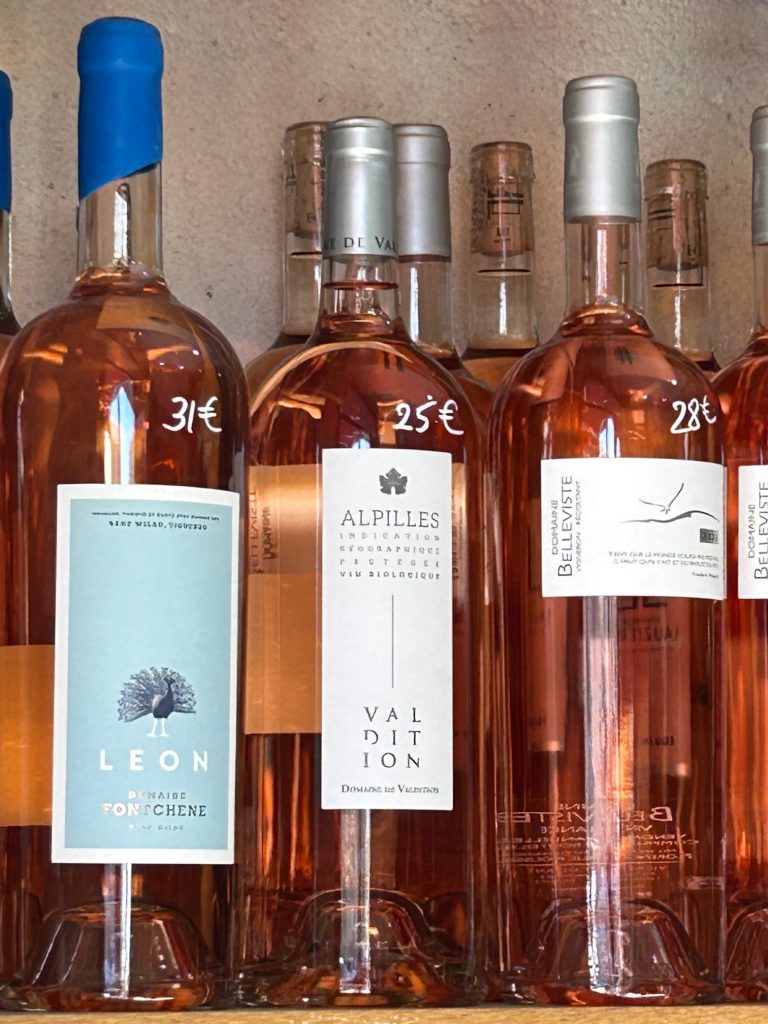 Saint Remy de Provence is not a large town. It's oldest and prettiest parts are concentrated inside what I can only describe as an inner ring road formed by three tree lined avenues – the Boulevard Marceau, Boulevard Victor Hugo and Boulevard Mirabeau. This compact centre, just 500 metres across, is entirely pedestrianised and oozes small town tranquility. It is a gem of narrow winding streets edged with honey hued stone townhouses and shops and numerous small shaded squares with fountains and terraced bars, cafes and restaurants. Pretty as they are (and some are striking), it is not so much the streets and the squares which catch the eye here; it is individual buildings, particularly shops such as Fiston and Le Cheval a Bascule. They are so full of character.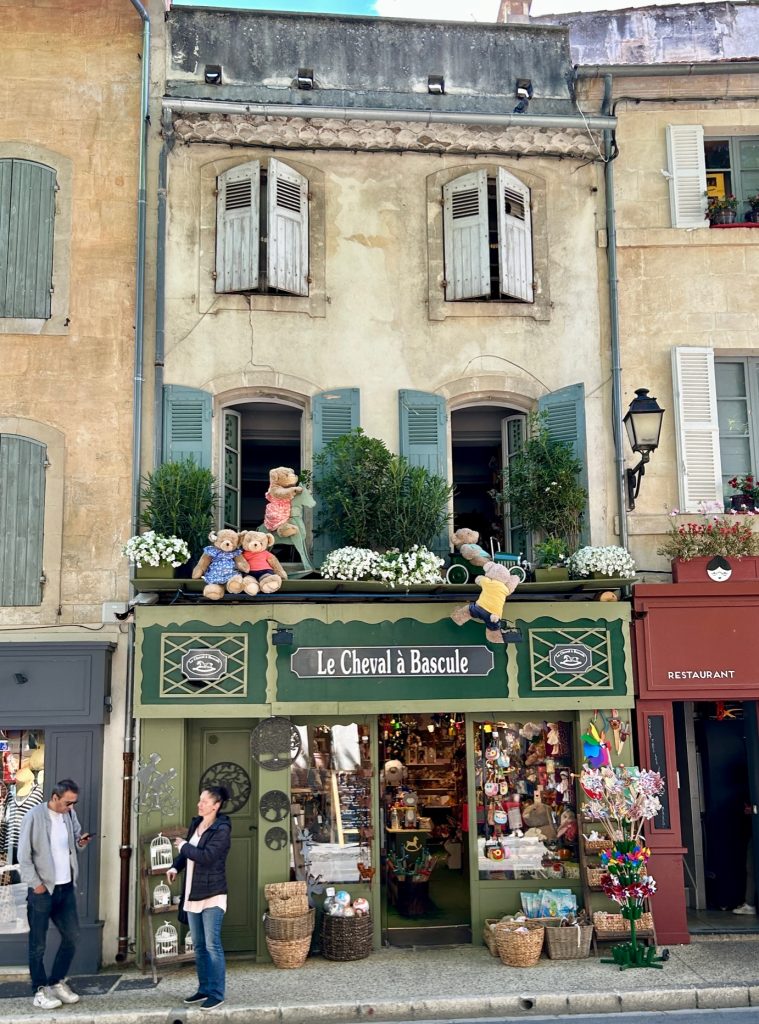 These are just two of many colourful and interesting shops to be found near the Hotel de Ville on Place Jules Pelissier.
One cobbled stone square, Place Favier, soon became a favourite of ours. It's a quiet little square on Rue Carnot, filled with plane trees and a fair sized fountain but with room too for the tables and chairs of two small cafe bars; one of them being 'Creperie Lou Planet'. We stopped at the creperie for a galette (mine was filled with Mushrooms, Roquefort Cheese and Sour Cream and was absolutely delicious) and then Vanya had one of her best ideas of the trip so far, suggesting we stay on in Saint Remy for a few days. I needed no persuading and ordered a second beer while she googled a place to stay in the area.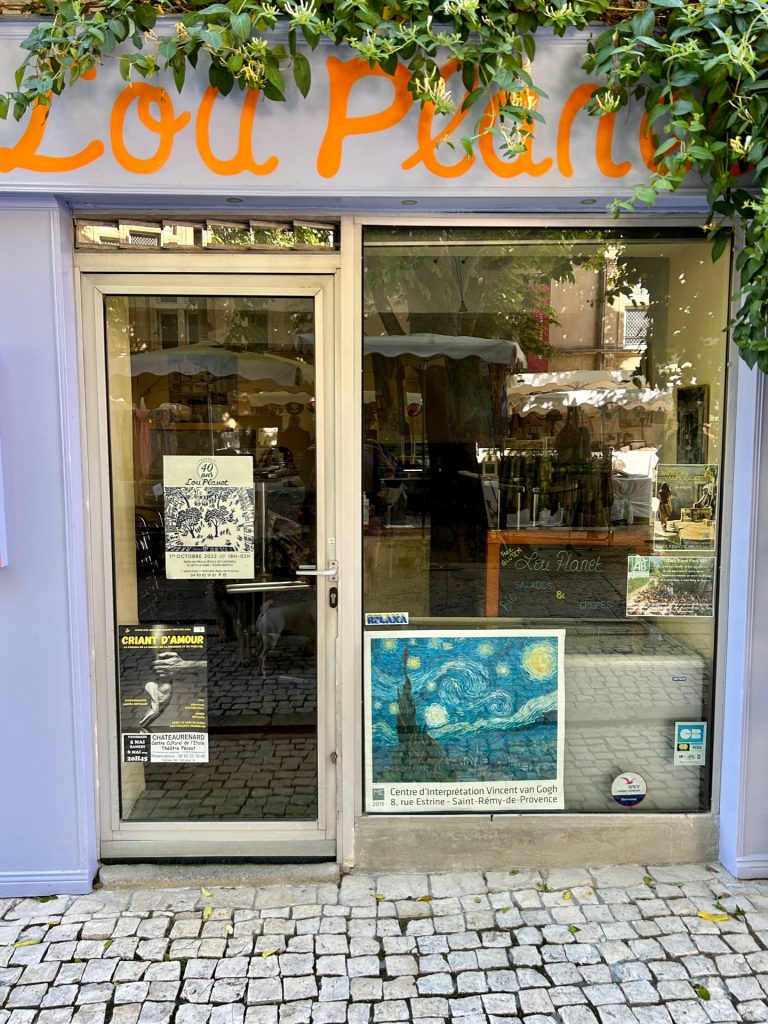 Creperie Lou Planet on Place Favier. Points of Interest: Planet is a Provencal word meaning 'tiny square' and this little square used to be known as Place aux Herbes.
We were soon parked in a campsite close to the town centre (Camping Pegomas) and, leaving Vanya to rest in the Van, I went off on an extended 'explore' in and around the town. We'd already seen various plaques around the town commemorating Vincent van Gogh's time in Saint Remy and I was keen to learn more about this. I discovered that after cutting off his left ear (following an altercation with his friend Gaugin, while they were working in nearby Arles) Van Gogh admitted himself to the Saint Paul de Mausole lunatic asylum on the outskirts of Saint Remy. He tarried in the asylum for just over a year and whilst there produced well over 120 paintings (including some of his finest works). The town operates what they call the Promenade dans L'Univers de Vincent Van Gogh – a two kilometre tourist trail around Saint Remy and then out to the former monastery/asylum where the great artist stayed between 1889 and 1890. You simply follow a series of bronze studs in the road from one of twenty one information points to another, learning much about Vincent Van Gogh and his works during his time in Saint Remy, on the way.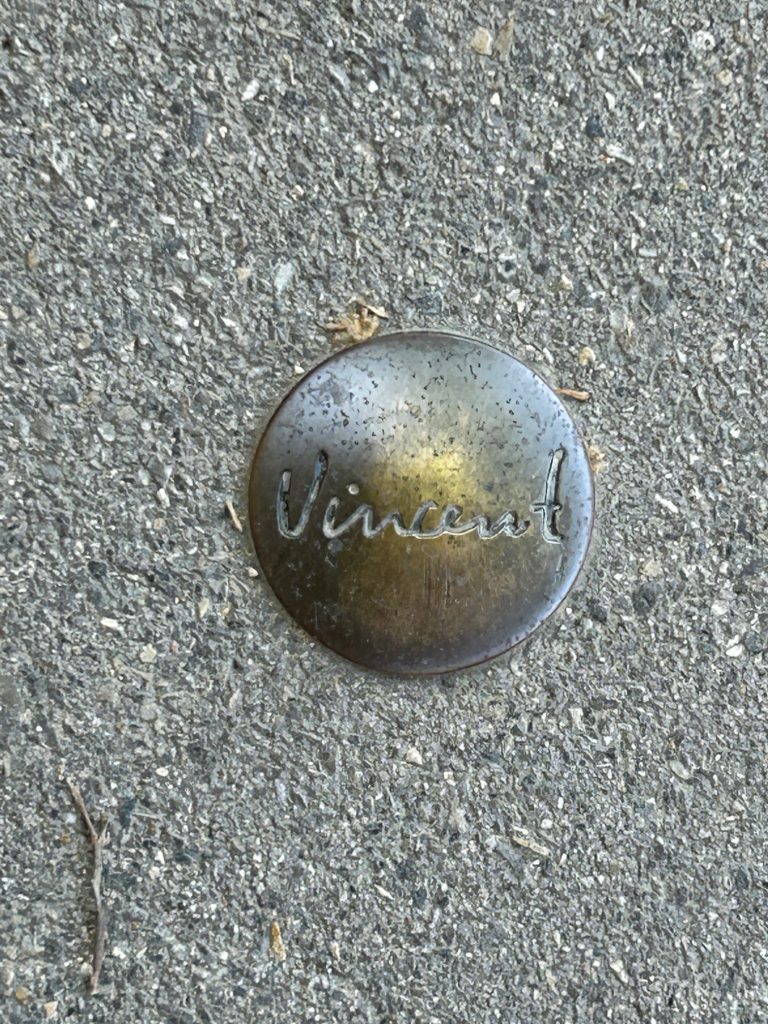 Those are the bronze studs and that is a photo (not one of mine) of the monastery which is now a museum.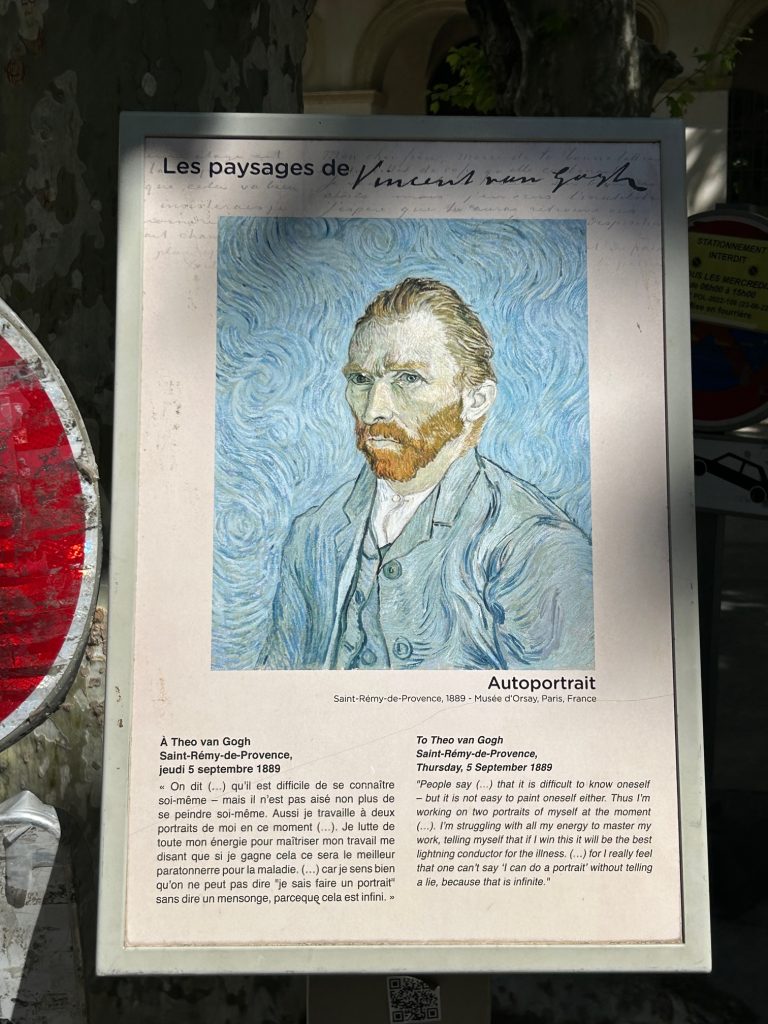 These are just two of the many plaques at the 21 information points along the route. Most serve to introduce the works he completed in Saint Remy.
I reproduce below three of the 120+ paintings Van Gogh painted during his stay in the asylum:- "Wheatfield with a Reaper" (One of Van Gogh's first paintings after his admission into the asylum, it was painted through the window of his hospital room) and; "The Starry Night" (Regarded as one of his most beautiful works, this is another piece of work painted from a window in the asylum. The village is a figment of his imagination and bears no resemblance to Saint Remy) and; "Irises" (Painted in the asylum gardens, this is my favourite of all those he produced whilst in Saint Remy).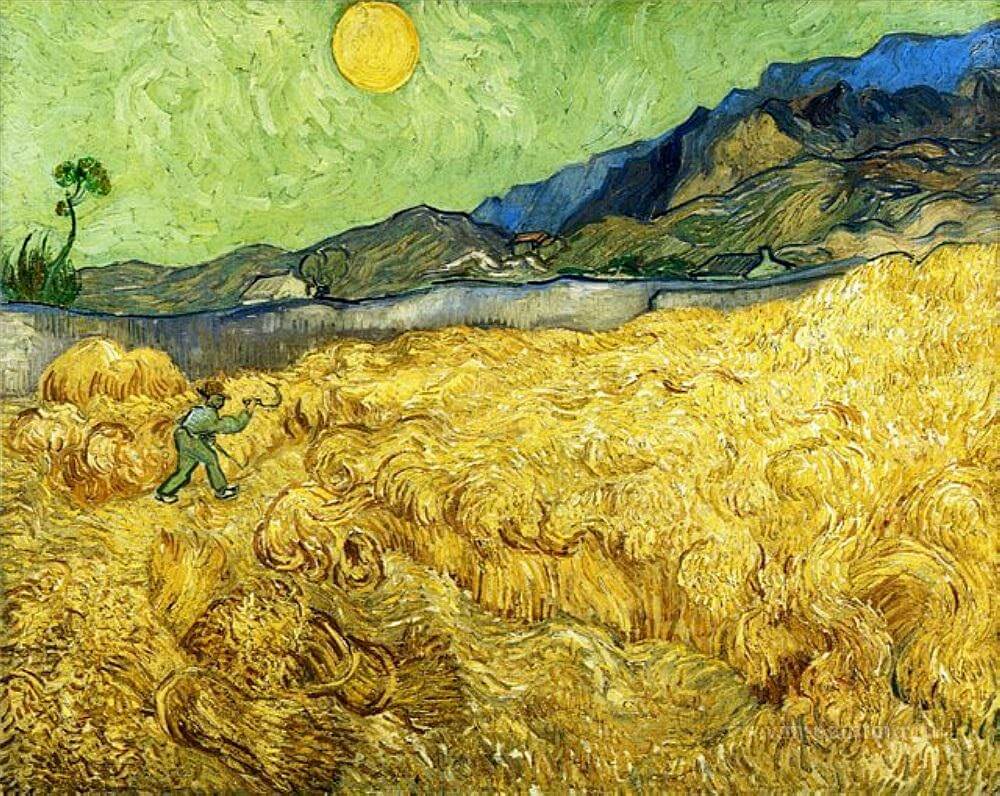 "Wheatfield with a Reaper" is currently in the Van Gogh Museum in Amsterdam. "Starry Night" is held in the Museum of Modern Art in New York City.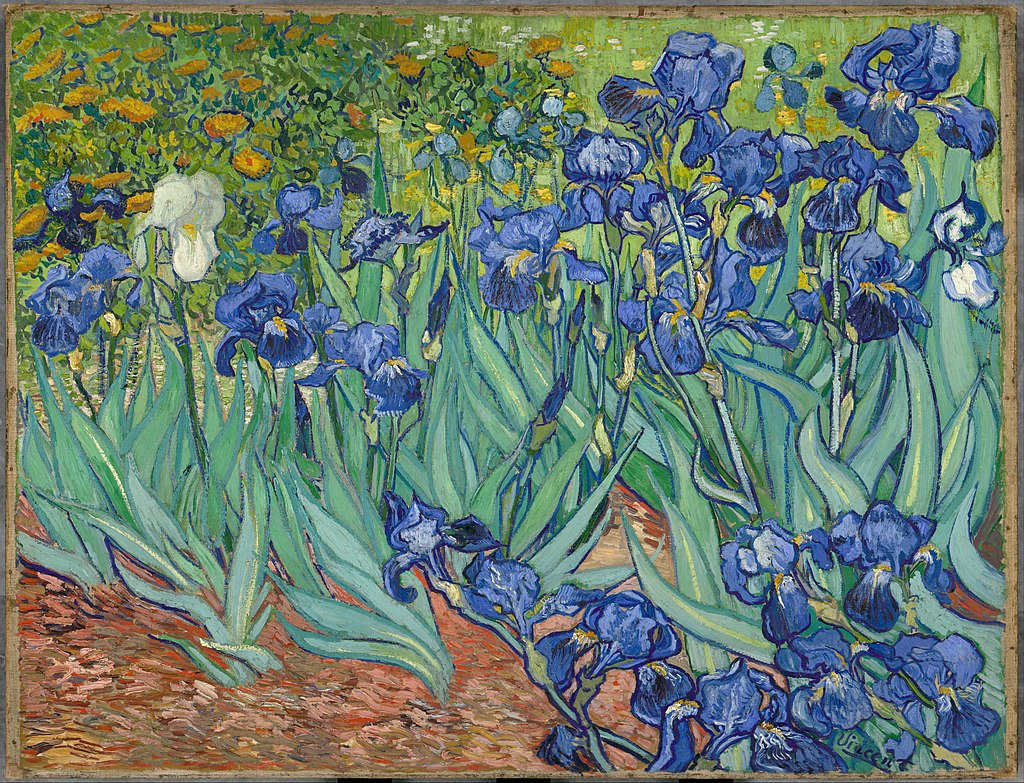 "Irises" is currently held in the J Paul Getty Museum in Los Angeles.
Just over the road from the Saint Paul de Mausole is another interesting but much older site which is well worth visiting. This is the archaeological site of Glanum. After being overrun by Barbarians in AD260 Glanum became a source of stone and other building materials for the developing Saint Remy before it's ruins were gradually buried by deposits washed down from the Alpilles. The town was lost until 1921 when it was discovered and unearthed. Much remains to be seen but two monuments in particular (known as Les Antiques) are in excellent condition.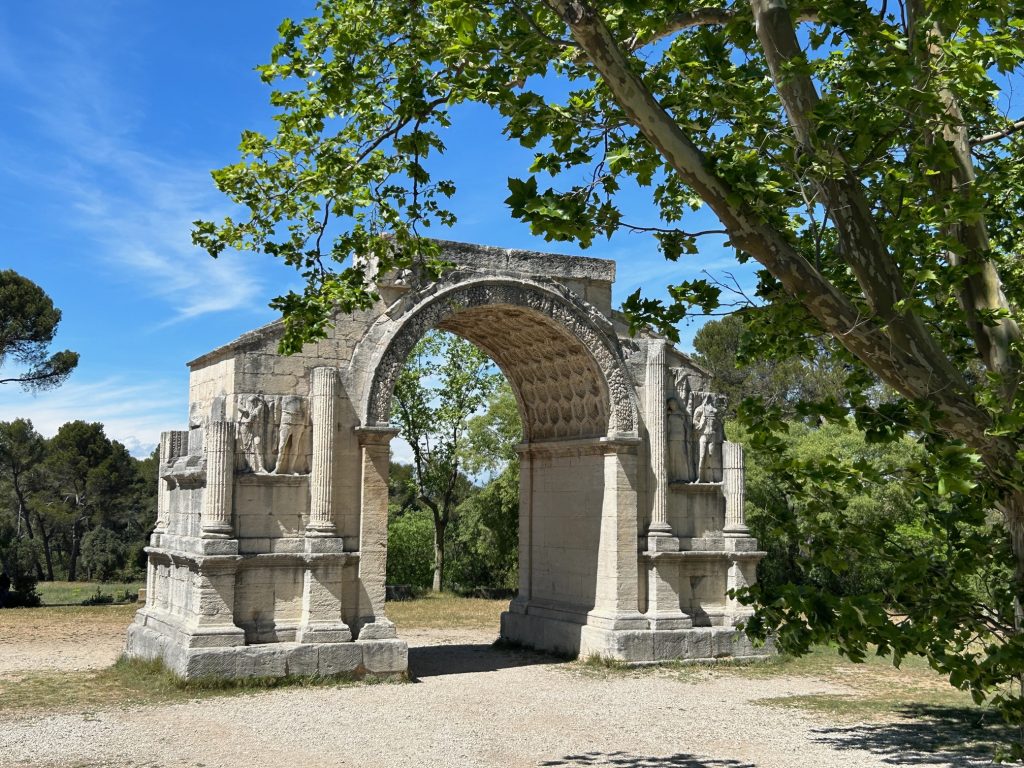 Les Antiques: On the left is the Triumphal Arch of Glanum which was built towards the end of Augustus Caesar's reign and on the right is the Mausoleum of the Julii which dates to BC40.
There's a small museum devoted to Glanum next to the Hotel de Sade on Place Favier (the museum may even be part of the Hotel) and, before you ask, yes the Hotel de Sade was previously a home to relatives of the notorious Marquis de Sade although he never lived there.
Numerous artists, writers and musicians have lived in Saint Remy over the years but the most famous person to have been born in the town is perhaps the 16th century astronomer, apothecary and seer(?) – Nostradamus. He was born there in 1503 and it is possible to visit the house he was brought up in.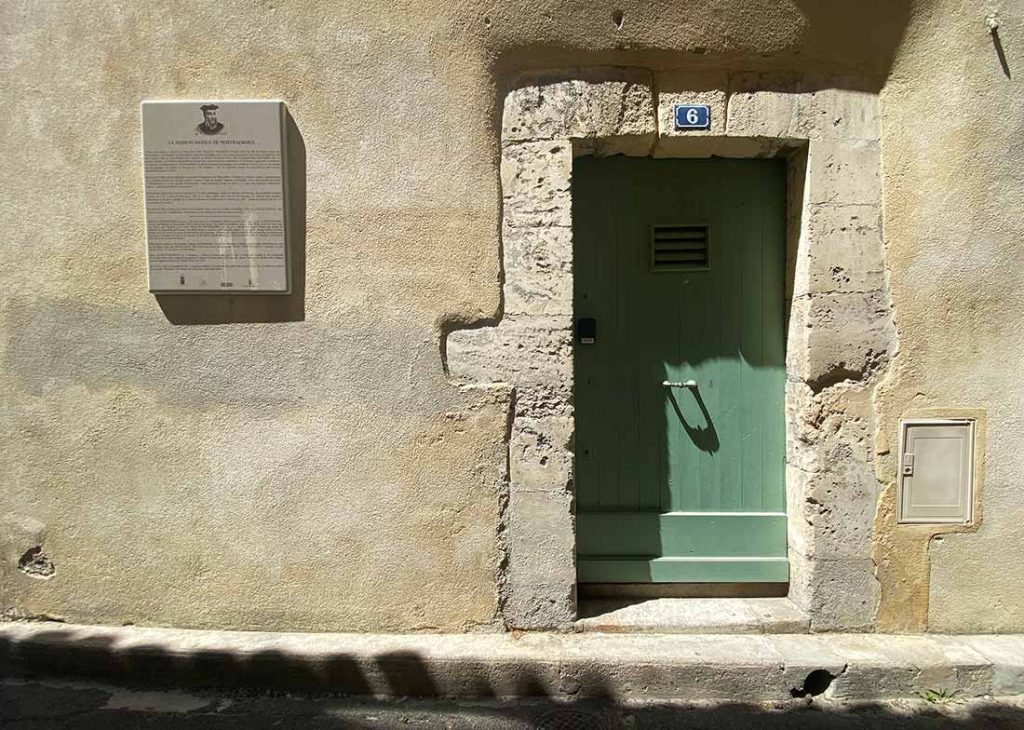 Left: The house where Nostradamus was born. Right: A fountain on the corner of Rue Carnot and Rue Nosto-Damo (Nostradamus) which was built in his honour. Surprisingly, this little fountain was full of fish.
We stayed in Saint Remy for a couple more days, more often than not using the place as a base from which to visit some pretty villages over near the Luberon Massif (notably Lourmarin and Bonnieux) but always returning for dinner.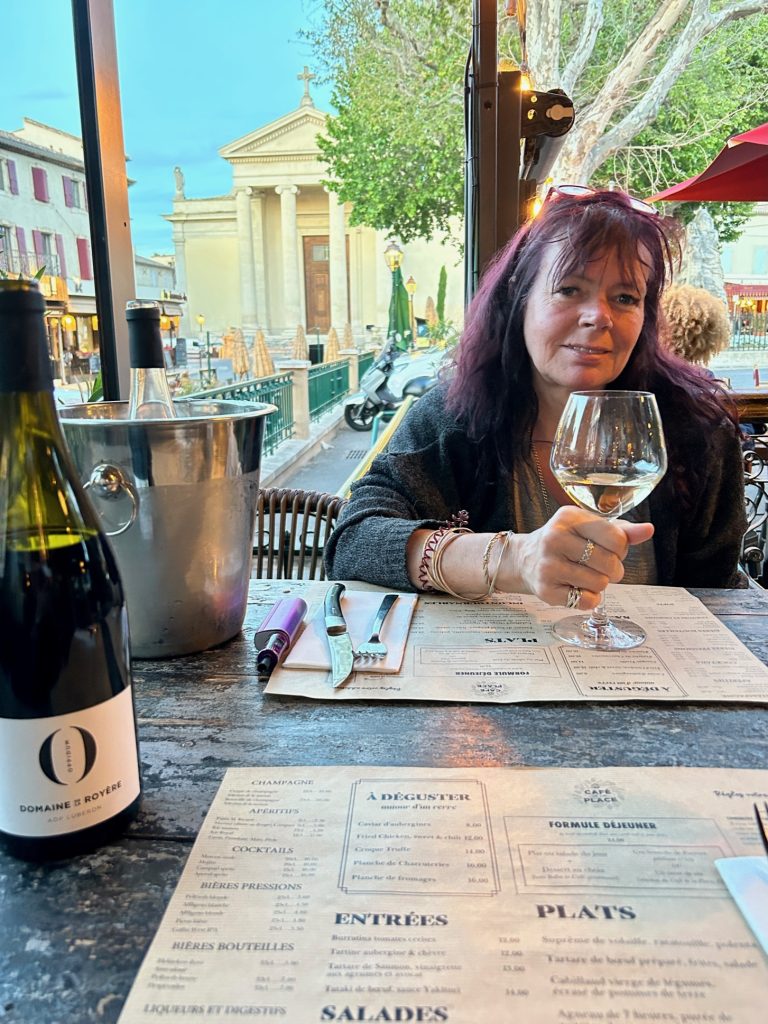 Eating and drinking in Saint Remy is easy…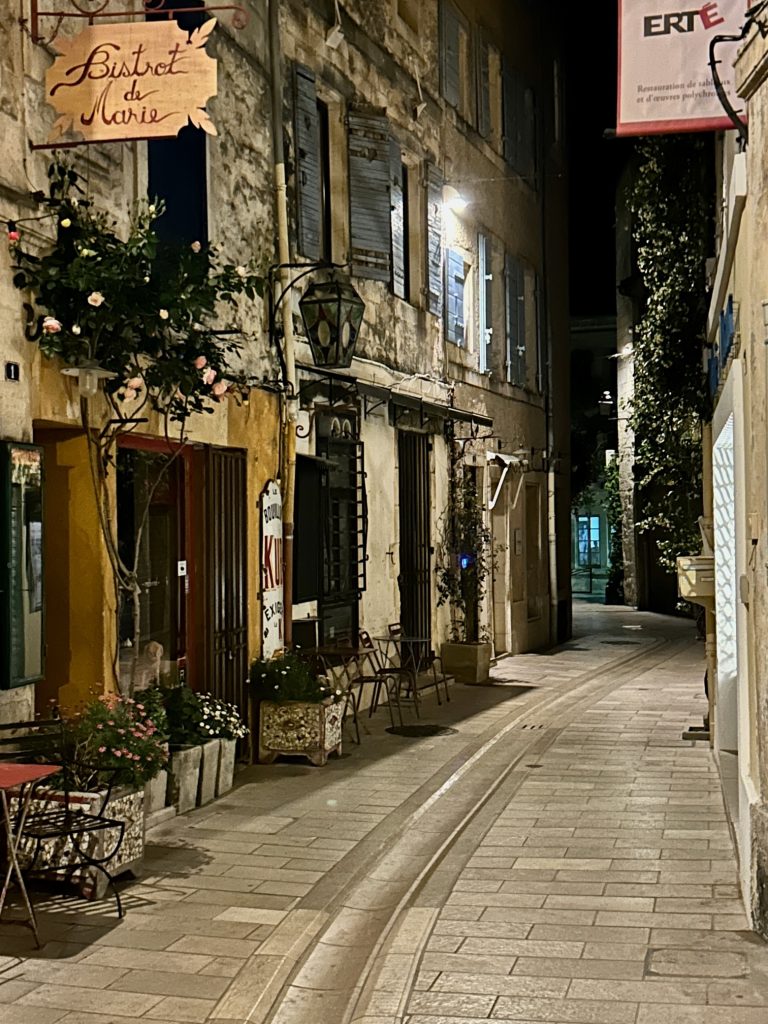 … and it's a nice peaceful walk back to the campsite… and still very, very pretty.
One of the reasons we stayed on so long was because we wanted to enjoy the Farmers Market which is held every Wednesday morning. It is held on the Place de la Republique and across much of the old town including Place Jules Pelissier and, of course, our favourite Place Favier. Large, lively and colourful is an understatement. It is recognised as one of the best farmers market in Provence.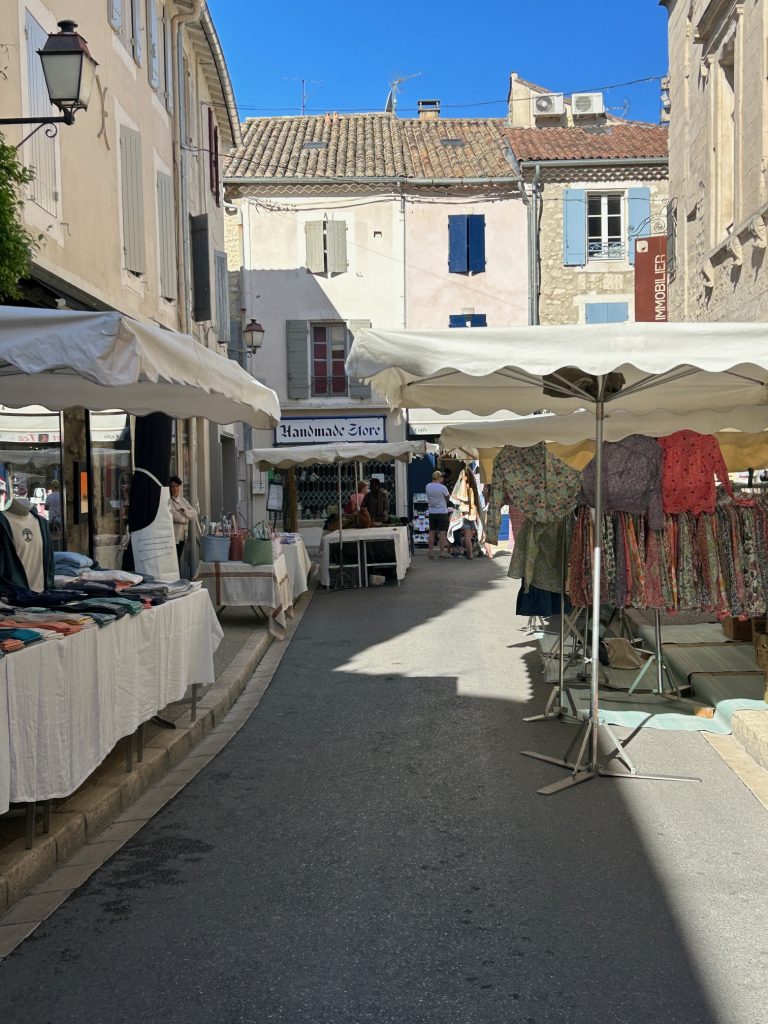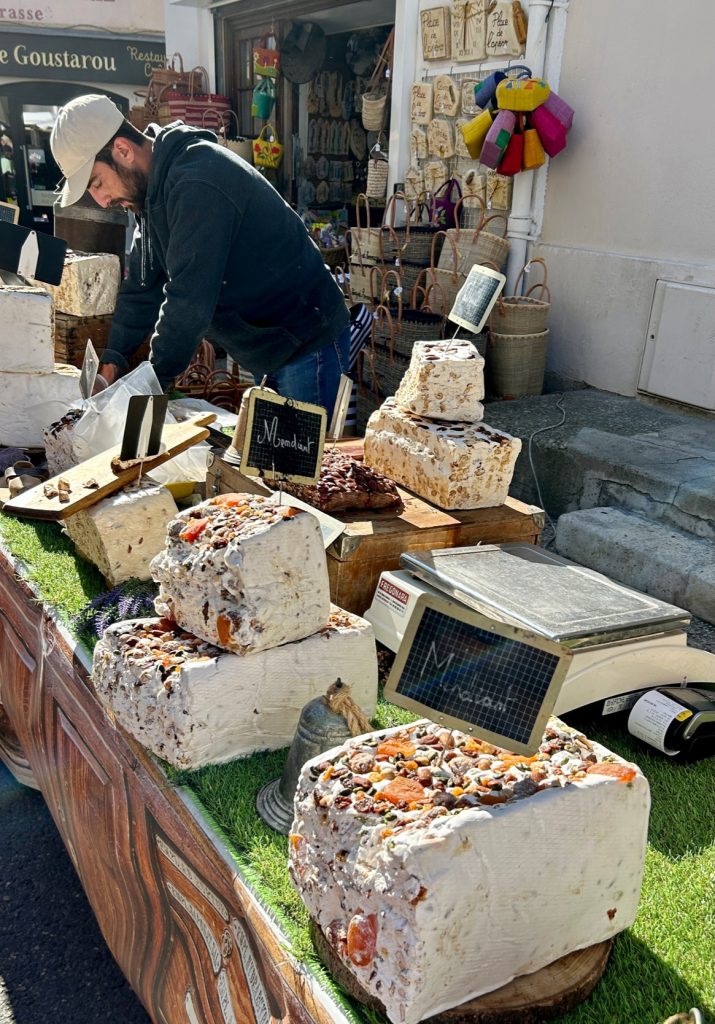 We ended up buying two large chunks of the local nougat from that guy on the left.
There is a great deal more I could write about Saint Remy but I've already written far too much by this blog's standards. So, just three quick points about events we missed out on during this trip but will want to enjoy next time:
Firstly, just a few miles from Saint Remy is the small village of Baux de Provence where an indoor quarry has been turned into a light and sound show (Carrieres de Lumieres) where hundreds of images of great artist's works (including Van Gogh) are projected onto quarry walls and floors in an immersive art experience that has been described as "currently, the world's best light and sound experience". That's a must see for Vanya and I.
Secondly, there's the 'Course Camarguaise' which is run in a number of Provence towns at various times between Spring and Autumn. It is a kind of bullfight but the bulls are unharmed. They have ribbons attached between their horns and brave, athletic men known as rasateurs compete against each other, using skill and agility, to collect as many ribbons as possible in as short a time as possible (without getting harmed).
Thirdly, Saint Remy is famous for it's festivals. One festival which is held towards the end of May and which, I am advised, would be worth seeing is the 'Transhumance'. It celebrates the time when sheep are taken to higher pastures for the summer and thousands of them are herded along the town's ring road.
Next, a little bit about our trip out to Lourmarin.