Port Saint-Louis du Rhone is a port annex of Marseille at the mouth of the Rhone River. It has three beaches, one of which is Napoleon Beach, and Napoleon Beach has it's own harbour (Port Napoleon) where our friends (Jonathon and Sheenagh) had moored their boat (Options) in readiness for a cruise along the Cote d'Azur. They were waiting for us as we arrived at the harbour's entrance.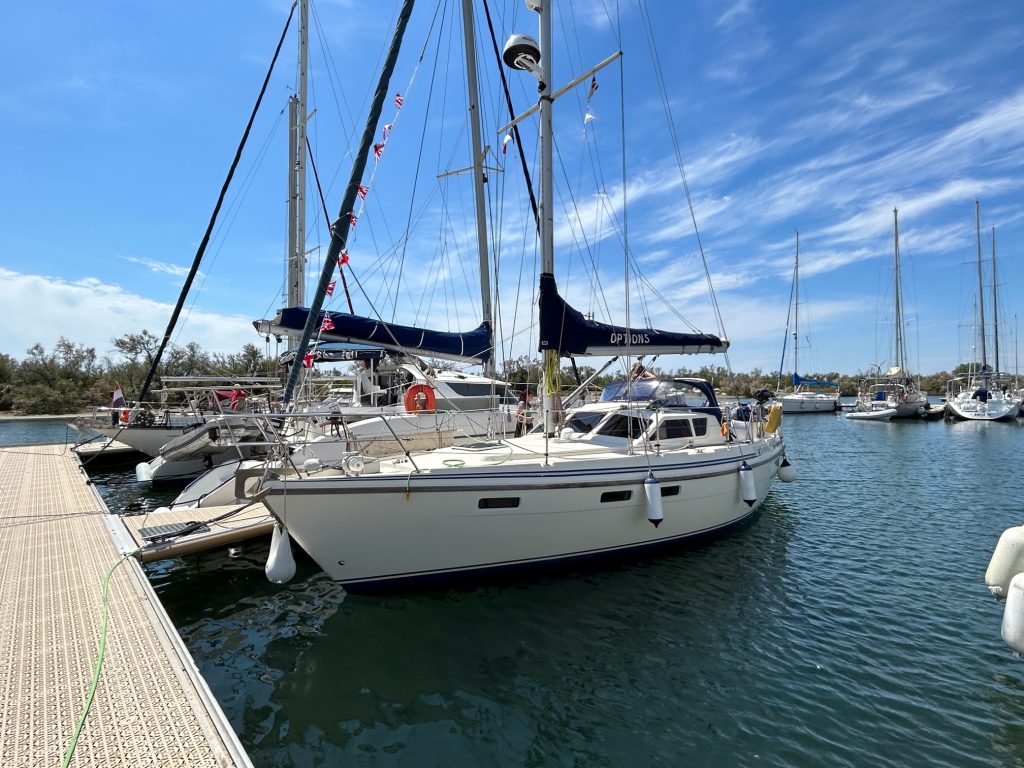 To the left is 'Options'(nice!) and to the right is Beanie in a craft all of his own.
We were there to catch up with our friends, view their boat and share some lunch. It was a pleasant but very short trip and there is not therefore a great deal I can tell you about Port St Louis du Rhone or Port Napoleon. However, I do know that Port Louis is the last town on the Rhone Estuary and the mouth of the Rhone itself can be accessed by Napoleon Beach. Some ten kilometres of fine sand make Napoleon one of the largest beaches on the Carmargue and it is open in summer for all manner of water sports. I read that it's harbour, Port Napoleon, has berths for as many as 250 craft of up to 40 metres in length, a dry dock which can accommodate up to 1,000 boats and (ordinarily) all the facilities and services you would expect of a small modern harbour, up to and including ship building. Unfortunately, the harbour's restaurant (Les 3 Voiles) had suffered a fire and was closed when we visited but we were still able to sit in the shade of it's porch and enjoy a bottle of wine and a picnic prepared by Sheenagh and, you know what? There is something very pleasing about taking wine and food in a small harbour on a sunny day with a background sound of halyards jingling against the main masts of a hundred small boats. Wonderful and thank you once again Sheenagh and Jonathon for your invitation to join you both on Options.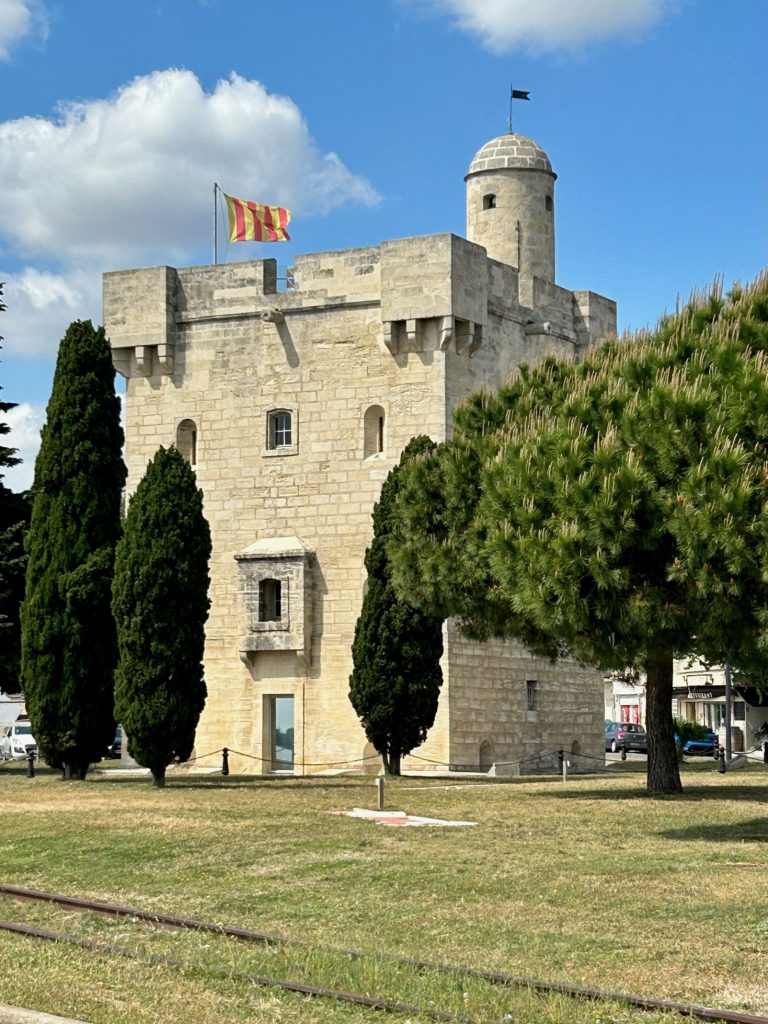 That's the local Tourist Office and a final photo of 'Options'.
I mentioned the Carmargue. It is only right that I leave you with a brief description of the Carmargue (together with my apologies for lifting and abridging it from an Alamy site):-
The Camargue is located south of Arles, France, between the Mediterranean Sea and the two arms of the Rhône River delta. The eastern arm is the Grand Rhône; the western one is the Petit Rhône. It is a designated "Wetland of International Importance"; a vast plain of large brine lagoons cut off from the sea by sandbars and encircled by reed-covered marshes. It is a haven for wild birds and has been protected as a regional park since 1927. In 2008 it was incorporated into the larger Parc Naturel Régional de Camargue (home to the Camargue Bull and the Camargue Horse) and this extended park now houses more than 400 species of birds, including the Greater Flamingo. Of course the marshes are also a prime habitat for many species of insects, notably and notoriously some of the most ferocious mosquitos to be found anywhere in France – and that last part explains why I refused to visit the Camargue and have instead relied on an Alamy description – Thank you Alamy.
On to Saint-Remy de Provence.