We decided to stay on in Saint Remy and use it as a base from which to visit a couple of villages closer to the centre of Provence in an area known as the Luberon Massif. The Massif actually comprises three small mountain ranges (being Le Petit Luberon, Le Grand Luberon and Eastern Luberon) and, to start with, Vanya was keen to visit a small village on it's south side by the name of Lourmarin.
Lourmarin is different from other villages in the area inasmuch that it is not a hilltop village. It actually sits in a valley near a cleft between Le Petit Luberon and Le Grand Luberon. This suited me because it meant we could drive up from the south and than pass through the cleft to Bonnieux on the north side of the Massif. There are many more villages to the north that I would like to see (notably L'Isle sur La Sorgue, Menerbes, Gordes, Apt & Saignon) but, they will have to wait for another Tour.
Lourmarin proved to be a small pretty village of no more than 1,000 inhabitants. Of course it is pretty; it sits within the Luberon National Park and is listed among les plus beaux villages de France. It is pedestrianised and fairly flat (relative to most other villages in the Luberon) with narrow winding cobbled streets and lanes filled with pretty flower bedecked houses, boutique shops and cafe bars. There is even a Michelin Star restaurant. I wouldn't say it is the most beautiful of the Luberon villages and there's not a great deal of interest there (it can be seen in it's entirety in just half a day) but it is an easy place to relax and while away a couple of hours over a glass or two of the local wine.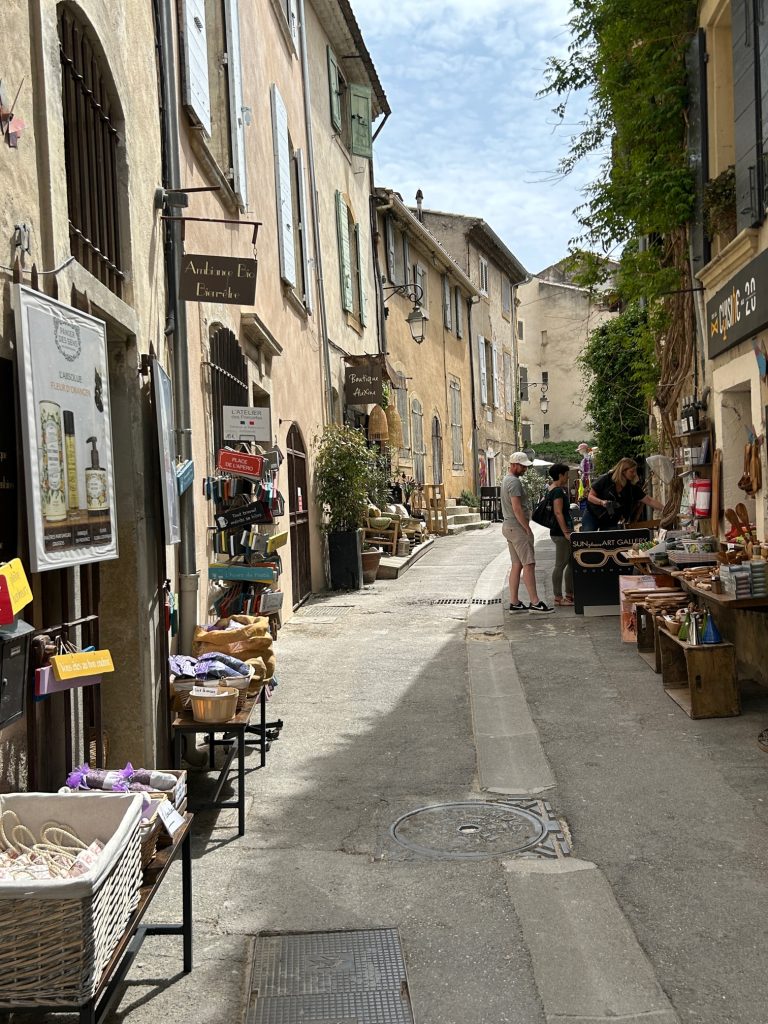 Typical street scenes in Lourmarin…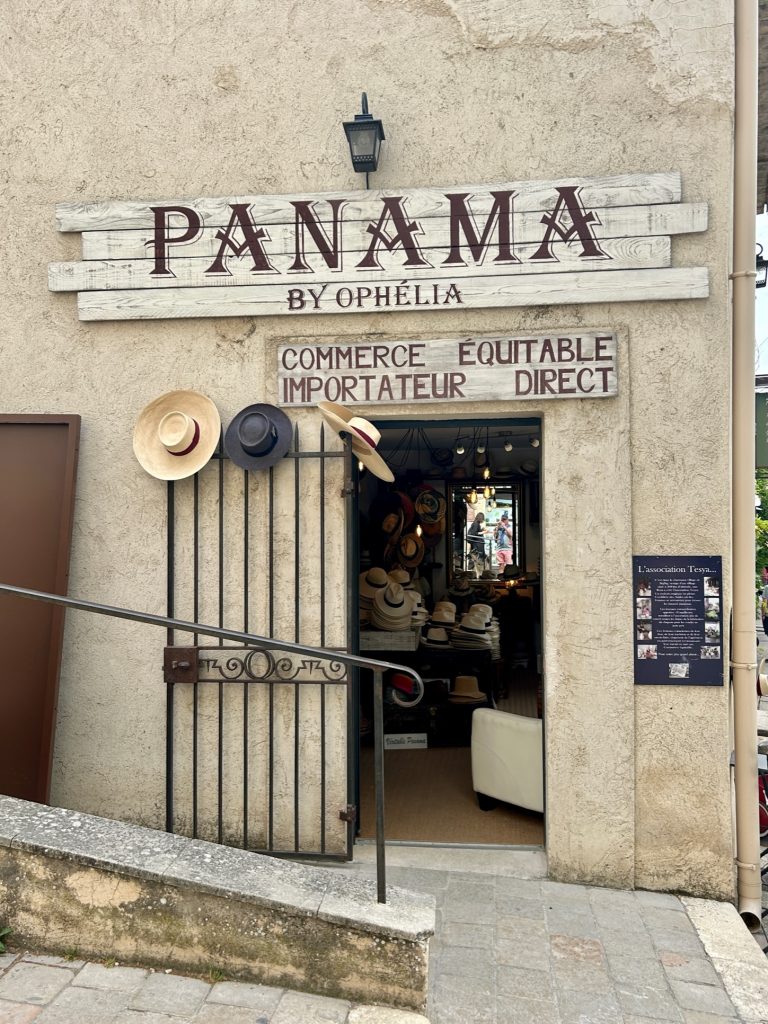 … with a range of boutique shops; flowers everywhere and colourful window boxes
As early as the 15th century Lourmarin was populated by a significant number of Protestants (and before then, Waldenses) but these numbers increased such that by the 17th century only 80 of the village's 1,300 inhabitants were Catholic. It is no surprise therefore that the largest and some would argue the most impressive religious building in the village is the Protestant Temple. I think it's ugly and, for me, it is the 11th century Catholic Eglise de Saint Andre Saint Trophime which is most attractive and 1849 Fontaine de la Place de l'Eglise at it's front just adds to it.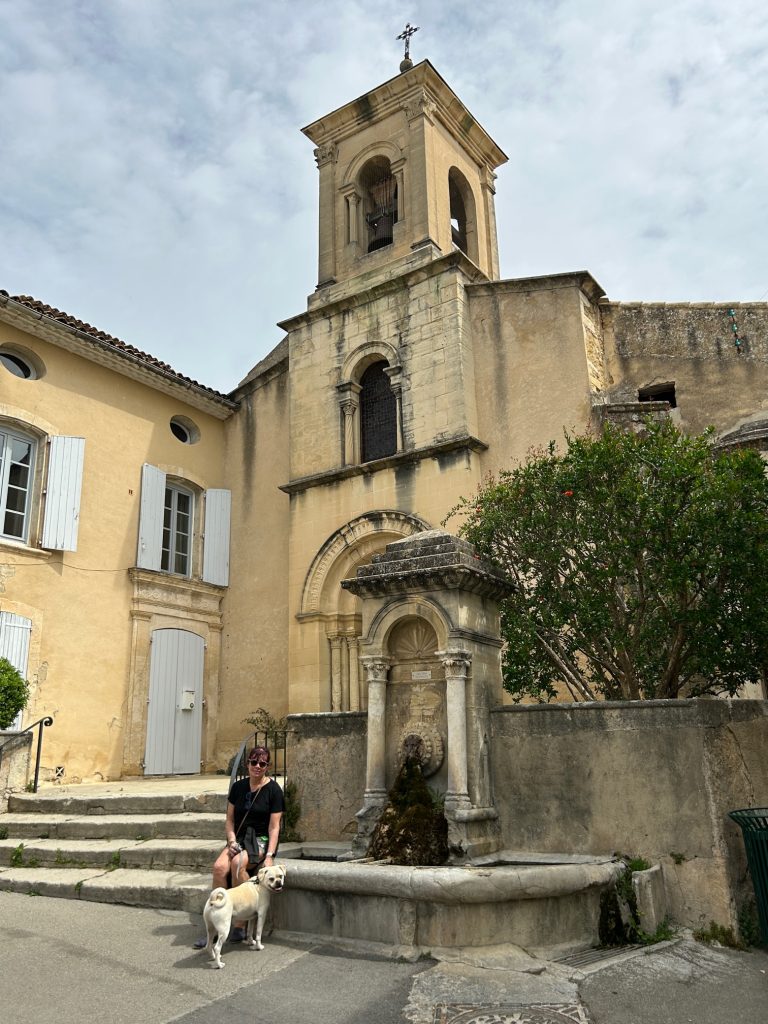 L'Eglise de Saint Andre saint Trophime.
Without a doubt, the most impressive building in Lourmarin is the Chateau. Most of the existing chateau dates back to the 15th and 16th centuries. It is now used for concerts and exhibitions and local events such as weddings and wine tastings. However, the building with the most character has to be the 18th century Girard Mansion. This mansion was owned by Philippe Girard (1775 – 1845), the inventor of the linen spinning mill**, and was bequeathed to the village in 1902 but I have no idea as to what, if anything, it is being used for now.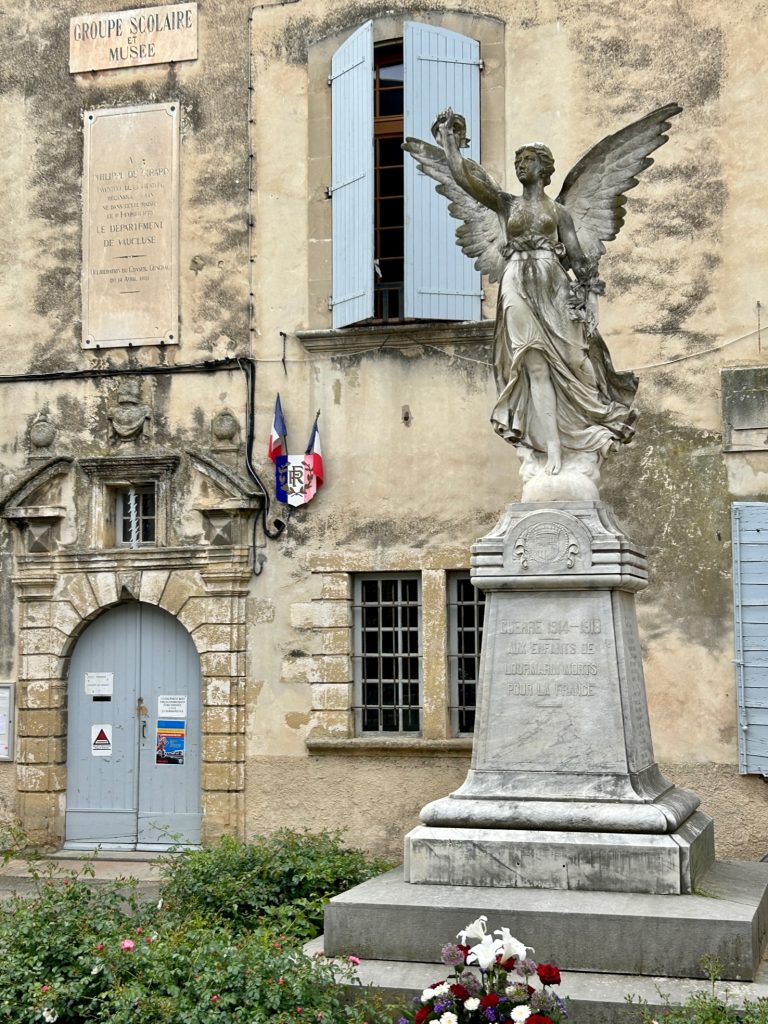 The entrance to the Girard Mansion.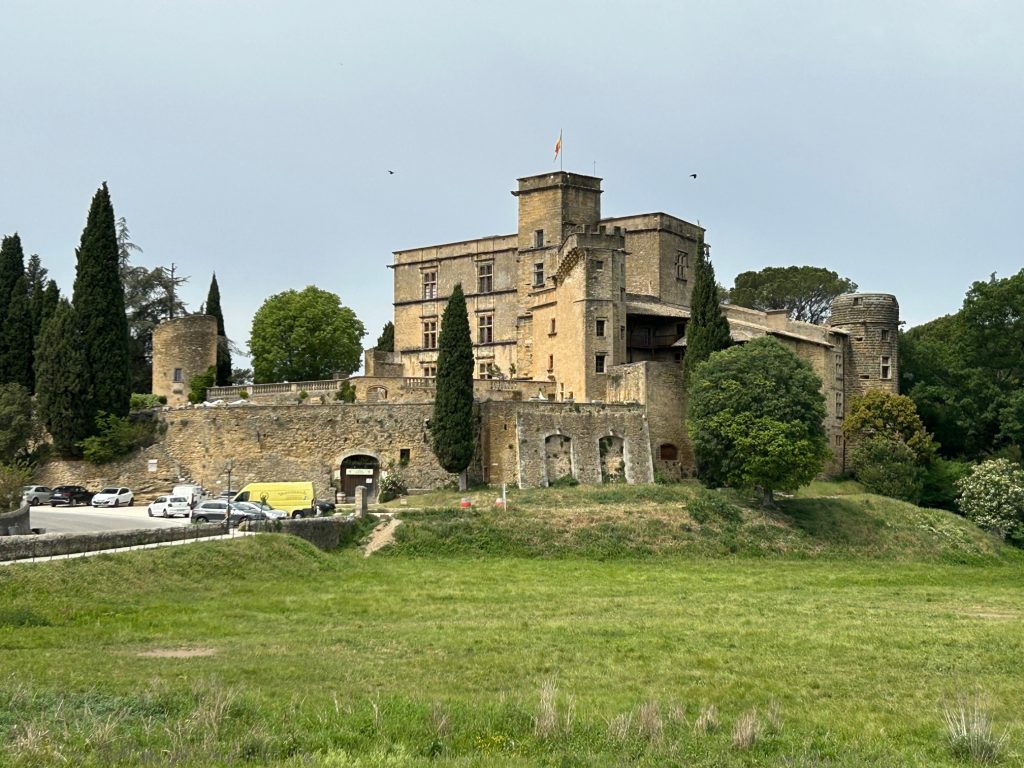 Two views of the Chateau de Lourmarin
** Talking about the linen spinning mill, a certain James Kay from Entwhistle in Lancashire was initially credited with the invention in England. However this was challenged by Philippe Girard who wrote to the Manchester Guardian claiming that he and others had patented the invention in England some years earlier under the name of Horace Hall. Extracts of his letter are reproduced below:-
A few months ago, a gentleman of the name of Kay, excited a strong sensation in the trade, by announcing a new method of spinning flax, by which much finer and better yarn was produced, than by any other process previously adopted. He announced this invention not only as new, but as his own; the results of his experiments were published in many provincial and London papers; and he granted to several flax-spinners, the right of using his invention, for which he obtained a patent. The public will now hear, perhaps with some astonishment, that all this noise was made for a discovery long since published on the continent, and even patented in England twelve years ago. This new process of spinning, announced by Mr. Kay, is the same which I invented fourteen years since, and which is established, with great success, in France, Saxony, and Germany. A patent was taken out in England, in the month of May, 1815, by my partners in Paris, Messers. Cachard and Lanthois, in the name of Mr. Horace Hall.
Kay's patent was subsequently invalidated by English courts in 1839 (and again in 1841 upon appeal) on the grounds that it was too similar to the patent lodged by Horace Hall. It appears that Girard lodged his patent in the UK under the very English name of Horace Hall because feeling against the French was still running high after the Napoleonic Wars.
Philippe Girard is not the only famous person to have lived in Lourmarin. The village has attracted numerous illustrious figures over the years, including Albert Camus, Peter Mayle and Winston Churchill. Camus the 1942 Nobel Prize Winning Author for L'Etranger (i.e. The Stranger in the US, The Outsider in the UK) lived in Lourmarin for a couple of years until his death in a car crash in 1960, aged just 46. He's buried in the local cemetery. Brighton born Peter Mayle, author of 'A Year In Provence' moved to Lourmarin in 1999 and lived there until his death in 2018. Churchill didn't actually live there but he is credited with having painted well over 100 paintings in the south of France (mostly in Provence) and is known to have painted Lourmarin during a stay in 1948.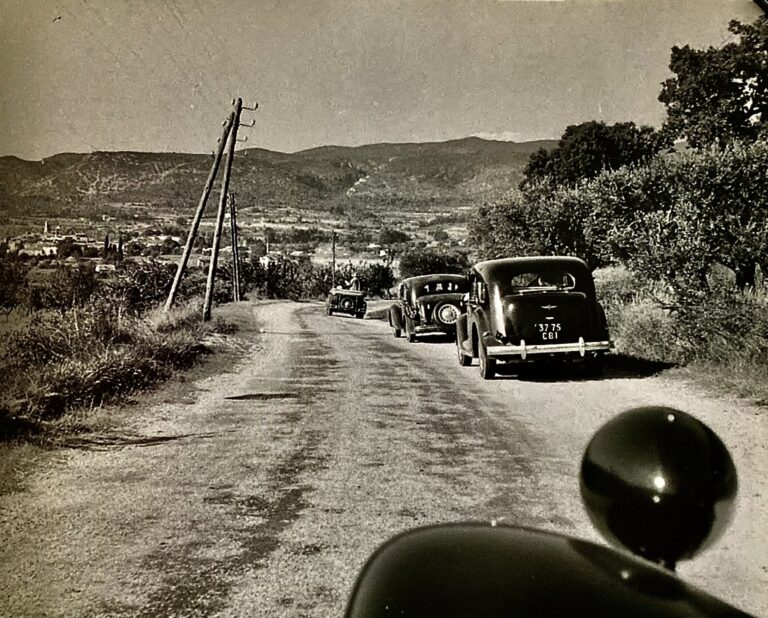 That's Winston Churchill standing up in the front car as his cavalcade approaches Lourmarin in 1948.
I was going to write a small piece on the villages of Bonnieux and Lacoste which we passed through on our way back from Lourmarin to Saint Remy de Provence but we didn't get to see much of either of those two villages. It'll wait until after our next visit.
I'll finish with a couple more photos (of flowers); not of the lavender fields for which Provence is rightly famous (they don't flower until late June / early July but; of poppy fields. I had no idea that poppies grew here so well. I've never seen such an abundance of poppies as in Provence.