Gruss Gott.
The Schlossberg, almost smack bang in the centre of Graz, doesn't look that striking from down below (the summit is only 123 metres above the town) and, until I spoke to Gerhard over the 'phone last night, I had written it off as being not worth the effort it would take to walk the 260+ steps to the top. I'm pleased he persuaded me otherwise. This morning I spent 2+ hours investigating different aspects of the hill and taking in some great views and I would certainly recommend it. For those not keen on steps, there are three alternatives means of getting to the top (a lift, a funicular railway and even a road around the back of the hill) but, the walk up is neither difficult nor exposed.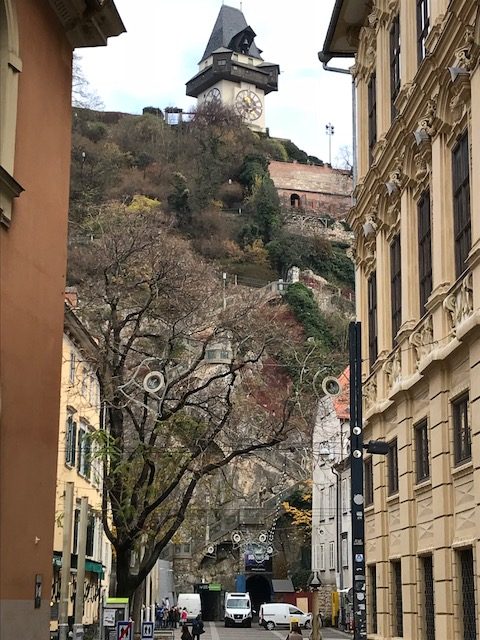 The start of the steps and a section of the ascent
The hill is steeped in history (there was a fortification there as long ago as the 10th century) and covered in interesting features, whether it be the Clock Tower (which is different from the great majority of other clocks in that the larger hand reflects hours and the smaller hand reflects minutes), the Liesl Bell (said to be made of metal from 101 Turkish cannons and therefore rung 101 times at 7am, 12pm and 7pm), the Hacker Lion, the Chinese Pavilion, the Turkish Well, the Starcke-Haus and the Schlossberg Stage to name but a few. It doesn't end with the features on top of the hill; 6 kilometres of tunnels were built in and under the Schlossberg during World War II so as to provide protection for up to 48,000 people during Allied air raids.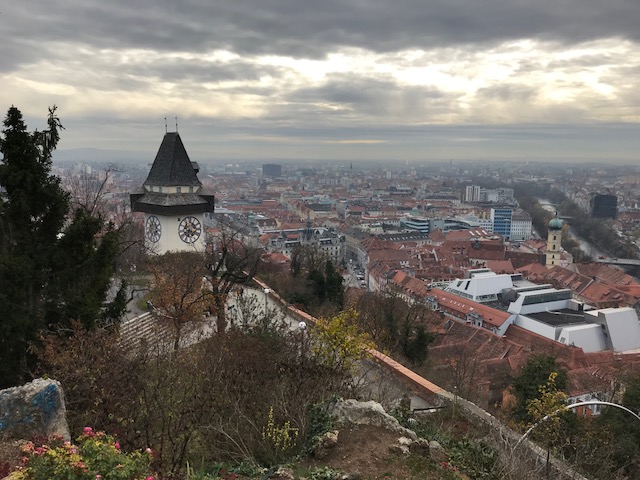 The Uhrturm or Clock Tower and a view of the south of the city from behind the Tower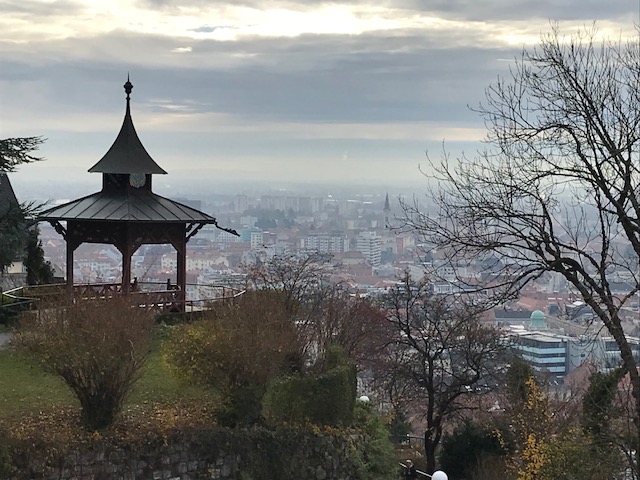 The Chinese Pavilion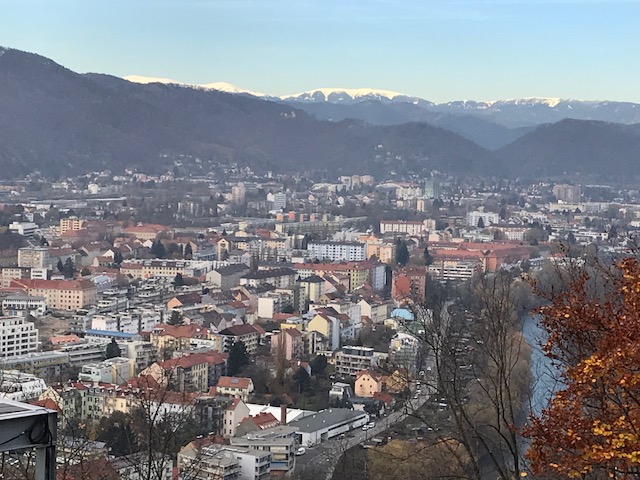 The view south from the Schlossberg with the River Mur just visible in the lower right hand corner
Lunch followed at the Krebsenkeller on Sackstrasse (a very welcoming and comfortable restaurant but the food wasn't great) and then it was shopping. I'm not a great one for shopping, especially now my wine cellar is full, but a visit to the Kastner & Ohler department store is a must for anyone interested in designer brands. For those not interested in designer brands, you should still visit the store but make straight for the tea room on the top floor and enjoy the view across to the Schlossberg.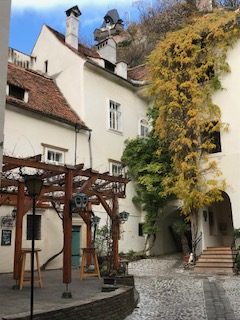 The Krebsenkeller
A last walk around the city took me away from the main square (the Hauptplatz) and into  the surrounding narrow  lanes and arcades and, would you believe it(?), I stumbled on yet another Irish Bar (the Molly Malone) although I gave this one a miss.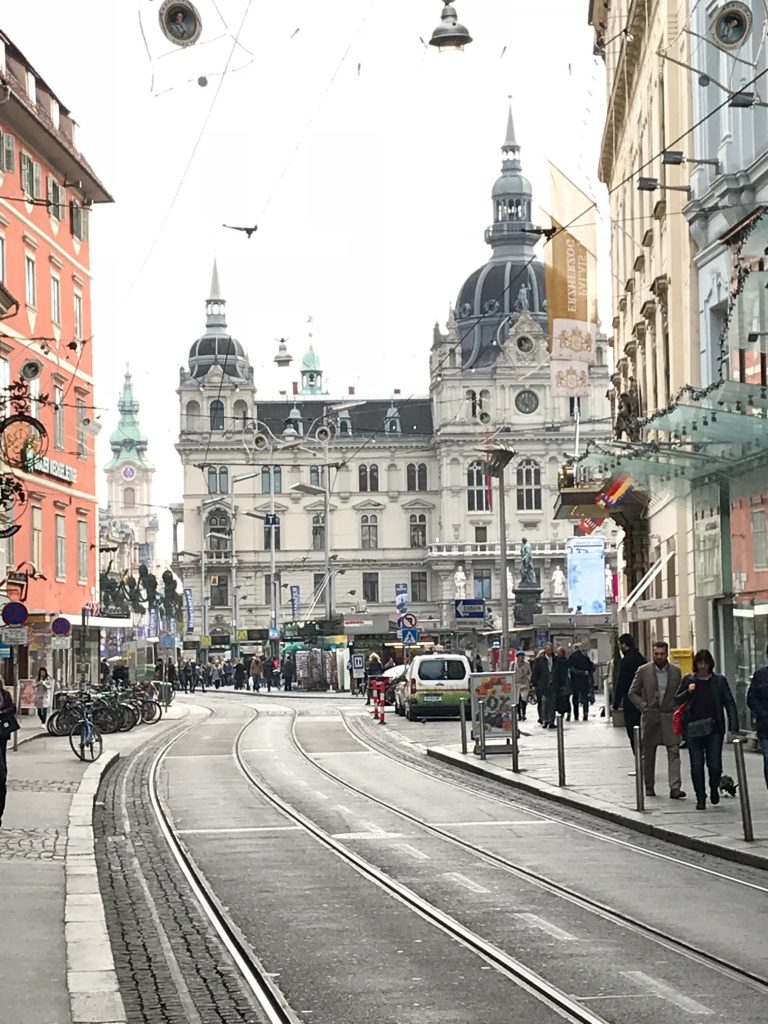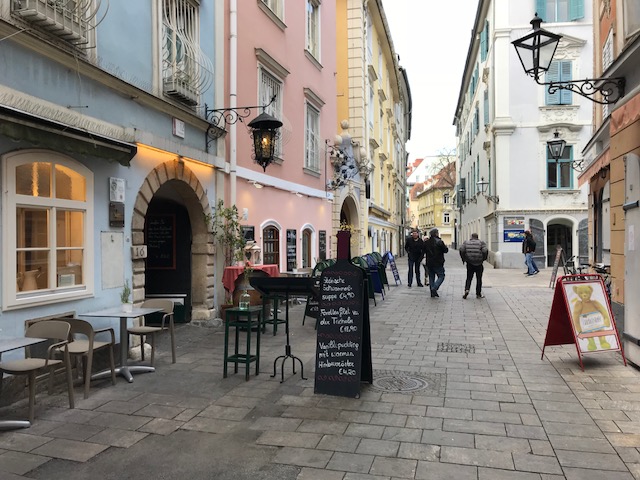 Reflecting upon the last week or two, I have spent the majority of my time in cities (Zurich, Munich, Vienna and Graz). Time to head for the mountains, lakes and rivers. Slovenia, here I come.