Very reluctantly left Enzesfeld this morning for Graz but if I'd stayed any longer I might never have left and I am already gaining too much weight. Many thanks to the Family Dedic for making me feel so welcome. Words cannot express…
Of course, having left my summer tyres with Profi Reifen, Leobersdorfer Strasse 153 (I record those details here because I know I'll forget them), I will have to return in the Spring. Great stuff! See you then if not before.
The journey down the A2 motorway from Vienna to Graz went very well (it was brilliant sunshine and beautiful scenery all the way) and even the view from a motorway service station wasn't bad. I did the necessary diesel stop and I also took time out at the village of Bad Waltersdorf to fill the Van's garage with Gruner Veltliner. Well, there's room now I've been able to unload the tyres that were changed at Colmar.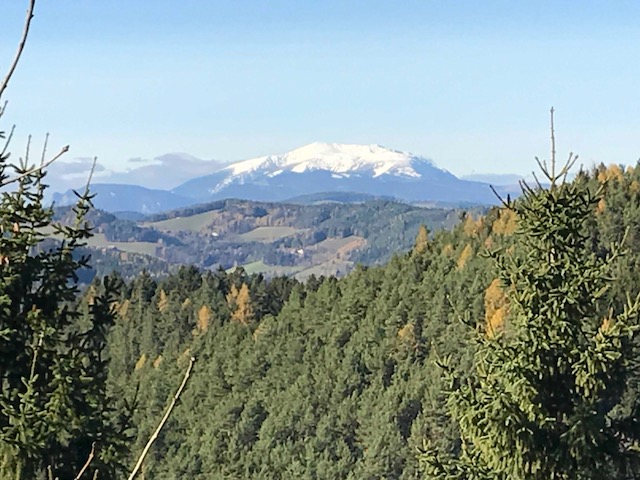 View from the motorway service station on the A2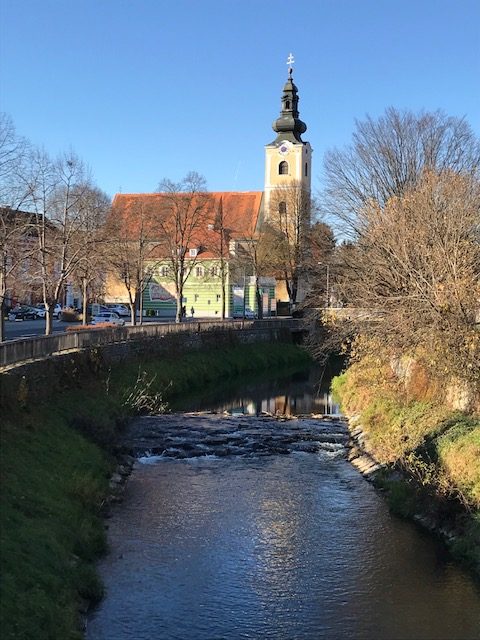 View of the Bad Waltersdorf church from the local supermarket together with a photo of one of the Gruner Veltliner's I bought.
Graz operate a camper van Stellplatz (which accommodates up to 160 vehicles although there are only 3 here now – GPS N47,02472 E15,39694) and it is a simple 15 minute journey by bus from this Stellplatz into the city centre. I popped into the town for a couple of hours to get my bearings and I will return tomorrow morning to see a bit more but what is left of this evening will be given over to the Gruner Veltliner I opened earlier and to determining whether I travel into Hungary, Slovenia or Italy tomorrow. Time will tell.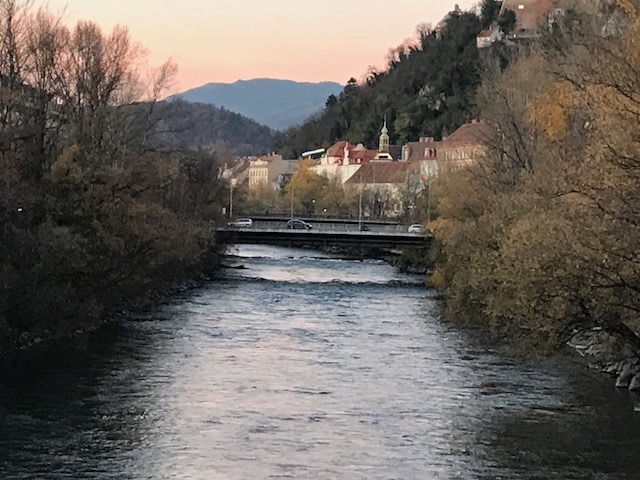 First view of Graz from a bridge over the river. Graz, like eveywhere else, seems preoccupied with putting up Christmas decorations but, upside down hanging Christmas trees?!?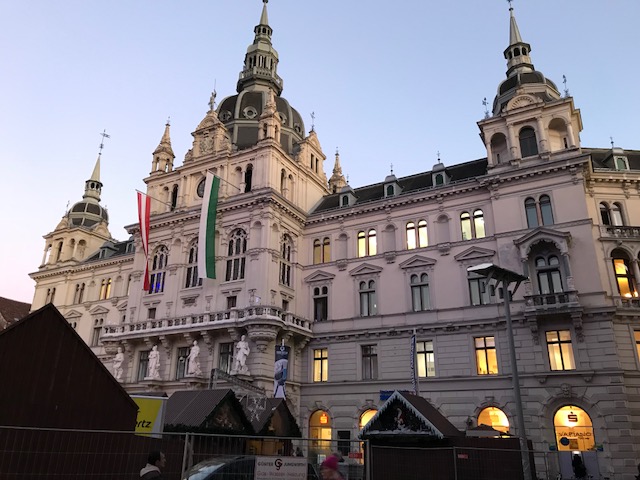 I wouldn't mind but these Christmas market stalls in Germany and Austria are spoiling a great many photos – Bah! Humbug! Interesting that the Opera House is about to show Verdi's Il Trovatore which I last saw on my 50th at the Prague Opera House.
I'll head back into Graz first thing tomorrow.