It seems there are a number of villages across Greece by the name of Lygia – it is Greek for "musical". There is a Lygia close to where I am currently parked in Glyfa in the Pelopennese Region but the Lygia I left this morning was in the Preveza Region far to the north. I shall remember that short stay. It was very pleasant and the fish was superb.
I forgot to mention that, whilst drinking the local red wine yesterday afternoon, Ikis was continually providing me with small plates of pickled vegetables that didn't look too nice but tasted divine…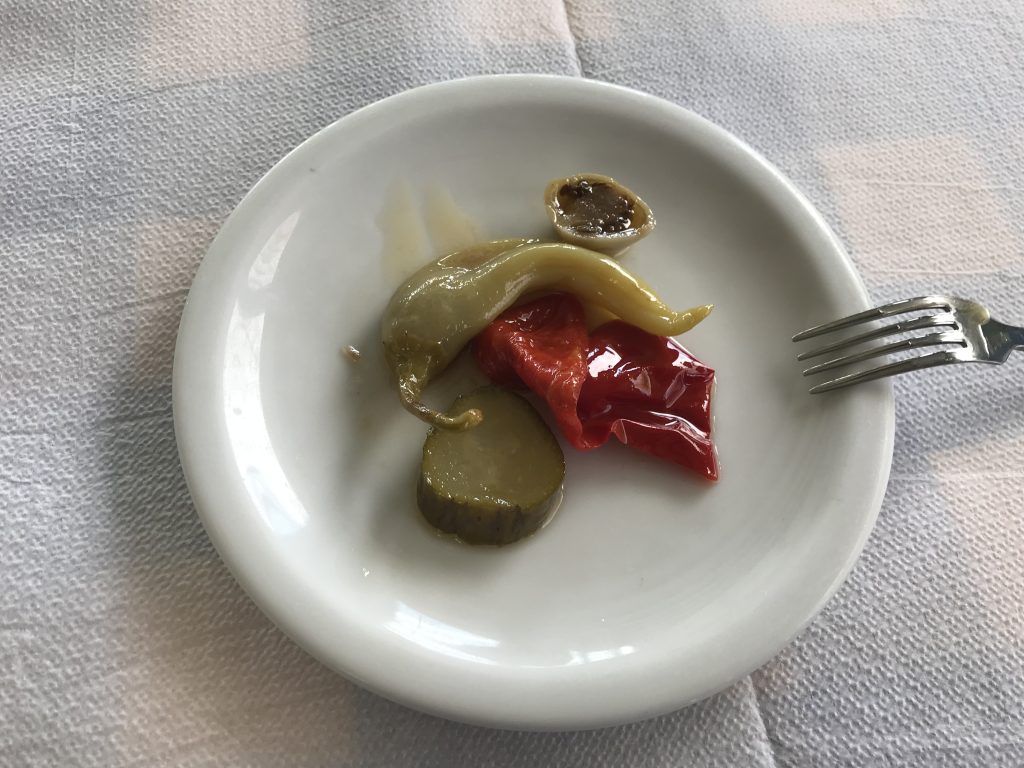 Soggy looking pickles (lot of olive oil) but they tasted great
Today was about the drive down through Greece, across the Rio-Antirrio Bridge to Patras (in Pelopennese) and then on to Glyfa – a journey of about 180 miles – although I was prepared to take another day or so to complete the journey if necessary because I also wanted to stop off at Nikopolis. Nikopolis (Victory City) was built by the Roman Emperor Augustus (then known as Octavian) to commemorate his victory over Anthony and Cleopatra at the Battle of Actium in 31 BC. The ruins are supposed to be spectacular.
Unfortunately (at least so far as my planned stop at Nikopolis was concerned) a new motorway has been built since my so called state of the art sat-nav was installed and before I knew it I was on the motorway and well past Nikopolis. If nothing else, that explains why things went so wrong for me whilst driving in Albania. I mentioned on the Shkoder to Vlore blog that I was continually being directed towards a ferry. That's why; the sat-nav is so out of date the road I should have taken isn't even recorded in my sat-nav system! There was another occasion in Albania, that I didn't write about, where I (again) found myself on a motorway that according to my sat-nav didn't exist. Not impressed.
Because of the motorway I soon found myself parked up at the Ionian Beach Camping Site. It's impressive. It's on a pretty beach and has all mod-cons. All things being equal I'll stay here for a day or two before starting my exploration of the Peloponnese Region – Sparta as was.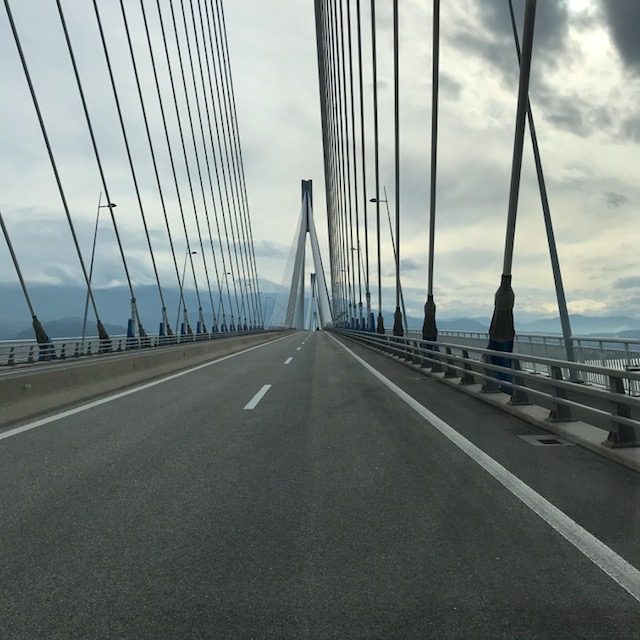 That's us heading across the Rio-Antirrio Bridge towards Patras. Next time I am here it will be to get a ferry across to Italy. I need to do something about that over the next few days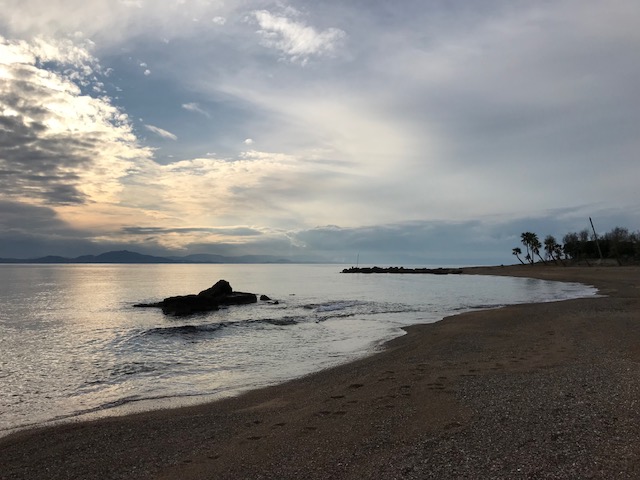 …and there's the beach. Can I gather the courage over the next day or so to go for a dip?