I was intending to drive south yesterday to Methoni in Messinia but I totally misread the weather. A cold front came up from the south just as I arrived at Glytha and since then there have been two days of non stop rain (while the Lygia I left has been enjoying two warm and sunny days). I need to be more alert in this regard. Lesson learned and the sun is back!
Currently parked up on the edge of an olive grove sipping wine, looking at the snow capped mountains to the East. The view is fine and I'm in no hurry to move.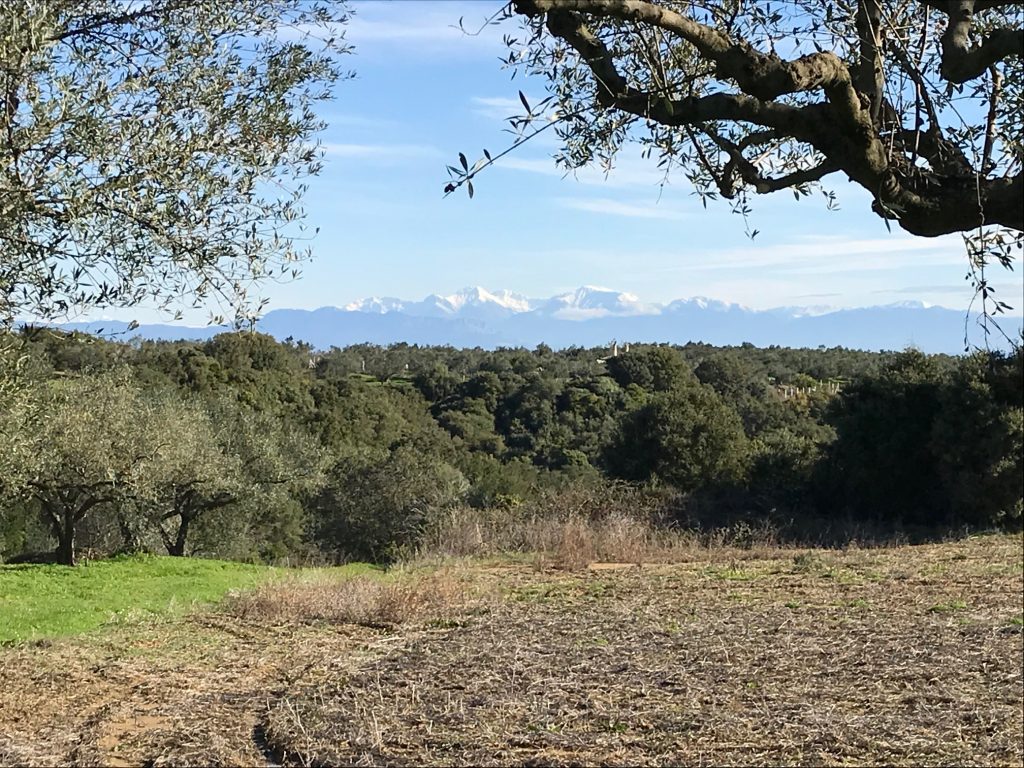 The view from the Van. I'll be heading South shortly after Christmas and on to those mountains early in the New Year
I passed Chlemoutsi Castle the other day and decided this morning that I would track back and check it out not least because it looks totally different to many of the (Venetian built) castles seen during the drive south… and it is totally different.
When built in the early 13th century it was known as Clermont Castle and it was built by a couple of French Crusaders during their return from the 4th Crusade in the Frankish style. It is built on a 220m hilltop a short distance from the coast and has good views across the Aegean to Zakynthos and Kefalonia. Having said that, it has never been of any real strategic value and that perhaps explains why it has largely been left alone and is now considered "one of the best preserved castles in Greece".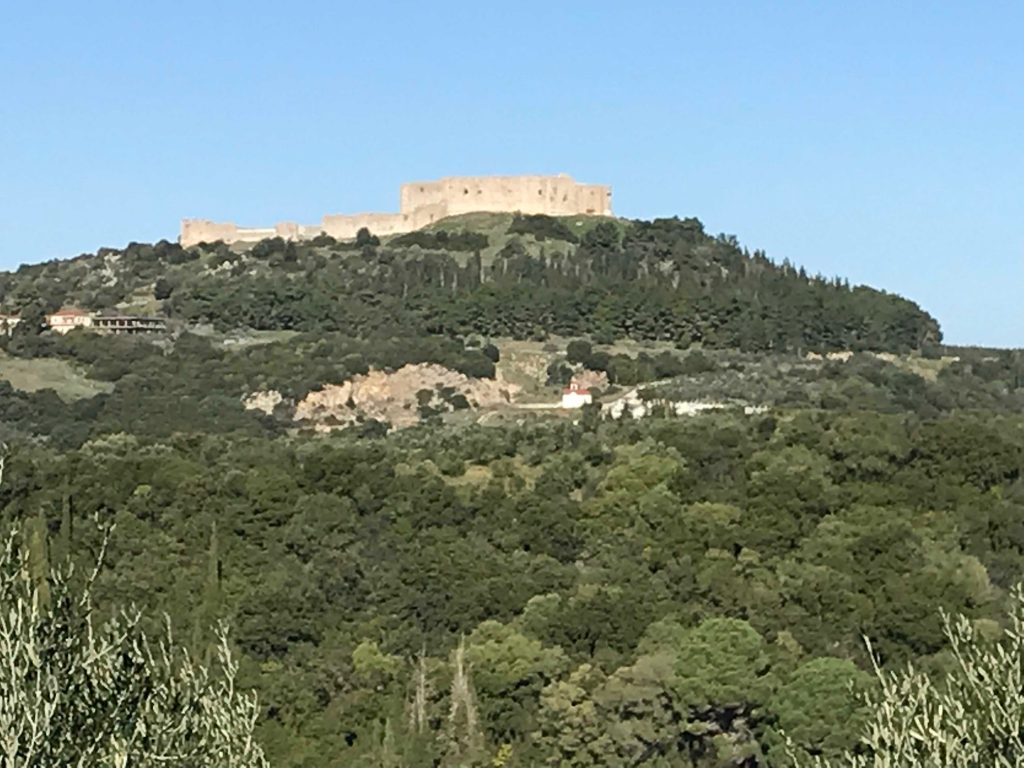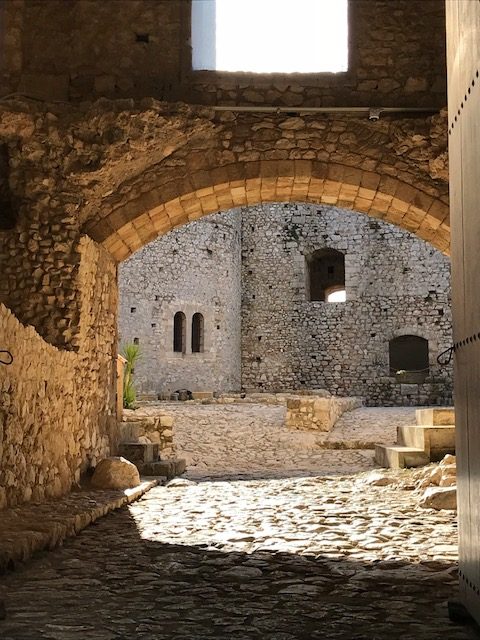 l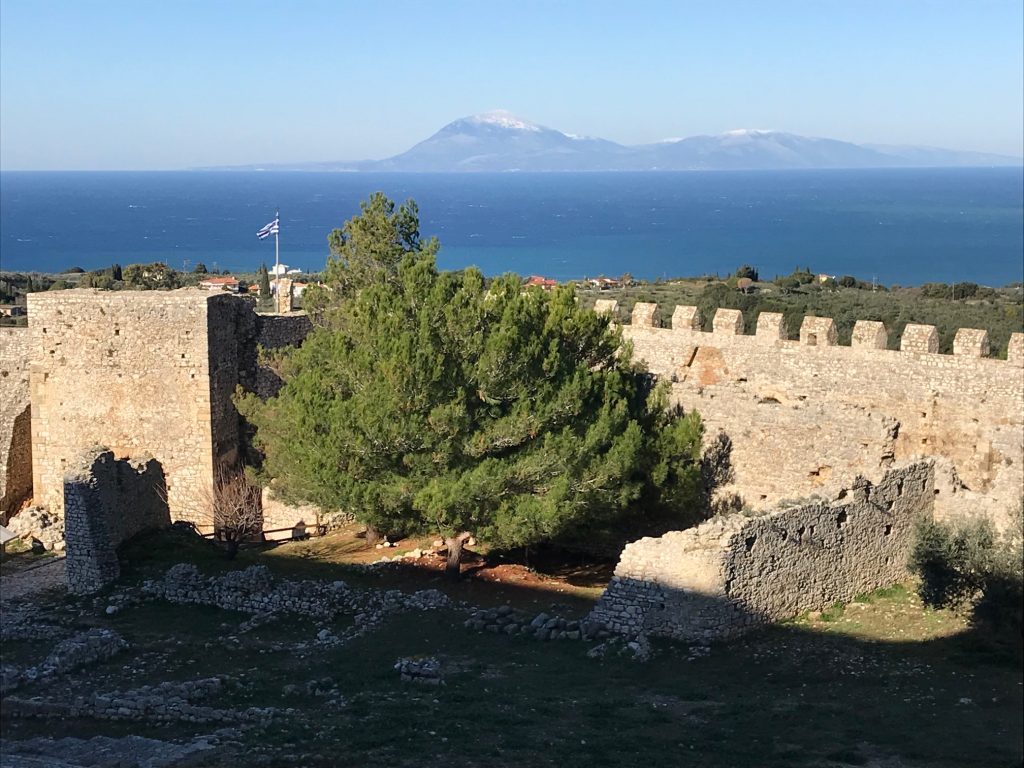 It's a smaller castle than you would think from the outside. It's not one of my favourite castles – I like them steeped in history, drama and, of course, a little bit of legend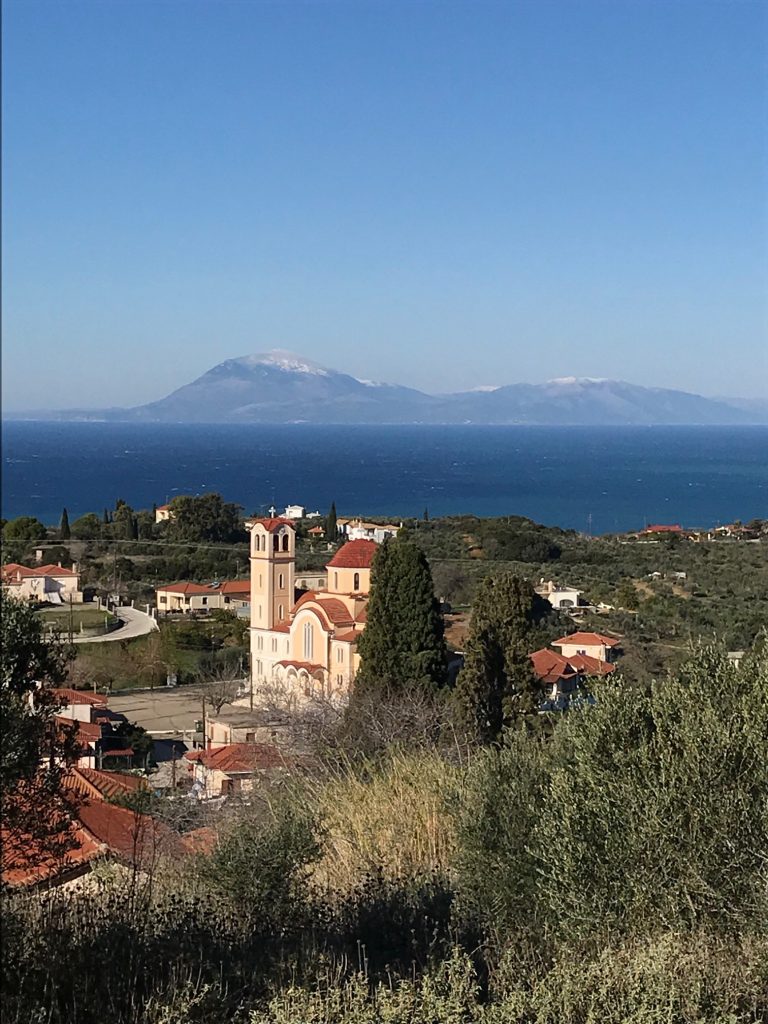 The views from the castle weren't too bad. That's the island of Kefalonia in the background of the first photo
After lunch I pulled the bike out of the back of the Van and set off towards the Kyllini Springs. It was only 12 km (round trip) of fairly level cycling, mostly along the coast road, and the scenery and the weather were both brilliant.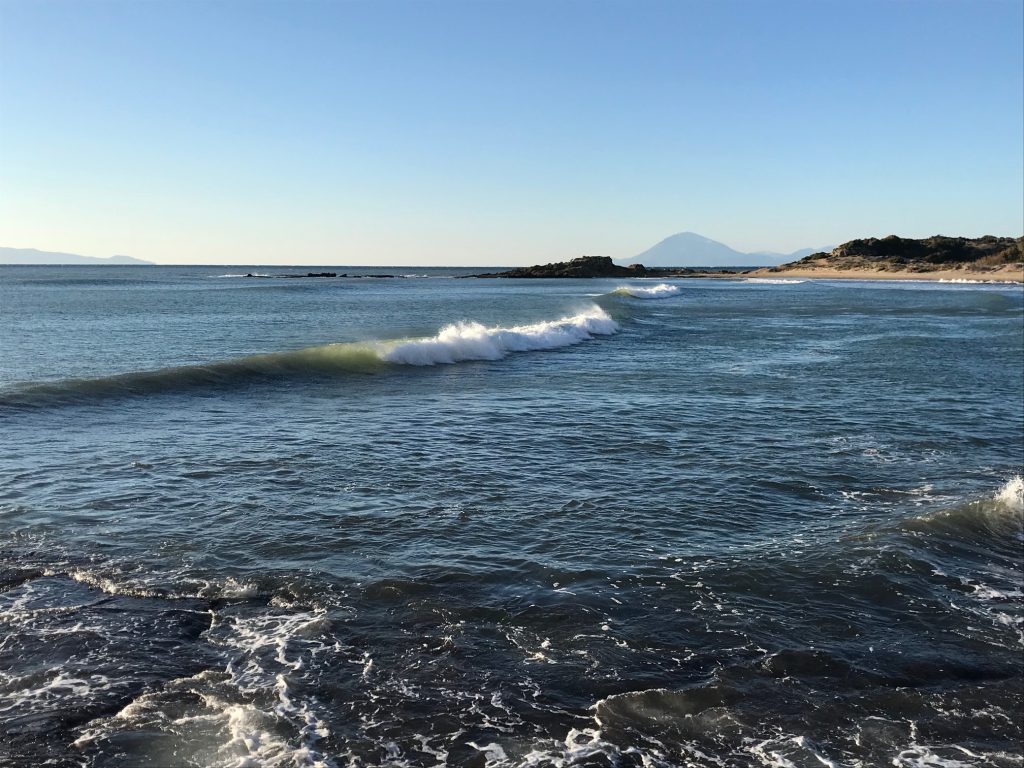 If ever you tired of the sea views (that one is of Arkoudi Beach), there were countless orchards of olive trees, lemon trees and mediterranean pine all backed by the snow covered mountains of the East
Of course I'd overlooked the fact that the Kyllini Springs are Thermal Springs and as I approached them the scent of lemons and mediterranean pine gave way to that of sulphur – ugh! It wasn't helped either by the place being so run down. It clearly isn't tended during winter and looked a bit of a mess.
But, come on, the baths here have been renowned since ancient times for their hot springs, fumes and mud as a cure for arthritis, asthma and skin diseases. Now I don't suffer from any of those problems but prevention is better than cure…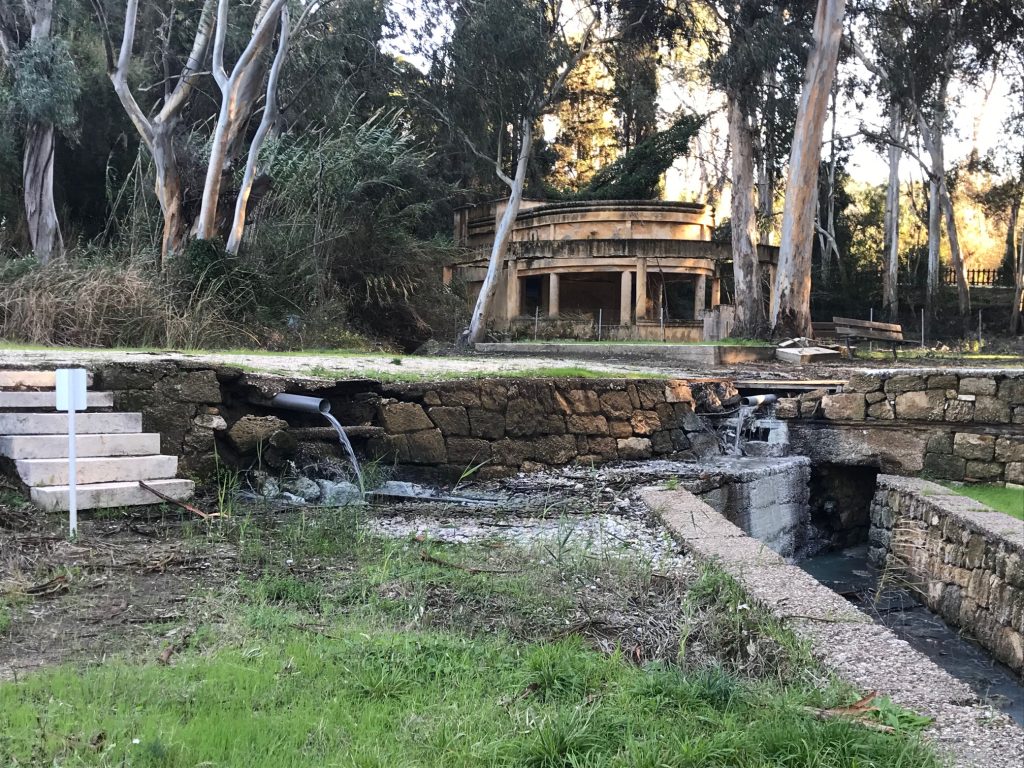 What? I've got to strip off and sit in that big hole of funny coloured water?
Fortunately, a local guy turned up while I was there who told me he often bathed in the Springs in the summer and he swore by it but that "it is too wet and I should wait until some of the water drains off and there is more mud". Of course, he was speaking Greek throughout and he may have said something totally different but, that's what I think he said.
There were a couple of old Roman ruins near the Springs; a bath house (in a particularly dilapidated state) and an amphitheatre but within the hour I was on my way back to the Van.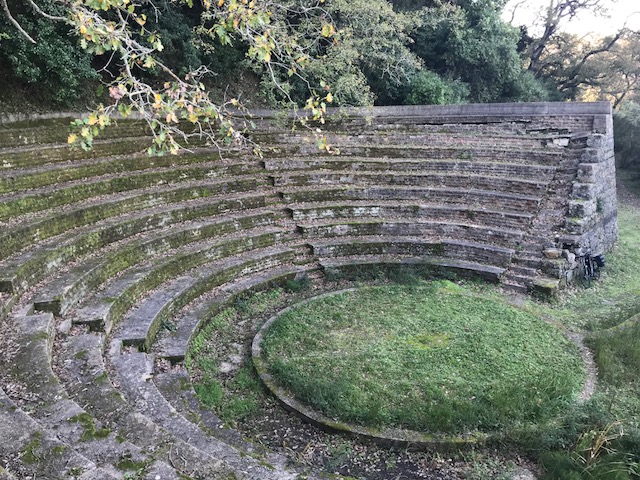 Not the best Roman amphitheatre you'll ever see but the only one my bike has ever been rested against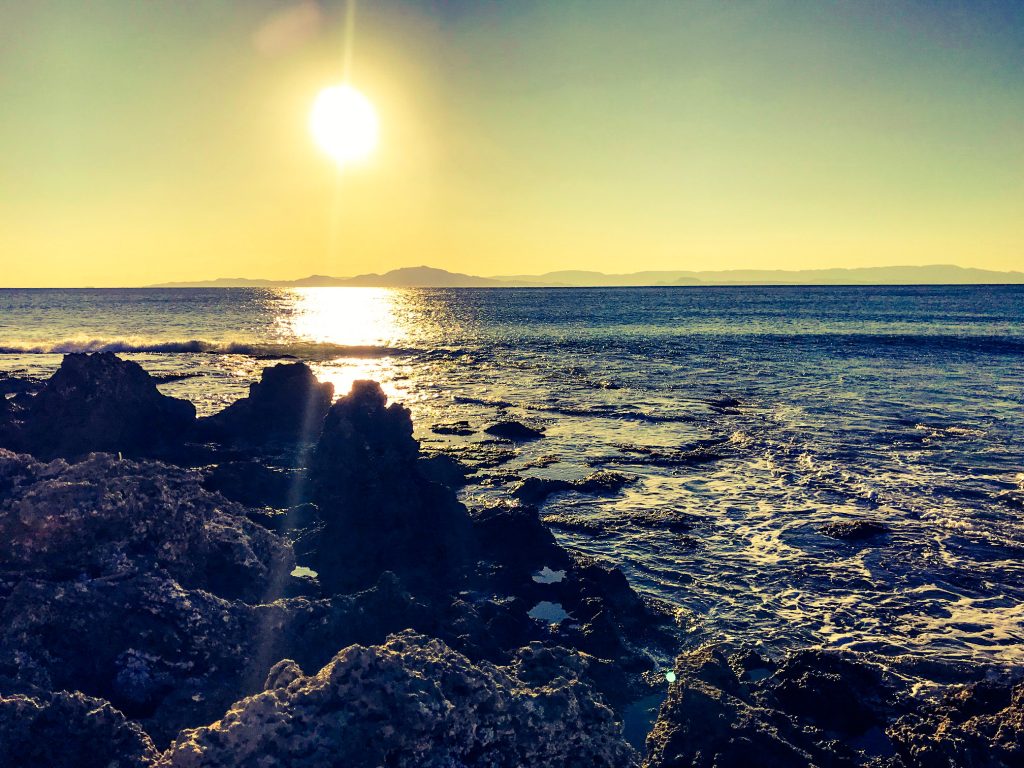 Arkoudi still looking good albeit this end of the beach is a bit rocky