Ezcaray was described to us as the most beautiful town in La Rioja and a 'must see' place to visit. It sits on the edge of the Sierra de la Demanda mountains on the banks of the River Oja and is just 30 kms west of Berceo. It was an easy decision to stay on at the campsite in Berceo another night and travel to Ezcaray for the day.
With just over 2,000 inhabitants Ezcaray is not a large town but, it attracts a great many tourists throughout the year. Summer and winter, it is particularly popular with visitors from the Basque Country.
Parking up was easy. There is a motorhome aire at the edge of the town next to the pretty 18th century Hermitage of Nuestra Senora de Allende.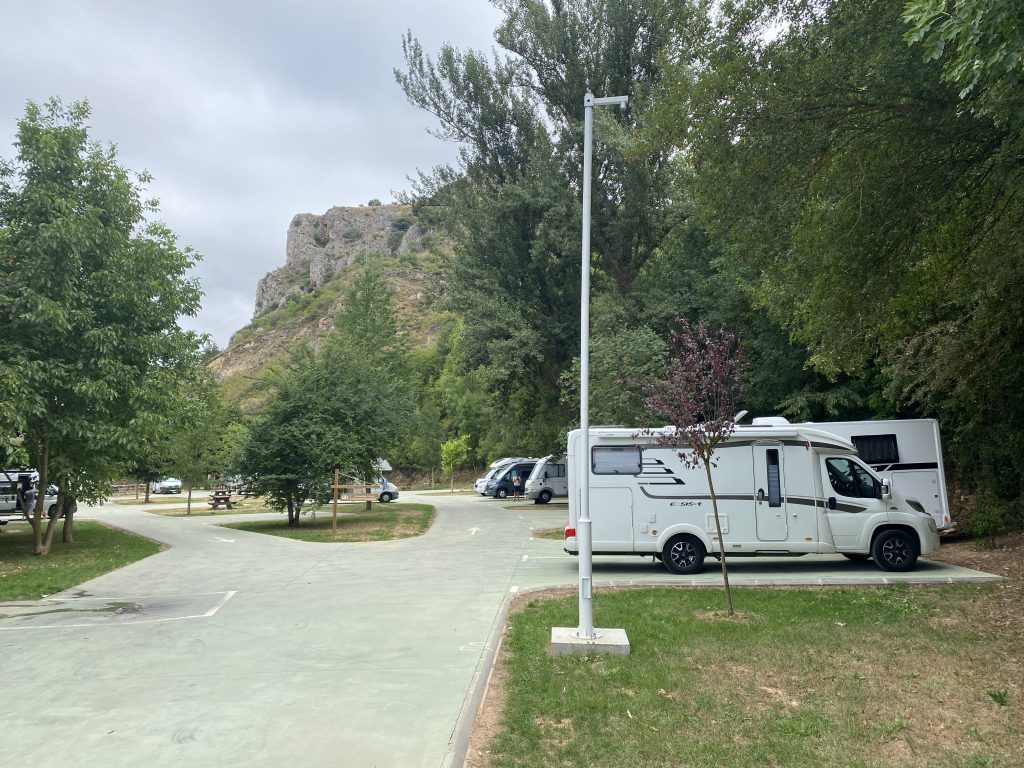 The resident hermit in the hermitage accommodation adjoining the chapel let me in for a look and it is as pretty inside as outside. There's a magnificent altar piece but an attractive and unusual feature inside is the collection of paintings on the side walls by the artist Arcabuceros Angeles.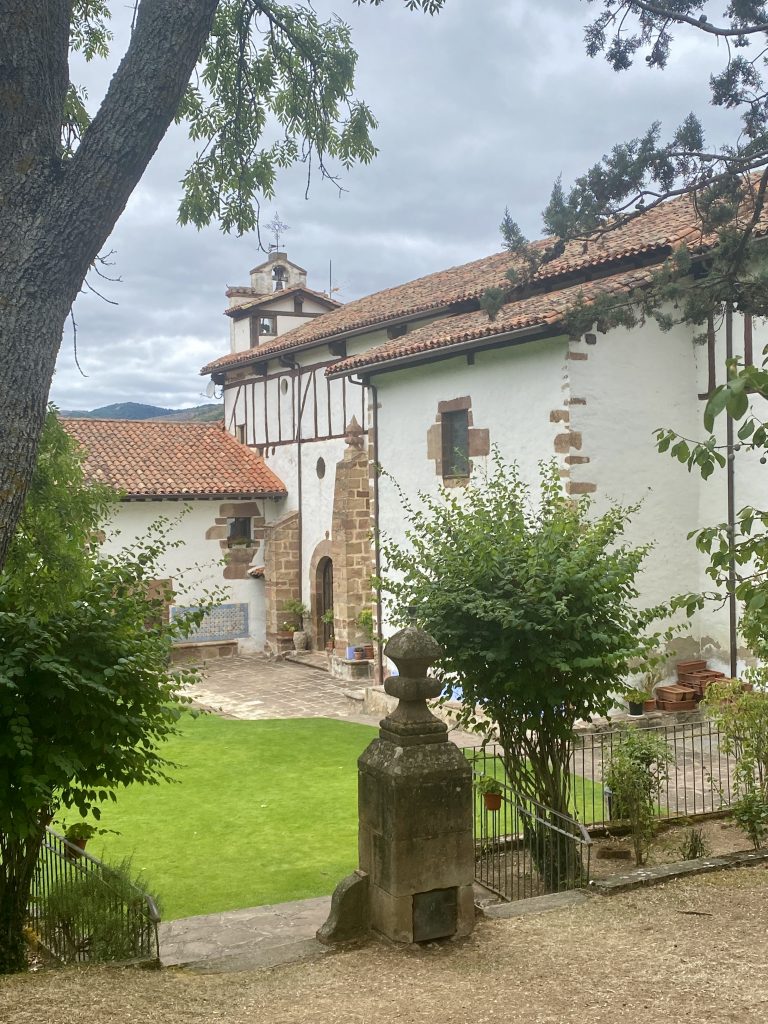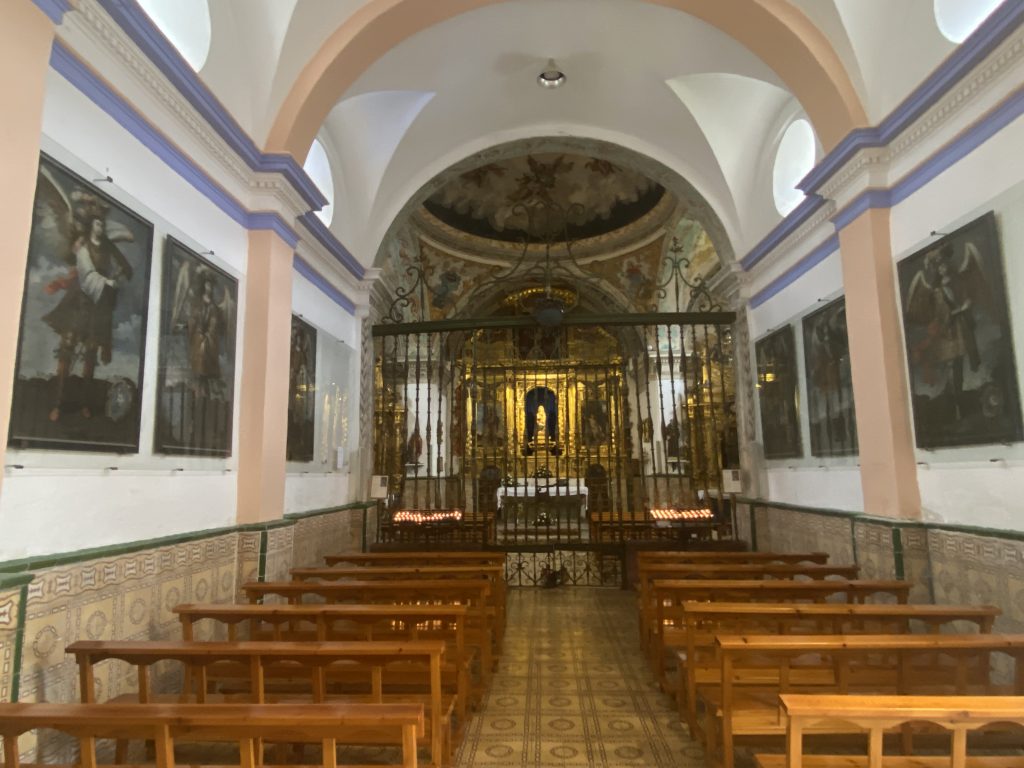 We carried on towards the old town and soon encountered the Iglesia Parroquial de Santa Maria la Mayor, which is a fortress like church put together in several phases between the 12th and 16th centuries. It looks more like a small castle than a church and, as we arrived, was locked as tight as any fortress could be. I was having to settle for a couple of photos of the outside of the church but as I readied myself with the camera, I was distracted.
The hotel opposite the church houses the El Portal de Echaurren restaurant, the first ever Michelin Star restaurant in La Rioja and, what's more, it now has two Michelin Stars. The restaurant's menu was posted outside the entrance. It claims to showcase the flavours of the Al Rioja region and looks both exciting and reasonably priced. They were charging between 22 and 32 euros for a meat main course and between 29 and 60 euros for a fish main although, no one in their right mind would settle for just a main course in this restaurant. Eating in El Portal de Echaurren is apparently almost theatre. The appetizers are served in the garden, then; guests are shown the kitchens where an entree is produced and then; the principal course is delivered to the guest's table in the restaurant area. Personally I would like to try their tasting menu with appropriate local wines and Vanya and I have promised ourselves we will return for such an experience. Only issue is that, with a visit to the kitchens being part of the eating experience, I don't think we'll be able to take the dogs with us. They have what looks like a sister restaurant almost next door, El Cuartito. Perhaps El Cuartito will be more accommodating?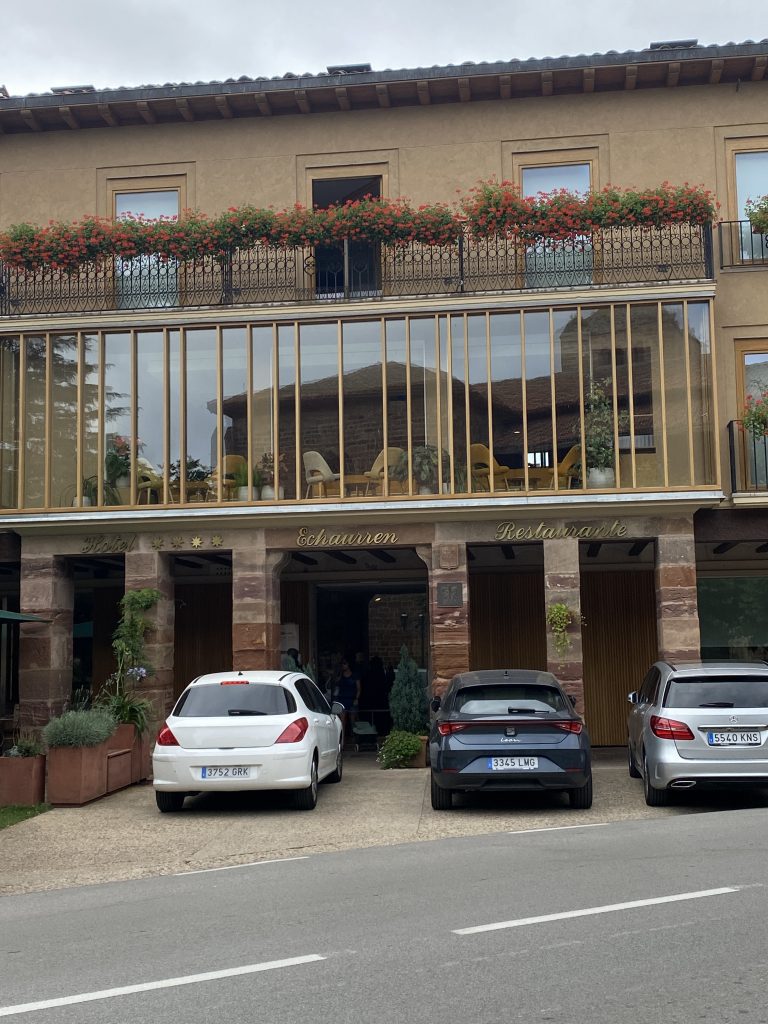 Promising that we would soon return, we moved on into the old town and with the help of Google Maps quickly found the centre, the Plaza del Conde de Torremuzquiz (the Square of the Earl Torremuzquiz). In fact, the Square is better known as the Plaza del Quiosco (Square of the Kiosk). It is an ancient and picturesque square of half timbered three story buildings in the middle of which is a very odd looking but very pretty bandstand set on a stone foundation. It is this bandstand which has given the square it's nickname, Plaza del Quiosco. Most of the buildings surrounding the square have been converted into cafe bars and craft shops. It was mid morning; the square was fairly full and there was a great atmosphere about the place. We settled outside one of the cafe-bars and took a pintxos brunch. I mentioned earlier that Ezcaray is very popular with visitors from the Basque Country and that is reflected in the cafe bar menus in the town. What would ordinarily be called tapas across most of Spain and in much of Castile y Leon is termed pintxos in Ezcaray.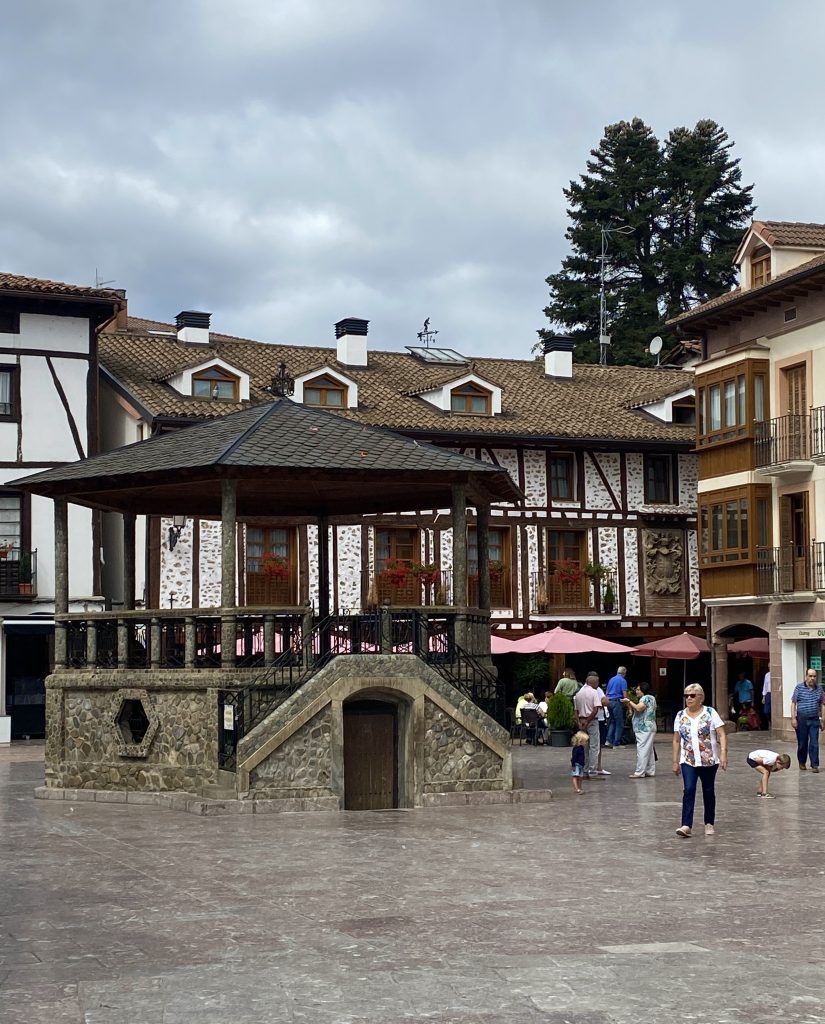 I've not mentioned that Ezcaray is good for shopping; woollens in particular. Vanya had noticed this almost immediately upon entering the town and it wasn't long before we were retracing our steps to another square we had crossed earlier in morning, the Plaza de la Verdura. I remember it because the town's tourist office is to be found on that square. Vanya had seen an admittedly pretty full length woollen jumper. It's now in the back of the Van.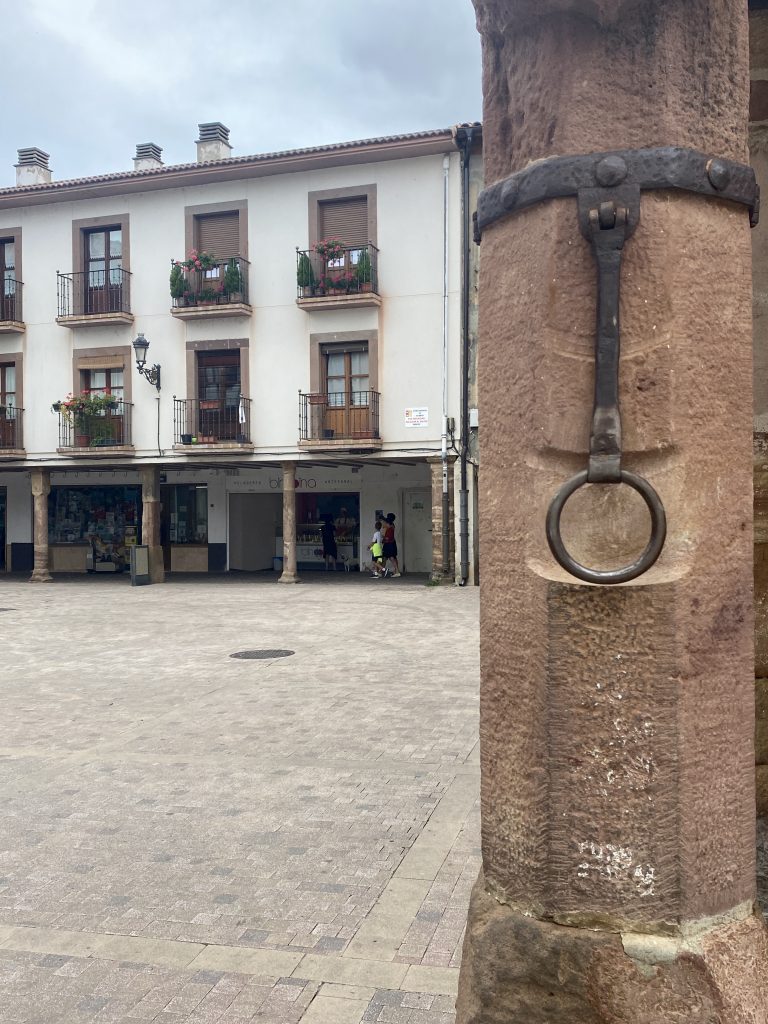 Ezcaray has long been famous for the production of cloth (particularly woollen clothes and blankets) and at it's peak in the 19th century had 29 textile factories employing 1,000 workers. That's almost all gone now with most of the old mills having been demolished but one in particular has been saved. The Royal Cloth Factory of Santa Barbara has been converted into the Ayuntamiento (town hall), a Theatre and a Hotel. It is a striking building full of character.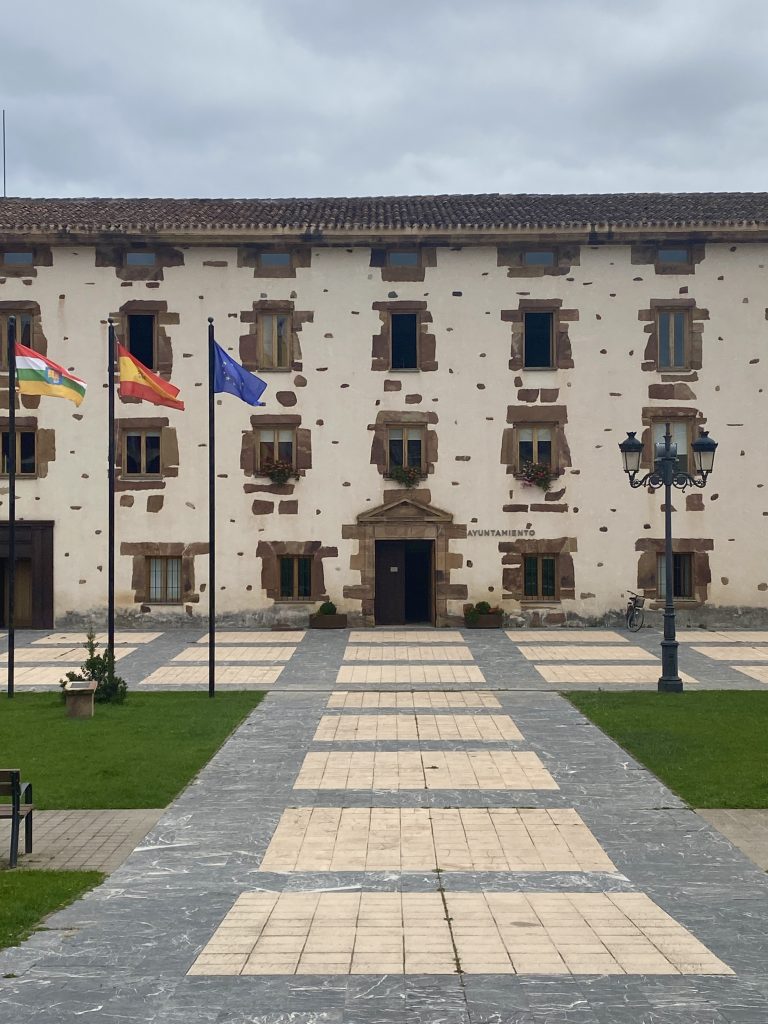 Textile production has given way to tourism all year round in Ezcaray. The ski resort of Valdezcaray is only 14kms up the road. Valdezcaray was built in 1974 and has a skiable area of 22kms; service stations at three heights (1550m, 1620m and 1850m) and; 6 lifts capable of carrying 15,000 skiers an hour to a total 24 ski runs (including 4 green pistes, 6 blue, 10 red, 2 black and 2 yellow). I didn't know that they had skiing in this part of the world.
We had a pleasant day in Ezcaray but, while it is a pretty little town, I wouldn't describe it as the prettiest in the La Rioja region. I think we've yet to discover that place. No matter, we'll be back if only to try one of those restaurants I wrote about. For now, it is back to Berceo and then on to another town which has been recommended by a friend: the wine capital of La Rioja, Haro.