La Rioja, with it's 600 wineries and 250 square miles of vines, is Spain's most famous wine region and the town of Haro is considered the wine capital of La Rioja. There's reason enough for us to visit Haro but, it also came recommended by a friend.
The drive from Berceo on the LR 206 and the LR207 via Alesanco and Ollauri to our Haro campsite by the River Tiron would have taken well under an hour were it not for the fact that I kept stopping to take photographs on the way. These are country roads with very little traffic (a few tractors is all) and it was too easy to just pull in to the side of the road and start taking photos of the beautiful scenery. The La Rioja Region is about wine and grain and at this time of the year the area is a giant patchwork quilt of gently rolling fields with dark green vines and straw coloured stubble set against a backdrop of the Basque Mountains and a bright blue sky. Not quite Prosecco Hills but, nevertheless, awe inspiring.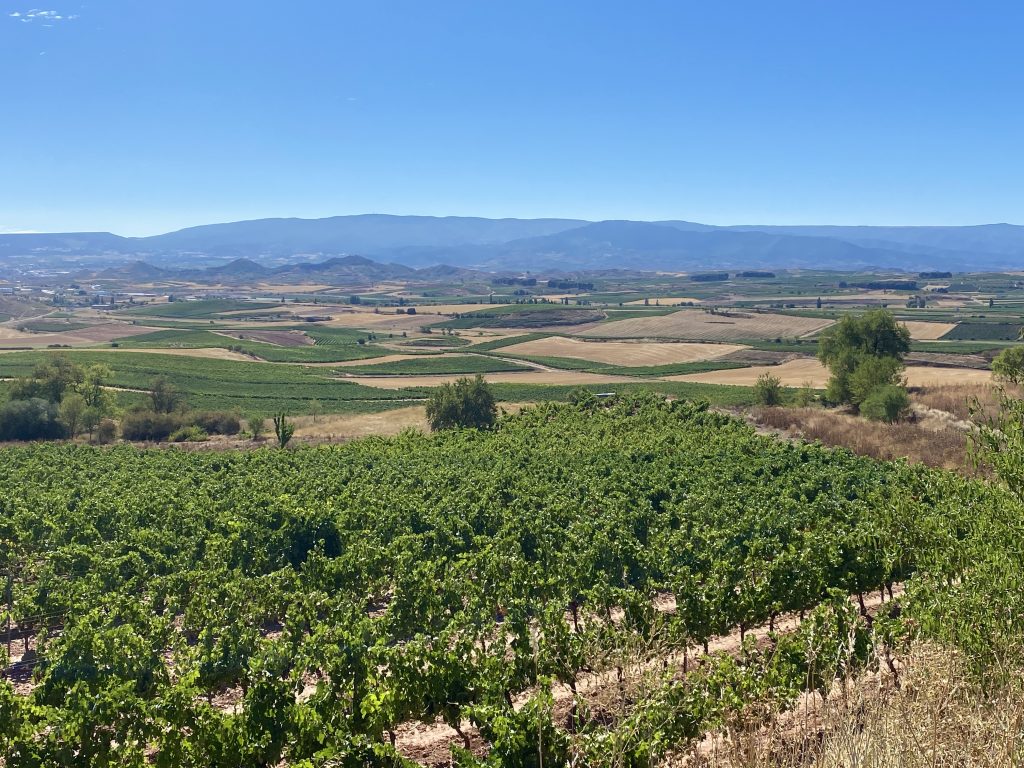 Almost everything about Haro is to do with wine. Wineries (known as bodegas in Spain) are all over the place. There is a wine museum, countless wine shops and even the statues and street art throughout the city are linked to wine.
There is also a three day wine festival in the town which includes a wine fight (La Batalla de Vino). The fight is generally a good natured event which takes place between 28 to 30 June, during the feast of St Pedro. There is a big party on the 28th June; the fight takes place immediately after mass on 29 June and; there's another party (which includes traditional dancing) which takes place on 30 June. During the wine fight everyone wears white and throws red wine over each other using buckets, bottles, jugs, water pistols or anything else that holds wine. Thousands of litres of wine are used in the fight every year. The inaugural wine fight is said to have started in the 13th century after an argument between Haro and the neighbouring town of Miranda de Ebro.
After arriving in Hora, I did my usual preliminary exploration while Vanya stayed with the Van and practised her Spanish. The first place I made for was the Plaza de la Paz (in the old part of the town, of course) to find a suitable place to eat in the evening. Job done; there are plenty of places on the square but she would probably prefer to walk the lanes for tapas.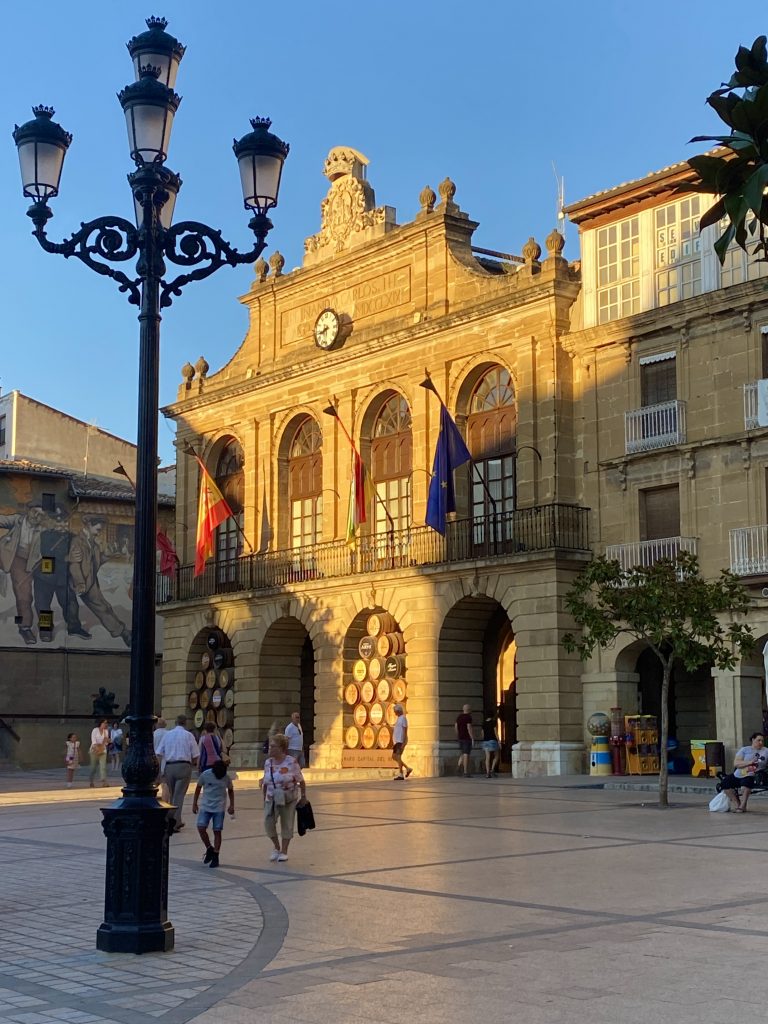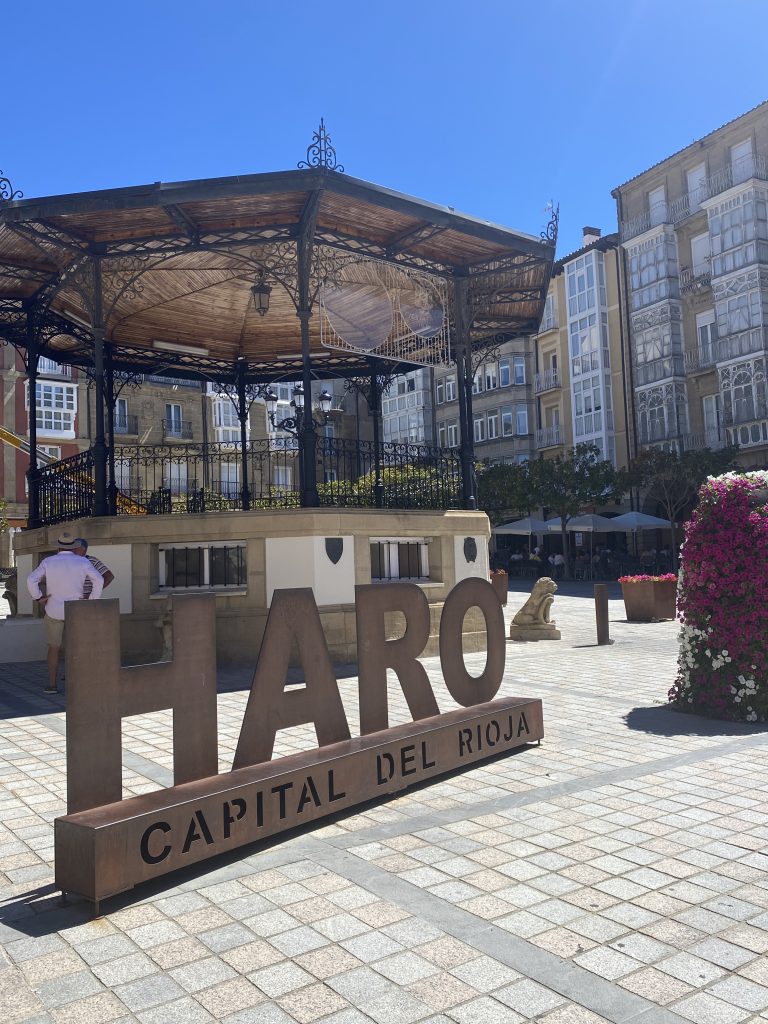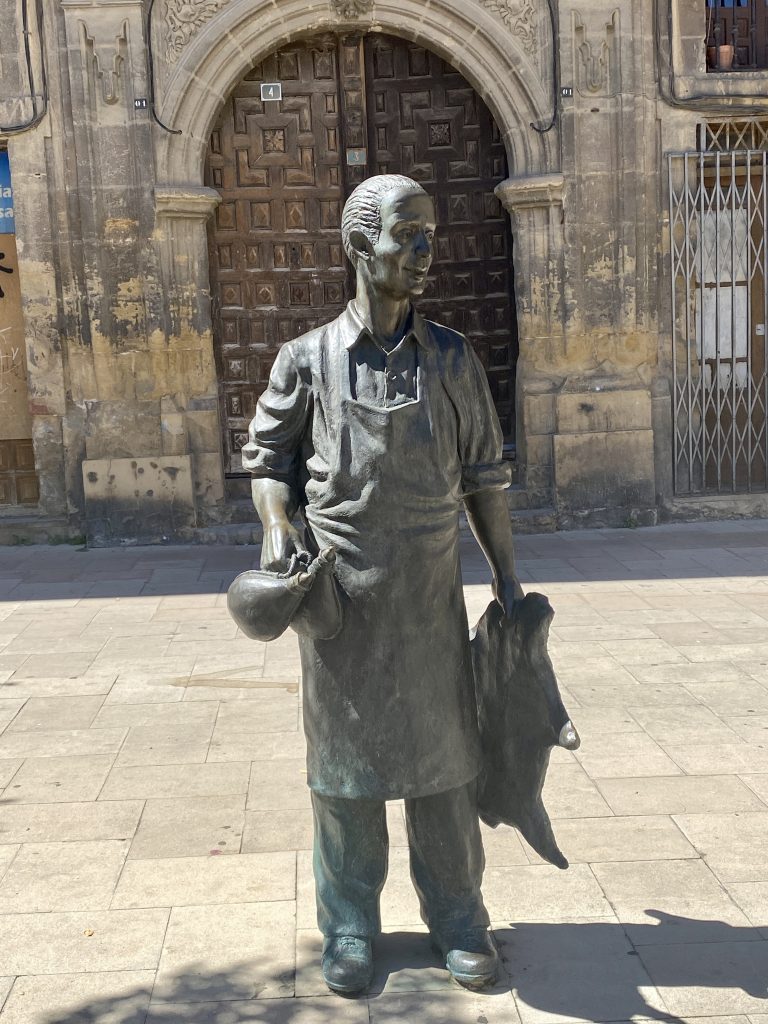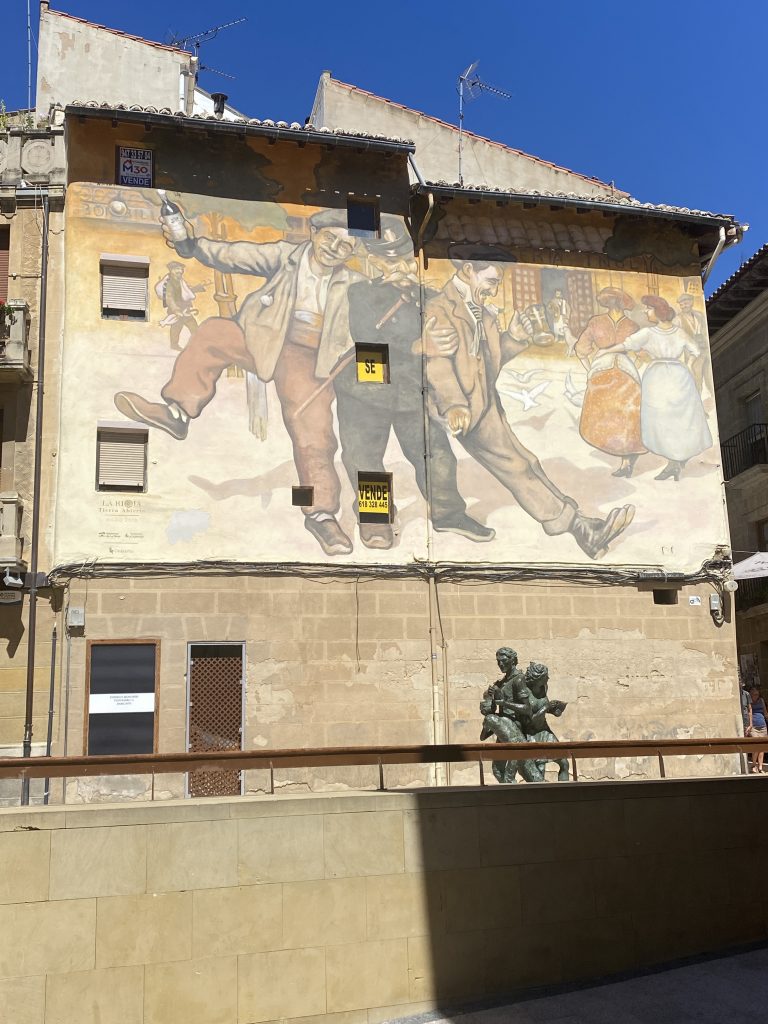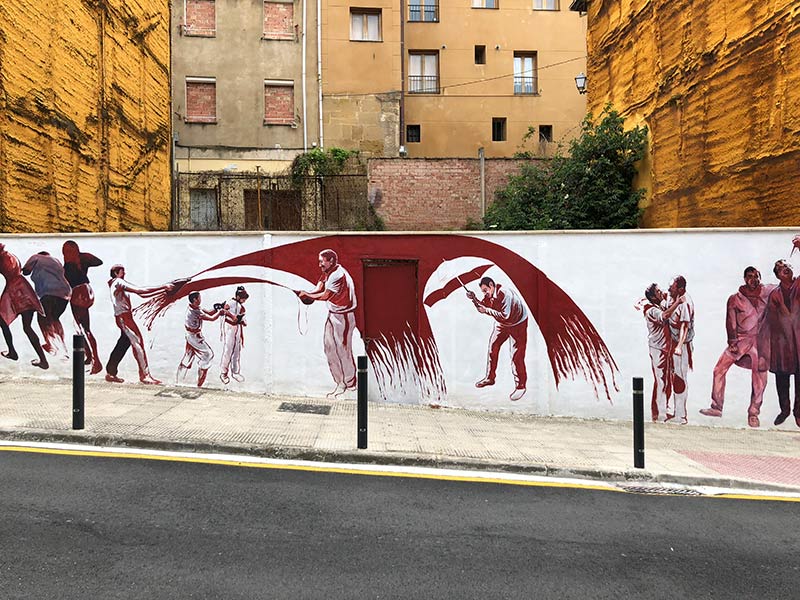 The most impressive building in any Spanish town is more often than not the church and the 16th/17th century Church of Santo Tomas is certainly the most striking building in Haro. It was declared a National Historic Artistic Monument in 1931. The oldest and most celebrated part of the church is it's front entrance but I was also struck by it's magnificent Baroque altarpiece which dates from 1740.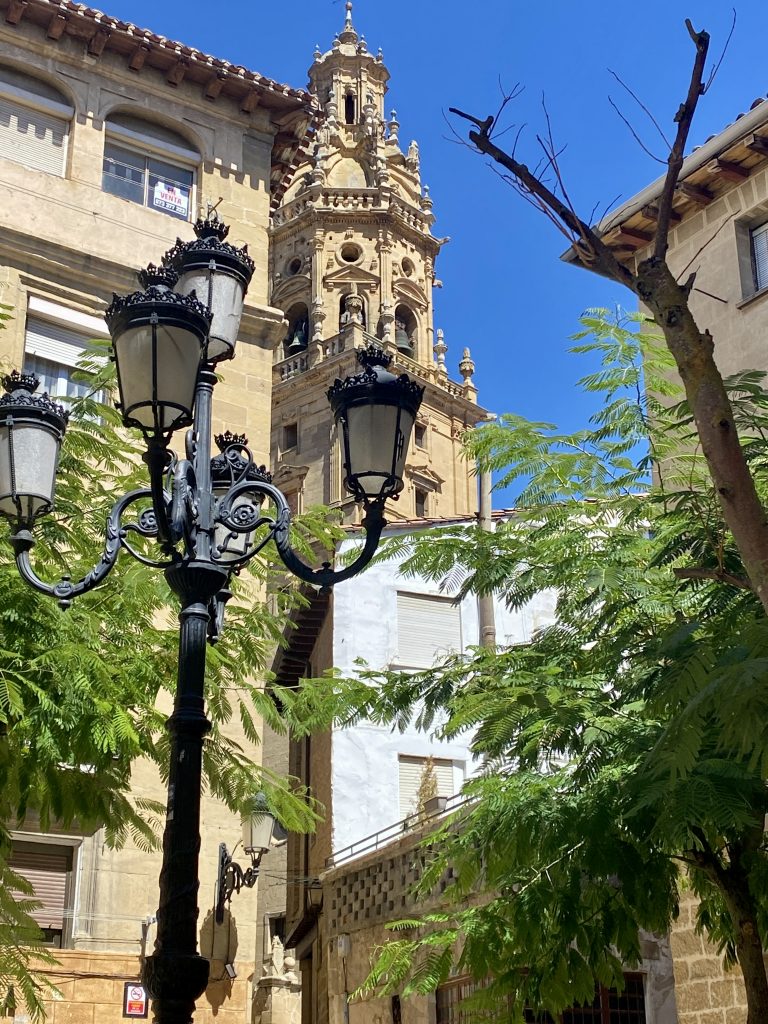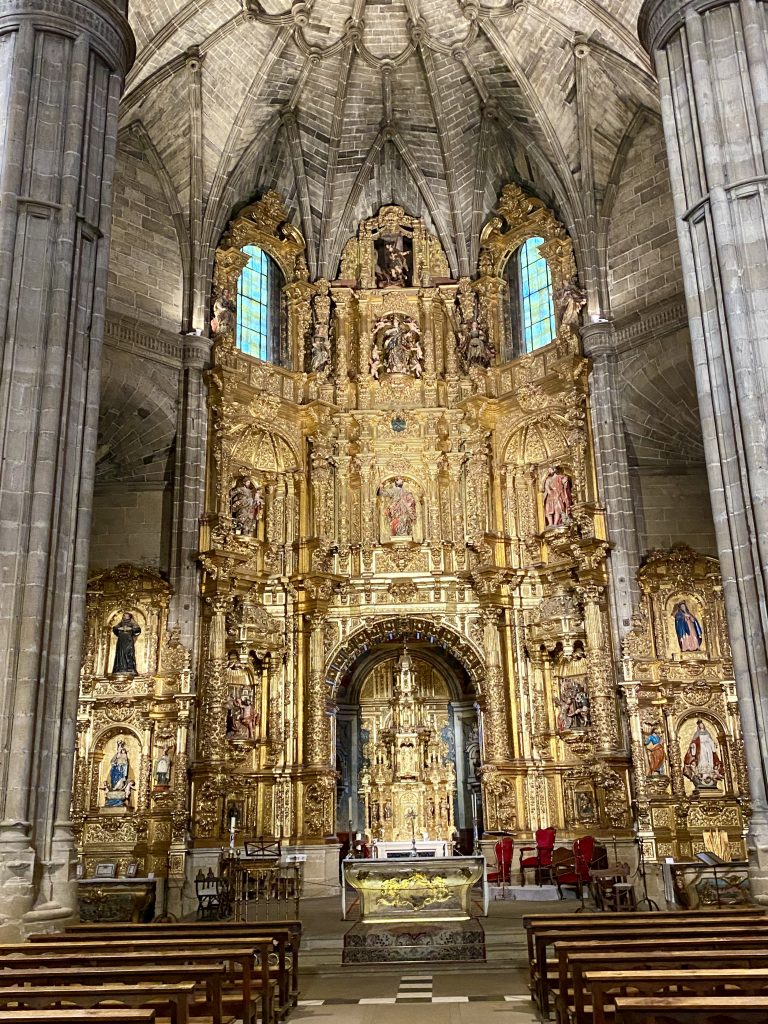 And so to the wine. If you want to tour one of the bodegas in the town (and there are some impressive tours to be had), you have to make appointment but; if it's just a tasting session that you want, many of the larger bodegas in the Barrio de la Estacion area operate an open door policy where you can just walk in off the streets. Some, such as Balbainas, CVNE, La Rioja Alta and Muga have pleasant seating areas, inside and out, and have food to complement their wine list. It's like being in an up market Austrian heurige.
I made my way to the Bodegas Muga which is currently open for tasting from noon onwards. I settled down in the very pleasant courtyard at the side entrance to their premises and was immediately presented with a wine list and snack menu. You pay for each wine you try but the prices are reasonable and the measures are very generous. What I particularly liked about the Muga is that the waiters (or are they cellar masters?) all seemed very knowledgeable about the dozen or so wines available and were more than happy to share that knowledge. There were red, white and rose Riojas available at prices between 3 and 12 euros per glass but most wines were 3 or 4 euros. There was even a fizzy Rioja. I tried a 'couple' of reds and my favourite by a long way was the Muga Seleccion Especial 2018 at 6 euros for a very large glass (which got even bigger after I ordered a second). I'm no expert wine taster but – intense cherry colour, long, smooth, red berries. I added the "intense" for effect lol. I promised to introduce Vanya to the Muga at the earliest opportunity.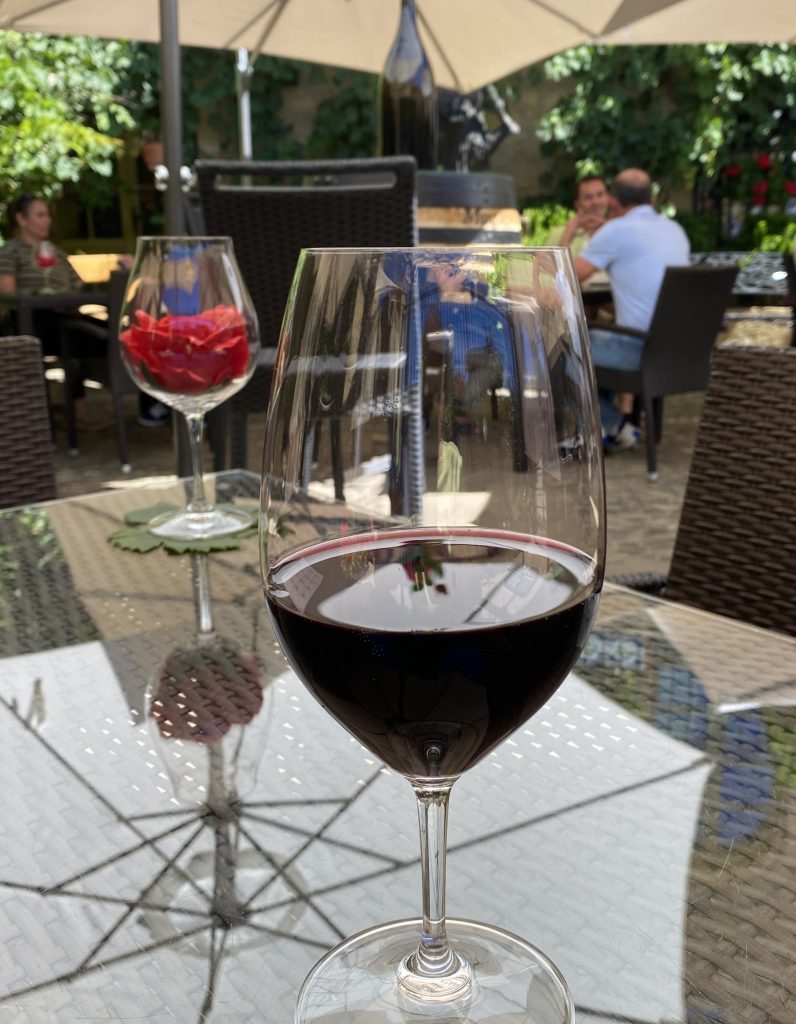 Vanya and I made it to the Muga the very next day for the noon opening. After I had reminded myself as to how good the red wine is, I sampled the white riojas, including the fizzy. Not fussed about that one (I've been spoiled by Prosecco) but the other white wines were good.
Of course, Vanya enjoyed the visit to Bodegas Muga as much as me and we had to try another. We moved on to Bodegas Bilbainas for a Vina Pomal. Vanya didn't like the Pomal and so I had to drink both but she very much enjoyed the fizzy Rioja Lumen Reserva 2019; so much so she bought some to take back to the UK. Given the price, I probably would have liked it too. As it was, I felt rather sleepy for the remainder of the afternoon.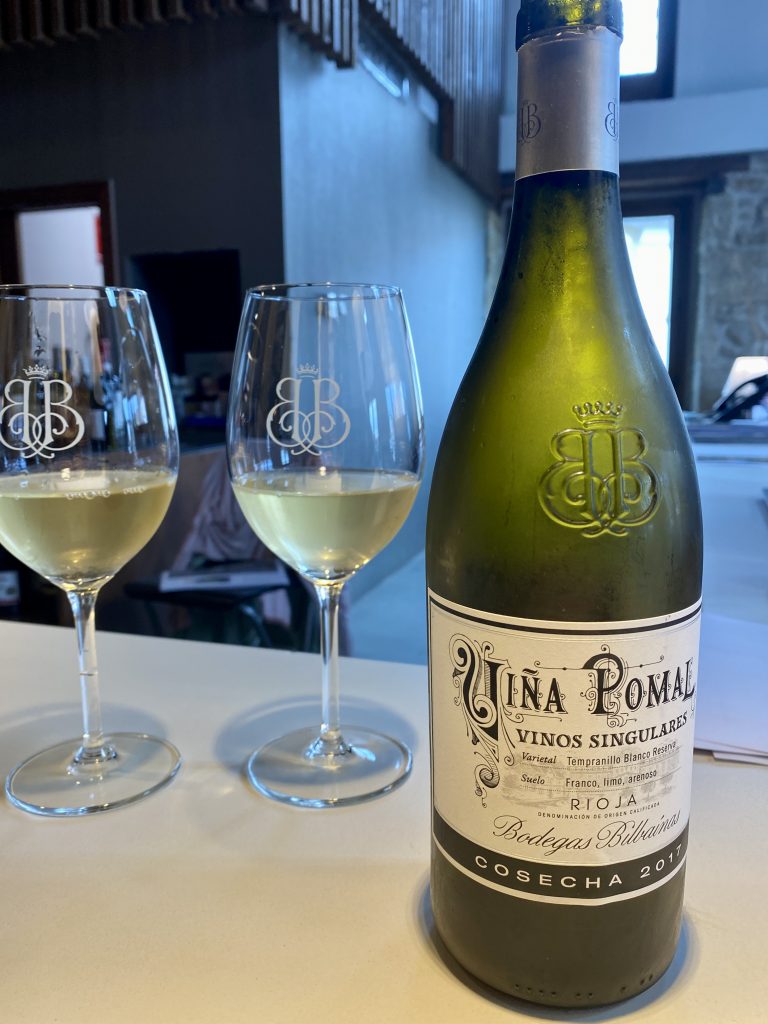 We spent a couple of pleasant evenings during our stay on the Plaza de la Paz people watching but tended to eat at the tapas bars. It wasn't bad food but it was a poor substitute for Calle Laurel in Logrono. It was time to move on. A waiter advised us to call in on the small town of Laguardia before going to Logrono and we promised we would.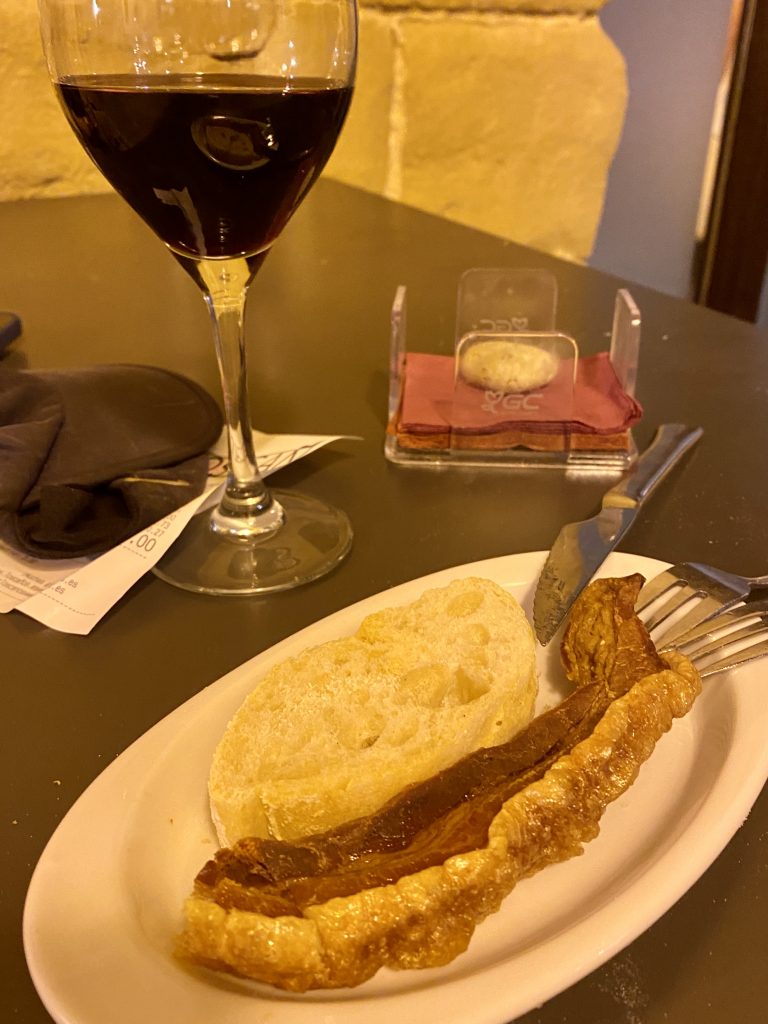 Haro is well worth a visit and we will definitely return. As it is we were only going to stay the one day but stayed two. Next stop Logrono but via Laguardia.