My original plan, after leaving Rome, was to head for Grosseto (117 miles to the north) and then Siena (a further 48 miles, north north east) and to stay over in both places. I no longer have the time for that (I have to get back to the UK within the next 2 weeks) and since I couldn't choose between the two towns, I elected to stop somewhere between them and explore a few of the local villages instead. This would mean one stop instead of two and it would be in keeping with my expressed wish to go somewhere quieter after Rome.
So, I drove about 130 miles north to the quiet and fairly remote village of Casciano di Murlo in Tuscany. Nestled amongst densely wooded and hilly terrain it is very quiet but also very well placed for me to visit a couple of interesting Tuscan villages tomorrow – Montalcino and Montepulciano (more about them in the morning). To give you an idea as to how quiet and remote this place is:-
I set off from Rome late in the day and didn't arrive in Casciano di Murlo until well after dark. I parked up just outside the village and walked a kilometre or so back to a local store to buy bread and milk. I stopped also to check out the local tavern but, just one glass of the local red wine and a slice of pizza (such that I didn't have to cook). Returning to the Van with a small torch in hand I received the shock of my life. A "sounder" of wild boar (I had to look "sounder" up on the internet – it is the collective noun for a dozen or more boar) charged out of the woods and across the road directly in front of me. I really thought they were heading for me and to say they made me jump is an understatement. They frightened the bloody life out of me!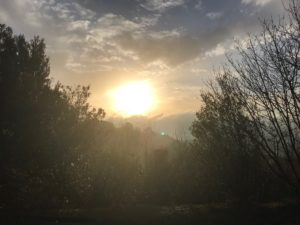 … dense woodland one side of the Van and…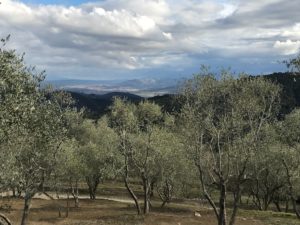 … terraces of olive trees on the other side (both photos taken the next day)
It didn't altogether end there. I awoke the next morning to noise outside the Van. I thought it might be the boar again but no, this time it was a small herd of deer. They disappeared as I exited the Van.
The weather was cold but dry (4 degrees and windchill compared to the 22 degrees and sun I enjoyed down at Gallipoli) and the weather forecast was for rain later in the day but there was time enough to take a quick walk around Casciano before setting off for Montalcino and Montepulciano:-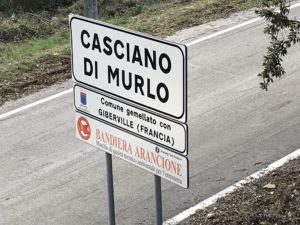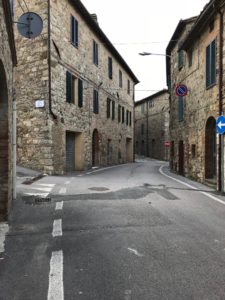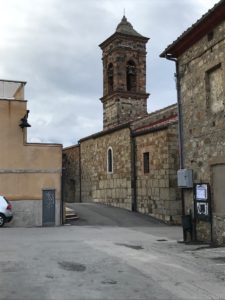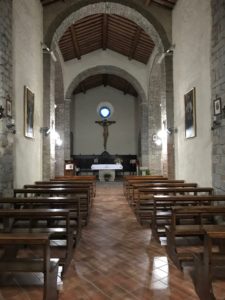 A very quiet village. Time enough to plot the day's itinerary. I think 4 more villages in total unless the rain proves too heavy – Montalcino, San Quirico d'Orcia, Pienza and Montepulciano