Sorry. I've not posted for a while. Some personal matters forced me to park the Van up in Bari and fly back to the UK. Thanks to the Hobby Park Car Wash (and in particular Cosimo) for letting me leave the Van with them for the last 10 days.
I'm back in Italy now and heading towards Lecce but I did manage to see a little of Bari. With a population of more than 300,000, Bari is the capital of the Puglia or Apulia Region (in the south east of Italy) and has been a major port on the Adriatic since Roman times. Before today, anything else I might have said about Bari would have been derogatory (large industrial sea port with a reputation for being decidedly unsafe for tourists even during daylight hours – that's what I was told) but, while it is not a place where I would want to stay (and, yes, as in any large city with crowds you should guard against pickpockets) the old town, Vecchia Bari, is well worth a few hours of anyone's time.
I walked the 2-3 km from where the Van was parked to the first of the three major tourist attractions that are to be found in the Vecchia Bari – Castle Svevo. The other two on my list of places to visit were the Cattedrale di San Sabino and the Basilica di San Nicola.
The route took me down Via Sparano with all it's designer shops (Michael Kors, Louis Vuitton, Hermes, Sephora, Pandora, etc – you can tell I've been shopping with my daughter before, can't you?) and then into a cluster of narrow lanes towards the harbour that form the Vecchia Bari.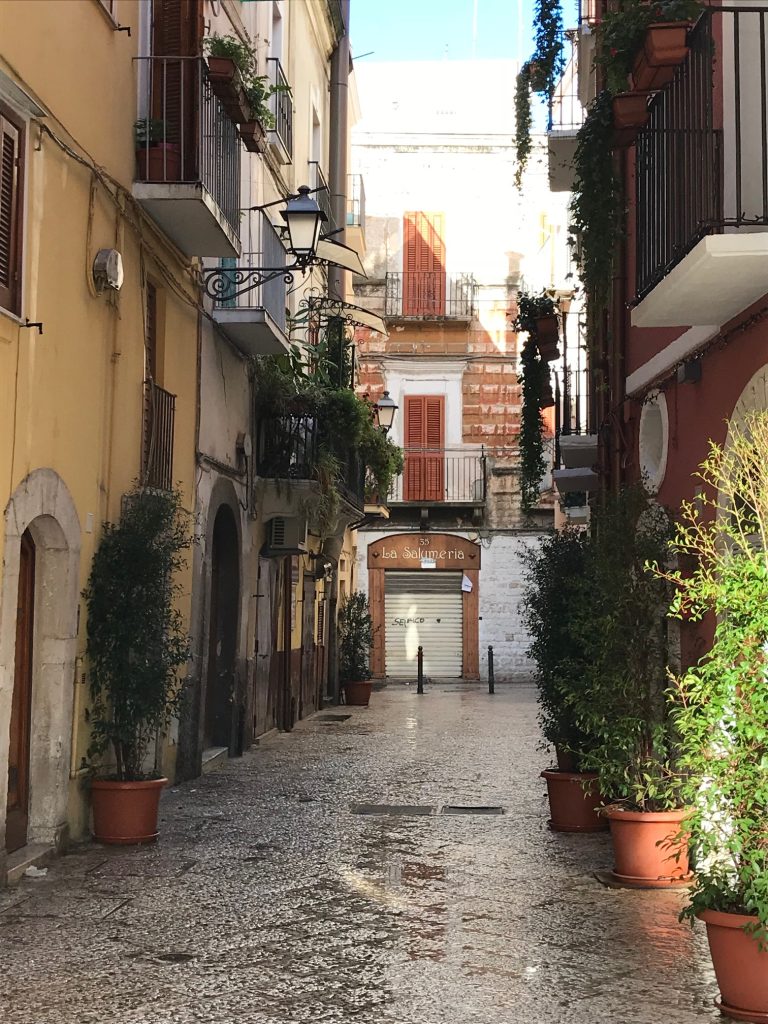 … the mostly empty lanes are fascinating and, without the summer crowds, of no use to pickpockets
Standing to one side of the lanes, Castle Svevo serves as the headquarters of Puglia's Cultural & Landscape Heritage and is described as an "imposing gateway to the old city".
Yes, the castle has a grand exterior with it's thick sturdy walls and lofty Norman towers but that is about it. I paid the 8 euros entrance fee but was back outside within 30 minutes. It is for the most part an empty hollow shell with visitors denied access to any of the castle's more interesting parts (such as the battlements which, surely, will have provided terrific photo opportunities both across the city and out to sea). Even the castle windows are all blocked off to visitors – no window photos!!
It's sad. The castle appears in very good condition and so much could be done to make it a more interesting and attractive place to visit; not least because of it's fascinating and chequered history. Castle Svevo is not just another fortress shared over a period of time by various warring factions. It is said that St Francis stayed in the castle on his return from Palestine in 1220 and there are some enthralling legends concerning his stay (one about a comely maiden who was sent to his bed chamber to test him). Add to this that in the 16th century Isabella of Aragon and her daughter, Bona Sforza, transformed the castle into a private residence and playground for musicians, artists and scholars and that in the 19th century part of the castle was turned into a prison and you have sex, drugs and rock & roll (and more besides) all in the same castle. Okay, that last bit is me putting my own interpretation on historical events but it would still make for a pretty good castle- museum. For it to be given over as offices to the equivalent of our tourist board is a travesty.
Never mind. There are still the churches to visit.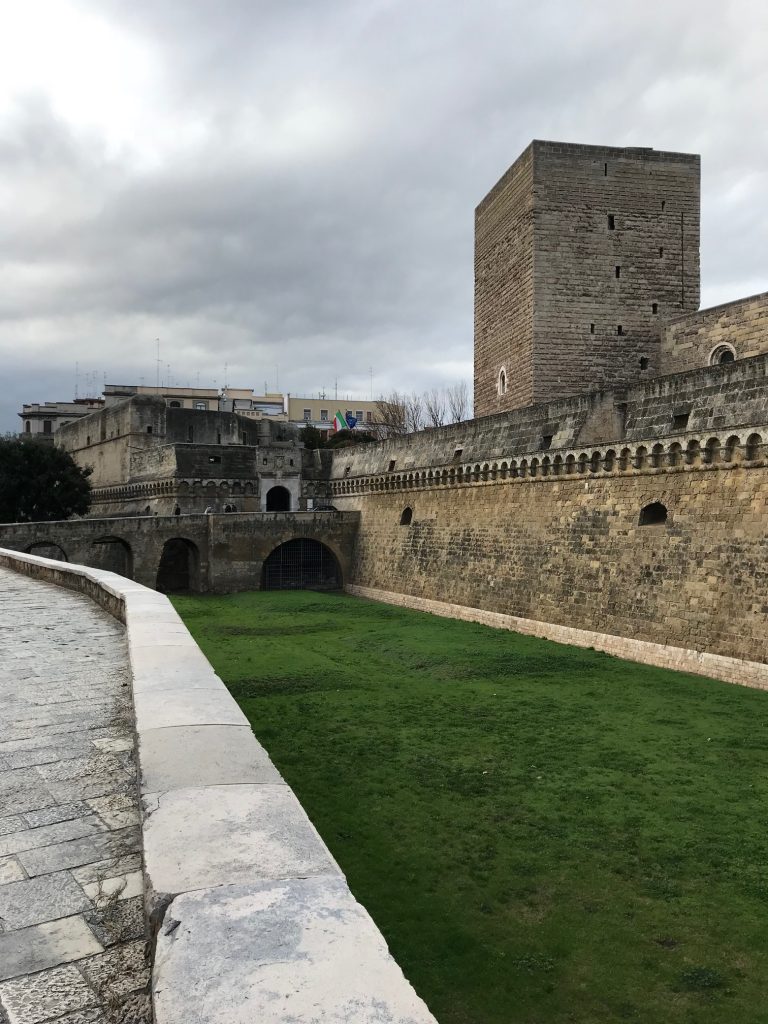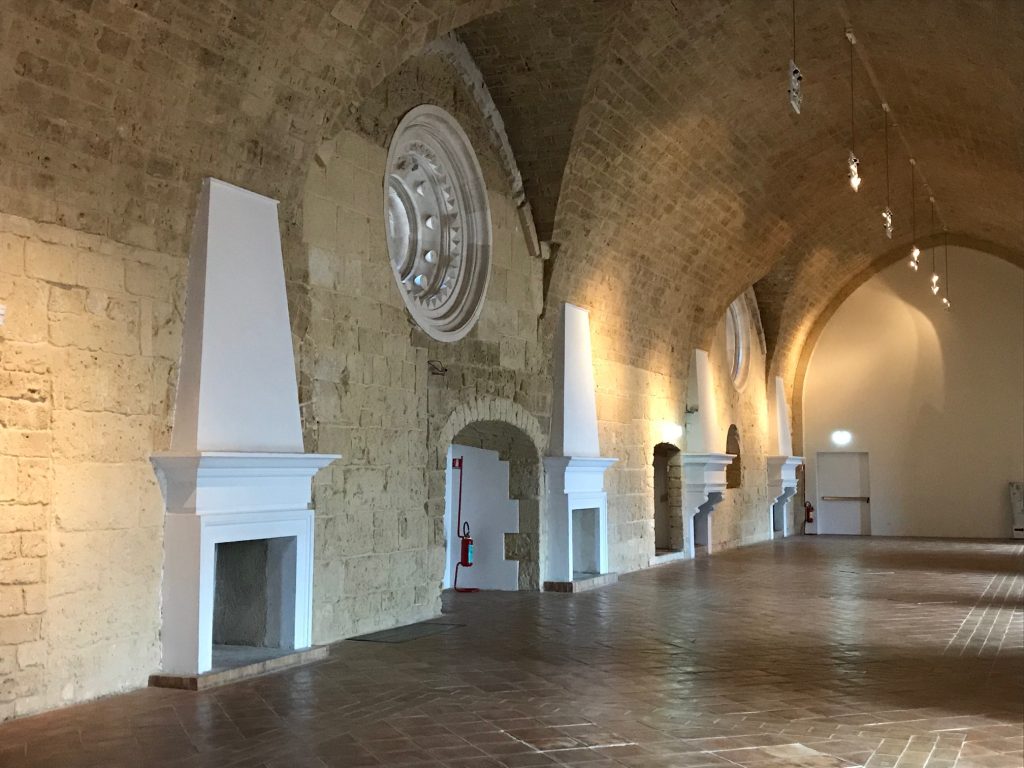 …Impressive outer walls and generally in good repair but otherwise empty and sterile.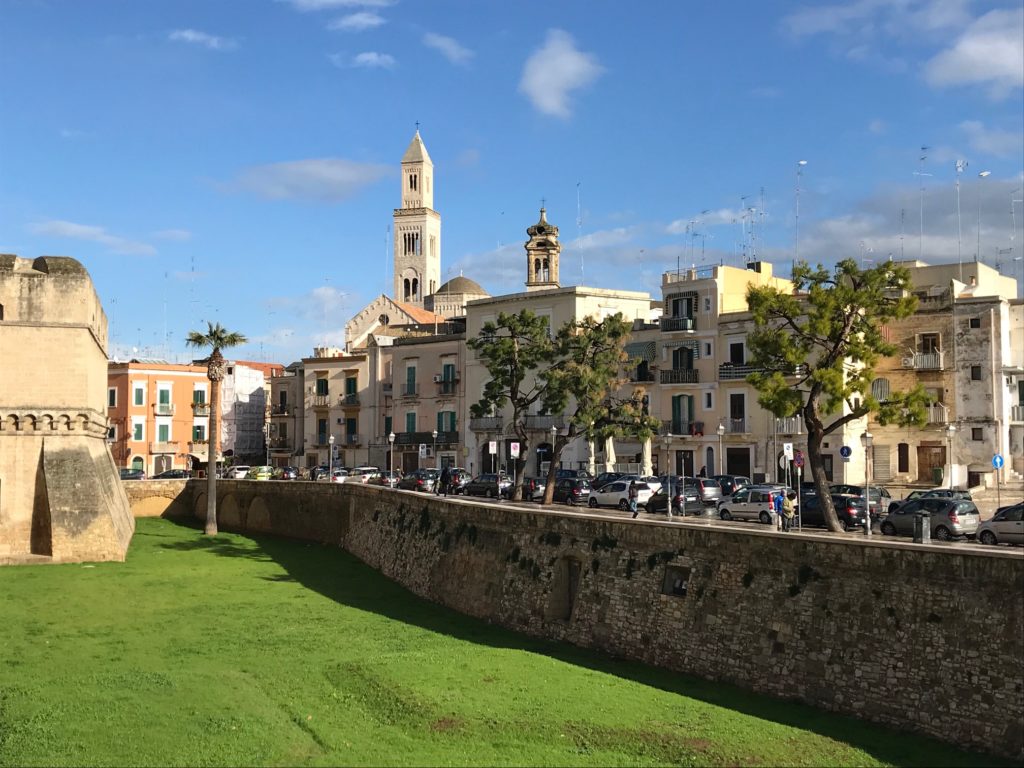 … but there, within easy walking distance, is the white bell tower of the Cathedral of San Sabino
Of a relatively simplistic Romanesque design and built almost entirely in the local creamy white coloured stone (limestone?), the 13th century Cathedral of San Sabino is striking…
The Cattedrale di San Sabino. A simple but elegant design and a relatively spartan inside …
However, the highlights of this visit are to be found underneath the cathedral where there is a magnificent Baroque style crypt (housing the relics of Saint Sabinus) and a very interesting and unusual museum (i.e. excavations of earlier ecclesiastical buildings including a particularly well preserved mosaic floor). It is well worth a visit.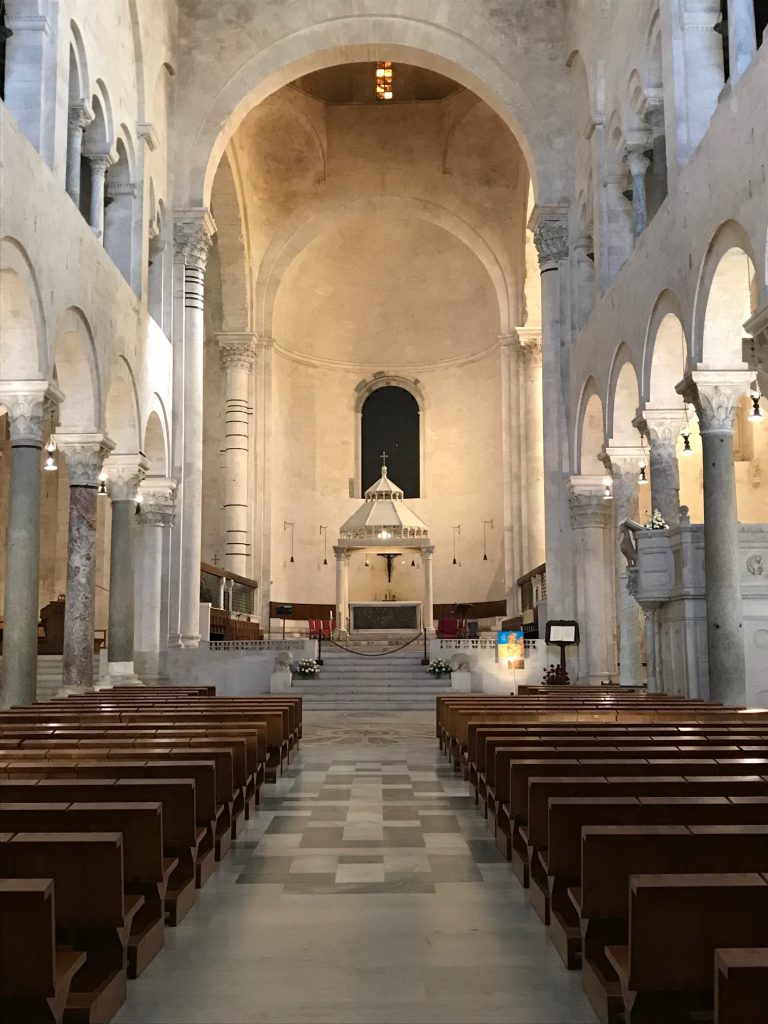 … a particularly impressive crypt (above)
The third and final visit in Bari Old Town was to the Basilica di San Nicola, in which can be found the relics of St Nicholas (Santa Claus). The relics were originally enshrined in Myra, Turkey but were stolen in 1087 and carried to Bari where a new church was built to house them. The external appearance of this church is amongst the least impressive of any of the many churches to be found in Vecchia Bari but inside is quite different.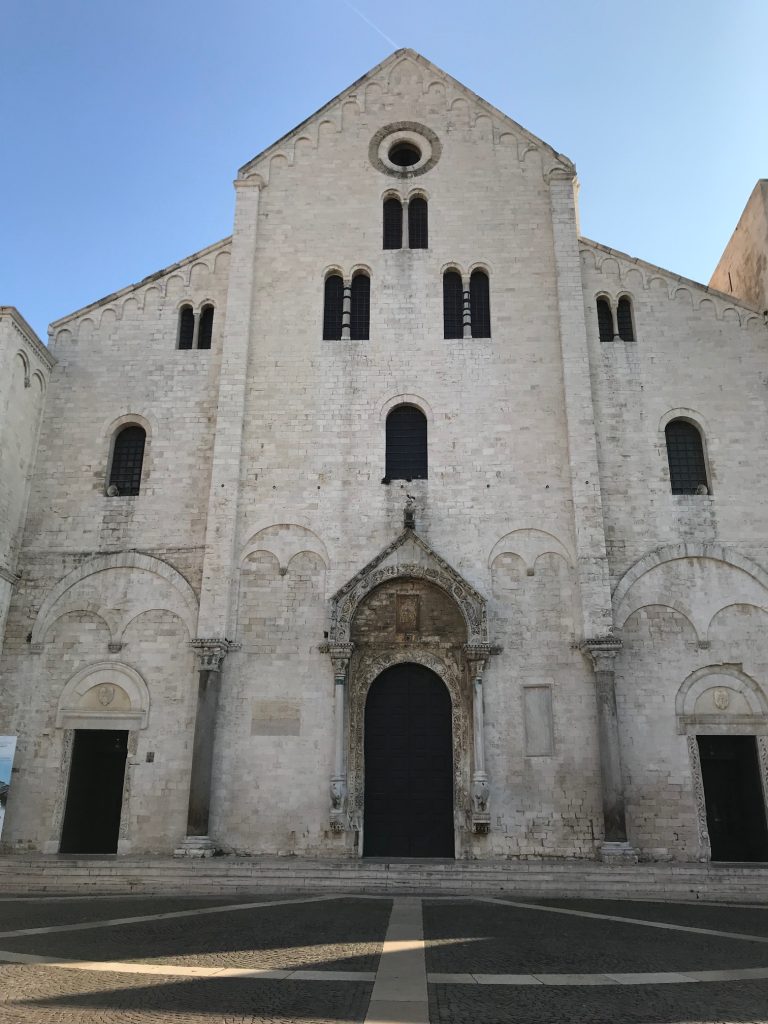 … Basilica di San Nicola – not a particularly imposing front but inside…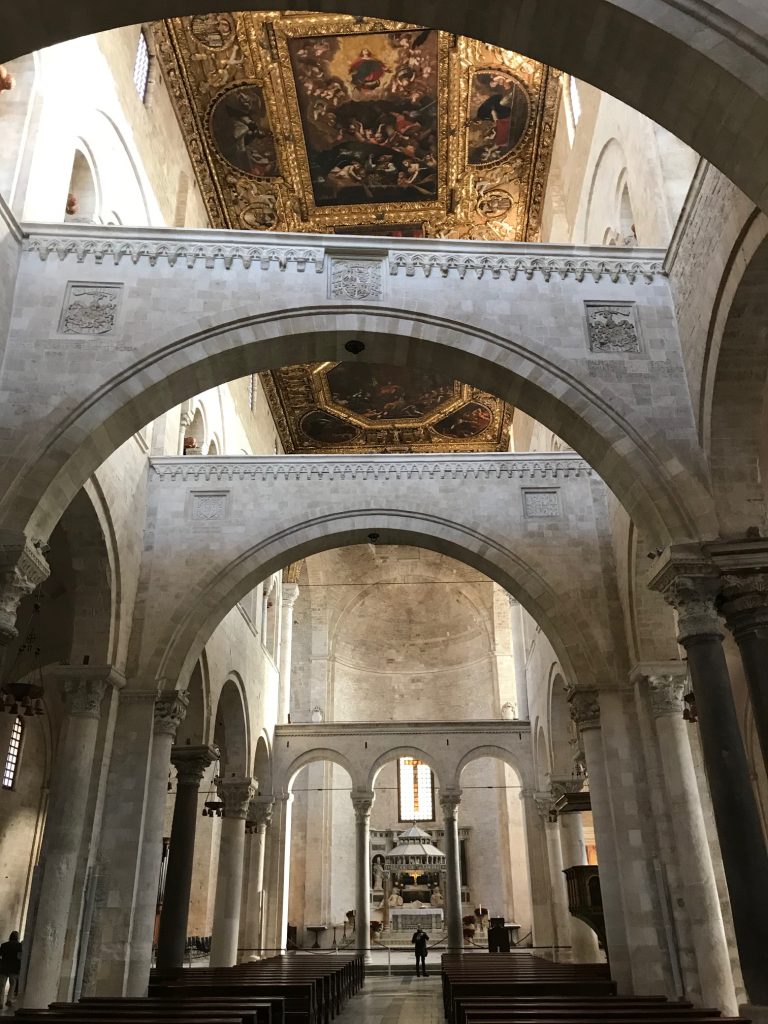 … the ceiling is stunning
This church holds a wide religious significance throughout the Christian world but particularly to the Orthodox Church and in the crypt, most unusual, there is an Orthodox Chapel and two altars (one dedicated to the Catholic rite and the other to the Orthodox rite). An Orthodox service was underway in front the tomb of St Nicholas as I entered and, while I couldn't understand a word of what was said, the atmosphere was serene (spiritual is perhaps a better word) and the singing of the small congregation was wonderful.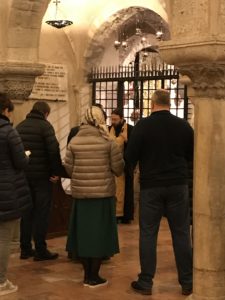 … a small service was underway
There was just time to walk along the promenade (the Lungomare Nazario Sauro) before I left for Lecce: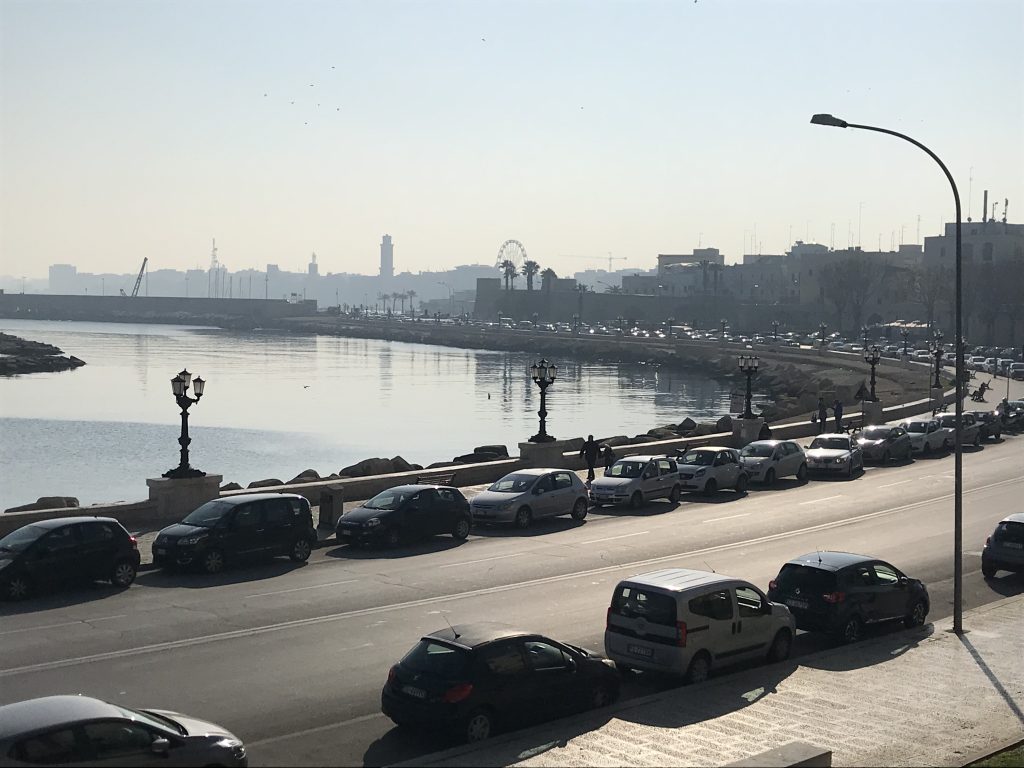 Nice walk along the promenade. Not so sure about the wheel