Having successfully survived my first week in the Boomobile without any tears or tantrums (at least not from me but you should see Dave when he loses at Scrabble) I am actually looking forward to the next part of our journey. Dave has been quite chilled so far. I am sure that anybody who knows him will find this hard to believe.
The auspicious start stumbling upon and dining in a Michelin listed restaurant (despite being with the dogs and wearing t-shirts and shorts) went a long way to easing my initial fears – nothing to do with the Pouilly Fume of course.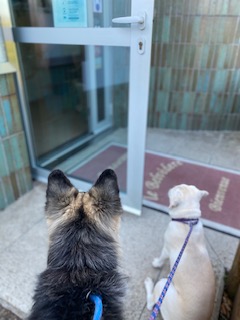 On our second night Dave asked me to find a campsite north of Caen which I happily did. According to Dave it was so far north I could almost have waved at Ro in Portsmouth. He has since been more specific with his requests.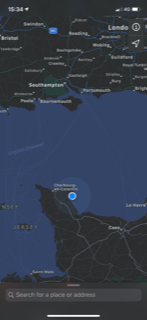 Next we started travelling further south to find some sun and escape storm Ellen which was battering Britain and we found a lovely place called Montrichard. A small medieval town on the River Cher with a couple of wineries. The one I wanted to visit, Monmousseau, Dave assured me was the inferior cellar and we should head to the one where he had already sampled some wines the previous day. Indeed the wine was pleasant but the fizzy bottle of Monmousseau we imbibed with our dinner that night was superior to any we had tried. In fact Dave had the lions share….. Speaking of wine, I have found the French equivalent of Spain's Cava and Italy's Prosecco which is called Cremant. It is produced by the same method as champagne and if it wasn't for the Euro 4.99 price tag from Lidl then I would have thought it was indeed champagne. There are 8 regions that produce it and I am speedily working my way through each of them to find my favourite. So far it is Cremant de Limoux and I may have to make a slight detour to that winery – I have been put in charge of the satnav after all 🙂
We then headed to a campsite at a place called St Aignan stopping for a few hours on the way at Amboise. The Chateau Royal d'Amboise hosted Mary, Queen of Scots as a girl and it is somewhere I would have liked to explore (following my new found "lockdown" obsession of Tudor history) but unfortunately the dogs weren't allowed in. St Aignan is a lovely medieval town, all cobbled streets and a slightly dilapidated but nonetheless beautiful chateau, which is still inhabited by descendants of the family that built it. We enjoyed a leisurely wander through the grounds and had a couple of glasses of wine in a nearby bar to watch the world go by. A perfect Sunday! There is a famous zoo nearby that I was keen to visit but again dogs weren't allowed entry – next time.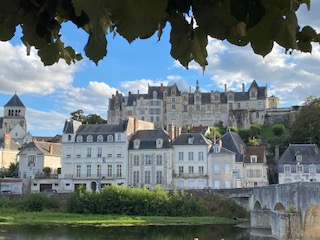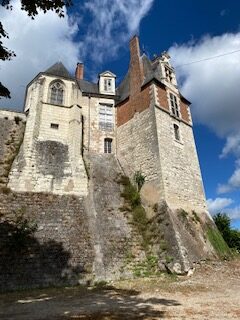 What I have enjoyed so much about the van is the flexibility of just going where we want when we want. I was concerned that I would find it too claustrophobic but, unlike the UK, the weather has been consistently pleasant and we have sat outside every evening (I have won the last 4 games of Scrabble this week by the way). The campsites have all been very clean with good facilities although last Saturday there were rather a lot of children on our site. Next Saturday I will try and find us an adults only place, but not a naturist one despite Dave's specific requirements.
We are currently moving further south (edging ever closer to the Limoux vineyard) en route to Andorra and I am actually looking forward to this next week (but don't tell Dave!)