Yesterday morning was a bit of a disaster. I'm not sure if it was me, my sat-nav system or the French roads (or a combination of all three) but I spent far too much time going backwards and forwards down narrow dirt track roads instead of visiting the places I wanted to see in Verdun and Metz. The only positive during the morning was being able to replenish my wine stock from a small Carrefour with a supply of local Pinot Noirs and some Italian Amerone – can you believe the Amerone was less than 7 Euros a bottle?!?
Anyway, it will suffice to say that I got fed up with France and decided to head for Freiburg in Germany (that'll teach the French!) but what a great result.
I'm parked up in a Campsite (with all the amenities you could wish for) close to Freiburg city centre. Had a meal and few local beers last night in the Gasthaus next door and was up early this morning (Friday) to explore.
I've taken countless photos (far too many to include in a blog like this) and none of them do the place justice. Population-wise Freiburg is about the same size as Lille but there the similarities end. The centre is entirely pedestrianised except for the local trams and the ubiquitous cyclists and perhaps because of this it seems slower and quieter (although Friday is market day in the Munsterplatz and the square was packed this morning with stalls selling everything you could imagine from roses to schnapps). There's also a small indoor market which I believe is open every day and on Saturdays there is a flea market. There are many narrow streets, old and new, packed with little curiosity shops, antique shops, cafes and bars but they sit well beside all the modern designer stores you would expect to find in a modern German city. There was one coffee shop, the smells from which, dragged me back to enjoy a fine coffee and the best apple pie I have ever tasted. That was today's breakfast.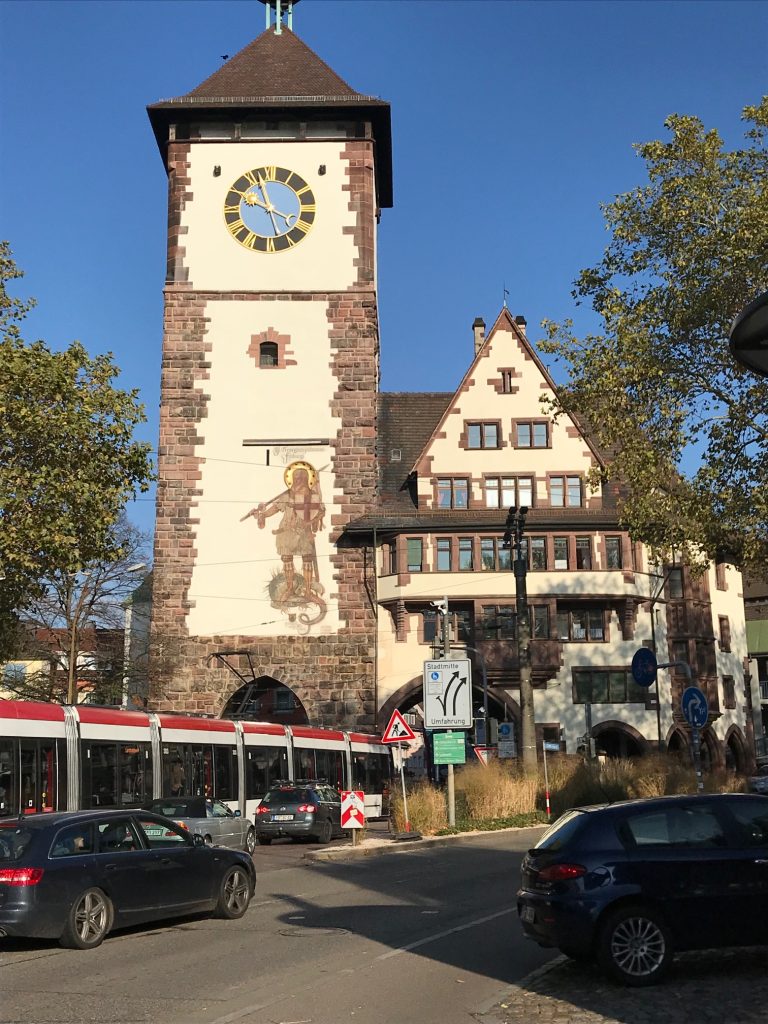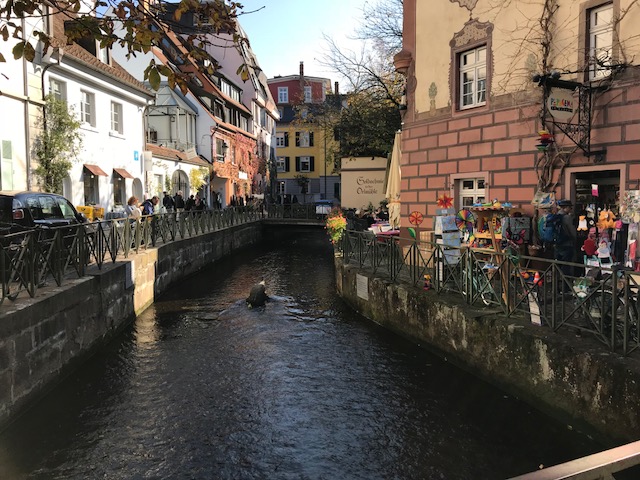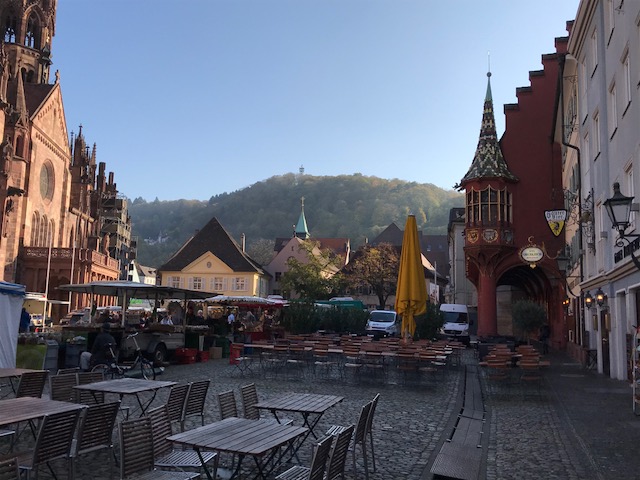 That object in the distance at the top of Schlossberg Hill is worth a visit
Another reason for Freiburg feeling so very much slower and quieter is Schlossberg Hill, just to the east of the old town and on the edge of the Black Forest. I broke from the hustle and bustle of the market to visit Schlossberg Hill and I had the place very much to myself (probably because the funicular railway was not working). There are countless paths up the hill from the town and at just 456 metres above sea level it is easily walked. The castle after which the hill is named is long gone but there is a 30 metre observation tower at the top of the hill which is worth ascending. The steps up the tower are wholly enclosed but there is still a feeling of some exposure partly, I suspect, because the tower wobbles like a jelly as you get closer to the top. At the very top there is a platform that cannot be seen in the picture below but which will accommodate one person, two at a squeeze but you will have to be on intimate terms, and the views from there are worth the extra couple of metres.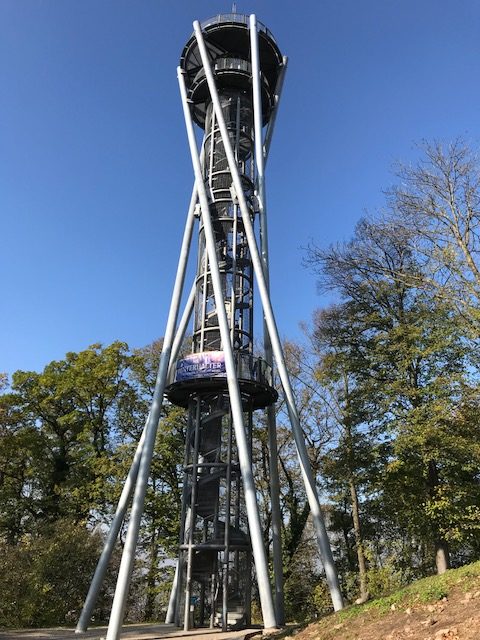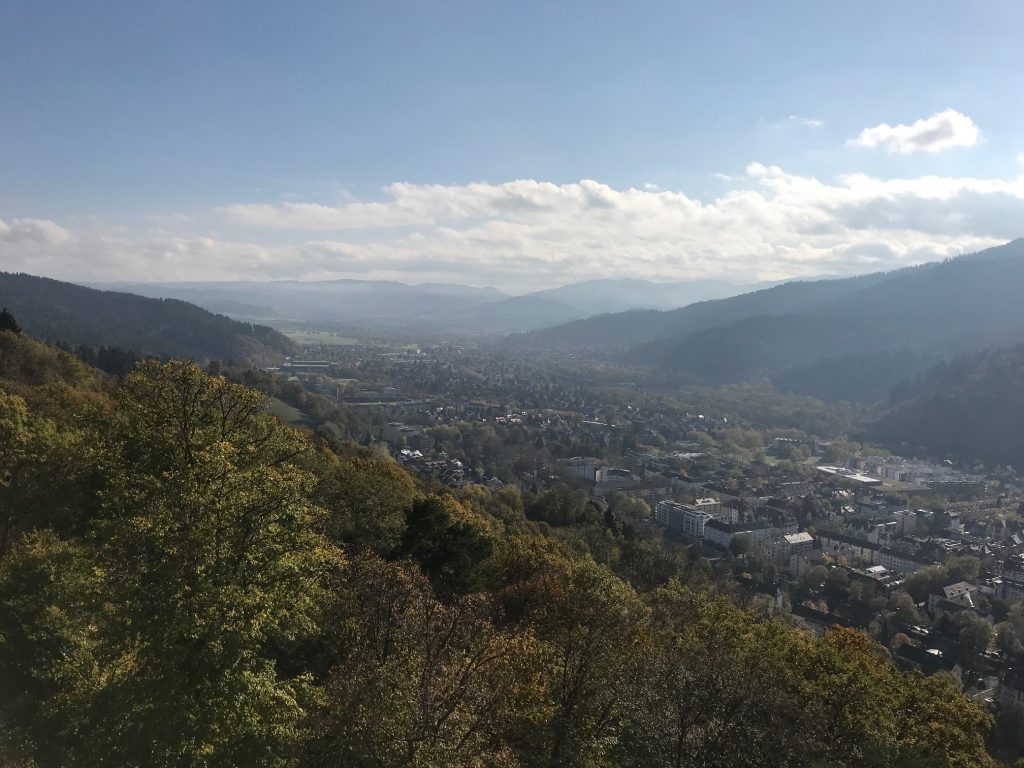 I'm going back to France (I want to see Colmar while in this part of Europe) but I'm inclined to stay here for another day or two and explore some of the Black Forest first.