It was a few days ago now but late in the afternoon, feeling most impressed by Nafplio, I drove 10 km south with a view to using a Drepano campsite as a base for exploring other parts of the Argolid Peninsula.
I didn't find the campsite I was looking for (that can happen when you don't turn the sat-nav on) but fortune favoured me. More about that when I write about Drepano. For now it will suffice to say that I was able to use Drepano as a base and this morning I visited Epidaurus, Ermioni and Vivari.
Epidaurus is only about 30 km from Drepano and I was there by 09.00 to see the Ancient Theatre of Epidaurus which is part of the Sanctuary of Asklepios archaeological site. The Theatre, built between 330-20 BC, is still used to host performances on a regular basis. It is supposedly the "finest and best preserved example of classical Greek theatre in the World" and, yes, it looks the part. More than that, it is said that "the sound of a match struck is perfectly audible to all spectators, even in the topmost row of seats… nearly 60 metres away". I don't know about that but, certainly the acoustics are excellent…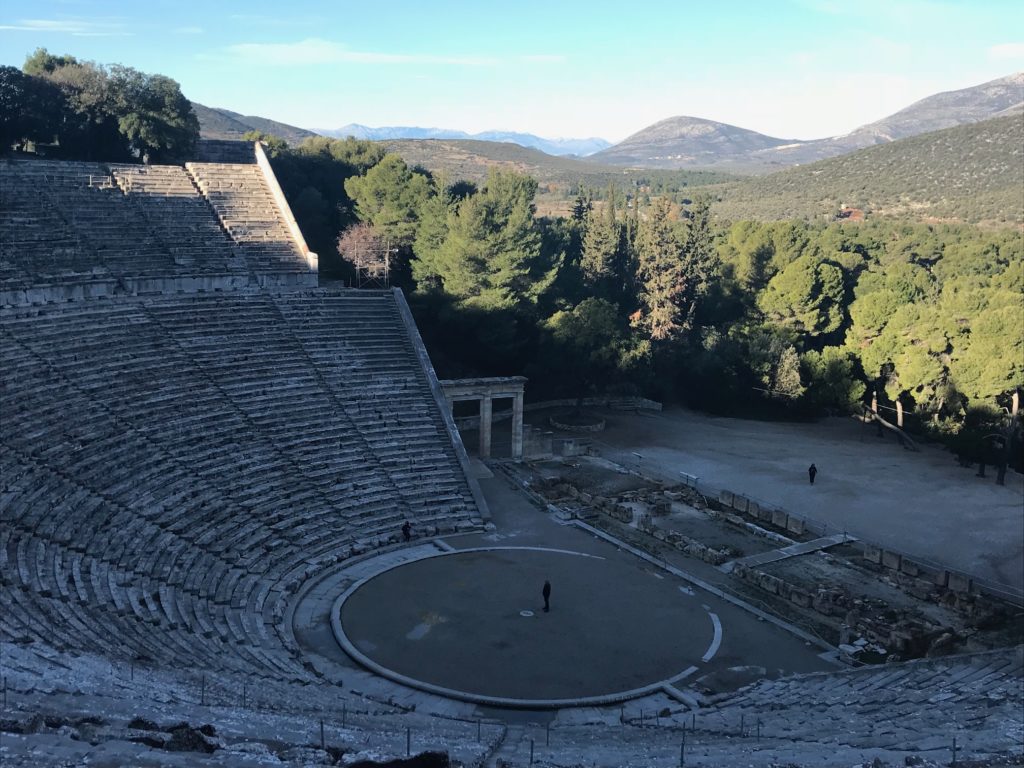 The Theatre of Epidaurus. That's a US tourist down the bottom and he was talking to his partner, sitting in the front row, and I could hear them perfectly. I could almost tell you what accent he had. The acoustics are impressive
After checking out the Theatre, I spent another hour or so looking at the rest of the Sanctuary of Asklepios (including the small museum) but, for me, this site is really all about the Amphitheatre.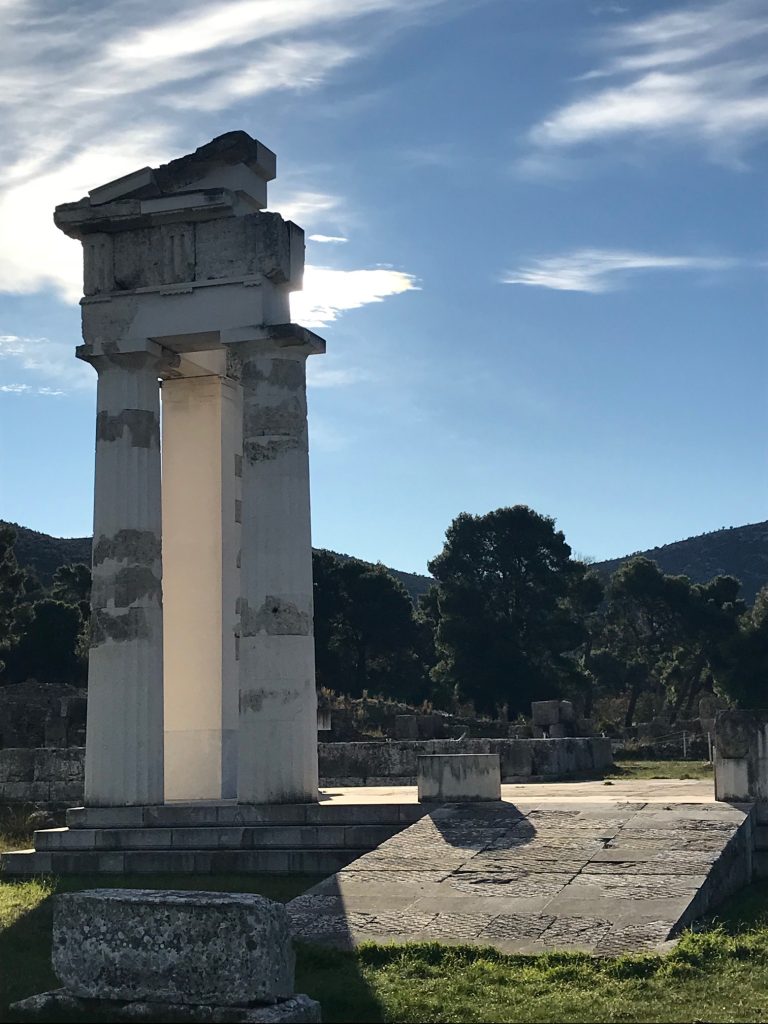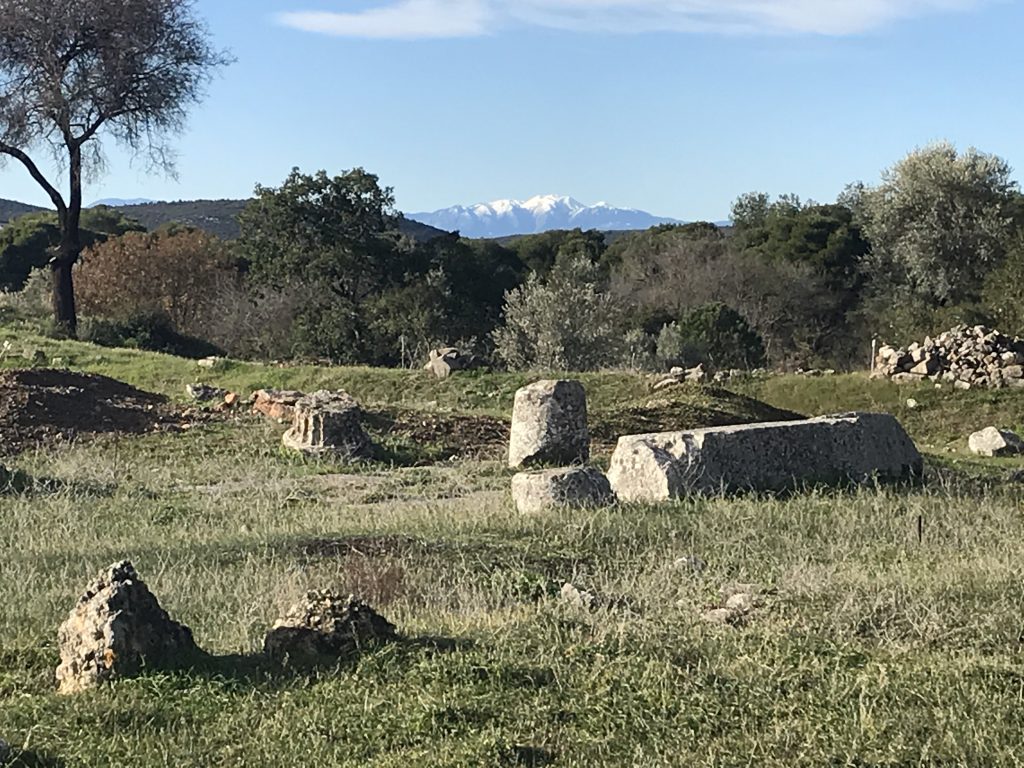 Other aspects of the Sanctuary of Asklepios do not compare with the smaller sanctuary the Greeks built at Butrint (see Ksamil, Albania blog), especially in terms of atmosphere, but the setting is especially beautiful on a sunny day
From Epidaurus, it was a 50 km drive to Ermioni which is a gem of a small fishing town on the southern tip of the Argolid Peninsula. Ermioni has been described as sleepy and remote because there are just two narrow twisting roads over the surrounding hills that lead in and out of the town (and there is no bus service) but, that will be the same for many coastal towns on the Peloponnese and in any event, Ermioni is served by a ferry service connecting it to Piraeus and three of the Saronic Islands (Poros, Hydra and Spetses). It wasn't at all sleepy today.
Ermioni appeared authentically Greek (not that I am an expert) in that there was none of the usual "tourist tack" about the place and whilst I was there it seemed the whole population was out and about either working (fishing boats going in and out and the majority of restaurants and tavernas open) or; as was the case with a large number of young men on the waterfront, singing and chanting for hours whilst they meticulously covered a fishing boat in palm fronds and plants and the like in preparation for tomorrow's Epiphany. More about that tomorrow.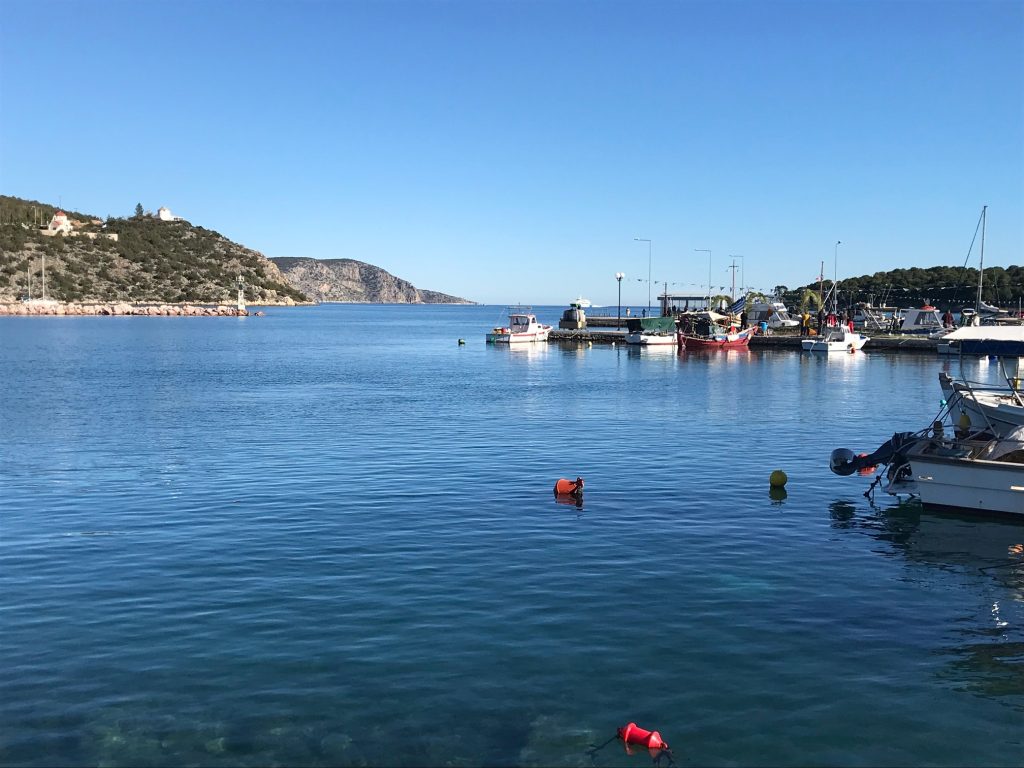 … singing and chanting for hours…
My last trip of the day was the 60 km trip up to the seaside village of Vivari which sits alongside Drepano and only 3 km from my temporary base. It was recommended to me as the best place to get fresh fish. I'll let you know about that in due course.
Meanwhile, some of the views on the journey…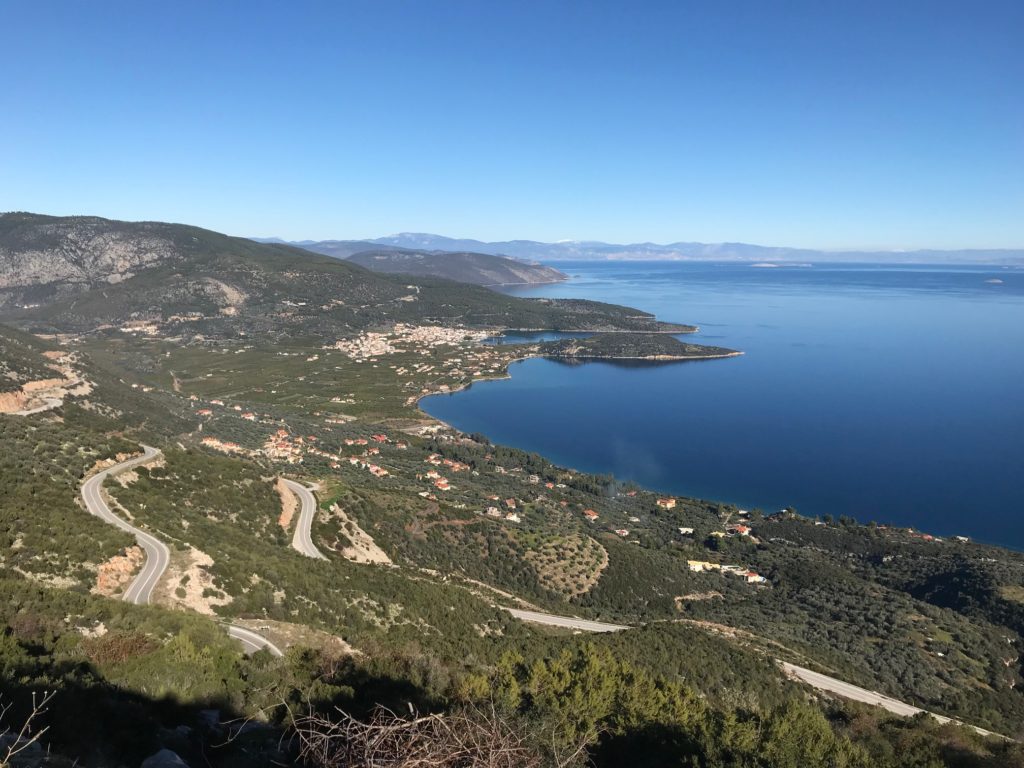 Epidaurus to Ermioni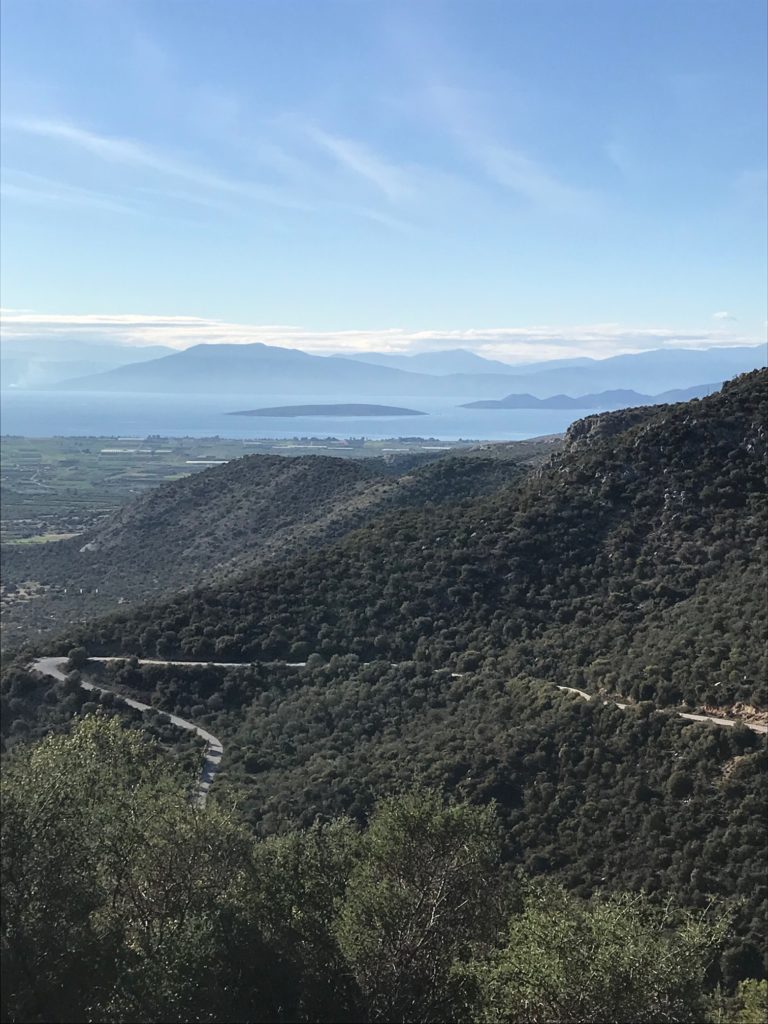 Ermioni to Vivari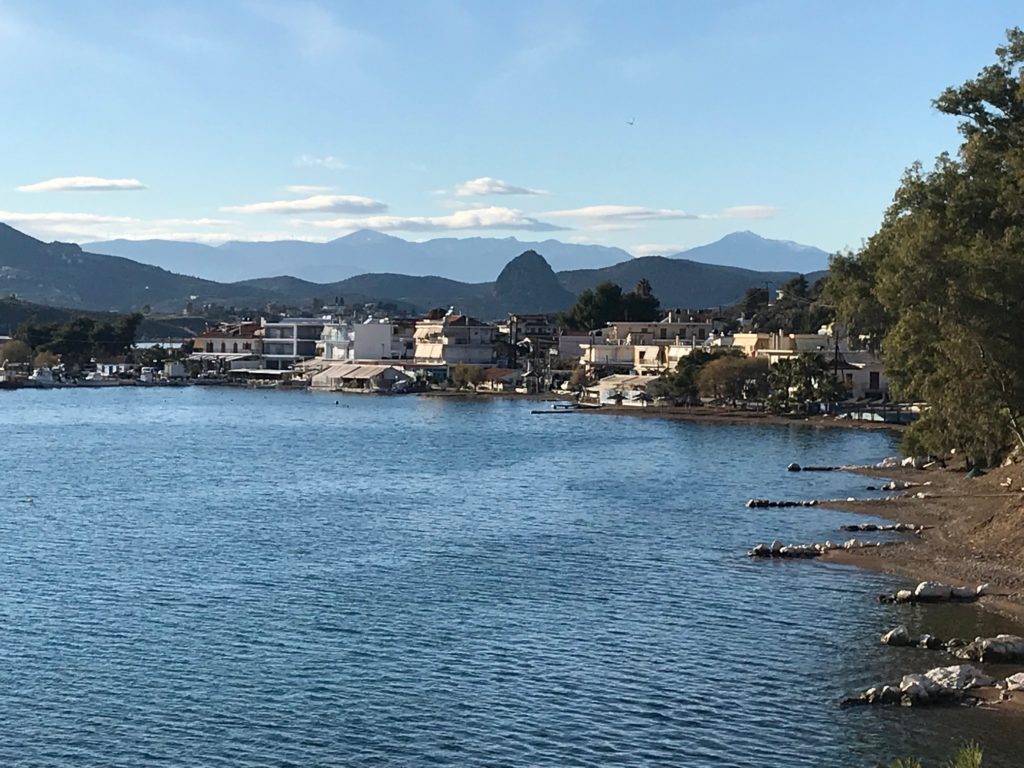 Entering Vivari