So we made it to Enzefeld. Gerhard was away on business but Clare, Alex and Niki made us most welcome (as usual) and our two day stopover became 3 days. Their neighbours were not as pleased that we stayed on because on our last night we were up singing German Kindergarden songs until four in the morning. I think Vanya and Clare stayed up another hour or so.
We made a couple of trips out in the Van from Enzesfeld; Clare showing us the way to Eisenstadt and Rust in the Austrian region of Burgenland on our first day out and then; me taking Vanya to Baden bei Wien.
A little bit about each of them… Eisenstadt first. Eisenstadt is the provincial capital of Burgenland and the smallest of the Bundeslander or state capitals. From what we saw it must also rank amongst the prettiest and has a surprising number of interesting places to visit. Principal amongst them is the beautiful baroque palace known as the Schloss Esterhazy. The Schloss has been home to Esterhazy Princes since 1649 although there was a castle on this site as long ago as the 13th century. Other interesting aspects of the town are the Palace Park (with it's four ponds, the Leopoldine Temple and a large Orangerie), the Marien Temple (now known as The Gloriette), the Joseph Haydn Museum (the prolific composer worked for the Esterhazy's for 40 years and lived in this building for 12 of them) and, my favourite, the Bergkirche (Haydn's Church, which is now home to the Haydn Mausoleum).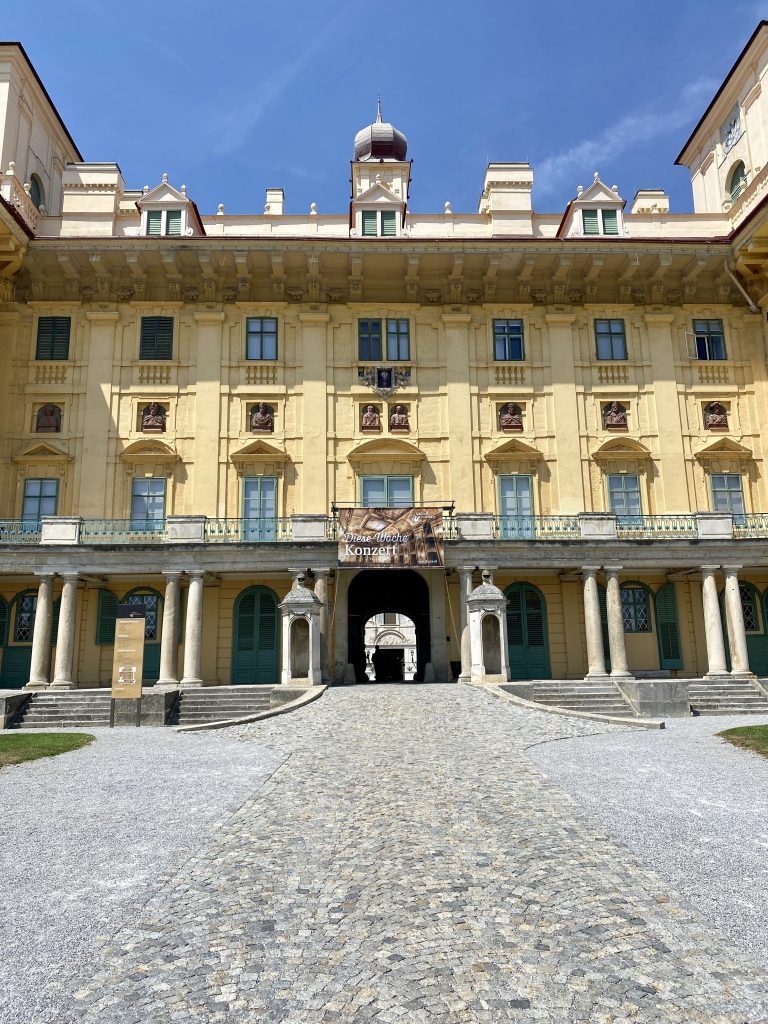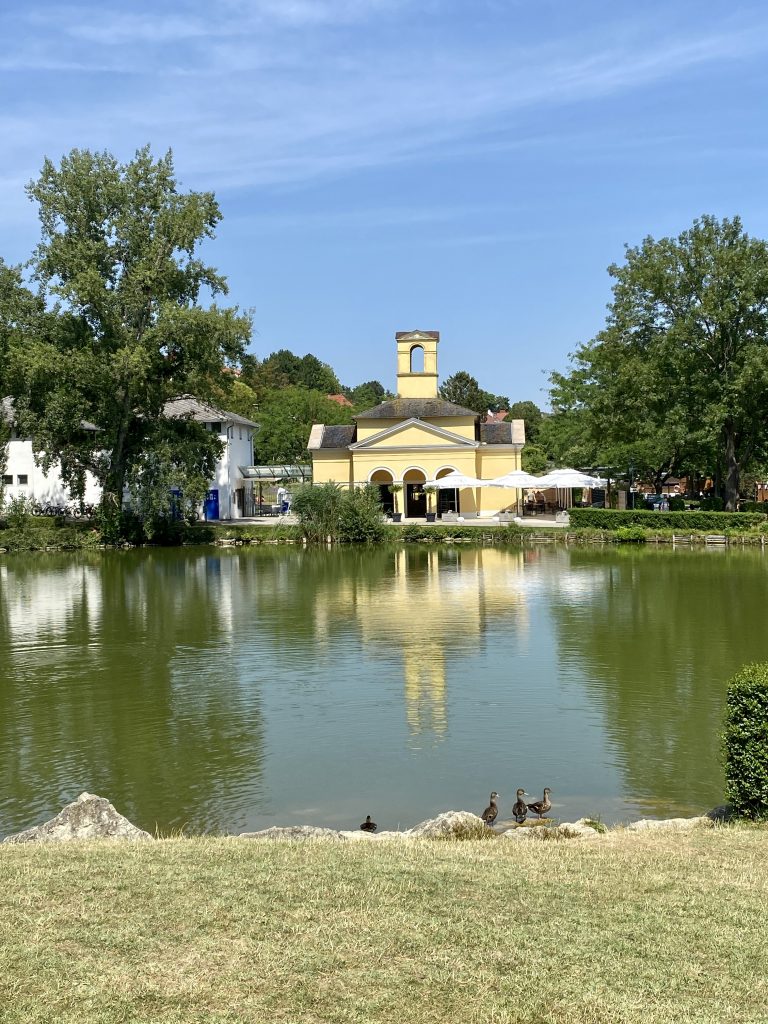 A couple of interesting facts about Haydn. First, he is credited with composing 104 symphonies and 50 concertos. Prolific or what! Second, in 1790 Haydn moved to London for a while and at least one of his biographies claims that his days in England were the happiest of his life. I wonder how many people can say that but, of course, at that time the rest of Europe was in some considerable turmoil.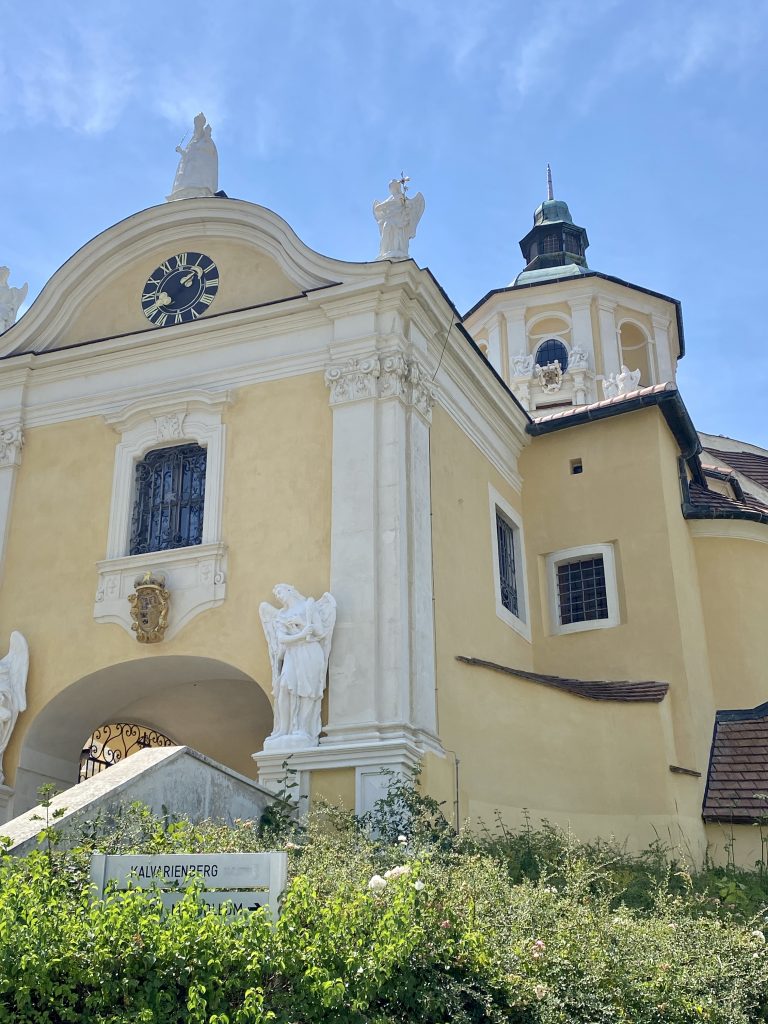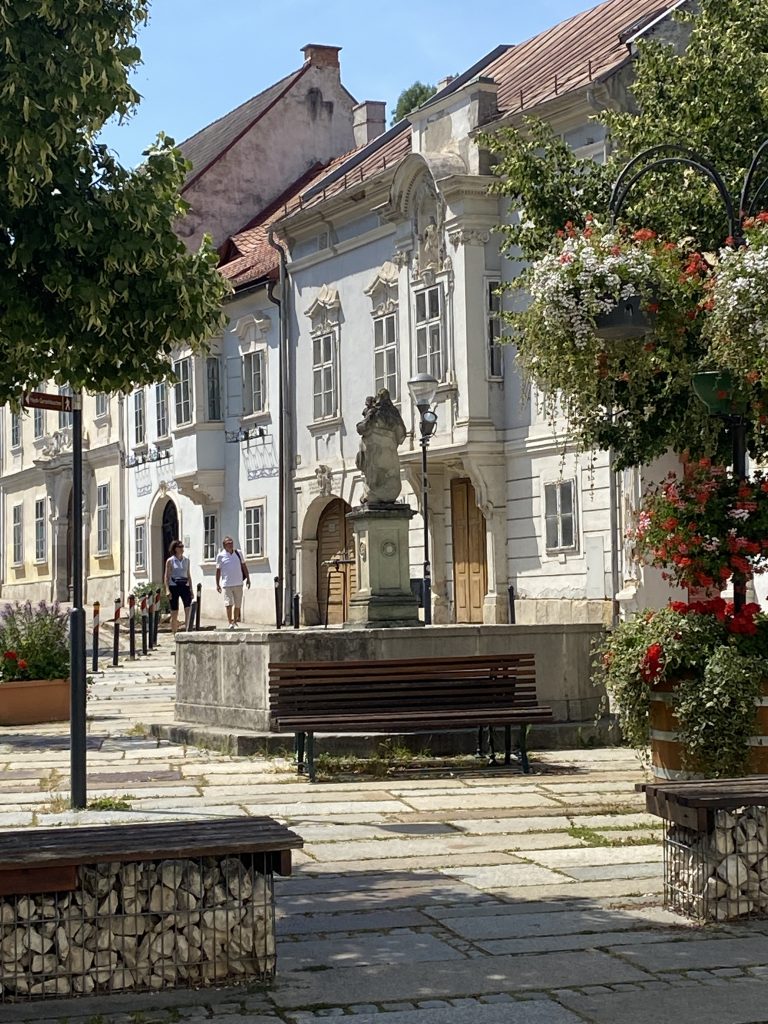 After wandering the town and parks for a while (and enjoying one of the best ice creams ever) it was time to leave Eisenstadt and make our way to the smaller but equally pretty town of Rust am Neusiedlersee. The Neusiedlersee is a large shallow lake (average depth 1.5 metres) which forms part of the border between Austria and Hungary and it is arguably the star attraction in the area. That is not to say that the small town of Rust itself is not also worth a day of anyone's time. It is situated in one of Austria's most famous wine producing regions, right on the banks of the lake, and has regularly won Burgerland's 'Most Beautiful Town' award. One feature of the place which visitors will not fail to notice are the many storks nesting on the house chimneys. It reminded Vanya and I of our drive up through Portugal last year.
Other features worth visiting in Rusk are the local heuriges (you simply have to taste the wines here, white and red); the Catholic Church of the Holy Trinity (get your timings right and you will be able to climb the church tower for reasonable views over the Neusiedlersee) and; the Fischekirche (a delightful little church by any standards).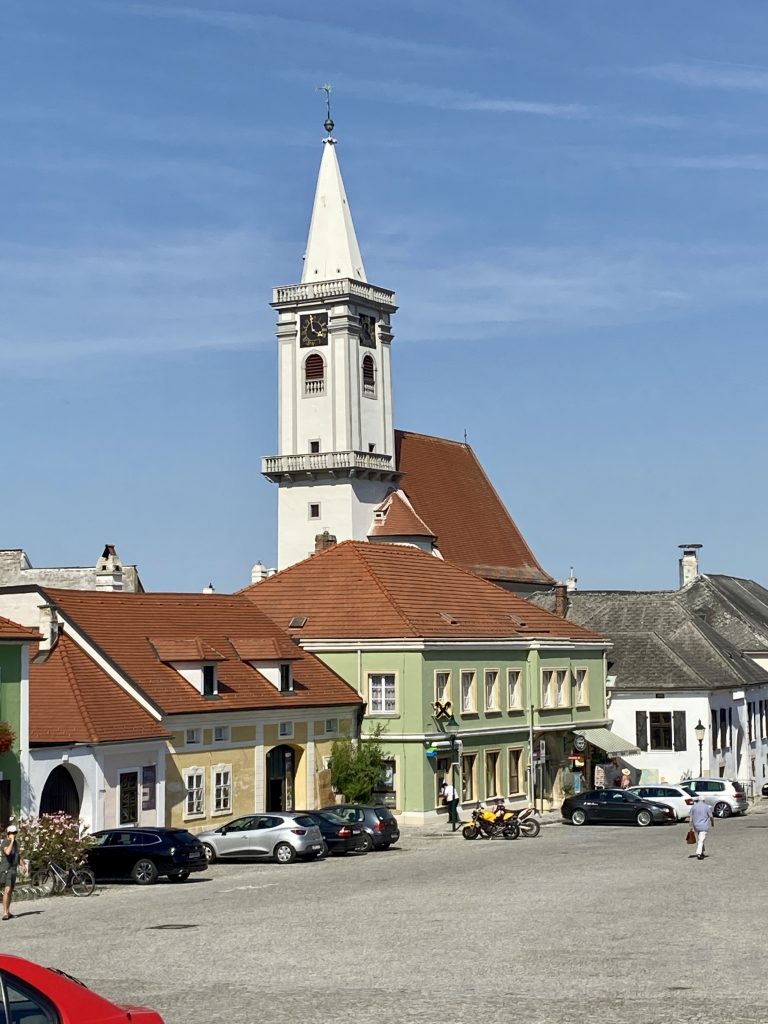 The Fischerkirche (the fishermen's church) deserves a special mention. It is a former fortified church which was dedicated to the Saints Pancras and Giles. It owes it's name to a legend where Queen Mary of Hungary, while fleeing from Mongol invaders, was rescued from the lake by local fishermen. To give thanks, she founded the chapel, the inside of which is very quaint.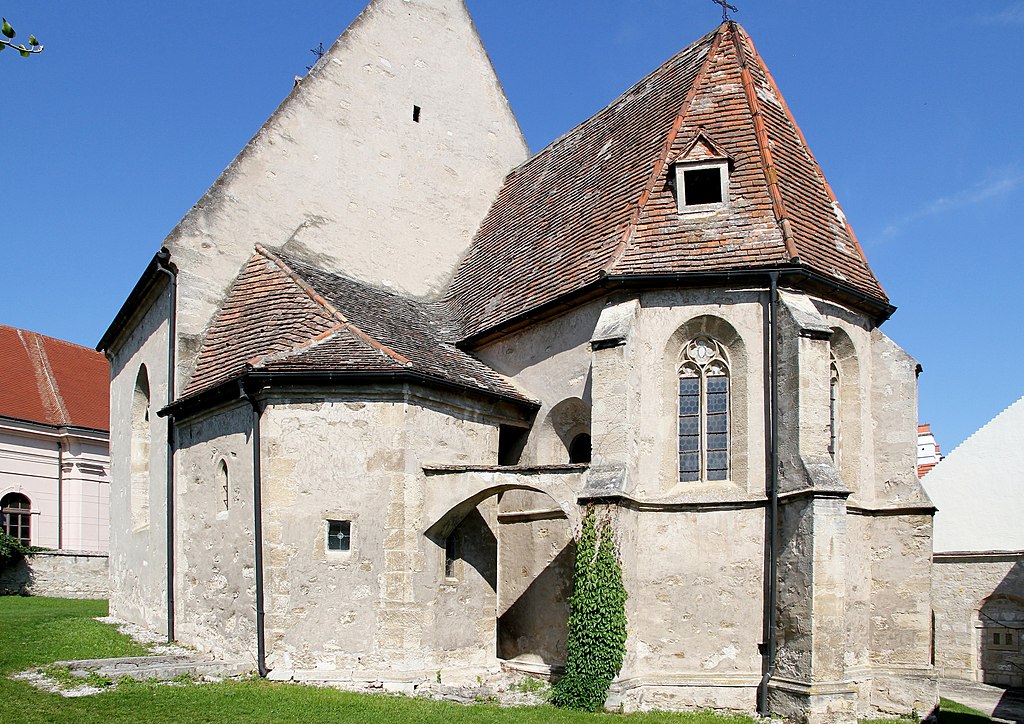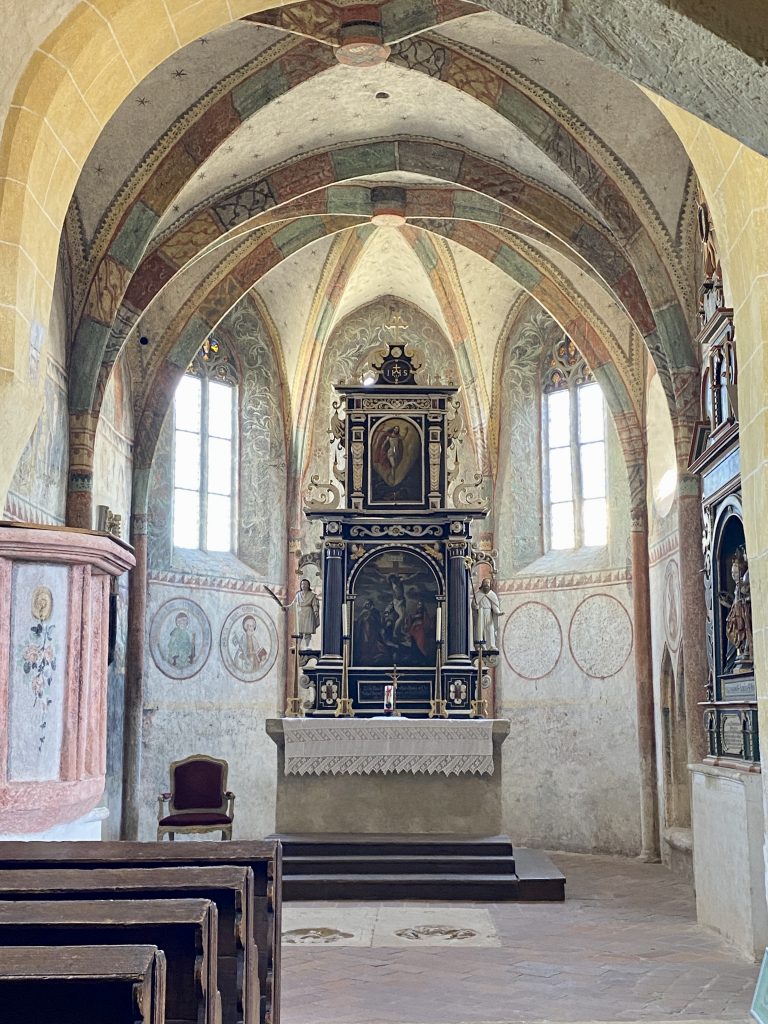 Finally, we come to Baden bei Wien. Vanya had never been to Baden. That had to be put right. Also, it provided me with the opportunity to revisit the town and to walk up to the Konigshohle and then on to Castle Rauhenstein. Despite visiting Baden a number of times (and I have previously written a blog about Baden), I had never visited either the Konigshole or Castle Rauhenstein.
Famous for it's sulphur springs and Roman baths, Baden bei Wien was another summer residence of Austrian and German rulers and in 2021 was recognised by UNESCO as one of the great spa towns.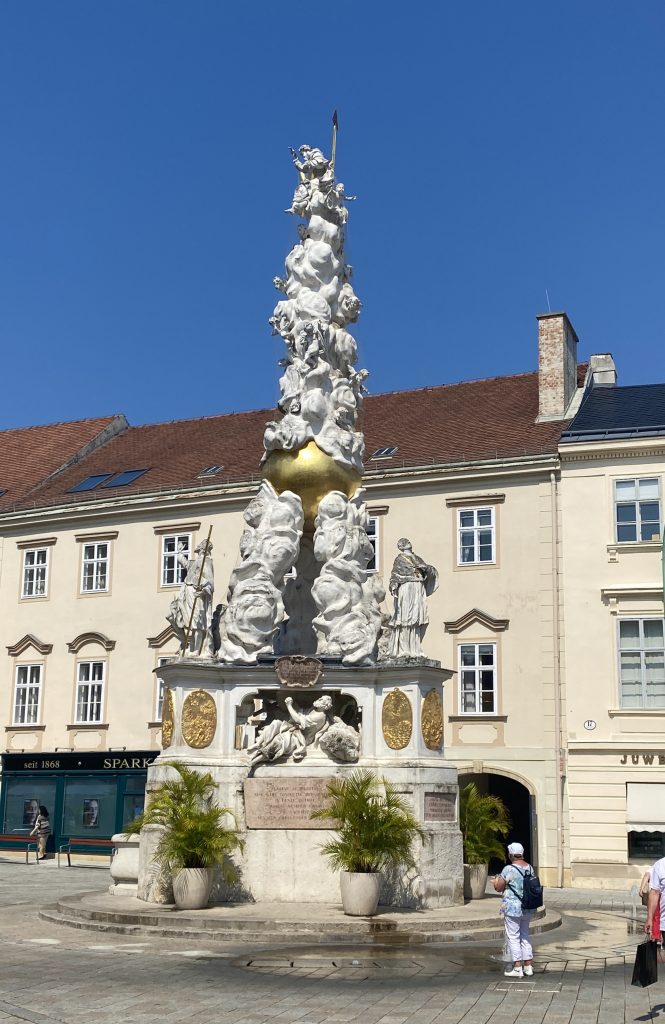 Baden is a pretty enough town but it doesn't have that many 'must see' places and it therefore doesn't figure amongst my favourite towns to visit. It is more a place to go and do something particular whether it be to soak up the spas or gamble in the casino, enjoy fine wines in the local heuriges or wander the many short hiking routes in the area.
This time my reason for visiting Baden (other than to show Vanya the place) was to walk up to the Konigshohle and then on to Castle Rauhenstein. These are two very short easy walks that took absolutely no time. I combined them with a walk to Burgruine Rauheneck.