I didn't realise I had stayed in Corinth for so long – 7 days! It went so quickly. I met some interesting people too – Austrian, British, Dutch, German and Swedish – most of them living this itinerant life full time. I'll only mention one by name, Simon, for somehow persuading me to try barbecued (fresh) sardines. I actually enjoyed the taste (although sometime later they did slightly rebel). No matter; thanks Simon.
I'd probably still be in Ancient Corinth now except last Saturday, whilst catching up on James' & Katherine's blog, I read about a particularly enchanting place called Dimitsana. It is a small mountain village towards the centre of the Peleponnese. I decided then and there I had to see it.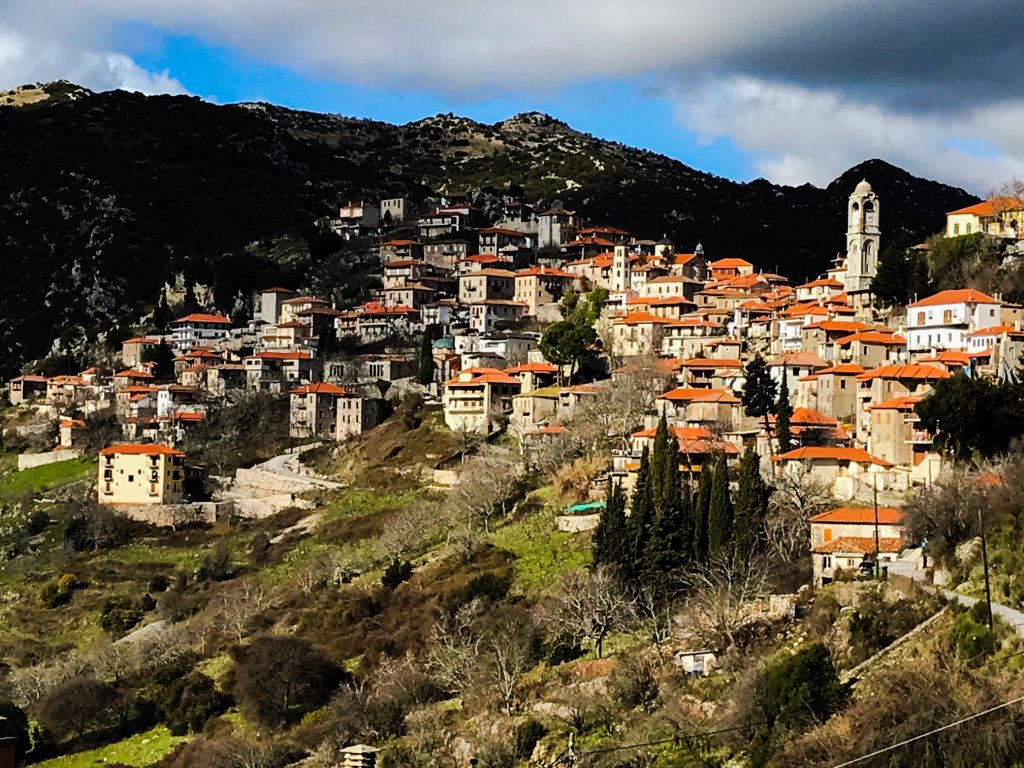 Above, that's Dimitsana… a not untypical mountain village (at least from a distance) with the properties racked down the side of the hill and below; that's it from a little closer in…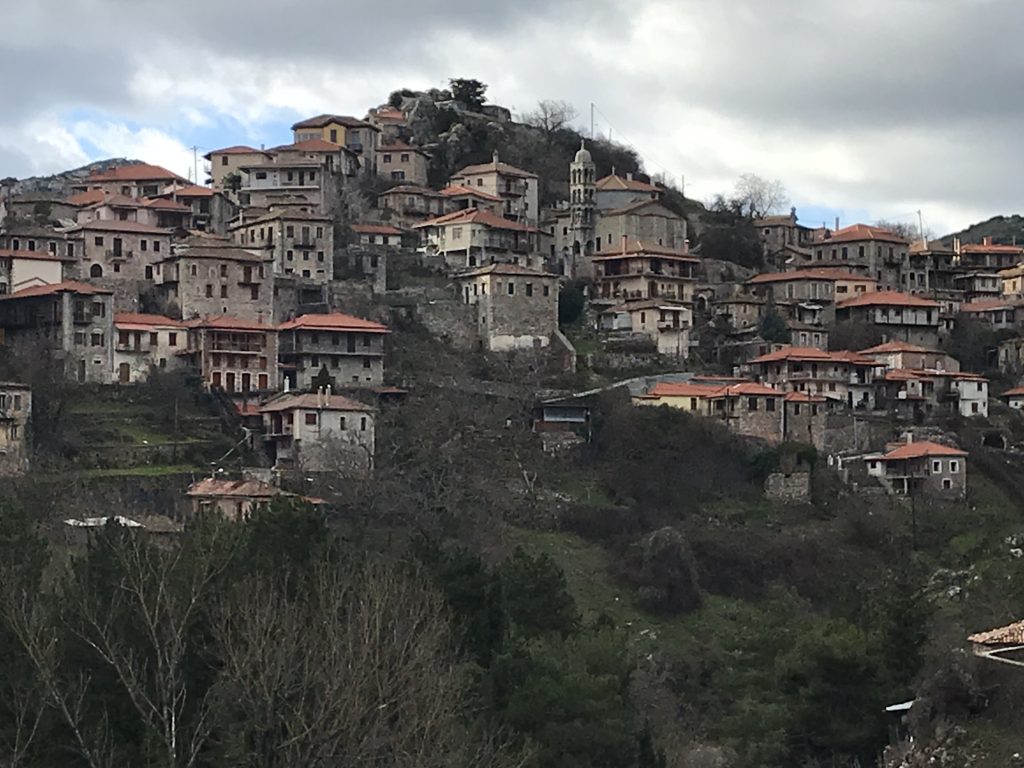 I made it to Dimitsana in the early afternoon having forgotten it is a Sunday and that in all likelihood the area would be full of tourists. It was. No matter, Dimitsana is a little like Ancient Corinth in that the vast majority of visitors are all gone by 4pm and the village reverts to it's more natural state – a not untypical mountain village (albeit one with more tavernas – suits me).
I parked the Van up (plenty of car parking at the far end of the village) and headed off into the village to buy a local map, find a bar and plan my stay.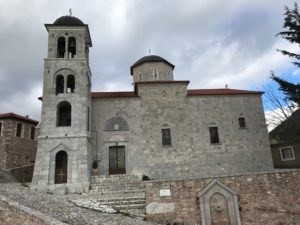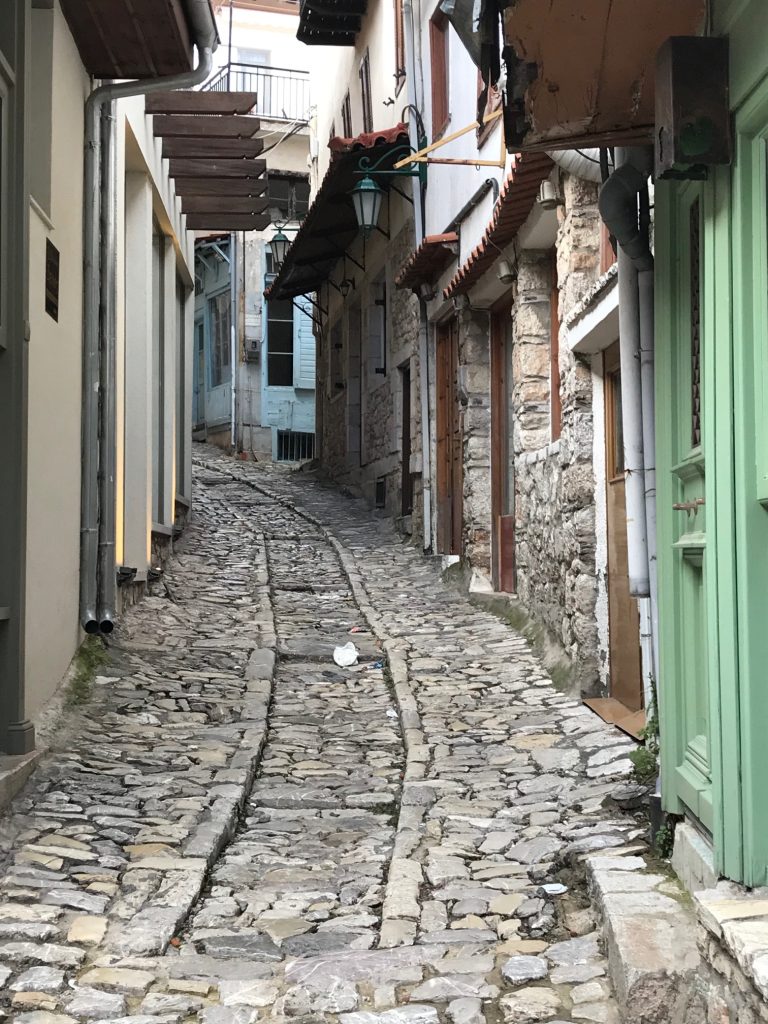 Little winding lanes all over the village with, as has been mentioned already, a high incidence (no pun intended) of tavernas and churches
After an hour or so in the taverna relaxing over coffee and baklava I spent the remainder of the afternoon on short walks in and around the village; including a visit to one of the closer monasteries, Panagia Emialon, which is just 2 km or so to the south: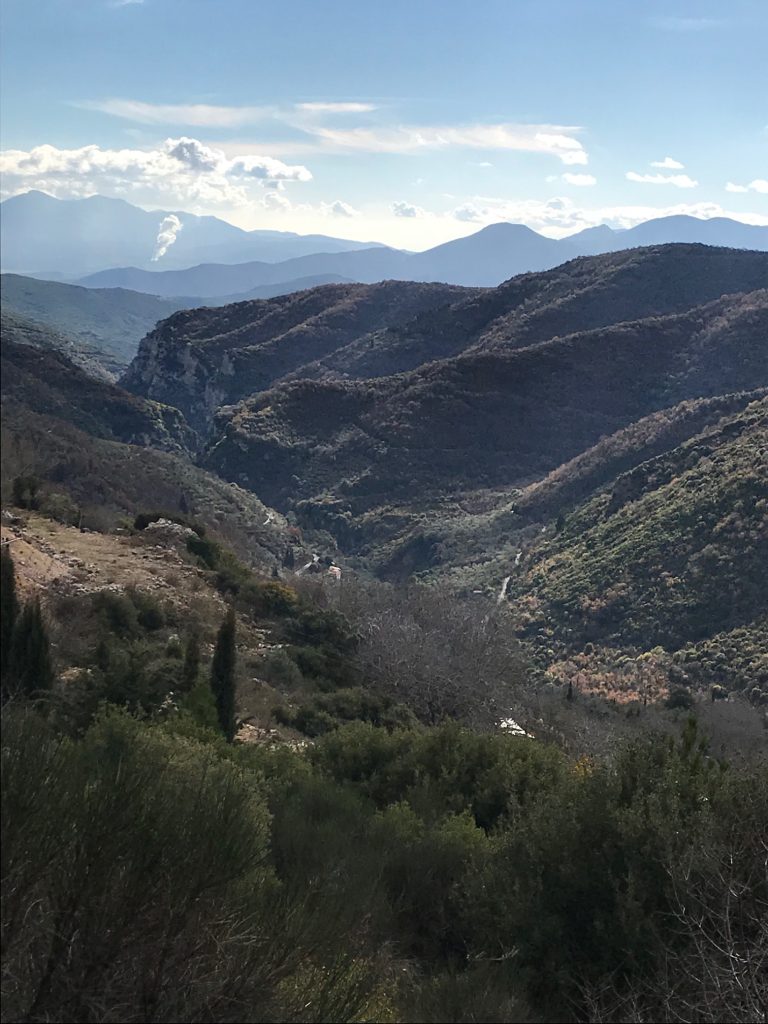 The Panagia Emalion Monastery (above) and it's view over the Lousios Gorge (below)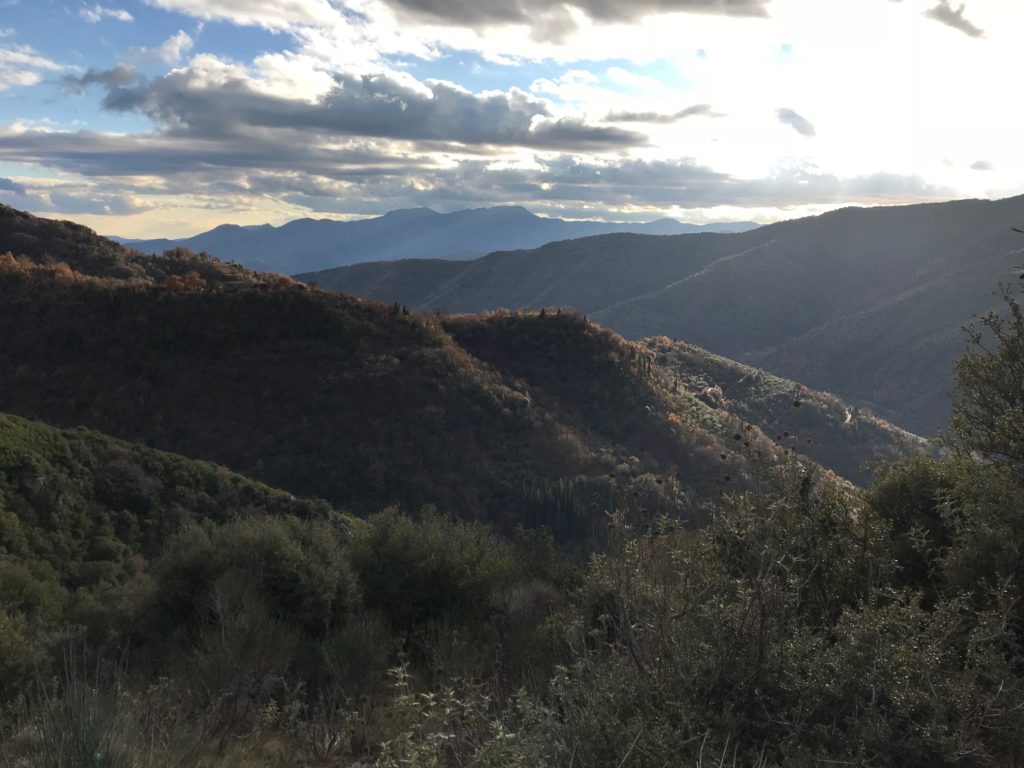 On the way back I paused at Panagia Mirtidiotisa to take some photos and I'm thinking this little hillside church is perhaps connected in some way to the Emalion Monastery because one of the monks from the monastery was pottering about there: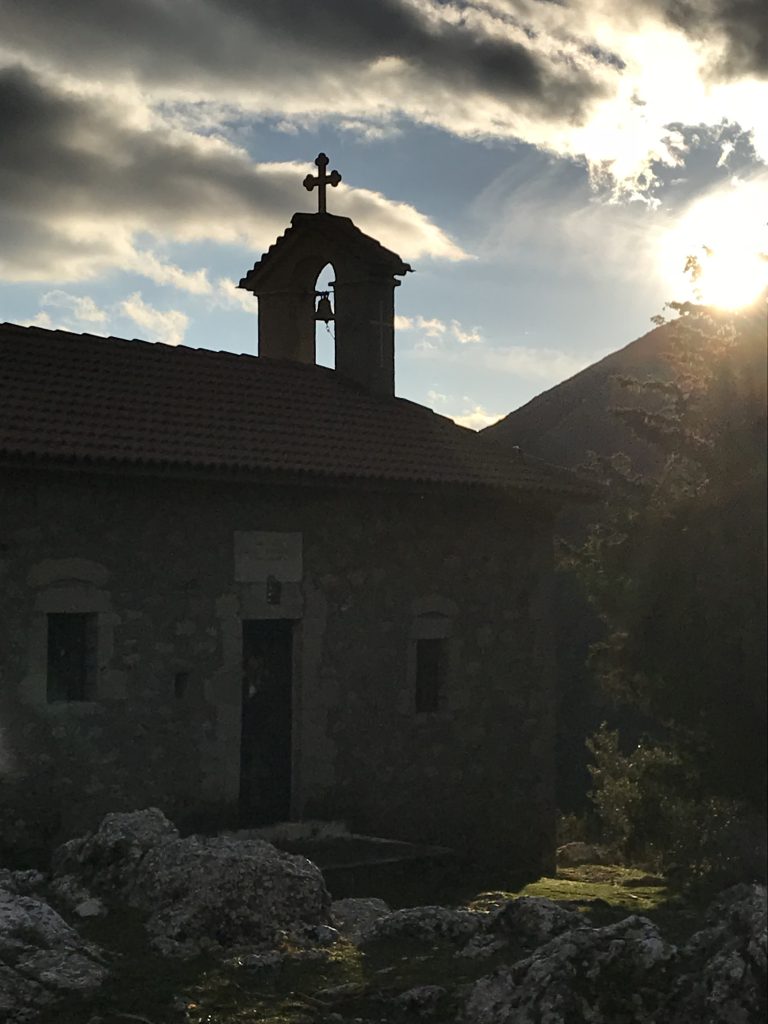 Panagia Mirtidiotisa where I paused to say hello to a local monk. His English was not much better than my Greek so it was a short discussion but we sat for a while.
Then it was back to Van to prepare for dinner. That's the view, below, from where the Van is parked: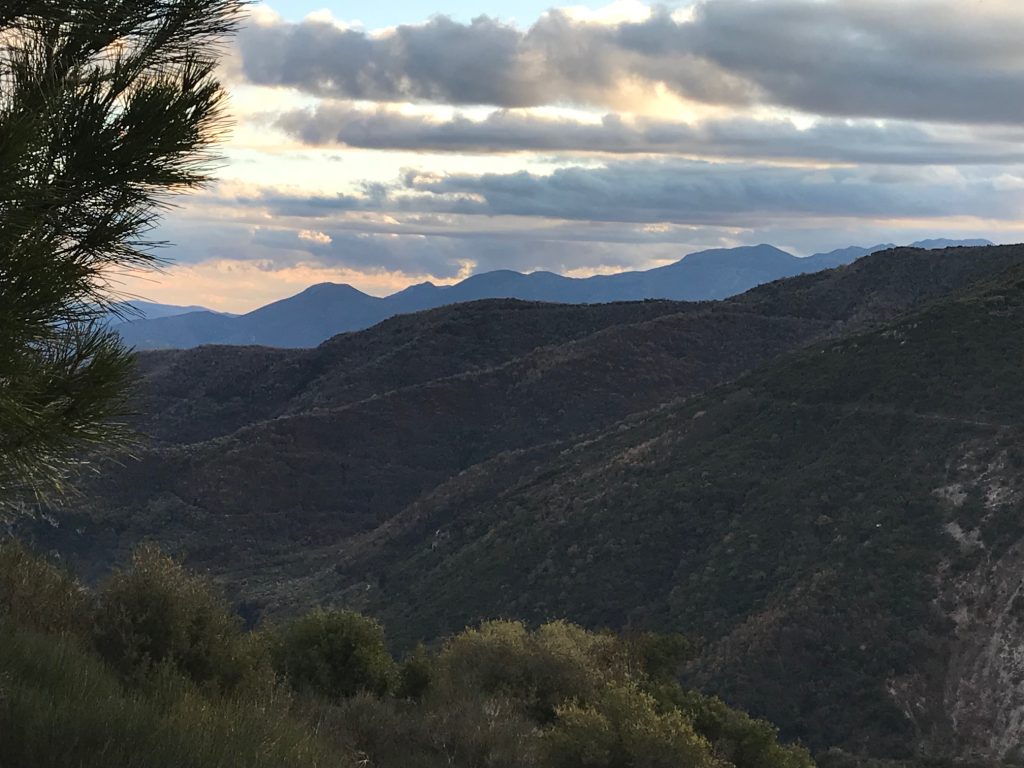 And the plan tomorrow? Weather permitting I will go up the mountain behind me, Klinitsa. There's no snow on it. I need some good exercise and I suspect the views will be fabulous. If the weather is not so good I'll stay lower and check out more of the monasteries.