Whilst visiting Matera we stayed at an outstanding campsite just outside the town, Area Camper Matera (Kartodromomatera), owned by Gianfranco and family. He recommended a couple of places to visit and one of them was the hilltop village of Craco, also in Basilicata, which he told us is only an hour or so drive from Matera.
The drive was straight forward and passed quickly enough. Craco was easily discernible from some way off. Stark and striking and topped by a very obvious Norman Keep it is perched at the very edge of a 400 metre cliff in the Cavone River Valley.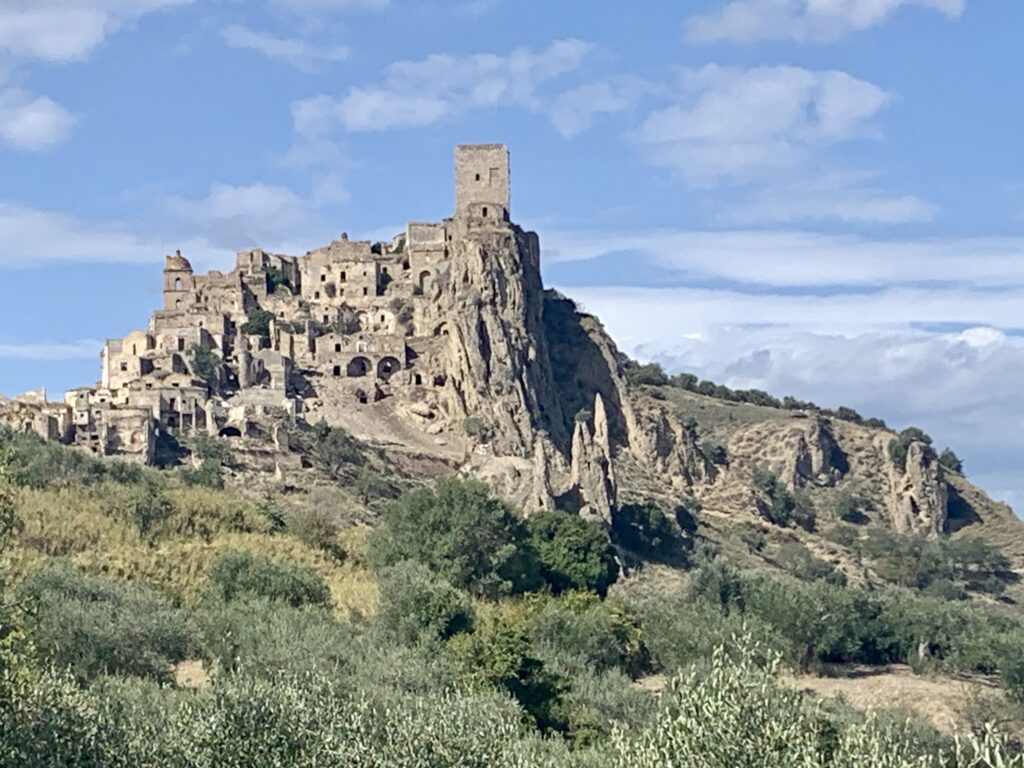 The town was founded around AD 540 although, there is evidence of an earlier settlement on the same site during the Iron Ages. Much of the current town (such as it is) dates back to the Middle Ages with the Norman Tower, built in 1040, being the oldest known building.
It is totally deserted, except for some stray dogs and a few sheep. Throughout it's known history, Craco has suffered from landslides and, to a lesser extent, earthquakes but a series of landslides between the 1950's and early 1960's compelled the majority of the population (some 1,800 residents) to move to nearby Craco Peschiera. A major flood in 1972 and an earthquake in 1980 forced the remainder to leave except for one last person who hung on until 1991.
Once abandoned, the town became overgrown and then, in the 2,000's it started caving in on itself. Many of it's buildings have since collapsed or are on the verge of collapse. A few remain intact with various original features still in place (range cookers, electricity meters, etc) but they have all been plundered for anything of value and for the most part they are not safe.
A local ordinance provides that no more than 35 people are allowed in the town at any given time and even then they have to be guided. No one was allowed in on the day we arrived (don't ask me why) but it was easy enough for me to avoid security, scale the fence and have a good nosey around. It is quite surreal. I am used to seeing ruins on my tours and I have certainly seen abandoned towns before but never a whole town complete with 20th century fixtures and fittings.
I don't see that it has any future. Film makers have made use of it – It formed a background for Judas's suicide in The Passion of Christ and was used again in Quantum of Solace – but, it is becoming increasingly unsafe and, I suspect, totally beyond repair (even assuming anyone would be foolish enough to want to renovate buildings in an area so prone to landslides and earthquakes).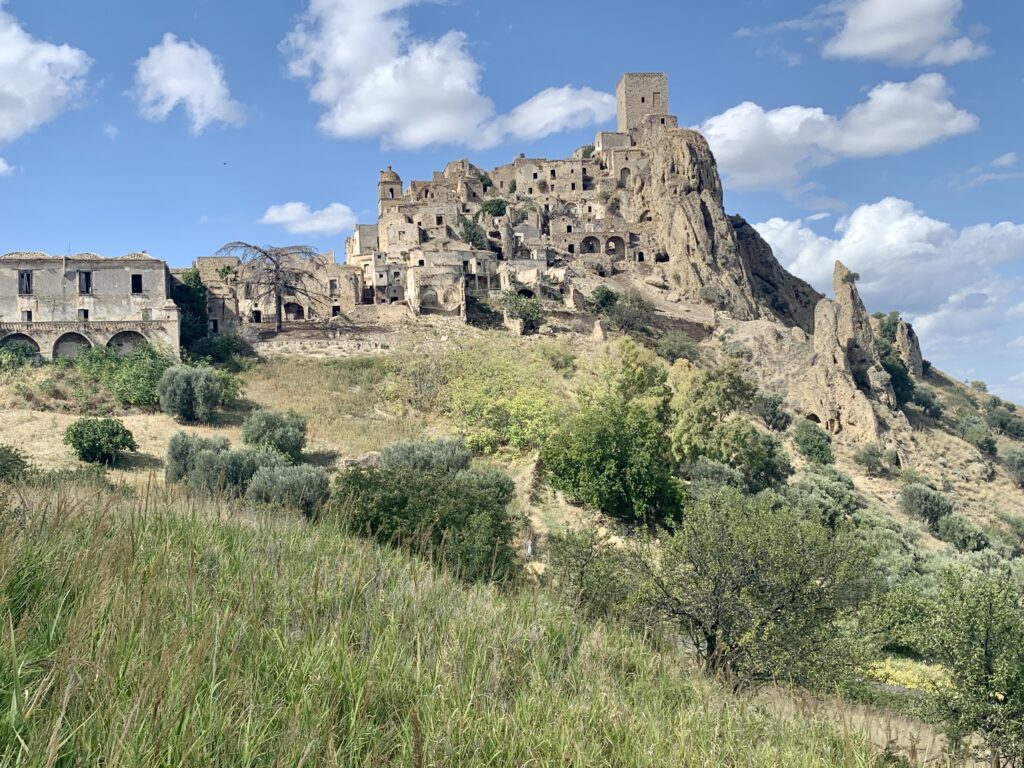 Leaving Craco we made our way over to Italy's west coast, enjoying splendid views as we did so, and settled on a campsite at Scalea in Calabria.
The only nice things to be said about that campsite is that we were parked up on the beach with pretty good views and the dogs seem to like the place. Otherwise… we'll be moving in the morning.