We intended taking a 24 bus into Salerno today because it would take us all the way from Pontecagnano to the Piazza della Concordia where the boats leave for Amalfi but once again we were caught out by not having muzzles for the dogs. That happened in San Marino. Looks as if muzzles are a prerequisite for travel on public transport in both San Marino and Italy.
No problem, we made our way to Salerno in the Van instead. It meant parking on the Lungomare and walking a couple of kms to the jetty but, after a quick breakfast in Salerno, we were still in time to catch the 13.00 hrs boat to Amalfi. This was better in a way because the earlier boat went direct to Amalfi whilst this later one stopped off at Cetara, Maiori and Minori (which made for a much more interesting journey and still left us with all the time we needed for photo opportunities and to explore Amalfi before catching the 16.15 back to Salerno).
Breakfast at a cafe on the Piazza della Concordia was notable for two things. Firstly, in my best Italian, I asked for water for the dogs telling the waitress I had one large dog and one small dog. Something got lost in the translation because she then produced one a a half small cups of water. Just take a look at the photo below. Secondly, again in Italian, I asked the waitress for a coffee with milk. She looked nonplussed but then gave me an espresso with a shot of sambuca. I gave up. The dogs had their meagre drop of water and I had my espresso with sambuca.
Our first stop on the boat was Cetara. It was and still is a small fishing village, where the focus is on tuna and anchovies. Indeed the name Cetara is derived from the Latin word Cetaria which are tuna fishing nets.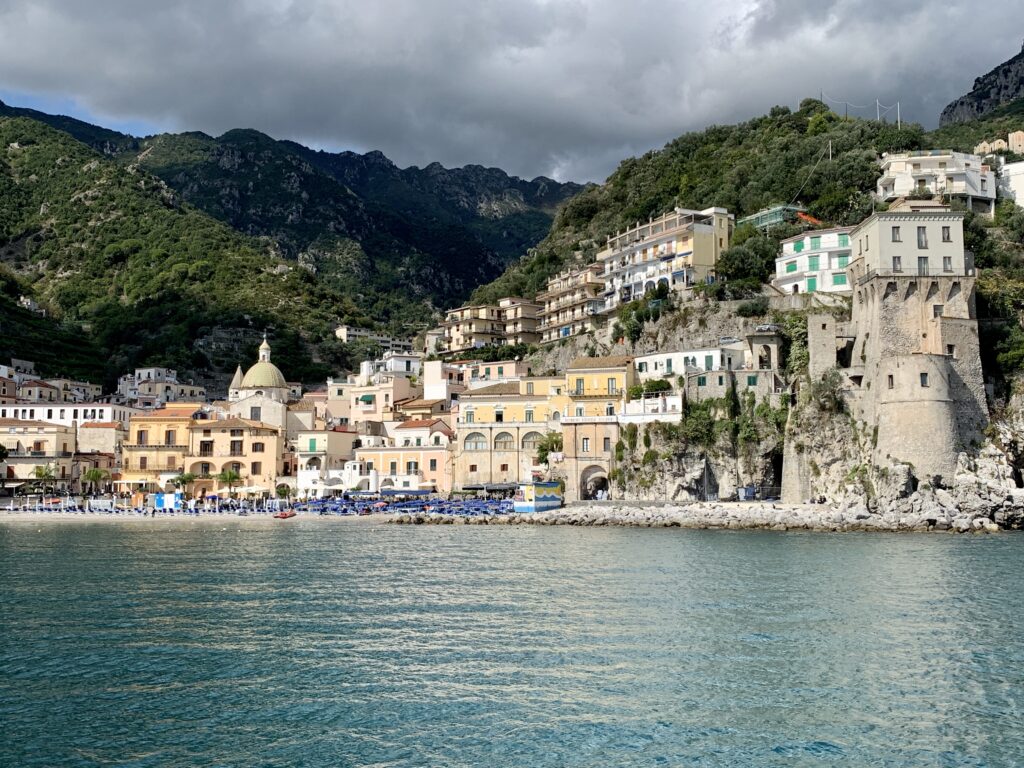 A short way further up the coast to Amalfi is the smaller settlement of Erchie although our boat didn't stop there. Another picturesque fishing village albeit much smaller with only 100 inhabitants), Erchie's name is derived from an old temple built in honour of Hercules. The village's original name was Ercla or Hercla.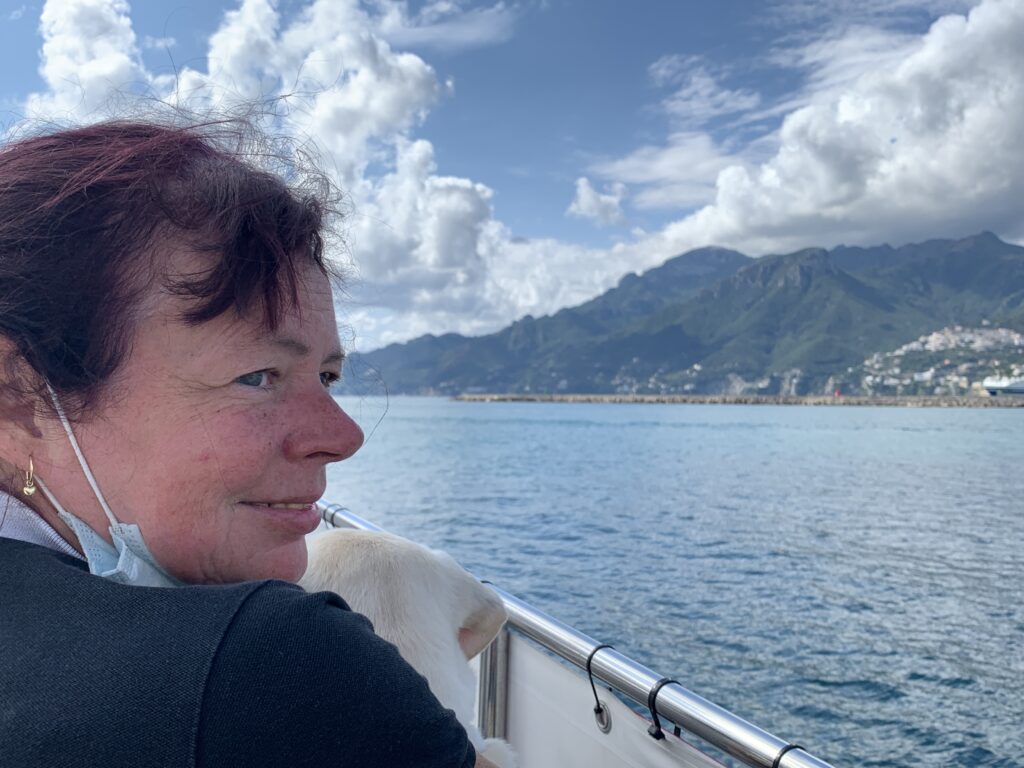 The boat's next stop was Maiori which is one of the larger towns on the Amalfi Coast and far more lively than Cetara or Erchie which two villages are probably the quietest on this particular coast. Maiori has the largest beach anywhere on the Amalfi and (so I have read) a more colourful nightlife but, we didn't stay to find out.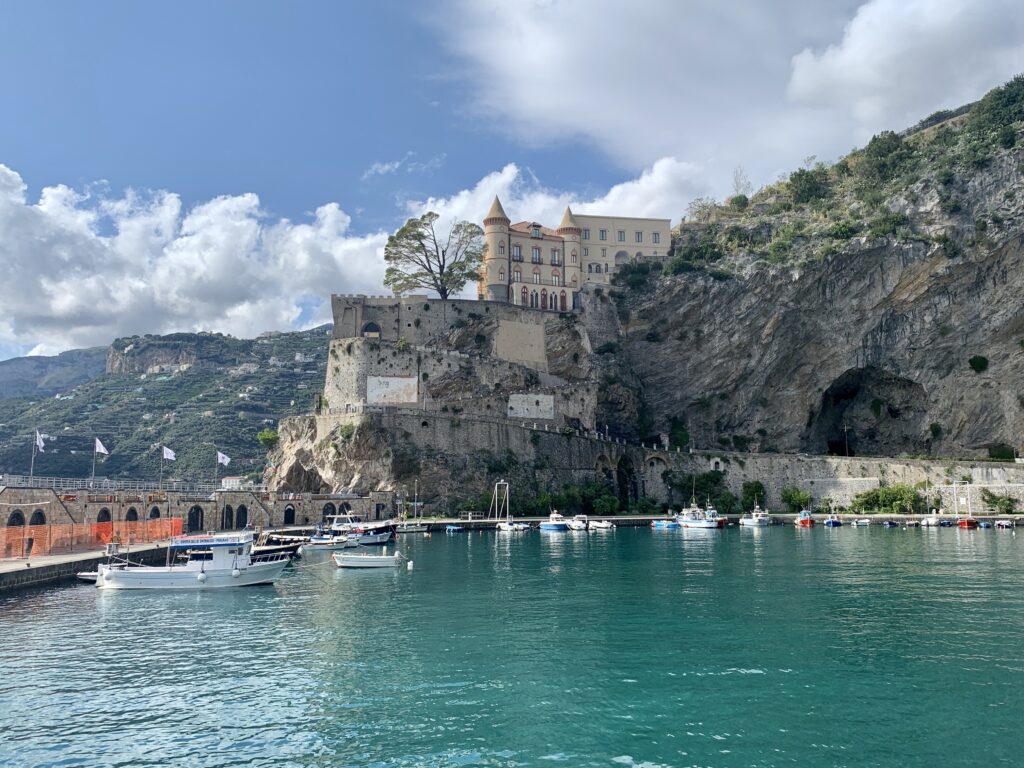 And so to Minori, the boat's last stop before Amalfi. Like Cetara and Erchie, Minori is a small, attractive fishing village not yet totally given over to tourism although it was a resort for rich Romans way back in the 1st century BC. There is a nice walk connecting Minori with Maiori. It's known as the lemon walk which is perhaps not very surprising given the amount of lemons being grown around here and the fact that this area is home to the liqueur limoncello.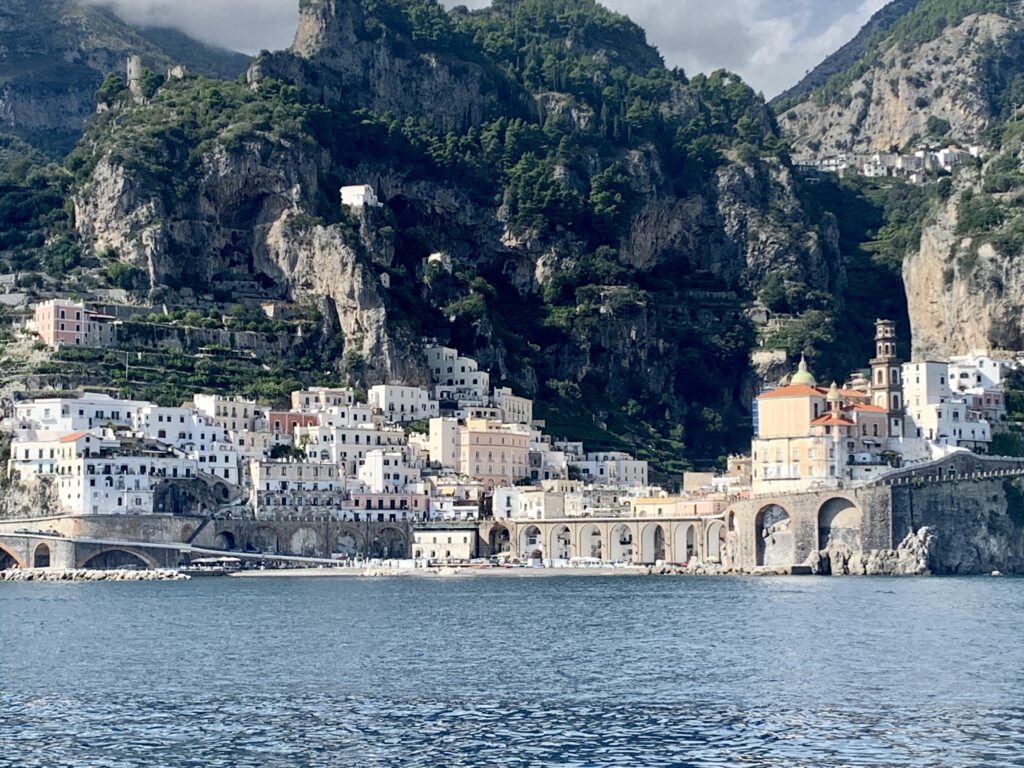 And then, within an hour of setting off from Salerno, we arrived at Amalfi.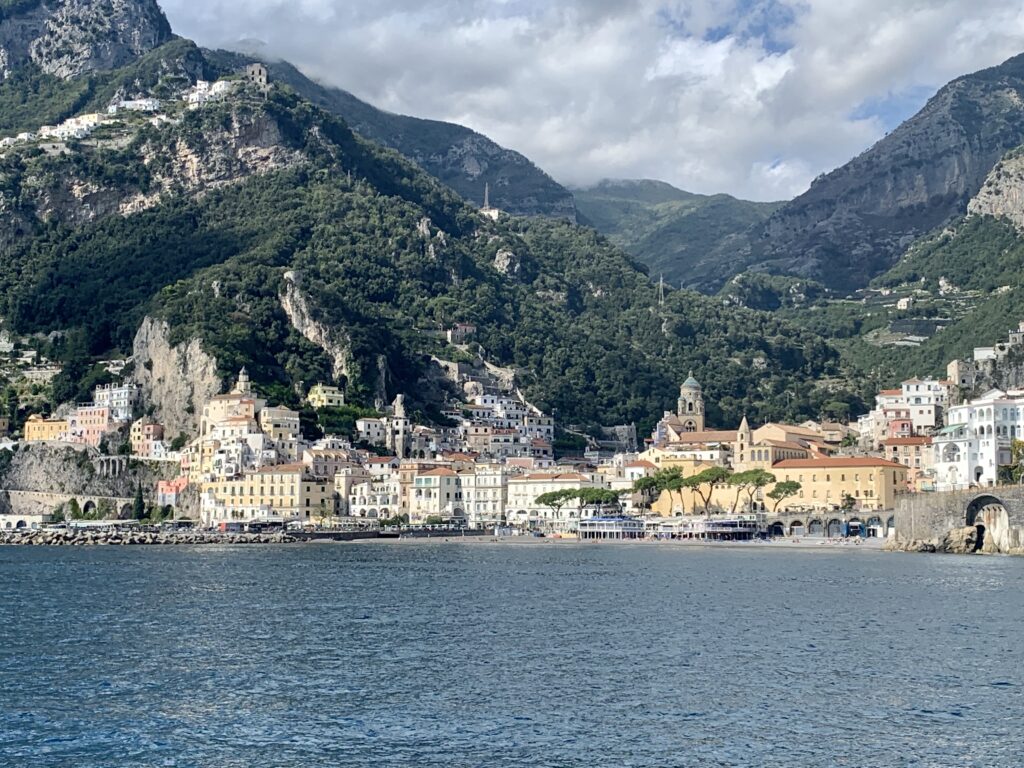 In company with Venice, Genoa and Pisa, Amalfi had a long and glorious history as a maritime republic and for centuries was a trade bridge between the western and the Byzantine worlds. This is reflected to some extent in the Duomo di Sant' Andrea which is built in the Byzantine structure and with Moorish style arches and decoration.
Nowadays, the focal point of the town (I should say "city" since Amalfi has a cathedral) is not the harbour area with its pretty promenade and marina area but the Piazza del Duomo right in front of the cathedral.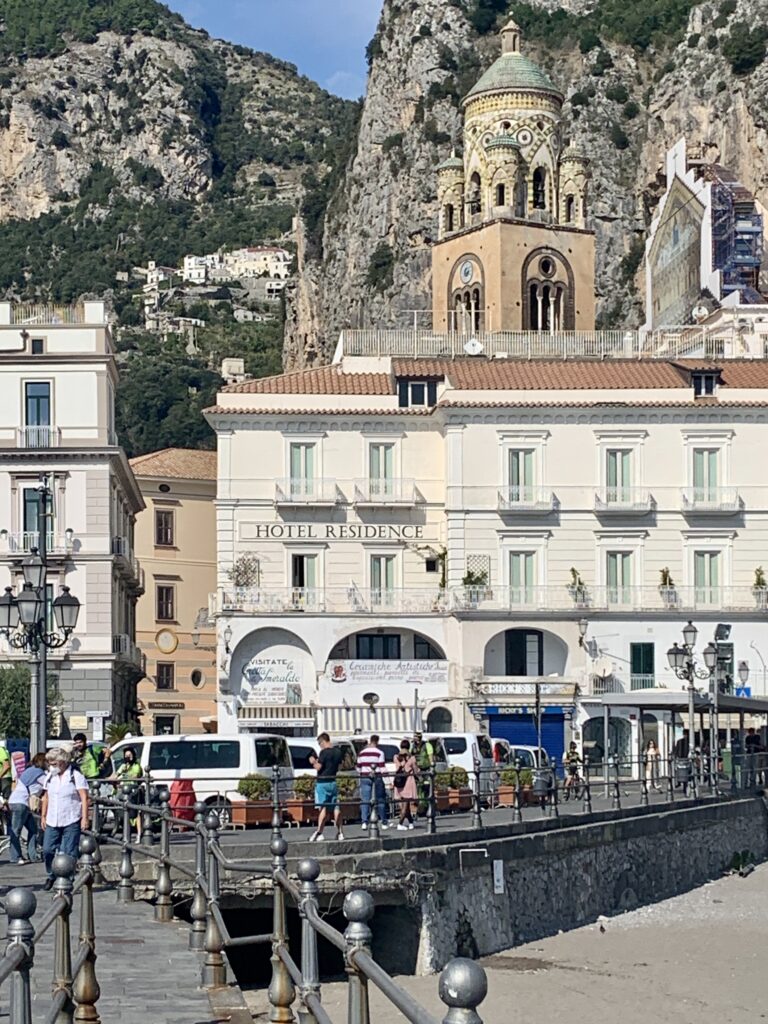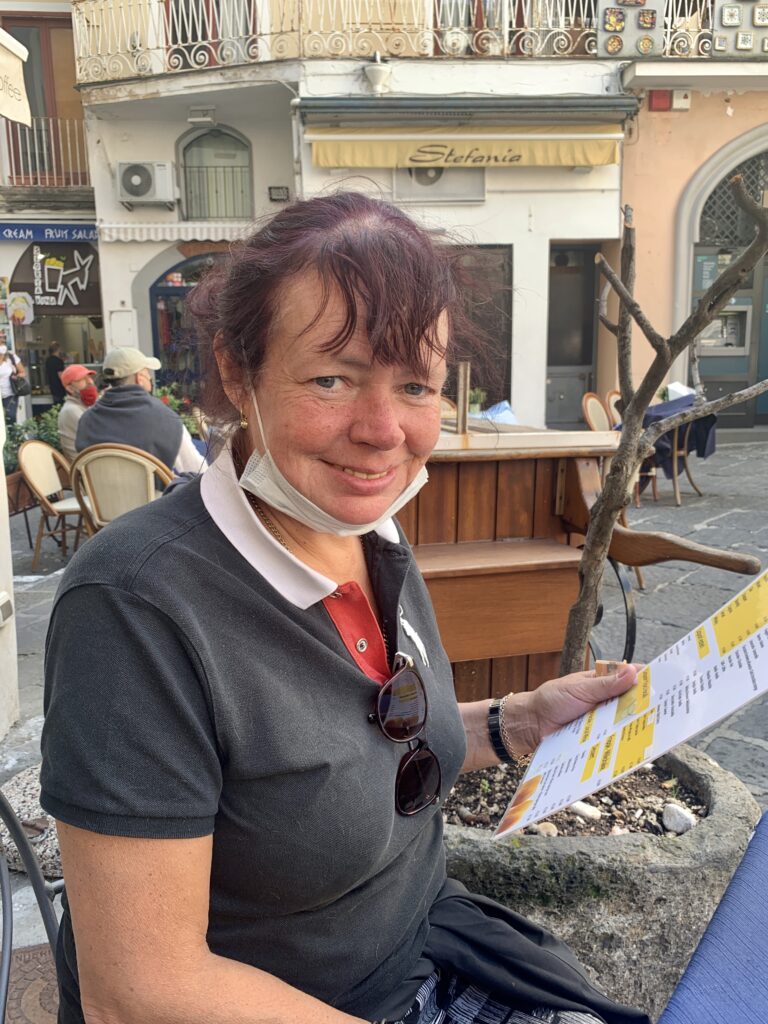 The Amalfi Coast is a tourist resort and packed between June and September. There are plenty of tourists in October too but, no matter. The place is beautiful and no amount of tourists can totally detract from that.