Alberobello is a World Heritage Site that I had intended calling in on during my return from the Balkans early in 2018. It didn't happen then but it has now.
The town is known for its "trulli" which are unique to Puglia and in particular the Itria Valley. They are cylindrical stone walled huts with cone shaped roofs which are invariably topped with a spire and often adorned with crudely painted religious or superstitious markings. They are a drywall construction (no mortar is used) of roughly worked limestone blocks with the conical roof being made of ever smaller blocks and then topped with a final layer of flat angled stones so that rain water flows away from the building. The walls of each "trullo" are very thick so as to keep the inside warm in winter and cool in the summer and, nowadays, the walls are usually whitewashed with the conical roofs being left grey. This makes for a very picturesque building and Alberobello has almost 2,000 of them.
Quite often a number of trulli will be clustered together thus creating several rooms (Trullo Sovrano, the Sovreign Trullo, is the largest in Alberobello with several rooms spread over two very distinct floors) and there is even a trullo church, the Sant Antonio Church. Alberobello is a picture postcard town and there is nothing like it anywhere else in the world.
The trulli originated some time in the 1500's when the Acquaviva family, feudal lords over the Itria Valley, sought to avoid paying property taxes to the king. They ordered local peasants to build dwellings without mortar so that, in the event of a royal inspection, they could be dismantled very quickly and with the peasants in hiding the inspector could not then call in taxes against an inhabited settlement. Hard luck on the king and most especially the peasants who had to set about rebuilding their homes until the next inspection. This went on some 200 years until discontented citizens appealed directly to the king and he gave Alberobello royal town status and so freed the inhabitants from the rules of feudal lords.
We wanted to see Alberobello at night and that first evening were given a lift into town by a local who dropped all four of us (Vanya, Nala, Beanie and myself) behind the Chiesa dei Santi Medici Cosma e Damiano (the Basilica Church of Saints Cosmas and Damian) with a promise that he would collect us in 2 hours time. He also advised us to make our way down the Corso Vittorio Emanuele to the Piazza del Popolo where we could access the two main trulli areas of Rione Monte and Rione Aia Piccolo. That gave us just enough time to both wander the Rione Monte area and catch a couple of drinks at a bar on the Piazza del Popolo. We would return the next day to properly explore both areas.
The Rione Monte is a large, brightly lit pedestrianised area built on a slope overlooking the Piazza del Popolo. It is covered with trulli; over 1,000 of them. Not all of these particular trulli are homes; many have been converted to cafe bars, restaurants, small shops selling local produce (linens, jewellery, local sweets, and model trulli etc) and tourist accommodation. In fact, almost all of Rione Monte seems to have been given over to tourism notwithstanding that the Sant Antonio Church (also built in the trulli style) towers above this particular area. No matter, it is still truly beautiful (forgive the pun).
Two buildings in the Rione Monte deserving special mention are (a) the Casa d'Amore, built in 1797 and not a love nest as the name might suggest but the home of one Francesco Amore who was a ringleader in the uprising against the feudal lords which led to Alberobello becoming a royal town and (b) Il Pozzo Illuminato, an unusual shop selling the most bizarre ceramics and old movie photographs (in addition to the ever present model trulli).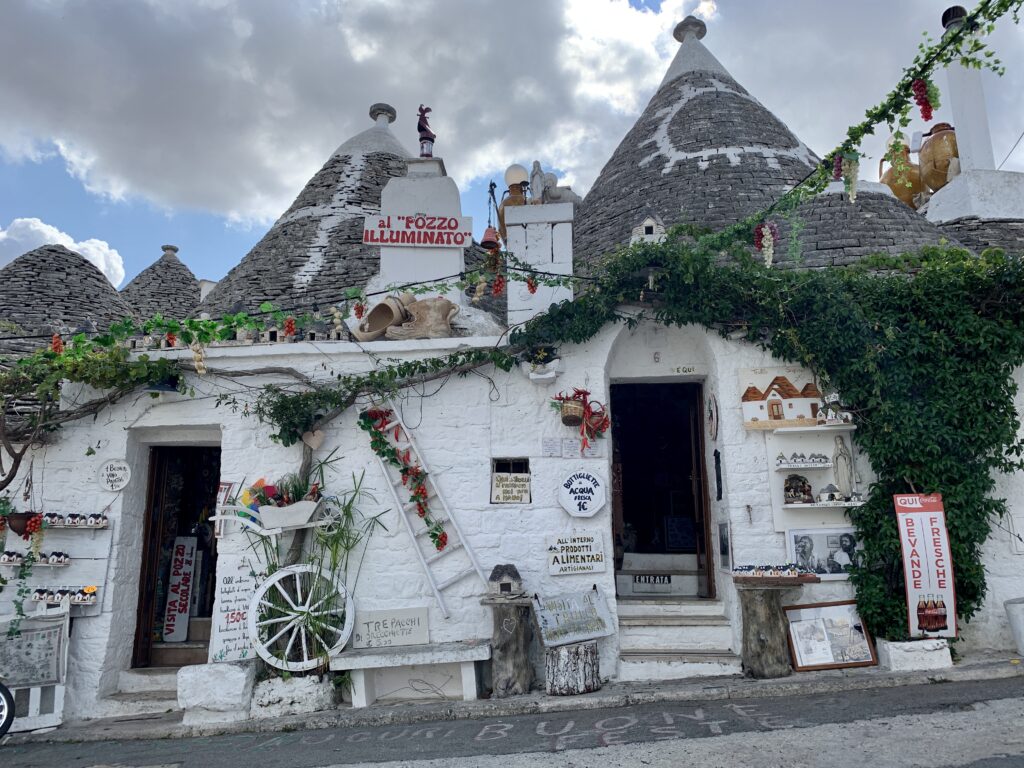 We returned to the town the next day to see Rione Aia Piccola and revisit Rione Monte. Aia Piccola is a largely non commercial, wholly residential area of 400+ trulli which sits opposite Rione Monte. It looks and feels lived in and with few if any tourist shops it appears far more authentic than it's counterpart on the opposite side of the Piazza del Popolo.
We thoroughly enjoyed wandering in and around the area's narrow winding streets and were delighted to be called into one trullo by the gentleman who still lived there. His was a clean but cluttered little property of three connected trulli. He shared a glass of Primitivo wine and some Amoretti biscuits (which we were encouraged to dunk in our wine!) and invited us to view his grandmothers old trullo which was, let us say, more sparsely and traditionally furnished but still quite homely. His grandmother's property also comprised three connected trulli but, having a number of significantly sized arched alcoves, hers offered considerably more storage and living space.
After Aia Piccola we had time to both eat an al fresco lunch on the Piazza del Popolo and revisit Rione Monte. In the cold light of the day (except it wasn't cold) and after visiting Aia Piccola, Rione Monte appeared far more commercial and therefore not quite so appealing as the previous evening but that is perhaps to be expected after seeing Aia Piccila and that comment should not detract from it's overall beauty.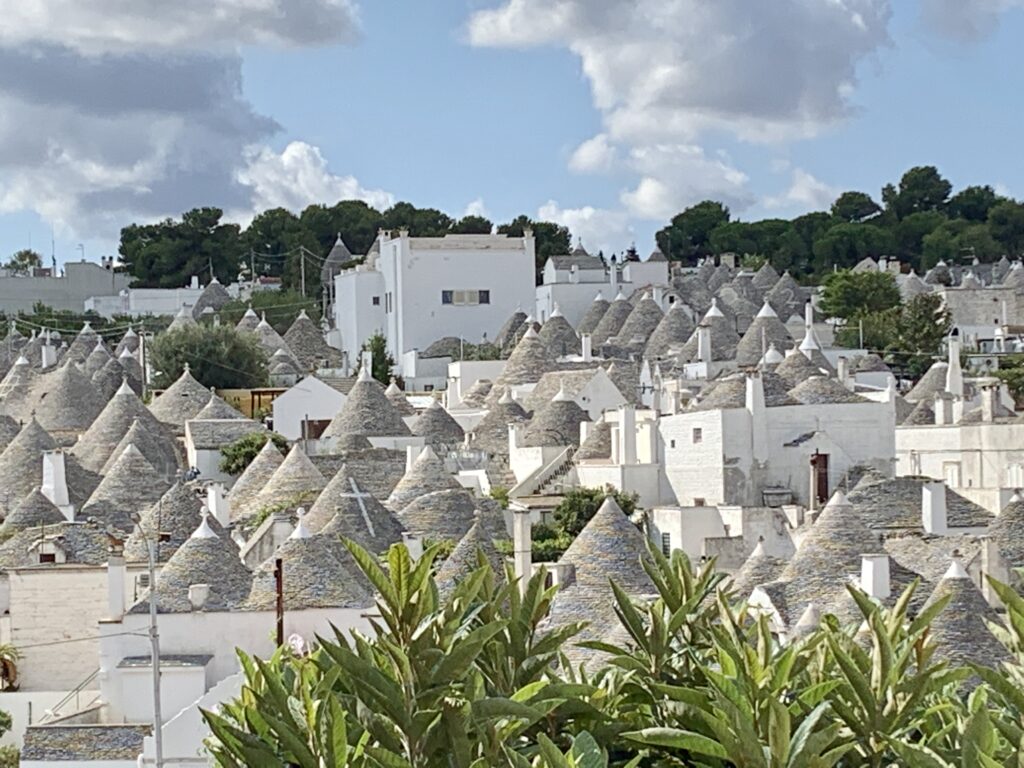 I've long said that as a place to visit and for things to see and do, Puglia can compare with any of the other better known regions of Italy (Rome, Venice, Tuscany, etc) and it can only be a matter of time before Puglia will begin to receive the same media attention as it's more illustrious neighbours. That is perhaps when tourism will start to detract from places like Alberobello but for the present, so glad it is there and to have seen it!
POST SCRIPT: Alberobello completely overwhelmed me. I forgot to mention that we made our way from Bisceglie to Bari to catch our ferry to Albania (en route to Greece); we checked in, got our tickets and were about to board the ferry when, after learning of Covid restrictions between Albania & Greece and then Greece & Italy, we decided to cancel it all and stay in Italy. That means more time in Puglia!!