We parked the Van at a secure car park in Wroclaw and booked into a city centre hotel (the Puro Wroclaw Stare Miasto) for a couple of nights. In hindsight, we should have stayed longer. What a great hotel and what a great city! We loved everything about Wroclaw, pronounced Vrots-Waaf. The city was buzzing the whole time we were there.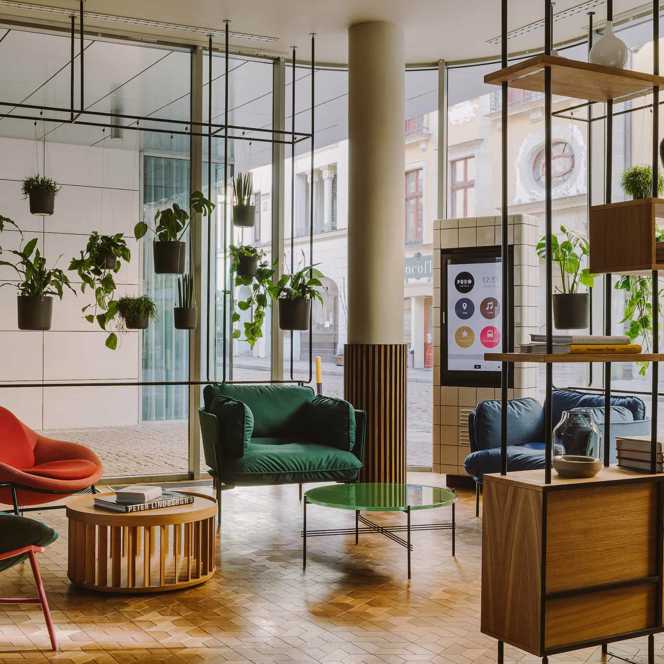 Previously known as Breslau, Wroclaw is currently Poland's 4th largest city with a population of 600,000 people. It's history is as long and complex (and as tragic) as any town in Lower Silesia but, rather than repeat it all here, I would refer you to my blog on Jelenia Gora if you want to know more. It will suffice to say now that the de-Germanisation which occured in the city after World War II was perhaps as bad as it could have been anywhere in Europe with almost 300,000 Germans (many of them refugees from Poznan) being forcibly evicted from the city with only what they could carry. The Poles that replaced the German population were themselves forcibly displaced from their homes by the Soviets (many were refugees from Lvov) and the city they inherited was largely (70%) destroyed by war damage. If that wasn't bad enough the authorities dismantled much of what was left standing in the city (now renamed Wroclaw) to help rebuild Warsaw.
The new city leaders made a decision to 'faithfully' rebuild the Old Town just as it was before WW2. Reconstruction around the Market Square (known as Rynek) and the adjacent Solny Square progressed very quickly but, with some not so subtle changes. Indeed, nothing that was built by the Germans during the 19th and 20th centuries was replaced and the Old Town is now almost entirely baroque which predates German occupation. Even the statue of a Prussian King on the Market Square was replaced by one of a Polish poet, Aleksander Fredro. Also, many of the buildings on the two squares had to be rebuilt using utiliterian concrete blocks and were then given elaborately decorated facades. No matter, the city was quickly rebuilt and it once again ranks amongst the most beautiful in Europe.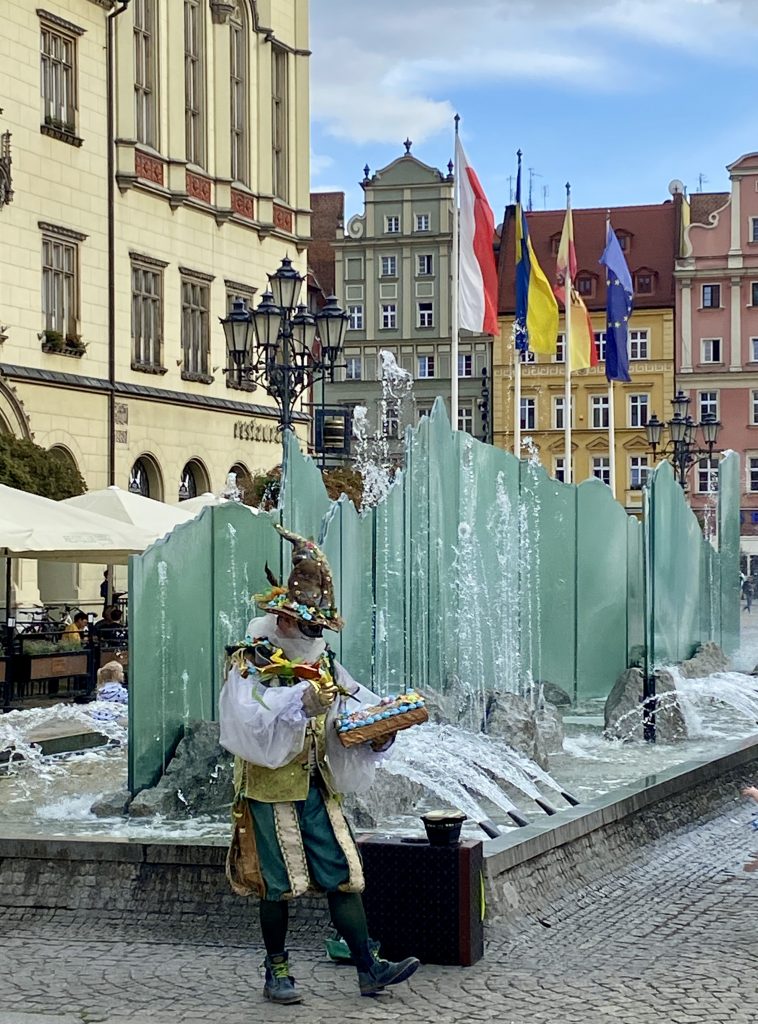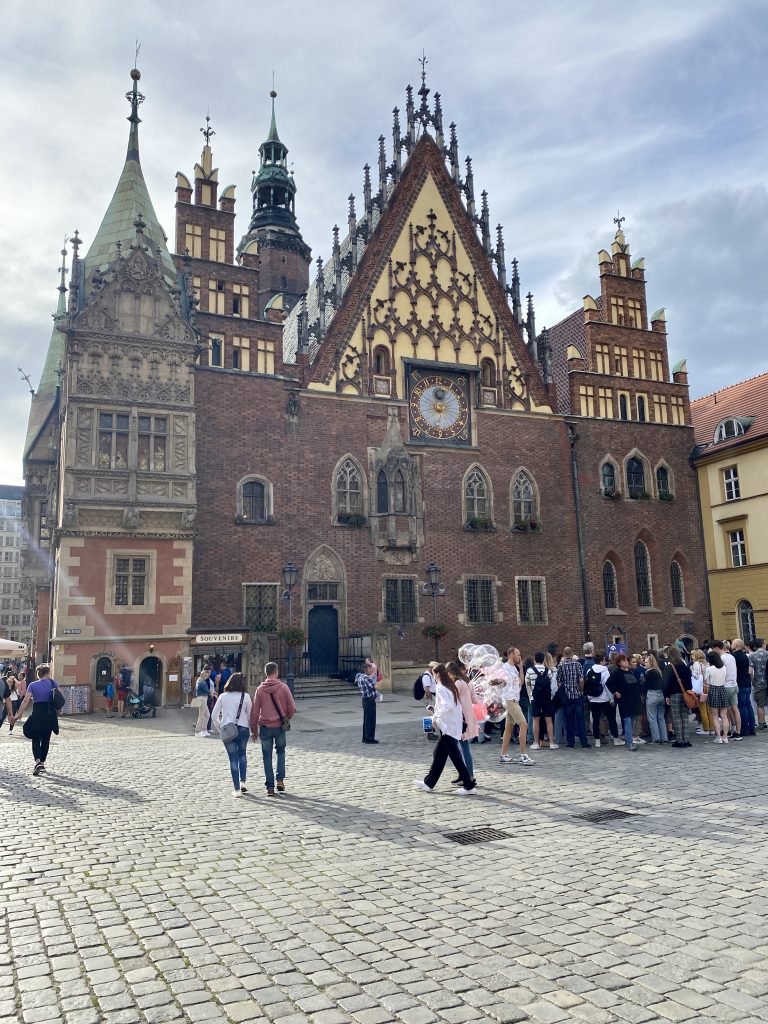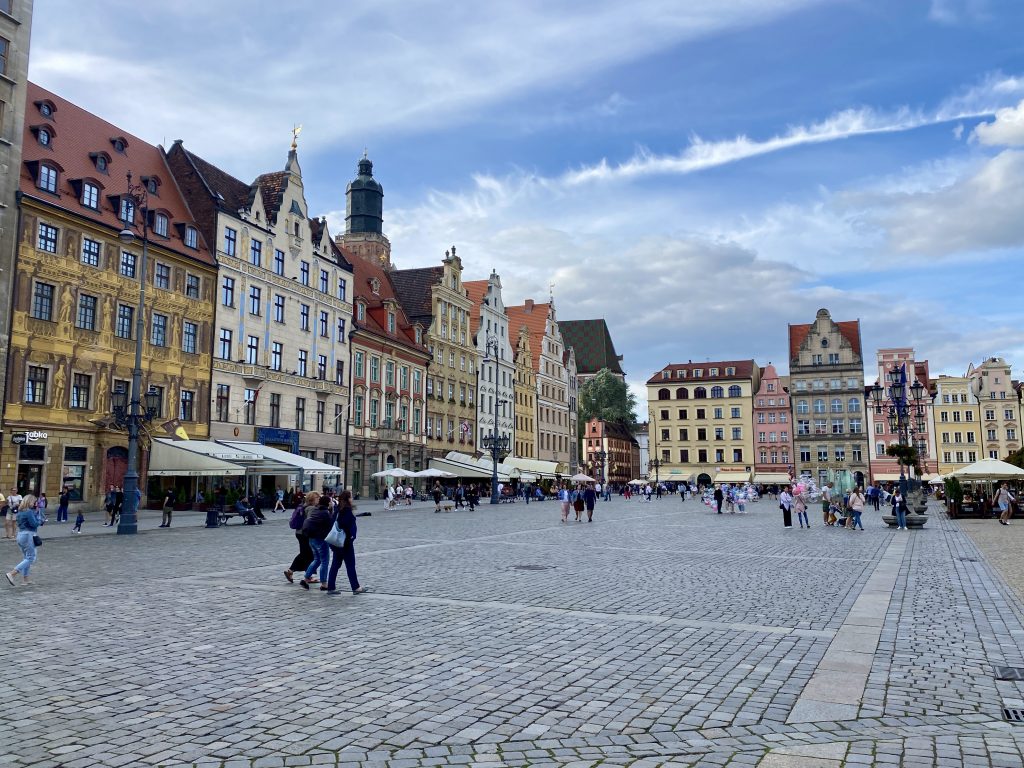 Throughout our visit, day and night, there was always something going on in the city's two main squares and their surrounding streets.
Solny Square is famous for selling flowers any time of the day or night but, whilst you could still buy flowers from a number of market stalls while we were there, most of the square was given over to an amateur international five a side football tournament. I don't know who won the competitions (there was one for men and one for women) but I watched a closely contested men's game which saw Germany beat Belgium by 4 goals to 3 goals. The standard was quite high.
One event which has taken place on the Rynek every year since 2003 (except during 2021 because of Covid), and which I would love to witness, is the city's annual attempt to claim the Guiness World Record in the 'Guitar Ensemble'. Wroclaw claimed the record in 2009 with all 6,346 participating guitarists led by Steve Morse of Deep Purple playing the Jimi Hendrix version of 'Hey Joe' at the same time. Now that would have been something to behold!
One feature of Wroclaw that I absolutely love are the Krasnale (i.e. dwarves or goblins in Polish). There are literally hundreds of them scattered around the city. They started life in the 1980's as cartoon characters created by an anti- communist protest group known as The Orange Alternative and started taking the form of small bronze statues in 2001. No one really knows how many there are throughout the city because as new ones arrive, others are stolen. I could spend a whole day looking for them and they are a great way to explore the city.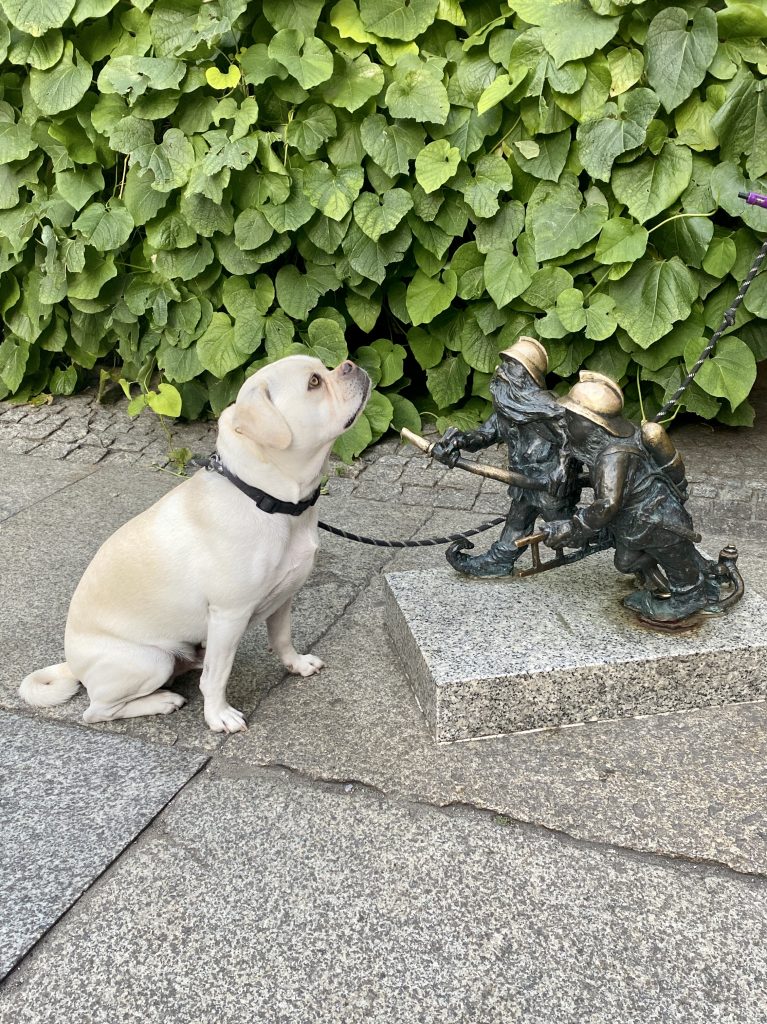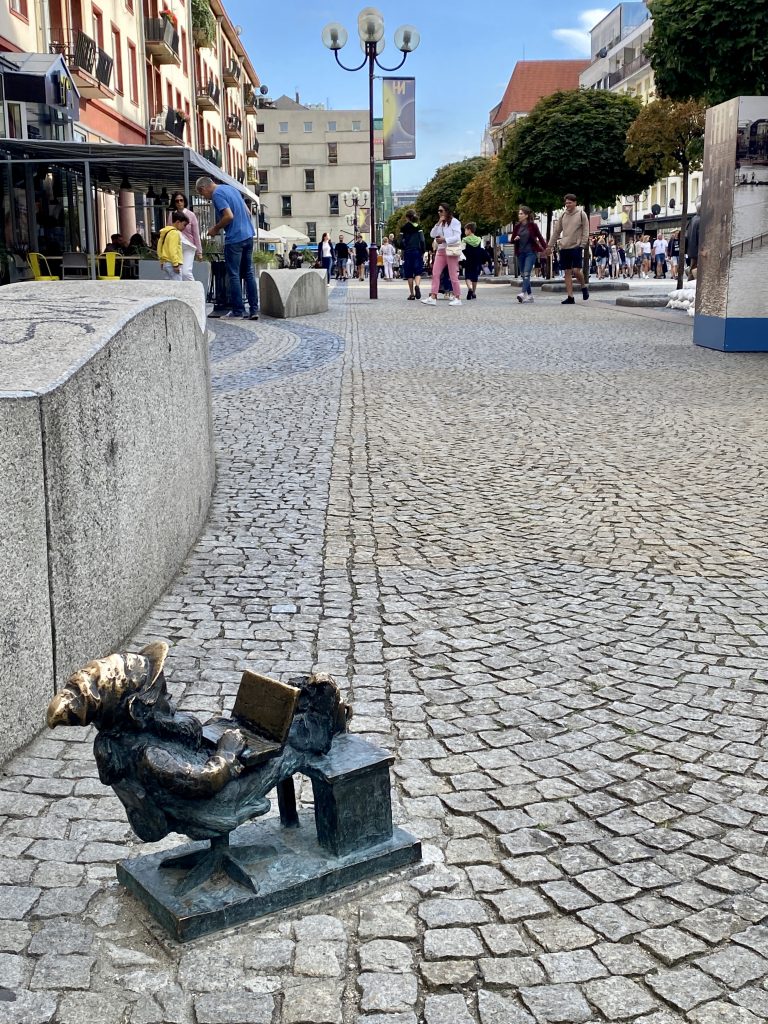 Still much to talk about and so, I'll be brief. In addition to the Krasnale, the city is full of street artists of all kinds. During the day, it was mostly buskers, bands and mime artists that played the squares. In the evenings it was acrobats and fire eaters and yet more buskers. If you wanted to, you could sit outside a single bar or restaurant and see most of them because many artists rotate around the two squares but; I'll get as much joy exploring the side streets as I will sitting and people watching and I was off.
If you're hungry it pays to wander the side streets. You'll not find the quieter and cheaper restaurants on the squares and Vanya and I were both keen to try the local Pierogi Dumplings. Pierogi dumplings are filled with all sorts of ingredients; too many to go into here but, Vanya favoured the plainer potato and cheese variety while I went for a spicier meat variety (containing beef, leek, Chinese cabbage, mushroom, coriander, chives and chilli). OMG. They were great, especially when washed down with Polish beer and, if I haven't mentioned it already, Wroclaw is regarded as the city of Polish Beer.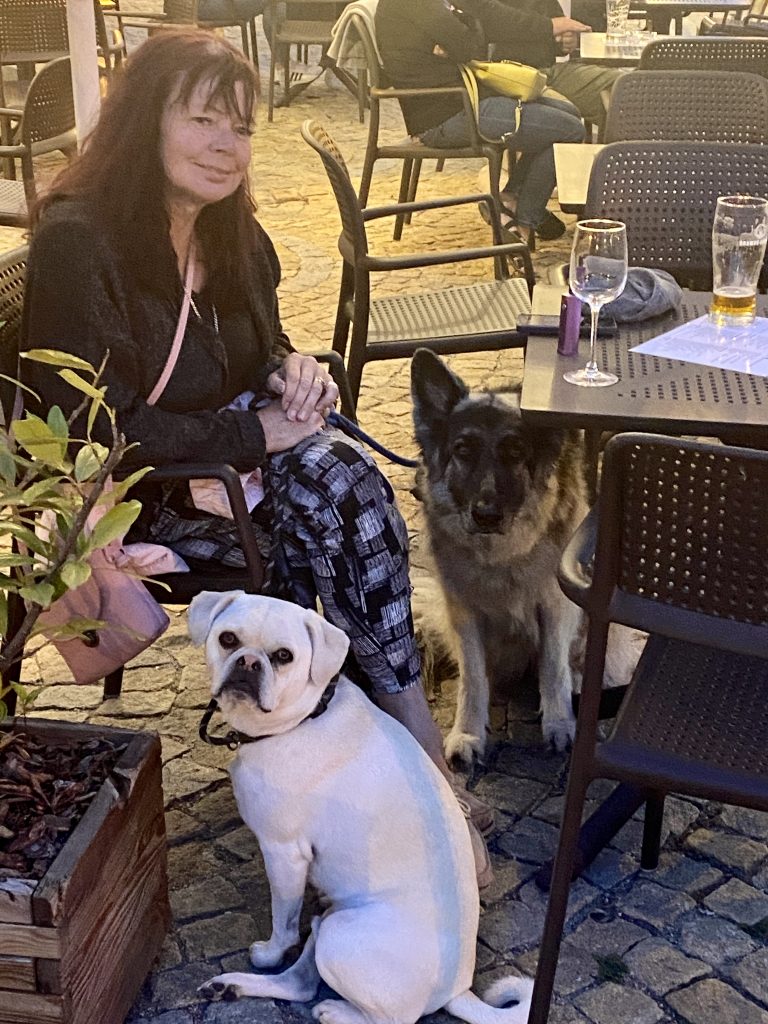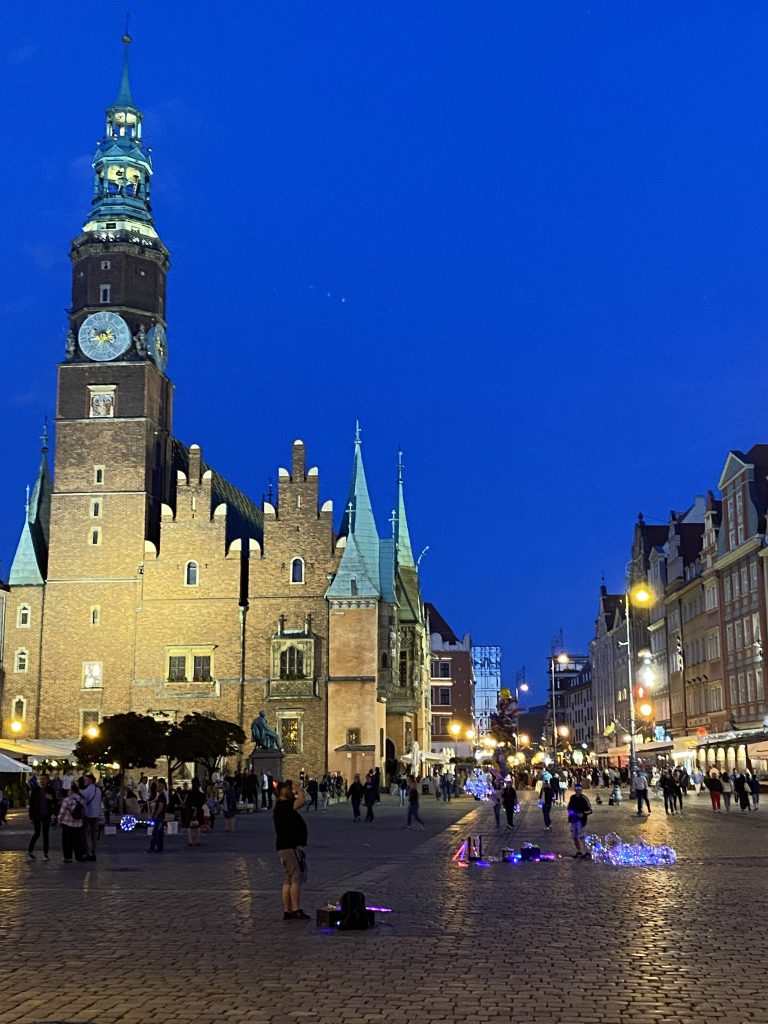 There comes a time when you have to tear yourself away from the centre and where better to go for something completely different than Ostrow Tumski; a small island in the Oder which is filled with numerous religious edifices including the impressive 13th century Roman Catholic Cathedral of St John The Baptist. The island is within easy walking distance of the Rynek. A wedding was in progress as I arrived but by posing as a wedding guest I was able to see some of the interior of the church (I'm unsure as to what the official photographer thought of my following him around looking for photo opportunities) and it didn't stop me getting a lift up to the bell tower albeit for somewhat limited views of the city.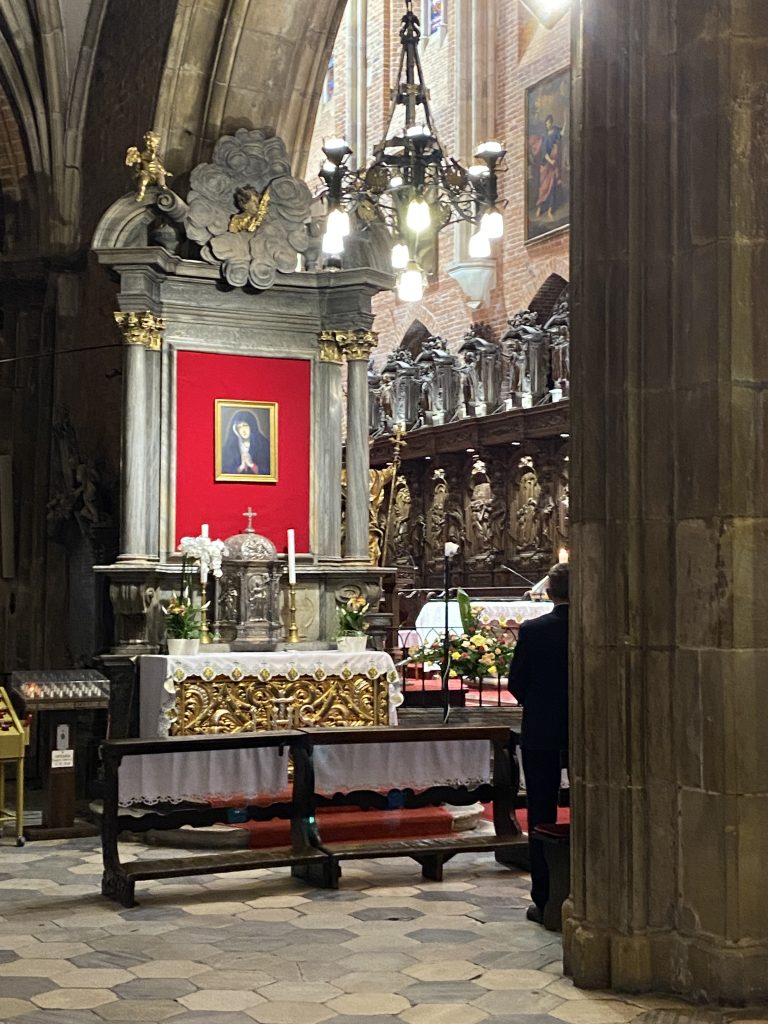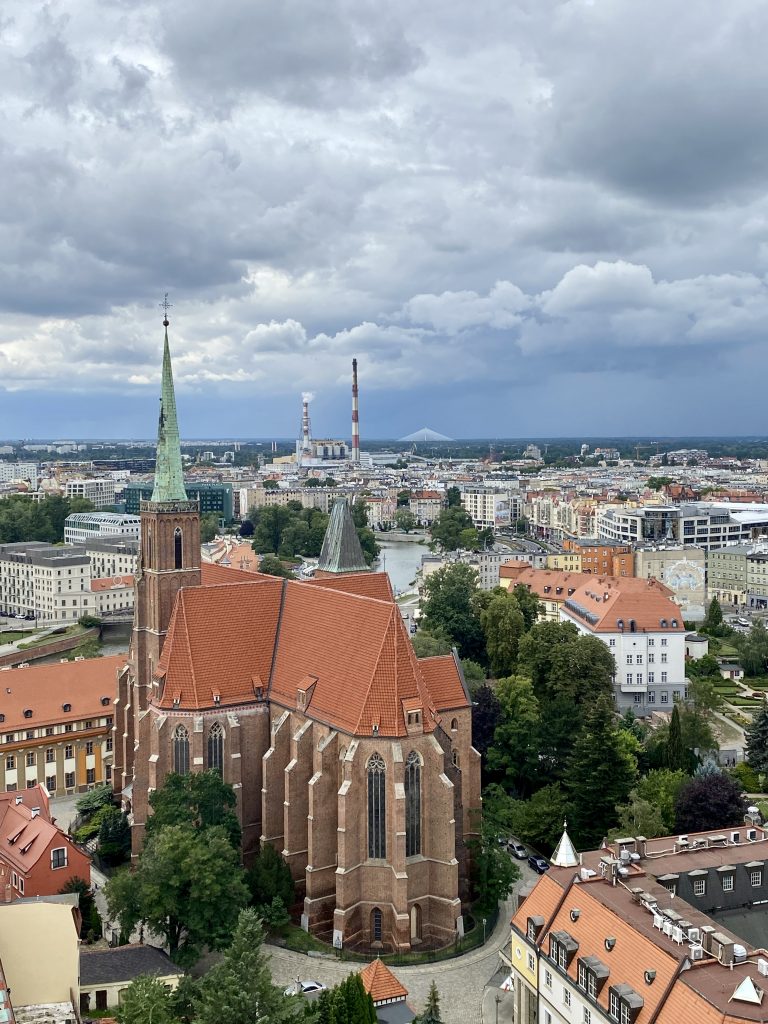 Better views of the city can be obtained from the Church of St Mary Magdalene. There is a platform, known as the Penitent Bridge, connecting the twin towers of this latter church. Be warned however, there is no lift in the St Mary Magdalene and you have to ascend some 200 plus stairs (about 45 metres) to the Penitent Bridge. One other church tower with arguably the best view down onto the Rynek is that of the St Elisabeth Church but I didn't do that one.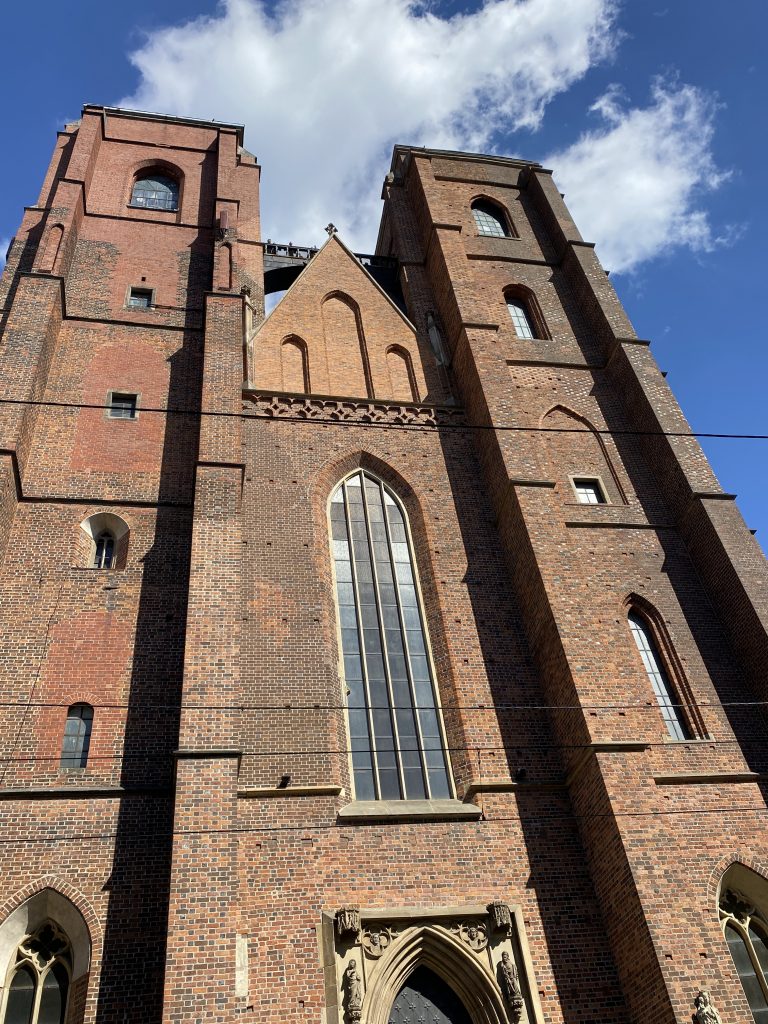 I've not really covered the more cultural aspects of Wroclaw but it isn't easy gaining access to theatres, museums and art galleries etc when you have two dogs with you but there is a great deal of interesting street art about the city and; none more so than two sets of bronze pedestrian sculptures, one each side of a busy intersection. One group appears to be descending into the ground (a subway?) and the other is ascending from the ground (I think).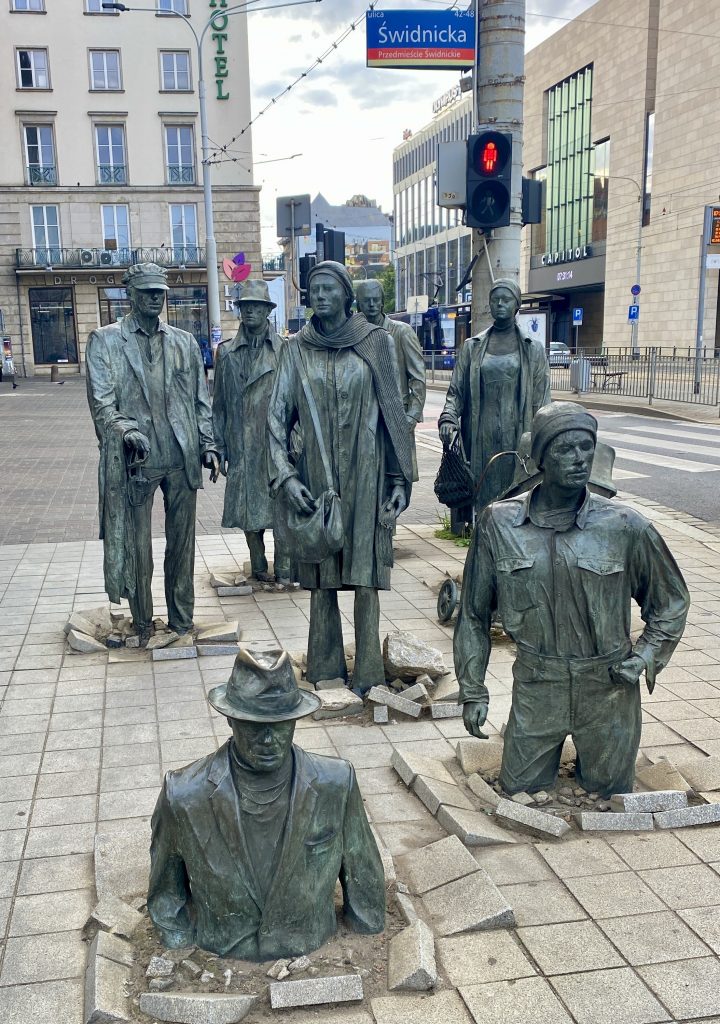 Of course, in just two days I was never going to get around the whole city but that's reason enough to return. Some places which deserve a visit are the Wrocław Multimedia Fountain (Wrocławska Fontanna Multimedialna), the Wroclaw Zoo and the Kolejkowo Model Railway.
The Fountain, which is to be found in the Szczytnicki Park, is the biggest in Poland and one of the largest in Europe. It was initiated on 4th June 2009 on the occasion of the 20th anniversary of the first free elections in postwar Poland and it comprises 300 water jets and 800 lights which create geysers, spurts and mists, etc and is synchronised to create spectacular light and music shows every day of the week.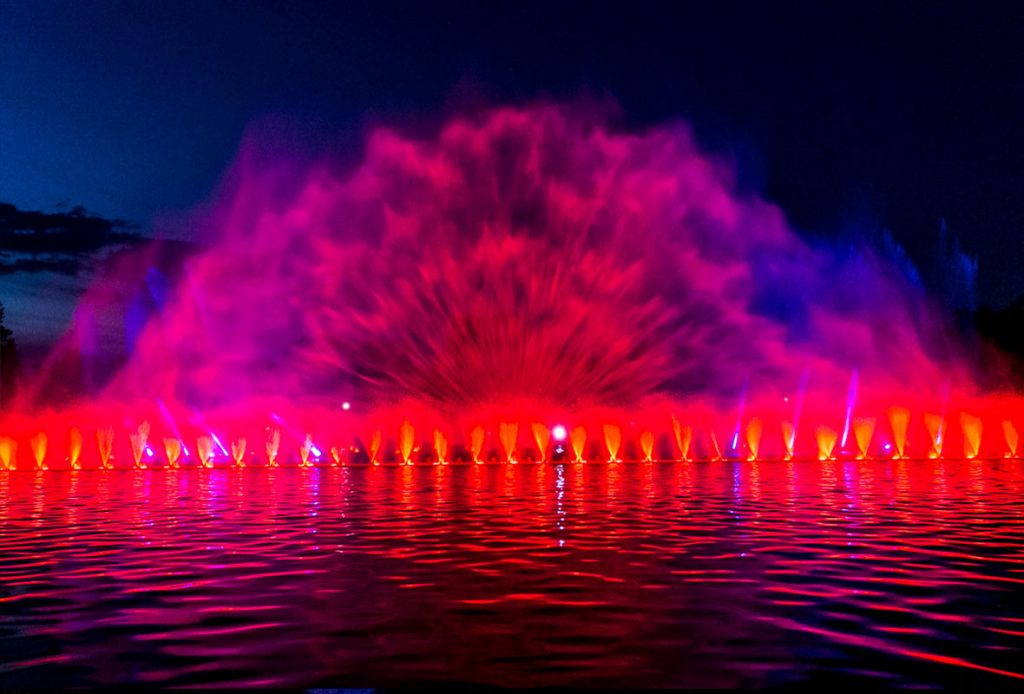 Wroclaw Zoo is the biggest and oldest in Poland and certainly worth a visit (but the dogs will have to be left behind for that one).