What a place! A sizeable town of 52,000 people, near the Gulf of Morbihan on the southern coast of Brittany, Vannes is one of the most charming towns we have visited during this tour. We only had the one day in Vannes and it would take considerably more than a single day to do this town justice but, we'll be back.
We parked up close to the town centre and walked northwards down the long 'finger like' harbour (plenty of boats moored along both sides) towards the old town.
We passed into the mostly walled off, pedestrianised old town through the 16th century baroque gate of Porte St Vincent (which is named after the Spanish Dominican friar, Vincent Ferrer, who died here in 1419 and subsequently became Vannes' patron saint) and entered a wholly enchanting world of cobbled streets and pastel coloured half timbered 16th century buildings
I read that there are no less than 170 listed half timbered buildings in the old town centre and although the ground floors of many have been converted into modern shops, boutiques and cafe bars it was easy to imagine we had been transported back into the 16th century.
The Porte Saint Vincent gate took us directly on to the Rue St Vincent which in turn brought us to the Place des Lices. There used to be jousting tournaments on the Place des Lices but, that was a long time ago and as we arrived, a street market was in full swing.
It was a most complete market with the widest range of goods and produce, full of colour and wonderful aromas not just from the many local fruit & vegetable stalls but from traders selling spices, flowers and various differently scented handmade soaps. The market stretched across numerous streets and seemed to have almost everything. There were carpets & furniture, craft ornaments and jewellery and food & drink stalls. There's also a fish market on the Place de la Poissonnerie.
Of course the street market is surrounded by plenty of cafes and bars and it wasn't long before we were seated at a table outside of one of them while I tucked into some really delicious local oysters and a glass of muscadet. It was almost noon and it was either that or we would have to visit one of the many Michelin Star restaurants in the town. Next time?
There is so much to see in Vannes. We could have carried on to the Jardin des Remparts with it's geometric lawns and flowerbeds and topiaries and it's views of the Garenne Bastion and three towers but Vanya was looking for something to eat (she doesn't do oysters) and so we turned back to the harbour where she had seen a menu she liked.
On the way we paused at the granite Cathedrale St Pierre. This cathedral took some 700 years to complete and is a real mix of styles (romanesque, gothic, Italian renaissance, etc) with the oldest original feature being the 13th century bell tower. I went inside the cathedral but a service was underway and while that was on I was never going to feel comfortable looking for the tomb of St Vincent which is housed in in one of the Cathedral Chapels. Anyway, there was a pretty good harpist busking outside the cathedral and Vanya wouldn't mind me listening to just one song.
From the cathedral we left the old town via it's north west corner; walking past the impressive Hotel de Ville (Town Hall) on our way to the harbour for Vanya's brunch and for me to finish my lunch. Vanya's chosen restaurant was right on the harbour – a great place to eat, drink, people watch and admire some of the boats in the harbour. A couple of the boats have some stories to tell too.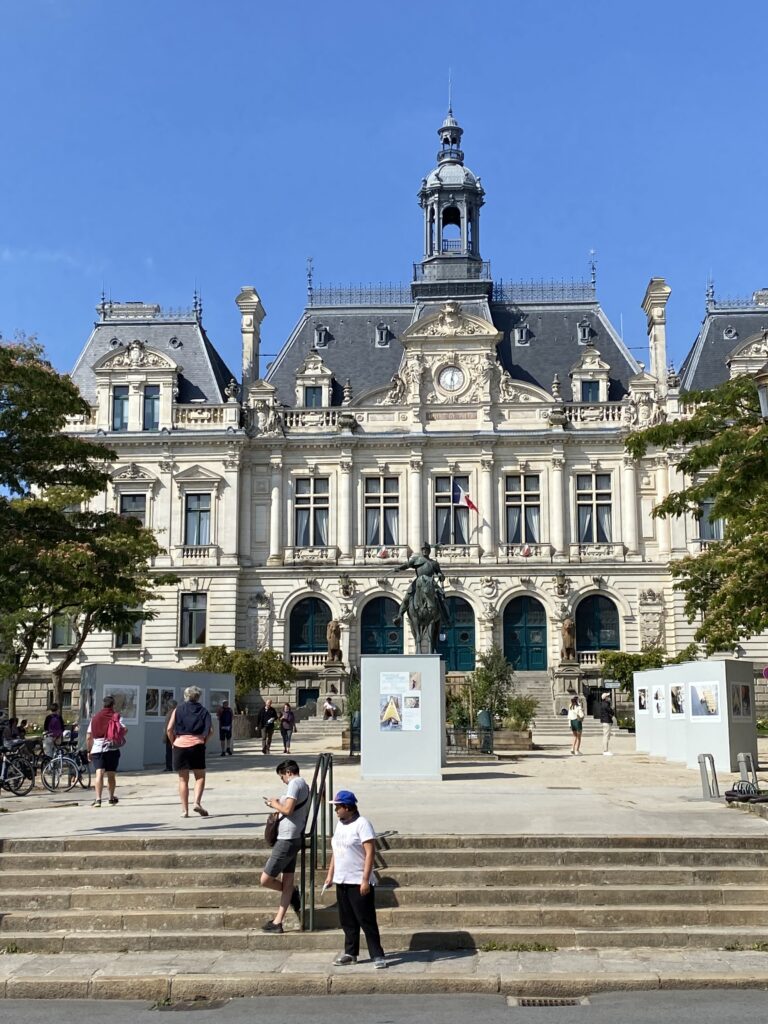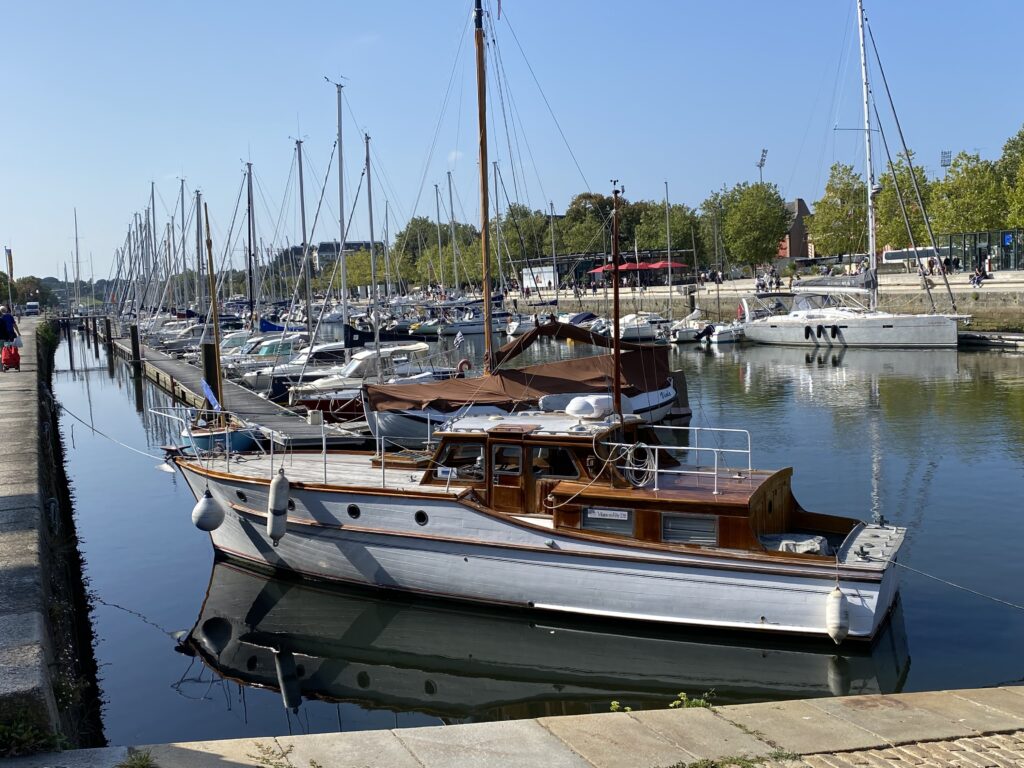 Except for the harbour we didn't really get to see much outside of the town walls; which is a pity because heading south from the harbour (just beyond where we had parked the Van) is the large Parc du Golfe where there's the Jardin aux Papillons (a glass dome housing hundreds of butterflies) and an aquarium with a huge collection, more than 50 tanks, of mostly tropical fish. Again, maybe next time.