It was a beautiful morning in Schwand and we were sorely tempted to take the boat trip from St Gilgen to St Wolfgang during the afternoon. After checking the latest news, however, we thought better of it. It seems Austria is now considered by Germany to be of the highest Covid risk and there is talk of border restrictions. I don't know what that means and I'm not convinced it would be legal but these are strange times. Time to move on.
We set off in the direction of Salzburg and then picked up signs for Germany. At the border, which was manned by German police, there was a small queue of cars but absolutely nothing with Austrian plates. Time to worry? No, we were simply waved through. Bit of a relief though.
I don't know why we stopped at Rosenheim. I googled the place and stumbled upon the "Holiday In Bavaria" site but neither of us knew much about the place before and we perhaps still don't. For my part, I think it was relief at not being turned back at the border that made me want to pause and take a drink in Rosenheim. It is worth mentioning too that Vanya had found what looked on paper to be a good camp site in the Rosenheim area and the sun was shining.
We parked the Van up in a church car park and walked to the town centre, the Max-Josefs Platz, and sat outside a busy Gasthof and took a beer. It was marvellous sitting in the sun with that beer and if I didn't have to drive on to the camp site I could have been tempted to take another two or three. It's a shame Vanya has shown absolutely no interest in driving the Van because she was drinking water and then… well, no matter.
The sun continued to shine; I was precluded from drinking anymore; it was time to check out the town. For my part we had to move as quickly as possible from Max-Josefs Platz – there were two too many distractions – the cafe bars were tempting me and the designer shops were likely to tempt Vanya – I had forgotten it was a Sunday and few if any designer shops are open in this part of the world on a Sunday.
With a population of more than 60,000 Rosenheim is a large town but, I don't think there is much to the place and I certainly cannot agree with the "Holiday In Bavaria" website when it suggests that the town "delights visitors with its southern flair and Alpine charm". It has some colourful buildings but, so too does the rest of Bavaria. It has some interesting museums and some enticing looking shops but on such a sunny Sunday afternoon? I don't think so. As for the Alpine charm bit, I would suggest there are many more places in Bavaria much closer to the Alps that better qualify for that particular soubriquet.
There are a couple of things about Rosenheim I do very much like. On a warm sunny afternoon such as we enjoyed, the Max-Josefs Platz struck me as a wonderful place to sit and watch the world go by and, remember, this was on a Covid Sunday when there were but a fraction of the people out and about as normal.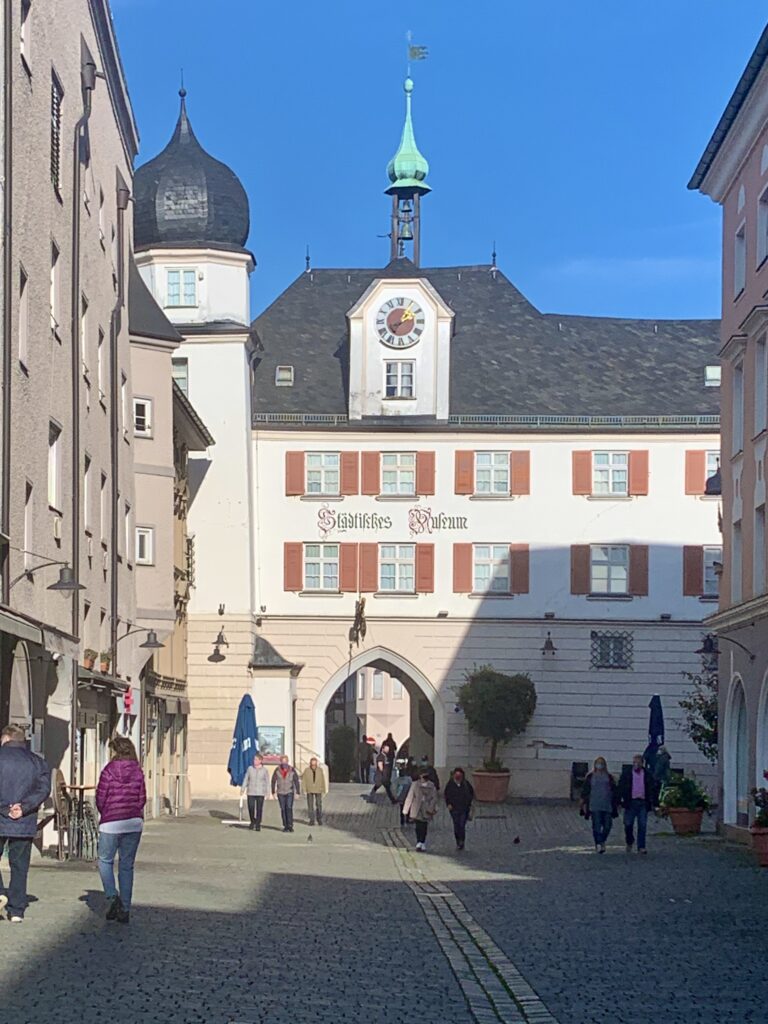 For much the same reason Ludwigplatz also appealed to me but sitting almost in between the two is the beautiful Kirche St Nikolaus. That place really impressed me.
While quite ornate on the outside, with some very interesting frescoes, it was stylish simplicity on the inside – a total contrast and wonderfully elegant. A truly beautiful church.
Reading this back I hope I don't come across as too hostile towards Rosenheim. There is absolutely nothing wrong with the place. I think perhaps I expected too much of the town in the first place (but I'll blame Holiday In Bavaria for that). Would I ever return? Yes, I would. It could be argued that I barely scratched the surface in the time I was there this time and, in any event, Rosenheim is supposed to have a fantastic Autumn Beer Drinking Festival which sounds far more authentic than Munich's Oktoberfest.
Oh, and the camp site Vanya found in the area was very good.