Day 1 (Saturday 21 October 2017) : The journey begins – Prestbury, Cheshire to Bridgnorth, Shropshire via Travel World in Telford.
Parked the van in Travel World's yard at Telford (pending a change of leisure batteries Monday morning) and visited family in Bridgnorth. Apologies for not staying awake long enough on the Saturday night to see everyone but the beer at the Bamboo Bar & Pie Shop has a particularly soporific effect when taken in quantity.
Talking of the Bamboo Bar & Pie Shop, the steak and ale pie I had for dinner was outstanding. The local ales are good but the pies are out of this world – reasonable portions, great pastry and packed solid with good sized steak pieces. A hearty meal and at not a bad price either. The Bamboo is on the High Town side of Bridgnorth close to the town bridge over the River Severn and highly recommended if you like steak pie.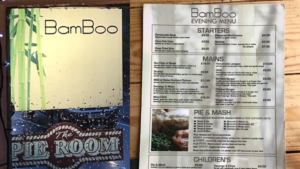 I am advised Bridgnorth is in fact two towns, being the High Town "with good views down" and the Low Town "with good views up". It is said Charles I declared the view from the High Town as "…the finest in all my Kingdom" but, without taking too much away from the place, he was perhaps too easily impressed.

The town was a Royalist stronghold during the English Civil War but it surrendered to the Parliamentarians after a short siege and was subsequently destroyed by the victors. There's little left of the castle (although some of the keep remains, albeit leaning over at an alarming angle) but the town has considerable character and there is much else to appreciate.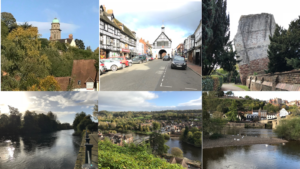 It is perhaps a sad reflection on me or at least of my tastes that I found one of the the most striking features of the town to be the large number of real ale pubs – I shall return!
Bedford, Bedfordshire next…