We opted to stay for a couple of days at the 5* Camping Brunnen at Schwangau in the Allgau region of Bavaria. It is almost equidistant between Die Konigschlosser (i.e. the castles of Neuschwanstein and Hohenschwangau) and the town of Fussen. Two days would allow us to catch up on some chores and visit both castles and the town.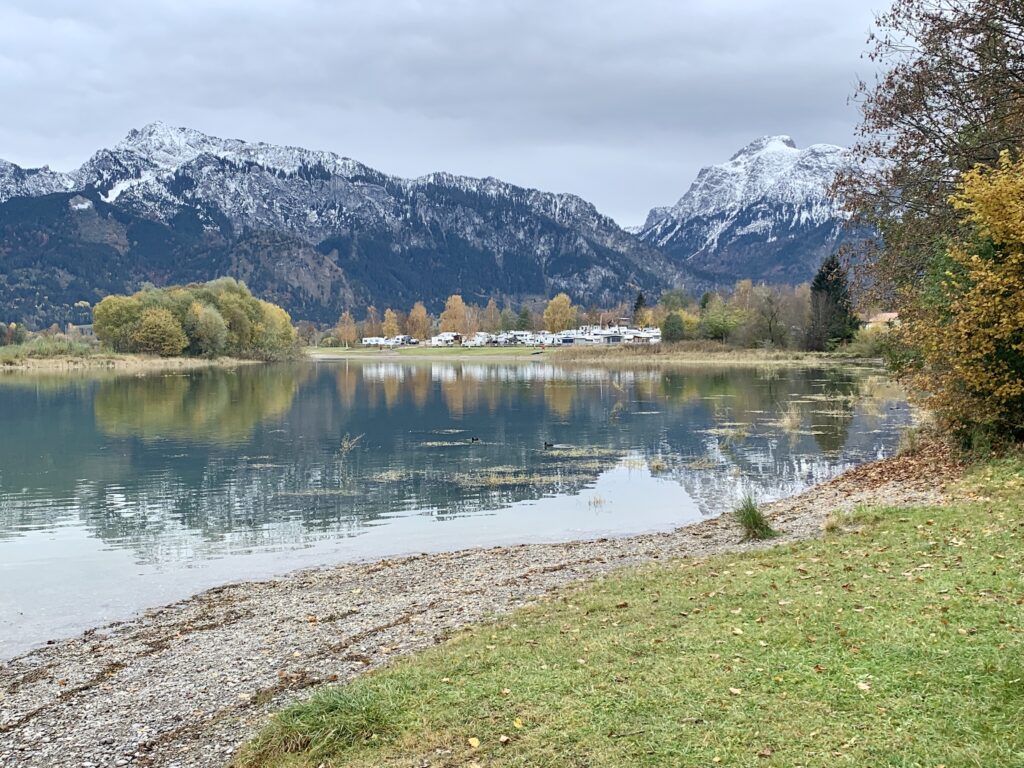 Because of poor weather the dogs had been denied their regular exercise and I took them with me on the 12 mile round trip towards Neuschwanstein Castle, passing the Hohenschwangau Castle and the church of St Coloman on the way.
The first castle we saw up close was the Hohenschwangau (no time to dwell here but in any event it looked closed) and then it was on to St Coloman.
My primary target that day was Neuschwanstein, a most elaborate castle sitting on a rock ledge over the Pollat Gorge in the Bavarian Alps. It was built by order of Bavaria's so called "Mad King" Ludwig II; construction beginning in 1868/69 but not being quite finished before Ludwig died in 1886. Ludwig II was a great admirer and supporter of the composer Richard Wagner and much of the castle was inspired by Wagnerian characters. Indeed, Neuschwanstein is German for New Swan Stone and the Swan Knight is the principal character from Wagner's Opera Lohengrin.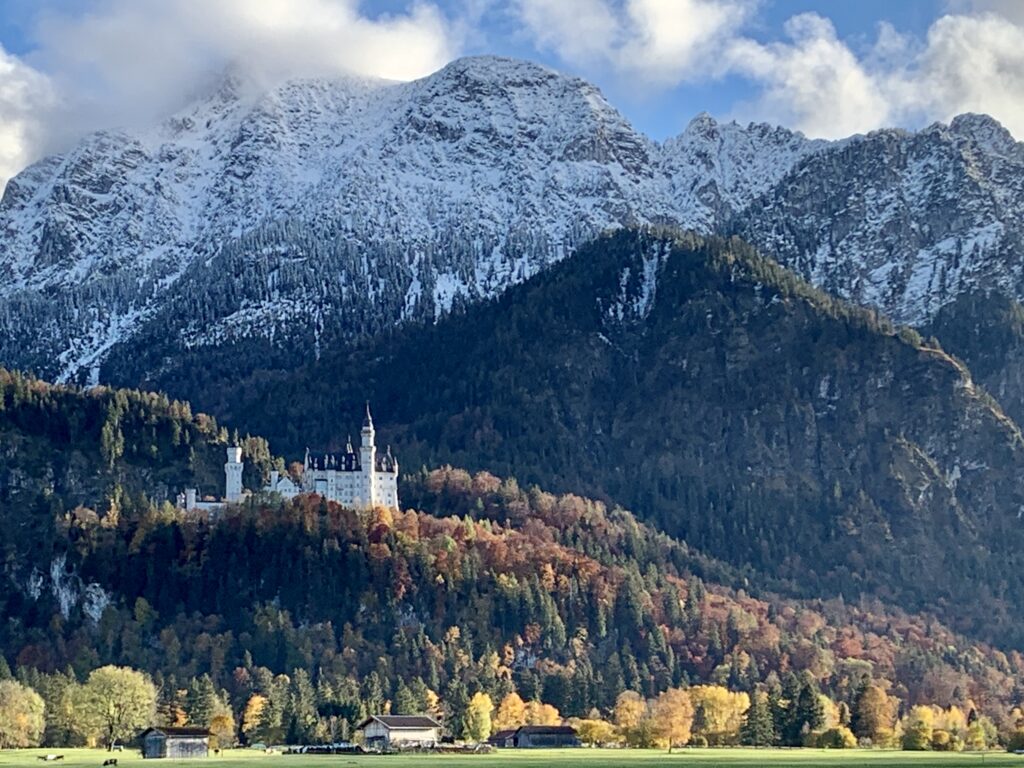 While Neuschwanstein's look is that of a medieval castle, it was equipped inside with state of the art technology at that time. For example on every floor of the castle there were toilets with an automatic flushing system (water being supplied from a spring some 200 meters above the castle) and an air heating system for the whole castle. Today, it is one of the most visited castles in Germany and one of the most popular tourist destinations in Europe with over 1.3 million people visiting. It is said to be the inspiration behind Walt Disney's Magic Kingdom.
Another quite remarkable project of Ludwig's was the Linderhof Palace. This then very private palace was designed as a refuge for an increasingly reclusive king to hide away in. Being designed for just one person, Ludwig himself, the palace was tiny with just 10 rooms (4 of which were for servants) and the dining table was designed to accommodate just one person. If you think Neuschwanstein is a fairy tale palace, this has to be seen to be believed.
Ludwig II's situation was tragic. It seems he became obsessive about his personal projects and indifferent to state business. It is said too that he was unable to rein in his excessive spending; so much so, his government advisors started plotting against him and, very suddenly, had him diagnosed as clinically insane, and therefore incompetent. Although he had no prior diagnosis of 'madness' he was declared mentally insane by four separate, government-sanctioned psychiatrists and removed as King. Historians don't know for sure how 'Mad' King Ludwig died but not long after, his body was found floating in Lake Starnberg alongside the body of his personal psychiatrist, Dr Gudden.
Time to head back to the Van. The dogs are wiped out.