Not good. Took "The Van" for a second "test" wild camp and, for the second time in a row (the first was an overnighter in Scotland a few weeks back), I was unable to cook anything or even make myself a brew.
By the way, I reproduce below a photo from the wild camp I enjoyed in Scotland last time. It was off the A93 (and not a midgie in sight) – next time I will make a note of the map coordinates – and it was a beautiful place to wake up to.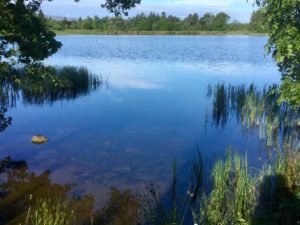 After almost an hour reading the manual and pressing cooker buttons (over and over again) I still couldn't get the cooker to work. A further half hour internet search of SMEV cookers and what to do if they don't work produced nothing. Silent prayers with and without expletives to the cooker god all failed. Good job I keep a stack of wine and a variety of cheeses in the vehicle!
A visit to the local petrol station this morning and a chat with someone who knew what they were doing confirmed that the LPG (propane) tanks were completely empty. What a complete idiot I am! I rather foolishly believed that the vehicle would come complete with filled gas bottles.
The moral of this particular blog is that, when it comes to cookers, you should trust nobody and check everything (particularly the basics) and, perhaps most important, make sure there is always wine and cheese to hand. I think too that a couple more wild camps are advisable before I start the European Tour (although time is fast running out before I must depart).
Dave J        15 August 2017